Okky Blue S, the 5-year-old Belgian Champion.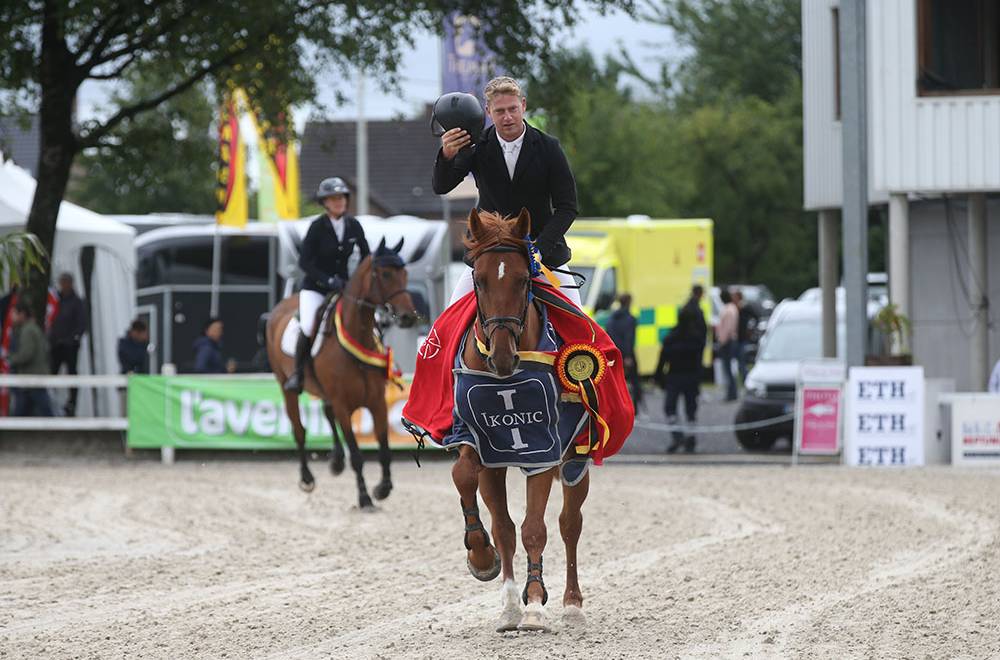 19 August 2019
The 5-year-old finalists were very brave yesterday in Gesves. The rain didn't stop from the first to the last combinations... including the jump-off! And this was a long one. Once again, the 5-year-olds gave the course designer a hard time. Bernard Mathy was in charge for the first time - and at short notice due to his Father's health problems - as he has been his assistant for the past few years. The challenge was met brilliantly and he only had one small regret after this very complicated category, where the course designer didn't want to add to the difficulty because of the weather conditions... but the riders were all very motivated, and no less than 23 combinations made it to the jump-off.
The jump-off was therefore designed as a second round, and was still run against the clock. It was won by Pieter Kenis on Okky Blue S (Quamikase des Forêts x Emilion). He came in eleven hundredths of a second ahead of Nadège Janssen on Janieta P (Kannan x Diarado), while Steven Verwaeren took the bronze on Dylano van De Heide Z (Denzel van't Meulenhof x Feinshnitt vd Richter).
It was a great achievement for Nadège Janssen who returned to her roots in Lambermont almost a year ago: "I'm really happy because my two mares finished double clear. Coming in second place with Janieta makes me really happy. We haven't had any luck with the weather, we've got rather wet feet. Obviously, Gesves remains a mythical place because the Belgian Championships are held here, but we're hoping for some improvement in the future as we're used to more comfortable competition facilities now. Sunday's choice to relax in the indoor arena was really a good decision, at least it allowed us to stay dryer for longer. I haven't been riding these two mares for very long, I jumped my first course with them during the last round of the circuit in Gesves, and I went through the qualifiers to get to the Championship. I would obviously like to keep Janieta to participate in Lanaken, especially since she's an ultra-respectful and very competitive mare who would make her mark there... and moreover, I still have just as much difficulty seeing them leave even when I do my job at 200%, but my brother and I created a company a little less than a year ago and I know that for the moment, I must concentrate on trade above all, because that's what allows me to live, and there's a lot of demand for these two. I still work with Steve Tinti who currently co-owns several horses at my place, including Janieta."