Offer yourself an Ekestrian horse thanks to the Christmas Auction on December 1st and 2nd !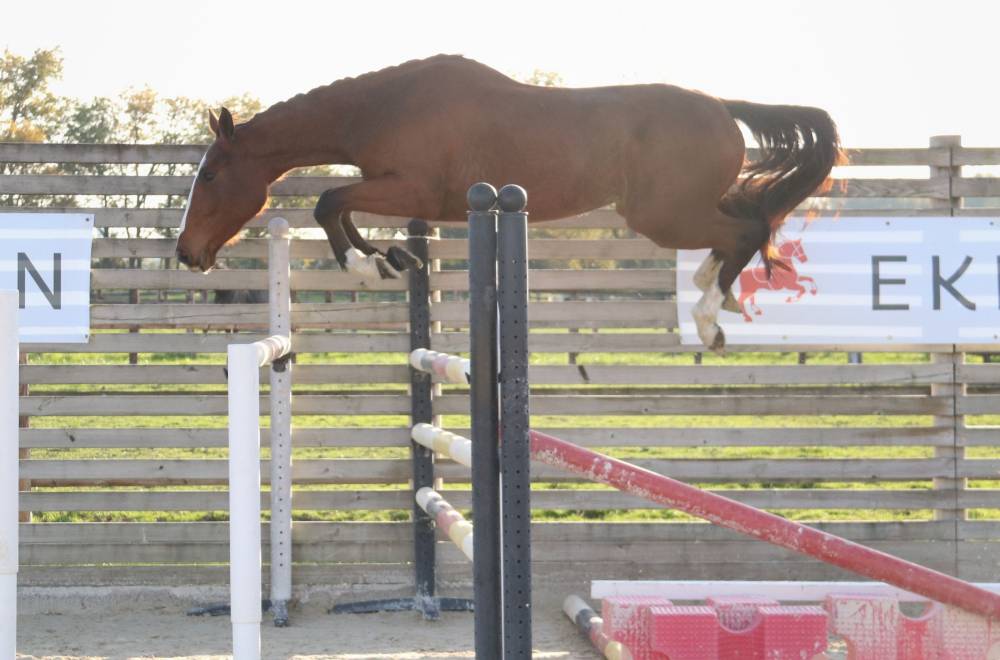 26 November 2020
Sister of Vangog du Mas Garnier clear in Grand Prix CSI5* 1.60m with Olivier Robert, damline of Fragance de Chalus; foal to be born in 2021 brother/sister of Pablo de Virton winner in CSIO5* 1.60m with Jane Richard-Philips and son/daughter of Meadow de l'Othain CSI 1. 55m-1.60m; Chacco Blue with a 1.55m dam of Contento 23 Grand Prix 1.60m with Emanuele Gaudiano and Chento CSI5* 1.50m; Emerald x Darco with the dam of Bolero 111, CSI5* 1.55m, the best value for money is there !
During this exceptional auction, all the lots will be available with no reserve price, so any bid placed will be, if not exceeded, a winner!
Choose your future champion and send now your purchase order to the auctioneer to be the first to place a bid, even before it opens via the email address: [email protected] ! Access the catalogue here: https://bit.ly/3o30XXB
For this end-of-year auction, the Ekestrian auction house is presenting 39 lots at the best price for breeding and sport enthusiasts: 11 foals to be born in 2021, including one female and two males, 13 foals including one female, 3 frozen embryos, 6 young horses, two broodmares, one of which not in foal with her colt, and 3 lots of rare straws.
Find the 5* damlines of sport and breeding: Usha van't Roosakker, Fragance de Chalus, Sapphire van't Merelsnest, Calbonny, Ifrane, Sophie du Château, associated with the best breed leaders and champions such as Emerald, Chacco Blue, Kannan, Cornet Obolensky, Malito de Rêve, but also the very remarkable rising stars such as Hardrock Z, Catchar Mail or Dollar du Rouet!
Catalogue preview:
- Foal to be born in 2021 - Kannan, Fragance de Chalus and Usha van 't Roosakker! With a daughter of Nais de la Pomme
- Male Foal - Brother colt of Go For It, CSI 1.50m at 9 years old in 2020 with Pedro Veniss! By Hardrock Z x Clinton x Quick Star, lineage of performers!
- Filly - The son of Katchina Mail with the daughter of Ilostra Dark, classified in Grand Prix 1.60m with Eugénie Angot!
- Male Foal to be born in 2021 - Eldorado vd Zeshoek x Papillon Rouge x Nimmerdor x Alme, with the full sister of Ralph des Hayettes and Mozart des Hayettes 1.60m, also uterine sister of 3 1.60m performers and daughter of Calbonny !
- 1 year old male - Son of Ianitza des Brumes, 1.50m* by Papillon Rouge x Uriel, and dam of Varesco des Rosiers CSI 1.50m with Nathan Budd
- Foal to be born in 2021 - Clarimo x Casall x Diamant de Sémilly, with a daughter of Toscane de Champloué, CSI2* 1.45m and 3/4 sister to Itot du Chateau! Line of performers
- Frozen Embryo - Chacco Blue with a 1.55m performing mother and having produced Contento 23, Grand Prix 1.60m with Emanuele Gaudiano and Chento CSI5* 1.50m !
- Male Foal - Grandson of Ilusionata van 't Meulenhof, 3rd in World Cup CSI5* and sister of Emerald!
- Foal to be born in 2021 - The blood of Chacco Blue with Sapphire and Glasgow bloodlines! Dollar du Rouet with the niece of VDL Glasgow vh Merelsnest, winner in World Cup CSI5* 1.60m with Jur Vrieling, line of performers
Go to www.ekestrian.com to discover the rest of the catalogue! The auction will take place 100% online, 100% without reserve price, and will start on December, Tuesday 1st at 11:00 am (French time) and will close lot by lot, minute by minute on Wednesday, December 2nd at 9 pm (French time). Don't forget to create your account and/or update your contact details on the site to access the catalogue and bid in auctions: https://bit.ly/33mn6Iy
Information and price estimates from the Ekestrian team at +33.7.86.32.75.17 or [email protected]
Press release