"Now I want to go for it!" - Olivier Perreau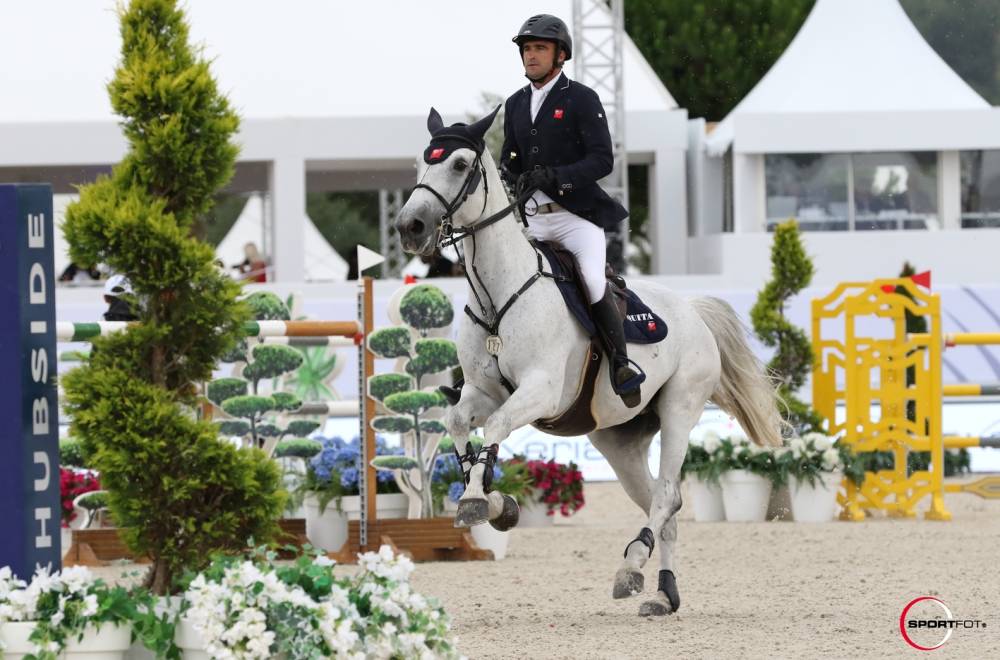 09 July 2019
He's one of those French riders who has been shaking up the leading quartet for the past few months: at 33 years old, Olivier Perreau is making headlines with his mount Venizia d'Aiguilly (Diamant de Semilly), so much so that the French group, GL events, has just signed a long-term agreement with the Loire-based rider. Here is an interview with this discreet sportsman.
HOW DID YOU BUILD YOURSELF UP TO BECOME A SPORTSMAN?
"My parents are professionals in the equestrian world, specializing mainly in promoting young horses and teaching. So I quickly began riding, progressed through the young rider categories (Cadets, Juniors) and started training young horses. I was lucky enough to come across a good mare, Grace du Fraigneau, who brought me up to the Young Riders level. With her, I was able to twice compete in the European Championships, and to obtain the title of French Champion in 2005. I then professionally established myself as a trainer of young horses and horses up to the CSI3* level as well as the trade of sport horses. Recently, I have tried to concentrate on high level sport with my horses."
WHAT DID YOU LEARN THE MOST FROM: THE CADETS, JUNIORS AND YOUNG RIDERS CIRCUITS, OR RIDING SO MANY YOUNG HORSES EVERY DAY?
"I think the youth circuit is a good circuit, but it's not an end in itself. What is important are the basics that a rider must have. It's better to struggle while you're young and have a good foundation, than to forget the basics and jump on the first horse that will take you to the big events. Experience on young horses is an irrevocable asset."
IS YOUR SYSTEM AIMED AT THE TOP LEVEL FROM THE VERY BEGINNING?
"My priority, when I became a professional in the equestrian world and joined the family business, was to develop the system that my parents had put in place, to sustain it. We now own about sixty horses thanks to our breeding program. My goal remains to train young horses to market or keep them for sport."
HOW DO YOU SELECT THE YOUNG HORSES THAT WILL BECOME YOUR NEXT MOUNTS FOR THE CSI5* LEVEL EACH YEAR?
"We always evolve as we go along, letting the young horses progress at their own pace. That's very important to me, finding good horses today has become a very difficult mission. My family's breeding program is a great opportunity, and I ride some of the offspring in the most beautiful arenas! I like to breed them and train them, it's an activity that will stay a part of my system."
SO IT'S A HUGE ADVANTAGE TO HAVE YOUR OWN BREEDING FARM: NO PURCHASING COSTS AND YOU'VE KNOW THEM SINCE BIRTH. RIGHT?
"Yes absolutely, for me it's an advantage because it is, above all, my passion. I like to select the mares, the stallions and then their progeny. However, breeding is very expensive, and it is also an investment in the long run."
WE'VE SEEN YOU ESCALATE SINCE THE END OF 2018. DID YOU HAVE A FEELING THAT 2019 WAS GOING TO BE THE YEAR YOU BROKE THROUGH AT THE TOP LEVEL?
"I knew I had good mares that had been gradually brought through the levels. At the end of last year, I was able to do the CSI5* in Valencia, the Morocco Royal Tour and then the CSI5* at Equita Lyon. I liked it. So this winter, I thought a lot about my future in the sport, in consultation with my parents since we are all owners of my lead horses. I could have sold them, it was the right time to do so, but we decided to keep them so that I could get right in the deep end. I'm coming to a point in my career where I've prepared a lot of horses, now I want to go for it! I was lucky that Sylvie Robert invited me to the CSI5* at the Saut Hermès last March. That slightly unexpected victory with GL events Venizia d'Aiguilly in one of the major events put me in the spotlight! I was immediately able to reconfirm our performance at the Gorla Minore CSI4*. She then placed twice in the Saint-Tropez Hubside Jumping Grand Prix, sixth in the Cannes Global Champions Tour stage, and she won the St. Tropez CSI4*. So she really proved her quality. She is only ten years old and hasn't reached maturity yet. I want to continue on at my mares' pace."
DID YOU ALREADY HAVE A FRAMEWORK AND EMPLOYEES SUITABLE FOR TOP-LEVEL SPORT?
"We're very well established in Roanne. I have 40 boxes for sporthorses, 10 for broodmares, 104 for the organization of competitions, 3 riding arenas, a riding school, 50 hectares, a lot of vehicles.... We're quite well set up, yes (laughs)! I work with my parents, so they manage a whole part and I can concentrate on my young horses and my main string for sport. Then I have a great team at the stables. I know that when I'm gone, everything runs smoothly, even almost better than when I'm here (laughs)!"
WE HAVE JUST LEARNED THAT THE FRENCH COMPANY GL EVENTS, WITH WHOM YOU HAVE BEEN CLOSE FOR MANY YEARS, WILL SUPPORT YOU IN SPORT IN THE COMING YEARS. CAN YOU TELL US ABOUT THIS COLLABORATION?
"I have known Sylvie Robert, President of GL events Equestrian Sports, for a long time now. She's a person who does a lot for equestrian sports. She's one of those people that's pulling our sport upwards. I was part of her team in the Grand National until now, and this year, seeing that my idea was to progress to the top level, GL events decided to support me. It gives me great pleasure to see people who believe in me and my horses."
PRECISELY, HOW DO YOU SEE THE CONTINUATION OF YOUR SEASON GOING?
"I'm progressing step by step, always trying to make a future competition plan. But with horses, you always have to be careful. I would like to go to the Ascona CSI5* in two weeks' time, but I'm currently on the waiting list. I will go to the Megève CSI3* for sure, before giving my horses a summer break to resume a busy end of the season."
YOU ARE LOGICALLY ASSOCIATED WITH GL EVENTS VENIZIA D'AIGUILLY. DO YOU HAVE OTHER PROMISING MOUNTS?
"Yes, GL events Dolce is a very competitive mare, often placed. I also have GL events Jessi who's still very green but has some good potential. Above all, I have a very good pool of young horses, which I'm slowly preparing. There are some exceptional horses there, that's for sure...".
DOES YOUR BACKGROUND SHOW, EVEN THOUGH SPORT SEEMS INACCESSIBLE WITHOUT A LOT OF MONEY, THAT A DOOR IS ALWAYS OPEN TO THOSE WHO ROLL UP THEIR SLEEVES AND WORK HARD?
"You must always believe in it. It may take longer to succeed, but I've been trying to build my career for a very long time by going step by step. You always succeed if you give yourself the opportunity and believe in it."
Interview by Théo CAVIEZEL. Featured photo: © Sportfot.com