Not one, not two, but already three World Cup stages for Conor Swail this season!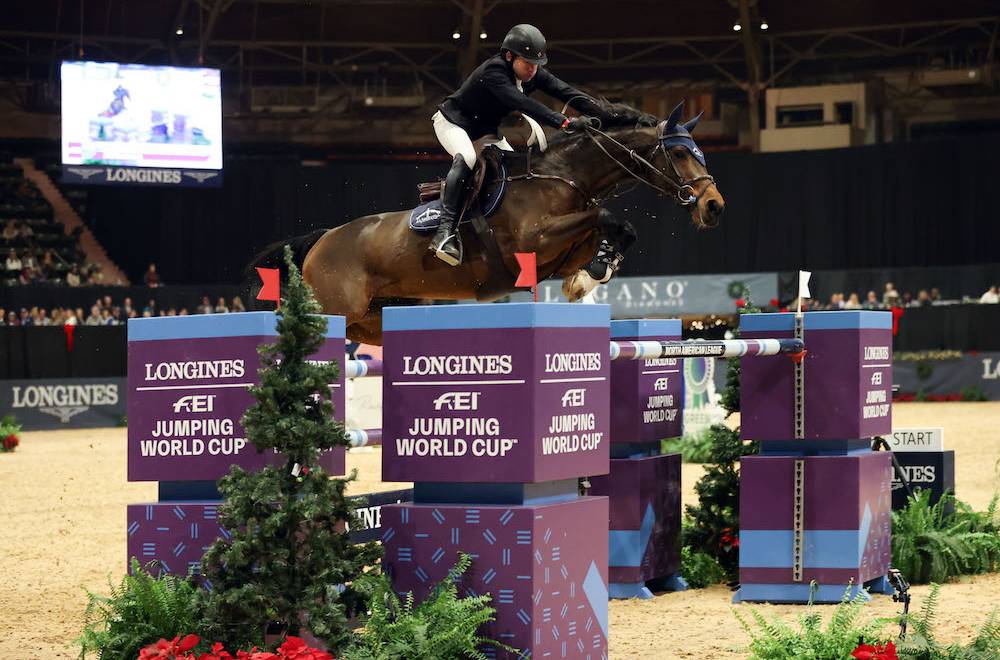 19 December 2021
This weekend, the World Cup circuit of the North American league stopped in Fort Worth, Texas. Conor Swail og Ireland dominated the podium of the 5*-W Grand Prix ahead of Tiffany Foster and Ailish Cunniffe.
Twenty-five pairs took the start on the course designed by Brazilian course designer Anderson Lima. Among them, 8 found the key to reach the jump-off. In a second round that was only nine tenths of a second faster than the next rider (33.18s), Conor Swail won against Tiffany Foster in 33.27s.) Previously, in his victories at the Vancouver and Sacramento stages, the Irish rider was riding Vital Chance*de la Roque, but in Fort Worth, he chose to start with Count me In (Count Grannus). "I decided to bring Count Me In here for a few reasons. He was up in Thermal (California, USA) for a few weeks, and this was a stop on our way back to Wellington (Florida, USA)," Swail explained. "The other reason is that it gives me another option if I decide to go to World Cup Finals. The horse that you use at the Finals has to have competed in at least one qualifier. Vital Chance de la Roque is small and fiery, while Count Me In has more range," Swail continued. "The one thing they have in common is that they're both extremely good athletes and want to leave the jumps up for me, and that's the reason why I've had such a good year."
Tiffany Foster was the last to start in the jump-off.
While Tiffany Foster narrowly missed the victory with her faithful Figor (Querly-Elvis), she beat the 24 years old young American Ailish Cunniffe associated with Vivaldi du Theil (Quaprice Bois Margot) for the occasion. At the end of this Texas stage, Conor Swail and Tiffanny Foster are at the top of the North American league rankings. The circuit will take a few weeks off and return to Puebla, Mexico, in February.
Featured photo: ©FEI/Josh Winslow