Nixon van't Meulenhof, the rising Belgian star.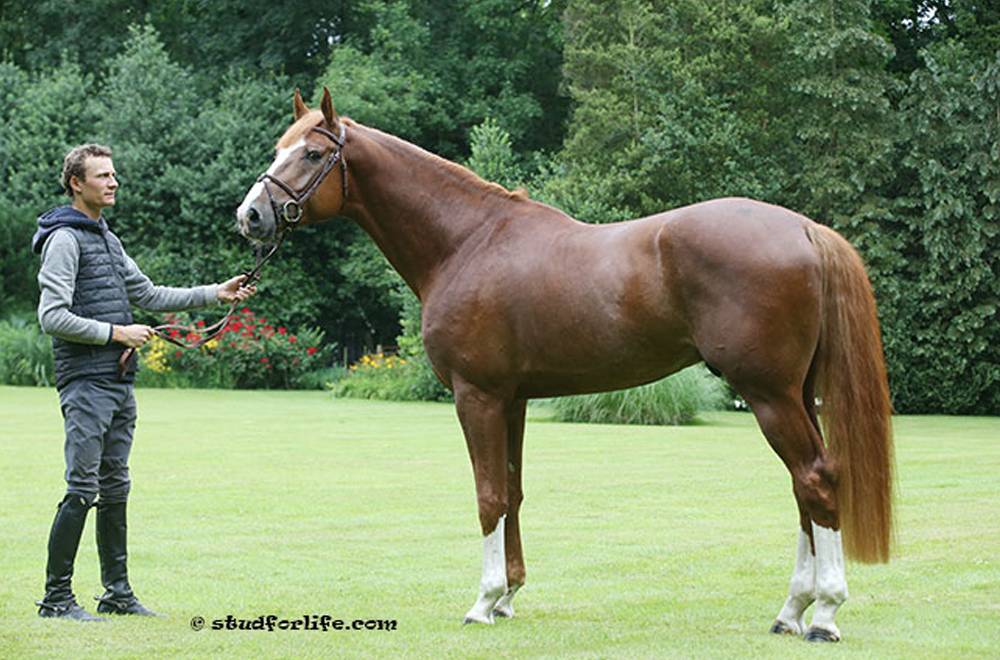 24 October 2018
His brother Emerald van't Ruytershof has a formidable reputation among breeders, and the young Nixon van't Meulenhof (Denzel van't Meulenhof x Carthago x Lys de Darmen) is now making a name for himself within the Belgian breeding industry.
Winner of the winter stallion competition for five-year-olds this winter with Jeroen De Winter in the saddle, the chestnut was sent to stud this summer and was in great demand among Belgian breeders.
How did you discover Nixon?
Jeroen De Winter: "Nixon arrived here when he was two and a half years old.
Marjan De Wachter, Jimmy Vermeulen's friend, came with him to let him jump freely before going to the stallion selections, and he was jumping very well already.
We had four stallions of our own that year to present at the stallion selections.
Nixon wasn't with us, but we already knew he was much better than the other stallions we were presenting. Jimmy asked us to keep him here for the purpose of the selections.
We tried to buy half of him, but Jimmy always told us it wasn't possible because he didn't want to sell him. However, Axel Verlooy then called Jimmy during the selections, and Jimmy sold him half the horse, stating in the agreement that Harrie Smolders would ride him once he was ready for the big events. I have no resentment as we didn't have the same financial resources… nor the same rider…"
But you were happy to go on looking after the horse, weren't you?
J.D.W: "Yes, like I told Jimmy, it puts us in contact with a lot of people, we make money from his stud fees, and we use him a lot in our breeding too.
It's awesome to have a horse as unique as Nixon.
There's only one Nixon in Belgium. He is a really unique horse and that gives us a lot of confidence for the future."
Why is he so unique for you? What does he have that the others don't?
J.D.W: "…Well… just the luxury you feel when you ride a horse like him.
Everything is easier for a rider on a horse with a canter like Nixon's. He always keeps a steady balance. It all comes naturally to him. You know, there are a lot of eight and nine-year-old horses that don't have the same balance and grace during an event that Nixon has had since he was four. He's had them since the very beginning."
The first time you rode him, did you sense immediately that he wasn't like the others?
J.D.W: "Yeah, definitely! That feeling was incredible. He's so smart that when he just touches a bar, he's already right there for the next one. His cleverness is impressive and, furthermore, in the jump-off I rode in Hulsterloo, although he had never ridden a jump-off before, it was maybe only his eighth course… you get in the saddle and it's like he's been doing it for ages. I really had the feeling that I just had to let him do it, just get on him and let him do the rest. He looks at the obstacles and then he makes the jump.
His sister has the same feature. They are much more clever than any normal horse.
They always stay calm in a jump-off, and they really do what they're asked to – it's in their blood!"
Your job of preparing a young horse like this for Harrie Smolders, what does that mean for you? Is it just pressure not to make any mistakes?
J.D.W: "No, I don't really think about preparing him for Harrie or anything special. I ride this horse above all to present him to the breeders in winter. In my mind, I am not preparing him for Harrie's future.
I ride him to show him to the breeders and I don't want to let him do too much, that's very clear to me. It's really fun to go to the contests every week with a horse like that because you come back very happy every week, but the horse doesn't need that.
For Harrie, I want the horse not to do too much for the moment, and when he goes to Harrie's, then he will prepare the horse himself. I don't want a horse like Nixon to be broken in his younger years."
Getting a response like that from the breeders, is that also something new for you?Does it put extra pressure on you?
J.D.W: "There's extra pressure with Nixon, that's for sure! People ask for him at every contest, they come to see him…"
Do you like that?
J.D.W: "No, not really, not that much… but I know it's normal, too. He produces a lot, everyone talks about him… it's normal that there is pressure. Wherever the horse goes to in the paddock, everyone comes to see him. Last year I rode him once at the LRV.
There are four or five courses there, but when Nixon came out on the big course, everyone came to see him and there was nobody left on the other courses. They were all around the paddock and when he left for the course, they all followed him. Everyone was talking about one horse that day, and that was Nixon. – "You saw the horse, right?" - It's pressure but it's positive pressure and it also makes you proud to ride a horse like that."
As a breeder, what qualities do you find in him? How do you match him?
J.D.W: "For me, he's so cool in his mind and so calm that I match him in our breeding with mares that have a little craziness in their blood. His mental strength is enough to make him a top horse, not to mention the canter that comes so easy to him. I think it's going to be great to match him with mares that have a somewhat difficult canter, like Gretel and Laïko, and also with mares that are a little hot. I really think he's going to bring a lot in those cases. He's so smart and cool, not to mention his canter as well. That's some luxury to have on a horse."
When Emerald first arrived, we often heard that the dam line wasn't very solid …
J.D.W: "That's the best line in Belgium. Others might say that it's not true but when you take a look at it, the family is certainly not really that big, but it has produced so many Grand Prix horses. Along with Emerald and Diamanthina, there's also William Whitaker's Lord Z, and Ilusionata van't Meulenhof who was recently fourth in the 1m60 Grand Prix 4* in Great Britain. If you include the offspring of Carthina's daughters and granddaughters, you can also add Herald van't Ruytershof, Jilbert van't Ruytershof, Je t'adore, Kentucky, Le Blue Diamond… Carthina Z's line is amazing!"
Moreover, it's a line that's coming back home…
J.D.W: "It is! My grandfather bought Ursa, Flugel's daughter, when she was a filly.
Later on, he bred her with Lugano who produced Emerald's great-great-granddam.
He then bred Flugel with Mélinor and sold Mélinor when she was a filly… but he had also sold Lugano. He had kept another mare from that line but unfortunately, she died in the meadow and we no longer had this line until the day we were in Bonheiden for a young horses contest. L'Innocence was four, I think, and that's where we saw her.
We didn't know she was Emerald's sister, but we thought, wow, that mare, she's jumping! We saw it immediately and we loved it. My father went to ask if the mare was for sale. They told us: "No she's not, she's Emerald's sister." But the mare really caught our eye, so we called back Jimmy Vermeulen and Marjan De Wachter, especially since we have good contacts with her and her father Joris. They discussed with Jimmy and eventually he gave us a price. The next day, Monday morning, we went to Joris to do some jumps with the mare and we bought her immediately. It was also because my father had lost his line and that day, we saw the possibility of bringing it back home.
We were very happy about that. For the mare as well, of course, because we think she's going to be a very good mare for breeding too. It's nice that it all began here but, due to circumstances, we lost it all. Now we have L'Innocence and she already has eight foals, so the line is well represented again."
There's somebody else with strong opinions about the rising Belgian star, even if he's only had one chance to ride him so far: the world number one Harrie Smolders, who has Nixon's brother, Emerald van't Ruytershof, in his string!
"Axel called me this winter. I had no contests for once and I was with my family… he asked me if I could ride Nixon at the stallion competition because Jeroen was really sick.
So I got in my car and went to the contest. You know, no matter the age of the horse, having the opportunity to ride such a quality horse is always a pleasure. As soon as I was in the saddle, I had an amazing feeling. I never rode Carthina Z, Emerald and Nixon's mother, but when I see her two sons, I think that mare really passes on an amazing bascule and also a lot of respect. Emerald also passes those qualities on to his offspring.
I haven't seen enough of Nixon to have a firm opinion, but that line is going to have a lot of influence in Belgian breeding. Last year, Le Blue Diamond, Emerald and Nixon were three of the most popular stallions of the BWP, and they all have Carthina as their dam or granddam! It is of course difficult to predict the future of a horse… I obviously hope that Nixon will have the same career as Emerald, but what I know for sure is that the ability is there.
I know that the horse will come to my stables later on, but I think Jeroen is doing really good work with him.
The De Winter family is a family of real horse people, so I'm not sure yet when Nixon will come to me but I think that, given my current schedule, it's difficult for me to ride a five or six-year-old and he's lucky enough to be in a good place where he's very special to them, so there's no reason to rush, especially since they continue to evolve nicely together."