Niels Bruynseels wins in Grimaud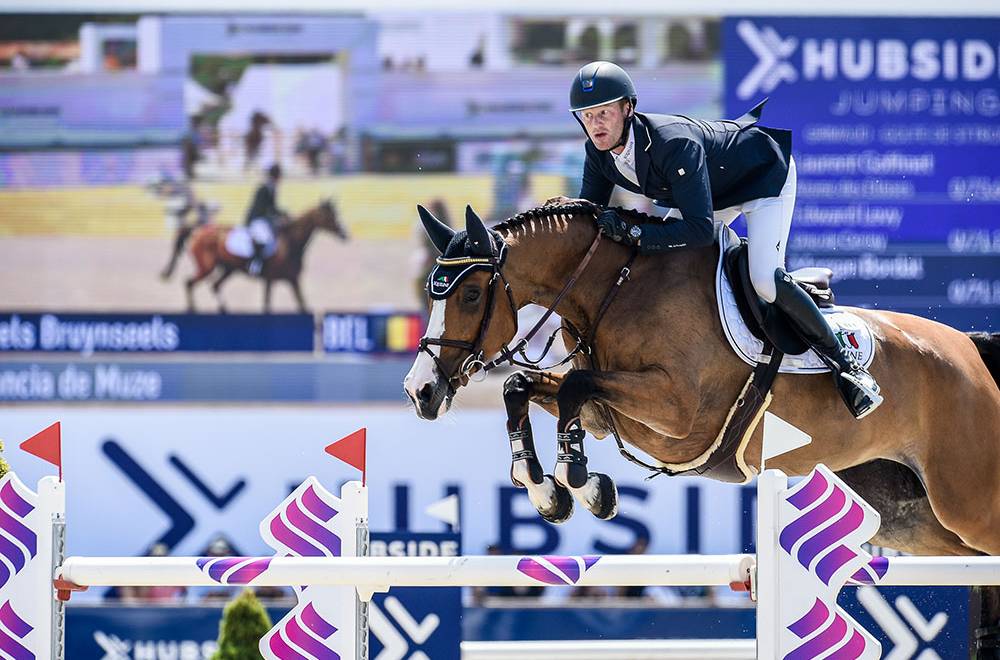 13 July 2020
Niels Bruynseels won the Grimaud 4* Grand Prix with Gancia de Muze (Malito de Rêve) ahead of Denis Lynch on the stallion Cristello (Numero Uno) and Italian rider Emmanuele Gaudiano on Chalou (Chacco Blue). This left Marlon Zanotelli and VDL Edgar M (Arezzo VDL) on the bottom of the podium, while Edward Levy put in another nice result, this time with Uno de Cerisy (Open Up Sémilly), leaving Constant van Paesschen in 6th position with Isidoor vd Helle (Canturo).
"I know that Gancia can be very fast, but with competitors like that you can't say that these events are easy (laughs). I tried to take every possible risk. I had a few scares when I saw that some riders were dangerously close to approaching my time. Really, our victory wasn't secure... But there's no word strong enough to describe Gancia. This mare is incredible. She has won everything throughout her life, and even the long containment break couldn't stop her in her tracks. These past few weeks at Hubside Jumping in the South of France have been very positive. Everything is perfect here: what is on offer for horses and riders, in terms of facilities, is absolutely flawless. And what the organization is doing for the sport is to be applauded, really. Thank you to the whole team!"
A few hours earlier, American rider Julie Welles won the 2* Grand Prix in the same arena on Ambra (Quintender) ahead of the French duo, Pénélélope Leprévost and Juilen Epaillard. The Normandy-born rider was riding Careca LS (Caruso La Silla), who is none other than the son of Rebeca LS who shone the week before with Edward Levy in the same arena.
In Royan, Nicolas Deseuze and Stella du Preuilly were the only ones able to sneak between the British riders, taking 2nd place in the 2* Grand Prix which was won by Laura Renwick and Dublin V (Vigaro). Lilly Attwood on Cor-Leon vd Vlierbeek Z (Calvaro Z) and Jack Whitaker on Valmy de la Lande (Mylord Carthago*hn) were 3rd and 4th respectively.
Johny Pals won the Bonheiden 2* Grand Prix with the stallion Fernando (For Pleasure) by three hundredths of a second ahead of Japanese rider Toshiki Masui on Jericho S (Lord Z), while Kim Ewen took third place with Jack van het Dennehof (Toulon).
Julien Gonin won the Sainte Cécile 2* Grand Prix with Valou du Lys (Calvaro) ahead of Jacques Hemlinger on his trusty mount Tonic des Mets (Ogrion des Champs). Alain Juffer took 3rd place with Dante MM (Diarado) ahead of French rider Grégory Rulquin, boss of Cheval Liberté along with his brother, on Verdi des Forêts (Verdi).