Nicolas Tayol: Trading on the "Extra" side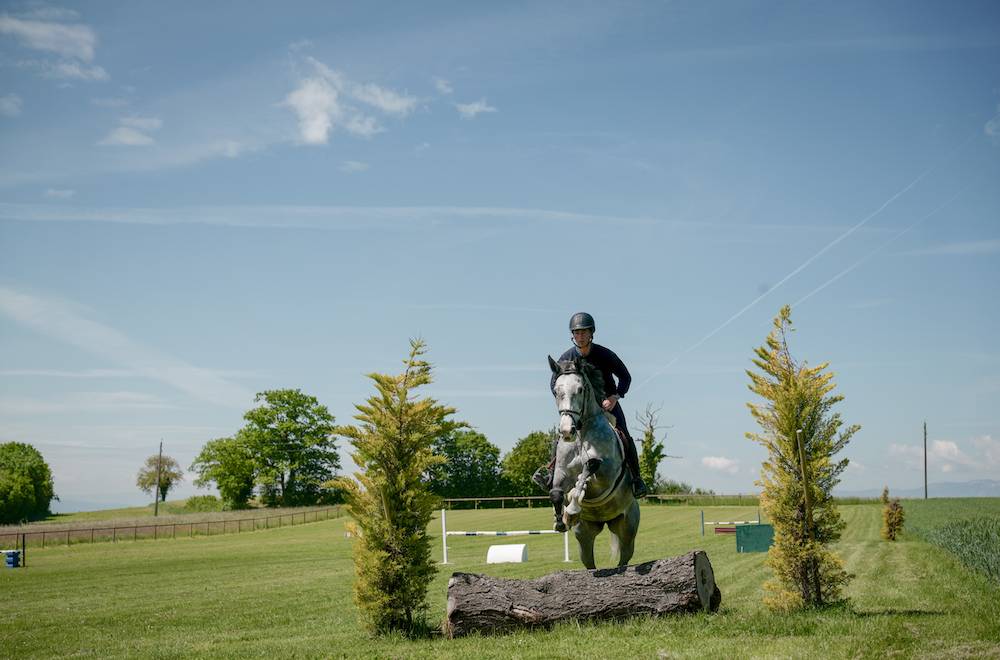 30 June 2021
Having explored Nicolas Tayol's beginnings yesterday, we meet with him again to talk more precisely about his business, the successful horses that have passed through his stables, and also more broadly about his role as a horse trader.
Part 2
Even though Nicolas Tayol's activity is still recent, success with his first horses was not long in coming: "Alcazar du Moulin, who won up to CSI4* with Marie Pellegrin, was one of my first trade horses which I acquired along with François Fédry. He was 5 years old when he came to me. Then he went and did very well under Marie's saddle. Among my other successes, there is also Fanta Light, a horse that Katie and Henri Prudent bought, that is winning at the 1.50m level in the United States." Since then, the list has continued to grow. There has been Darling de Felines, who excelled under Yuri Mansur's saddle, and last year Nicolas Delmotte acquired Denerys du Montceau, who was the fourth best 7-year-old in 2020. Mark McAuley also rode a 7-year-old in the CSI4* in Bourg-en-Bresse, that came directly from Nicolas Tayol's stables.
In this business, news travels fast. And the big names in show jumping regularly come to Ballaison. Some of his clients include Janika Sprunger and Pius Schwizer, who has just acquired a promising 7-year-old, Ellie de Chasnay. In Switzerland, several young riders trust Nicolas Tayol to source horses for them, such as Maïa Pictet, Alicia Mottu and Laure Perrenoud. The ultimate goal for any dealer is not to make the most lucrative sale; but rather to bring the right horse and rider together. "What gives me the most pleasure as a dealer," says Nicolas Tayol, "is when I've traveled thousands of miles and come across a horse that caught my eye. I'm excited to see them progress, to take them to competitions, and I know that they're so good that someone is bound to like them."
It is on a large grassy field that Nicolas Tayol enjoys working his horses.
But finding that rare jewel is not easy: "At the beginning, I went to the young horse competitions. I spoke to people to try to learn and understand the way that environment works. I continue to do so, but now I go to Belgium almost once a month. Belgians are traders at heart! I also go to Germany, France, and Italy. When I find a horse I like, I go through two stages. First, I'm in a state of great excitement when I get home. Then, if the veterinary check is ok, I feel a little bit of stress because they are getting more and more expensive, so we're taking a lot of risks. The relief comes on the day they arrive. I get on them, I jump a few jumps at home and then I can finally breathe! I started out with only a little start-up capital, so I can't afford to screw up. I have loans for my truck, for the stables, for the boxes that I have redone. I need working capital every month. I can't afford to screw up on a horse."
Despite Covid-19, last year was excellent for the horse trade. In fact, 2020 ended with an auction that Nicolas Tayol set up with Virginie Couperie. "It went well," he says. On the other hand, the rhino-pneumonitis (EHV-1) epidemic complicated things. It blocked trade for two months and put a stop to all exchanges. Trade happens when people meet, when there are competitions. Fortunately, as soon as the competitions started up again, trade resumed." Auctions are becoming more and more common, but Nicolas Tayol is no supporter of total digitization: "We don't sell pairs of shoes that we can send back by post if they don't suit us. We sell an animal that you have to see, feel and touch... I don't think we're going towards an Amazon of the horse. The traditional way of buying will remain. For some types of horses, digital works very well and can also allow people to meet. During our auction, even though it was online, people could try the horses during the two weeks preceding the event. So there were these meetings and exchanges, which are essential to me."
Another key aspect for the trader is the role of trainers in the sales process: "I think it's important, especially for amateurs, that their trainers are part of the adventure. They need to be involved because they know their rider, how he/she rides, and which horse might be right for them. And if they are involved, it's normal that they receive compensation, which must be totally transparent and known to the client. The buyer must know that he is also buying after-sales service. If a trainer has been invested in the process and has earned money, they will then do everything to make it work. That 10% is a guarantee for the long term."
Even though they are essential to our sport, sometimes there is some doubt that remains about traders. Clichés die hard, like the one about the horse dealer who does a bit of business off the backs of his clients: "The dealers of 20 or 30 years ago that sometimes delivered horses that weren't the right ones; those stories remain. But today, that's no longer possible. The transparency nowadays is impressive. Horses have chips, they have a history on the internet, a history of videos. The profession's image is slowly changing. What is different is that today, as there are fewer big traders, the market has seen the emergence of agents, who don't have a stable, who work only from their car and their phone, that buy for their clients. You can see them, for example, at the Young Horse finals in Fontainebleau. There are ten of them at the arena exit. Last year, some even fought each other because they all wanted the same horse. It's a different way of working than taking the risk of buying, working and keeping the horse. But each player in the trade has an important place and we can all collaborate, as long as each player respects the integrity of the horses and has commercial ethics."
See you tomorrow, for our last part of this interview!
Nicolas Tayol and his wife Alexandra, on horseback, surround Gérard Turrettini and Arthur.
Photos: © Clément Grandjean