Nicolas Tayol: Trading on the "Extra" side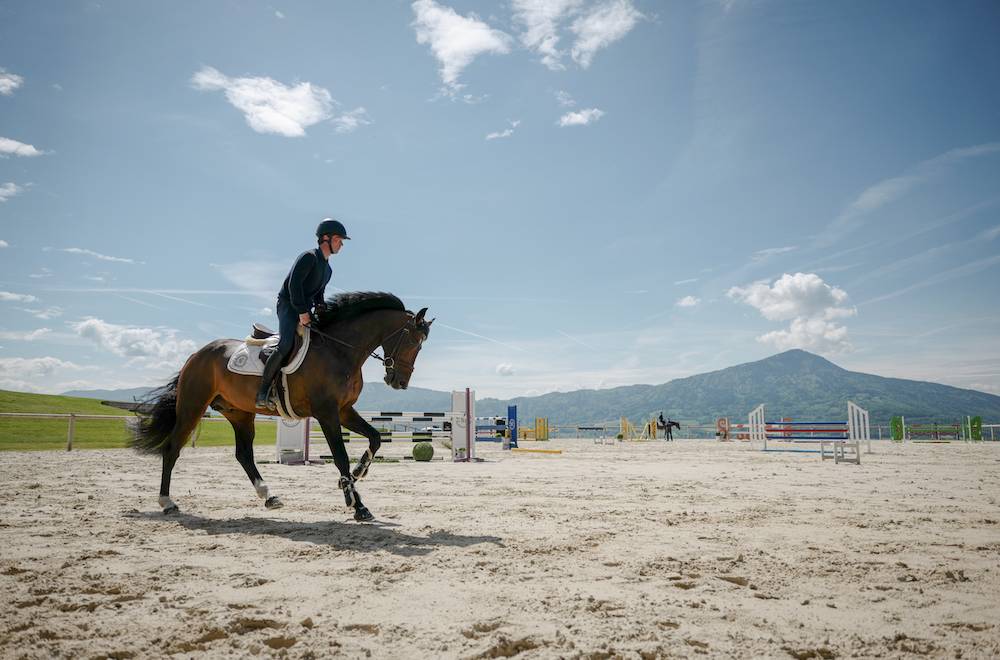 29 June 2021
Over the next three days, we will introduce you to Nicolas Tayol. The Frenchman settled in the surrounding hills of Lake Geneva, on the French side, a few minutes from Geneva five years ago. After a professional career in the world of wine, Nicolas Tayol decided to embark on the horse trade. He developed his business within his family-in-law's breeding program. Today, after many good horses have passed through his stables, he is launching "Extra", a platform through which traders from all over the world can collaborate. In this first part of the interview, Studforlife wanted to learn more about Nicolas Tayol's atypical career.
Part 1
Nicolas Tayol has always had horses in his life; it's a family passion: "I started riding at the age of 4, and rode a lot until I was 8. After that, I stopped completely until I was 18. I was always into horses because my parents rode and there were horses at home. I accompanied my mother and my sisters to competitions, so I was immersed in that environment. As for me, I was off playing tennis. I took up horse riding by chance: some friends were at home one weekend, and they wanted to try riding. I probably wanted to impress them, so I started riding. I did a trot and a canter and jumped a little crossrail. It was wonderful. From that moment on, I never stopped. My parents weren't convinced that I was passionate enough, so they asked me to look for a trainer and pay for my lessons myself. I found a club not far from Lyon, I passed my first canter lessons. My parents then bought me a trail riding horse for 5,000 euros, which took me up to 1.45m."
When he finished his studies, the Rhone region native went to work in Paris. Before returning to his homeland: "My father was looking for a sales manager for his wine company. The advantage was that the offices were just a few minutes away from the stables, where I could go and ride on my lunch break. So I worked in the family business for 11 years, south of Lyon. I rode three times a week and on the weekends. I've always had this desire to do something with horses."
The facilities offer a breathtaking view of the Salève and the tip of Lake Geneva
Nicolas Tayol quickly began to dabble in the horse trade. "However, I was reluctant to leave my father and his business, although he always wanted me to be fulfilled in what I was doing. In 2016, I decided to leave the family business, in full agreement with my father. With my wife Alexandra (a 1.35m-1.40m rider), we had just moved to the area and there was, within her family's breeding facilities, a former barn that was just right for us to start our business. I talked to my father-in-law about my idea to start my own business, he liked it and we built a project together, little by little. First an outdoor arena, then the indoor arena and finally the grass area. This developed according to our means and the sales I was making."
Nicolas Tayol's facilities, on the land of his wife's family farm.
It was in 2016, then, that the adventure began in earnest: "I first bought two horses, then three, then four... I was lucky with my first horses, which were very talented and sold to the right places, which gave me good publicity. That helped me get started."
Getting into the business is not easy, but Nicolas Tayol knows how to draw inspiration from the right people: "Among the people who have influenced me, there is Hubert Bourdy, from whom we leased boxes thanks to Jérôme Ringot. I have also been friends with Laurent Guillet for more than 20 years. Both of them were in the business and that has always inspired me. Laurent Guillet has long since set up his system where he goes and finds good young horses, which he then promotes by taking them to compete in beautiful competitions. It's an approach that I like very much. Before I started, I asked Laurent Guillet for advice. I wanted to know if he thought I could do it. He reassured me and gave me a few tips, about selecting the right horses, taking my time... That's what I apply every day. We still work together; we call each other regularly and we even invest in horses together sometimes."
Indeed, finding a star requires a deep wealth of knowledge and a sharp eye: "What I'm looking for is a horse with a good canter, suppleness and strength. That's the basic physical criteria, but the mental aspect is also very important. Will the horse fight for his rider? Is he diligent? It's difficult to form an opinion by trying a horse for 30 minutes. That's why when I look for a horse, I look at his behavior in the box, his attitude when we handle him, when we pick out his feet, when we prepare him... These are the small things that will help me form my opinion. Hubert Bourdy always said that a good horse has an honest look." Nicolas Tayol also cites Swiss man Werner Keller as an example: "He's a great expert. He gets an unrivalled pleasure out of finding a good horse, and he's tireless! At 70 years old, he's still able to travel 3,000 km in two days to see a single horse."
The horses that the Frenchman considers particularly promising arrive in a real little paradise: spacious facilities, in a breathtaking setting overlooking Lake Geneva: "We have 14 boxes in the main stable and six at the stud. We have a treadmill, a dozen paddocks, a riding arena and a large grassy area that is 200m long, with some extra, which allows us to work the horses in more natural conditions." This set-up is at the Boisy breeding farm. "It has existed for over 40 years. My father-in-law, Gérard Turettini, started it with his father. He breeds jumpers, while his brother, Henri, successfully breeds trotters. Among the horses bred by my father-in-law, some have competed up to the 1.55m Grand Prix level. He's very committed. The breeding program horses are born here before they leave for Philippe Bernard's to start work and to follow the classic cycle of young horses in France."
Nicolas Tayol surrounded by his family: his wife Alexandra and their two children Victoire, riding a pony, and Arthur.
While Nicolas Tayol's activity is centered on trade for the moment, high level sport remains in the back of his mind: "In the first four years, I understood that what was going to make me a living, especially keeping my family in mind, was the trade side and not competition. Competitions are expensive, especially as I try to focus on competing at the most beautiful events. It's not possible to make money with commercial horses, especially when you have young horses. Even if they have three clear rounds, they may win you just 300 euros, compared to a sum that is closer to 800 euros if you include all the costs per horse per CSI. You have to see it as an investment. That said, I do want to compete, and I feel like I must do that at some point. I would have to have at least three horses to be able to competitively jump at the 1.50m level, and I'm not there yet. It's hard to do both at the same time. I want to secure my business first. Ideally, I would like to have co-owners who would be willing to keep a horse for a few years."
See you tomorrow for the second part of our interview.
Photos: © Clément Grandjean