Nicolas Deseuzes: An unusual journey to the top level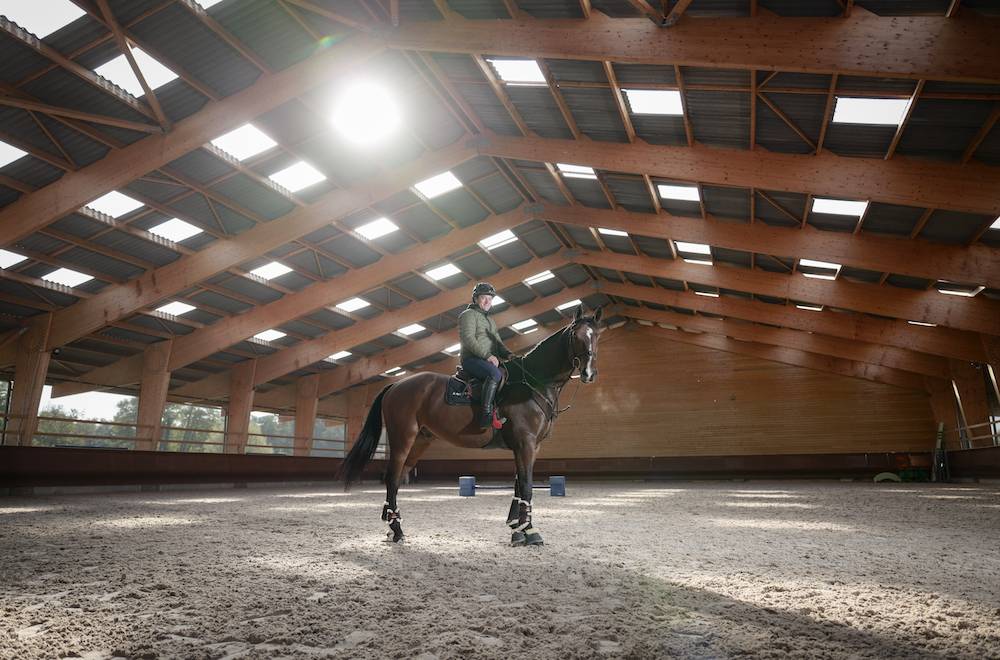 20 November 2020
In this third and final part (Read parts 1 and 2 here), Nicolas Deseuzes explains his new dynamic which is designed to ensure he has a string of horses for the future. Even though he can rely on the support of his loyal owner, he doesn't like to have to count on anyone to achieve his goals and has invested in promising young horses that should pave the way to the CSI5* level.
Part 3: Focusing on Youth
Stella de Preuilly and Nicolas Deseuzes at the CHI Geneva
"We still have a few of Catherine Girardot's horses (Quilane's owner), and I own a few myself, including Stella de Preuilly. She is 14 years old now. I found her in the Paris region and I liked her a lot. Six years ago, her owner didn't necessarily want to sell her, so she gave me a high price. When the mare turned 11, she contacted me again because she had stopped riding and knew I liked her a lot. They had a foal from her and they wanted to sell her. The price was no longer as high and when I tried her, I was immediately won over. I bought her in October 2017, and she started winning a lot in 2018."
Among the other good horses that crossed Nicolas Deseuzes' path, he readily names Ulloa du Trèfle (Sheraton), "whom we bought with Catherine when she was 8 years old. It took her a long time to get to a high level, but she proved herself. She jumped better indoors.
There was also Topaze Latour, a stallion with whom I came third in the Donaueschingen and Arezzo Grands Prix. I came across him when I was celebrating New Year's Eve with friends in the Paris region. They told me that we were going to try this horse on the morning of January 1st. What's nice is that I had already ridden Topaze a few years before, when he was four years old, and he had had a series of clear rounds. He was an Elite horse and had even won the stallion championship in Normandy. I only rode him in an arena that first time. The horse was then entrusted to Marc Dilasser, who competed him in Nations Cups. I always kept an eye out for Topaze's courses because I had rarely ridden a horse of such quality at that time. During his seventh year, he underwent surgery for an inguinal hernia. He resumed competition at the age of 8, but without much success. So my friend told me that we would try him on that New Year's Day. I got in the saddle and it's true that over the first jump he gave the impression of being very sluggish. But then I rode him with some speed, which is characteristic of my riding style, and at the end of the session, the horse jumped a 1.50m oxer easily, even with me pushing him right up to the jump. He jumped with the same ease as when he was 4 years old. We decided to buy him. At that time, I started to win with Quilane. So I took Topaze to Spain at the beginning of the year where he ranked in a 1.40m event and hit just the one pole in an event that counted toward the world rankings. A multitude of rankings followed, especially at the Grand Prix level. He was then sold."
Nicolas Deseuzes and Topaze LaTour (Diamant de Semilly and Narcos) © Sportfot
Now that Quilane has retired, Nicolas Deseuzes has had to think for some time about how to refresh his string of horses: "When Quilane started getting older, I changed tack a little and invested mostly in young horses. Before, I didn't really buy horses, or only one from time to time, but now I've bought quite a few 3-year-olds, notably from the Haras des Forêts and Sunheup. The oldest are now between 7 and 8 years old and there are, in my opinion, some real stars among them. I will therefore be able to continue my training at the top level, but with some even better, quality horses. Among the horses I've bought are several approved stallions, either by Zangersheide or Selle Français. So from a profitability point of view, I'm going to value them as stallions. In order to get their names out there, I'm offering some services to them. Drugster des Forêts (Kannan and Corofino), for example, was very promising from the very beginning. He was notably taken to some 6YO competitions in Bourg-en-Bresse, where he caused a sensation. The video of his round has exceeded 50,000 views online. I told myself that we had to make the most of this quality. Several good breeders had their mares covered by Drugster, notably Elevage Mouche, which has had several foals by him this year, one of which came sixth in the French Foal Championship. I also bought broodmares as well as embryos from good lines, which I have had covered by my stallions. In particular, I have a brother of Ulysse des Forêts, who is ridden by Steve Guerdat. Ulysse's mother was covered by one of my stallions, Opium Quality (by Cornet Obolensky and one of Casall's lines). It's expensive, but I figured that for two or three years I was banking on it."
Nicolas Deseuzes here with Chrome Floreval, a son of Numero Uno.
As was the case for all riders, Nicolas Deseuzes' plans for the 2020 season were completely overturned by Covid-19. "After the containment, I decided to take part in competitions within the region. I did the Grand National de Cluny with Ulloa. She won the 1.45m event on the first day and was second in the 1.50m Grand Prix. She was sold straight after that performance. Stella had started to do well in Mâcon, where she made a mistake in the Grand Prix, but it was a piloting error. The mare had jumped very well from one end to the other. So I took her to the CSI3* in Busto, where she qualified and won the Grand Prix. It was great. I called the coach, hoping to compete in a CSI4*, especially in Grimaud. But there was no room for me. It's not easy to build a program over one season."
Nicolas Deseuzes and Chrome Floreval.
Obviously, accessing the biggest competitions in the world isn't easy for riders. And despite the large number of good riders in France, which is recognized as top a equestrian nation, it is not the nation with the most riders in the Top 100 by far. "We had a discussion some time ago with the governing bodies, because there were not more French riders in the Top 10 and not enough in the Top 100. I saw, however, that we were the European nation with the most riders in the Top 250. What makes the difference is the owners. That's also why Switzerland, for example, is very strong: it can count on loyal owners. For my part, I'm banking on my world ranking, because I can't just buy a table to get into a competition. As soon as you get up in the rankings, doors open, that's for sure. At the end of 2019, I was in the World's Top 100 show jumping rider rankings. I was 99th. But with the few Grand Prix horses I have, they have to be competed regularly to keep up. That's why I hope that Feyah will be able to support Stella. Next year, when the 7-year-olds can start doing CSIs, I should have more opportunities. I think that at the end of 2021 I'll be able to get back into Nations Cups."
Nicolas Deseuzes and his son Arthur
Reconciling a family life and high level sport is not easy, it requires sacrifices: "It's true that I don't see my wife and children much. I enjoy spending time with them at the beginning of the week, when I'm not competing. Sometimes we take a few days off to go to the beach and in the winter, we go skiing. Arthur is 12 years old and Juliette is 8. But they don't ride horses! Arthur used to ride at a pony club, but he didn't stick with it, while Juliette did a competition with a Shetland, and that scared her a little. My nieces are more addicted, though. I'm lucky that I have my sister who helps me at the stables and rides every day, even though she doesn't compete anymore."
Nicolas Deseuzes has plenty of objectives, and admits that he dreams of going to the 2024 Olympic Games in Paris: "It seems inaccessible... but why not? Among my young horses, there are some, I'm sure, who will be able to jump at the CSI5* level. And I hope that one of them will stand out to enable me to achieve that goal."
The end.
Photos: © Clément Grandjean