Nicolas Deseuzes: An unusual journey to the top level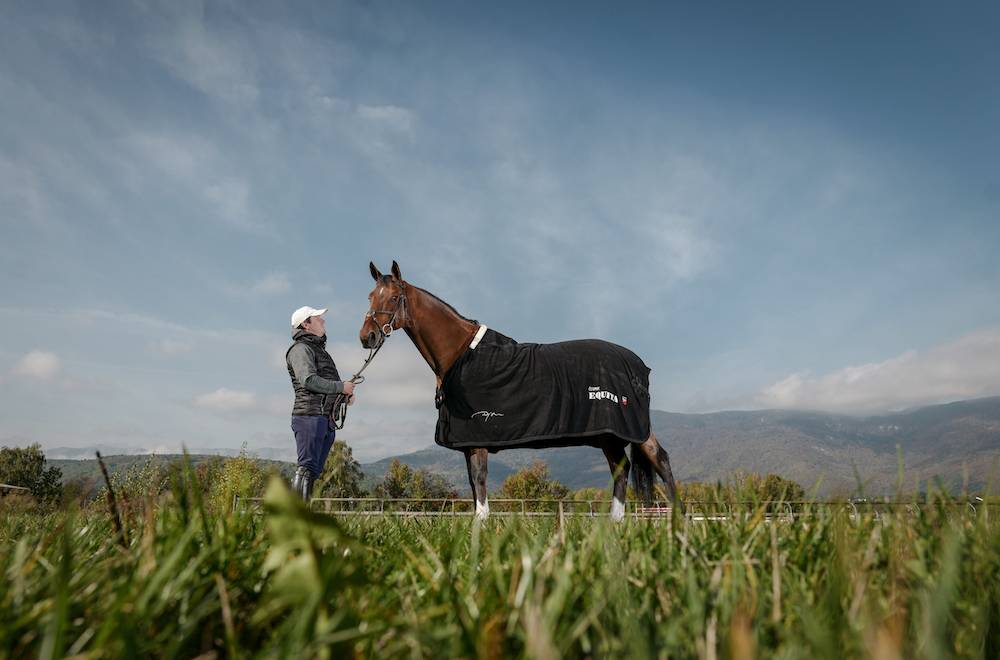 18 November 2020
At almost 45, Nicolas Deseuzes has belatedly made a place for himself at the top level. However, thanks to Quilane de Lezeaux, he has accumulated many successes, notably at the CSI5* level, with top rankings in the La Baule Grand Prix in 2017, the CHI Geneva in 2018, ninth place in the Lyon Grand Prix World Cup in 2018, and also seventh place at Saut Hermès in 2019. The French rider, who settled in Divonne-les-Bains six years ago, welcomed us to his spacious facilities at the equestrian center where his lead horses rub shoulders with horses of the future; horses which he should be able to add to his high-level string. Nicolas Deseuzes revisits his journey, his management, and his horses for Studforlife. A 3-part article to get to know this friendly rider better.
Part 1: From club rider to 5* Grands Prix
Nicolas Deseuzes started riding at a club, a stone's throw from the capital where he grew up: "I don't come from a family of horseback riders at all. When I was six years old, my mother took me to a pony club, once a week, in the Paris region. I was quite a fan of ponies. During school vacations I did training courses. When I was 16, my parents bought me a pony that we had in the garden and we had a stable for it next to the garage. It was also at that time that I got my "galop 7" certification, which allows you to ride in competitions."
Nicolas Deseuzes does the planning in his stables
This passion for horseback riding has never left Nicolas Deseuzes, who has always been focused on sport. Once his baccalaureate was in the bag, he obtained his STAPS license to be a physical education teacher and at the same time did his training to become a riding instructor. "After two years, I completely focused on horseback riding. And as I had stopped my studies, I was called up for military service. I was able to serve in the equestrian part of the service, so it went well." After his first few years as a professional rider, during which he worked mainly with young horses, he got the opportunity to be hired as a teacher at an agricultural college. "For 10 years I taught apprentices who worked with horses. What was good was that I had free weekends and was able to take a lot of vacations. That allowed me to have horses in a stable next door, in Maison-Laffitte, and to start competing more seriously. Over the years, I have had better performing horses and I've been able to do more interesting events. I started teaching less and finally stopped completely to focus on competing. That's when I met Catherine Girardot, my Grand Prix horses' owner. We bought some horses together, including Quilane de Lezeaux (Grenat de Grez), who has brought me to the top level."
Nicolas Deseuzes in the beautiful facilities of Divonne-les-Bains
In Nicolas Deseuzes' career, there have been no junior and young rider circuits, which are often cited as being very formative experiences for gaining access to the elite level. He has therefore not been confronted with Nations' Cups or major championships during his young years: "As I haven't been competing at this level for long, I have only taken part in 3* Nations Cups so far. So I often find myself competing against riders that are younger than me, aged between 25 and 30, who already have experience in Junior and Young Riders Nations Cups and even European Championships, and who are comfortable in these situations, whereas for me it's rather new. At 18, they were jumping 1.40m, while I was jumping around a local show at 80cm!"
His journey, far from beginning in the high-level spheres of up-and-coming riders, shaped the rider that Nicolas Deseuzes has become: "My years of training were long, but since I had to learn on my own, I made mistakes that have given me a good foundation. Now, when I see a horse, I can quickly figure out how to use it, its abilities and its faults. For a period, when I was in high school, my sister and I rode for a local breeder who had no facilities. We used to take the horses to the park and in a corner, there was a little bit of sand. We would put a saddle on them and ride them. The breeder would take them to competitions in his cattle truck. That's how I started out. I'm not the only one, but we're a long way from a father entrusting his Grand Prix horse to his son."
Nicolas Deseuzes et Quilane de Lezeaux at the Crans-Montana Jumping
If his career remains rather unusual at the high level, so does his style. He admits it without the slightest complex: "I'm not very classy on horseback, I have the physique of a rugby player!" Once in the arena, he nevertheless shows a formidable efficiency and is recognized as one of the fastest riders on the circuit. And the Frenchman acknowledges that his thirst for victory goes back to his early days: "I have an immensely competitive spirit. When I have a clear round, I feel like I've just ridden at the Olympic Games! A dealer at the time, who had entrusted me with a few horses, said, "The advantage with Deseuzes is that no matter what happens, when he enters the arena, he believes he's going to win the event," recalls the rider with a smile.
Quilane de Lezeaux and Nicolas Deseuzes at the CHI Geneva © Sportfot
Finding your place at the top level is not easy, especially when you're a late bloomer. "I started doing 1.50m events at the Grand National in Lyon in 2013. I hit a pole, but I still got ranked. That's all I needed to call the coach's team and ask to participate in CSIs. They told me: "Go to Spain and the tours down there, because they take everybody". So I went to Oliva for several weeks in 2014 and I placed in several Grands Prix there. I was looking for competitions where I didn't have any selection problems: Spain, Italy, Poland, Morocco and Algeria. Those rankings allowed me to make myself a little more well-known. In Morocco, I met Fabrice Martin, a friend of Sylvie Robert (Editor's note: the Equita Lyon director). She pushed us to form a GL Events team for the Grand National. I was crazy with joy. As soon as I got that partnership, Sylvie Robert opened the doors of Lyon and Saut Hermès to me." In 2016, he took part in the CSI5* in Lyon where, thanks to a withdrawal, he was able to be at the start of the big Friday event, qualifying for the Sunday World Cup stage. He scored a double clear round and secured fourth place alongside the best riders in the world.
However, his first steps into the deep end were at the very beginning of 2016 thanks to Philippe Guerdat. The Swiss man, then coach of Les Bleus, allowed him to take part in the Nations Cup in Wellington, USA. "My very first Nations Cup! It was incredible to fly with a horse. So I did two weeks there and I didn't get a single clear round. I will always remember our first day. We started out in a 1.40m event at night; my mare jumped really big over the water and I fell. It was not the ideal start for my first French team selection! It was formative, because a few weeks later, there was the Hardelot CSI3*, which was used as a selection event for La Baule. There, my mare came second in the Grand Prix. Wellington's experience had paid off. I was less frozen in front of the big jumps." Nicolas Deseuzes was then able to take part in several CSI5* events as well as in Nations Cups. "However, I've never been successful at the French championships. Except in the French military and teachers' championships, where I won gold twice."
Find the next part of our interview tomorrow on Studforlife!
Photos: © Clément Grandjean