Nicolas Deseuzes: An unusual journey to the top level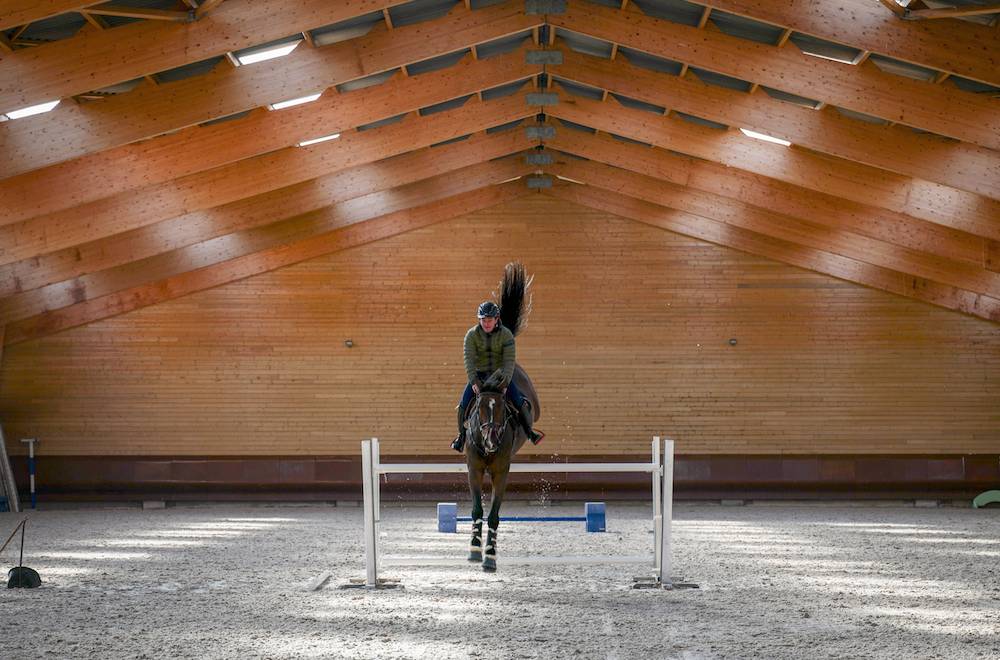 19 November 2020
After telling us about his debut (read part 1 here), Nicolas Deseuzes tells us the story of meeting his heart horse, Quilane de Lezeaux, who has now devoted her career to breeding.
Nicolas Deseuzes and his faithful mare Quilane de Lezeaux
Part 2: The encounter with Quilane
It was his meeting with Quilane de Lezeaux that allowed the French rider to compete at the top level: "I was in my little stable in Rambouillet, where I was competing at the 1.25m level. One day, the Colonel who was in charge of the technical side of the Etrier de Paris, a stable in the Bois de Boulogne, contacted me because one of his clients' horse was not going well. He asked me to take him and work on him. Everything went well, and I became friends with this client, who was none other than Catherine Girardot. She then bought a young horse that I rode when he was six years old. He turned out to be a good amateur horse, but not respectful enough of the jumps to aim for the top level. So, she kept him for herself and decided to buy one for me. It was the first time that had ever happened to me. Quilane was eight years old, and she was starting at the 1.40m level. She was ridden by a friend, Bruno Alessandrini. She was chunky, and had a big head and a very stiff back. I remember well seeing her with Bruno in competition. She was in a bridle and when he took her back, she was trotting just with her hind legs. She was a bit stiff, not very aesthetically pleasing. There were a lot of professionals in the area who knew her, but they didn't want to buy her because she wasn't very pretty and not easy to ride well. For me it was perfect because her price wasn't too high, and I felt that the mare had potential."
During the jump-off of the Crans-Montana Jumping Grand Prix.
The future proved him right: together, the pair became particularly well known in Lyon, where they took third place in the Friday Grand Prix. This was followed by placings in the Crans-Montana, Tetouan and Rabat Grands Prix, two consecutive victories in Oliva in 2016, a sixth place in the Bourg-en-Bresse CSI4*, a second in Megève, and they placed in the La Baule Grand Prix 5*, as well as in a 1.55m event at the CHI Geneva. Since then, the big chestnut has retired and is now dedicated to breeding. Nicolas Deseuzes is now betting on the next generation...
Nicolas Deseuzes and Diaz des Forêts (Lauterbach and Voltaire), a promising 7-year-old.
Access to the top level is often only possible when finances allow, and Nicolas Deseuzes has long relied on his teacher's salary to pay for his competitions. It was the arrival of Quilane de Lezeaux that made his professionalization possible: "Her earnings supported the entire stable. Today, the coaching side is important in my day-to-day life. You can't solely rely on competition income, it's not stable enough. Last year, I had a good competition in Vermezzo, but the competition went bankrupt and we didn't get paid. That was pretty random. Coaching and business are therefore important parts of my income. I only have four or five pupils because I want to be able to go with them to competitions and help them properly and ensure that they progress. I really love teaching."
Chrome Floreval (by Numero Uno and Damiro), a recruit with a bright future
He has forged the method he uses with his students little by little. He has never had a trainer, but he remembers that the instructor at the riding school where he rode gave him the desire to take the time to build trust with the horse. He was also able to train with Jean-Maurice Bonneau on a few occasions, as well as with Regis Villa, a rider who lived not far from his stable near Paris, and who worked with horses using a very gentle method: "When I had problems, I would take a horse to his place and get him to teach me the keys to helping that horse, which allowed me to keep going."
Stay with Studforlife for the continuation and conclusion of the third part of this interview tomorrow!
Photos: Clément Grandjean