Nicolas Delmotte won his first CSIO de France in La Baule!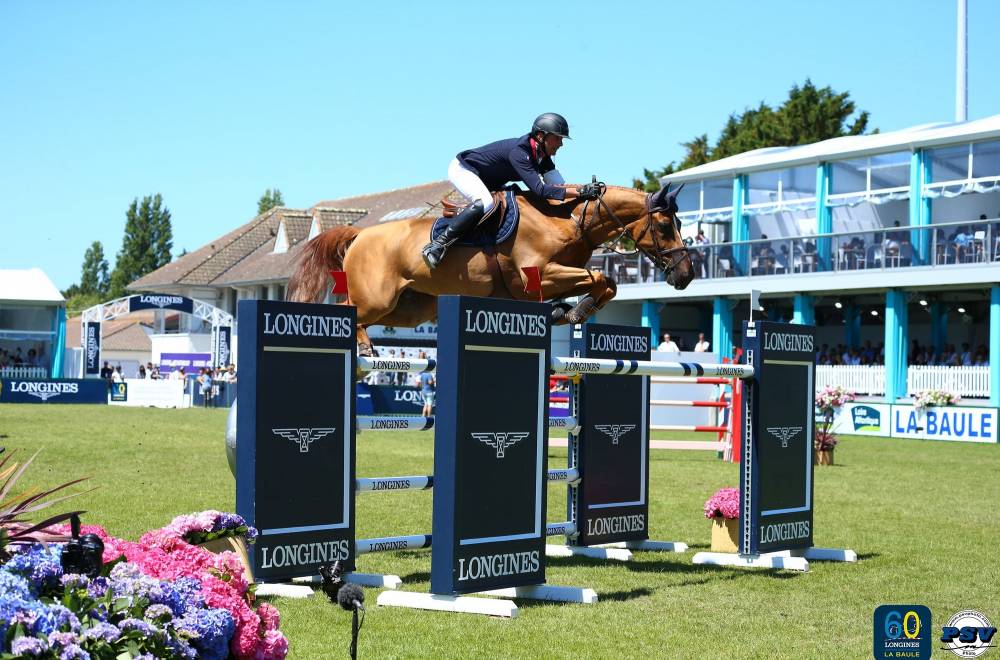 14 June 2021
It was a busy weekend for international competitions, starting with the CSIO5* of La Baule, that we'll catch you up on thanks to our dedicated weekly article.
La Baule CSIO5*
After the Nations Cup, which landed in the hands of the Swiss and which we reported on here, we now turn to the Grand Prix. This legendary event, where those who succeed in taking the trophy get to see their names engraved in the marble of the La Baule equestrian stadium, started on Sunday at 1pm. Fifty combinations had qualified in the days leading up to the event and were ready to compete over a 1.60m course designed by the French course designer Frederic Cottier. The course was well gauged and allowed six riders to stand out by posting the clear rounds which got them into the jump-off. The first rider to achieve a clear round, France's Nicolas Delmotte, eventually took the victory with Urvoso du Roch (Nervoso), thanks to one of only two double clear rounds. The second one was also French, coming from Laurent Goffinet and Atome des Etisses (Mylord Carthago). Having been faster than all of his competitors in the jump-off, World No. 3 Martin Fuchs was however relegated to third place because he knocked a pole with his young mount, Leone Jei (Baltic VDL).
Nicolas Delmotte thus achieved the most wonderful victory of his career during this edition of the CSIO de France, at home: "I'm still having a little difficulty realizing my victory. I'm really happy to win here in La Baule, in front of a French audience. It's still our CSIO5* of France! I'm also very happy for my owner, Mrs Morillon, who has trusted me for years and who has allowed Urvoso to go to the Olympics. It's also a pleasure to see people again and to see the audience. Since the beginning of the competition, Urvoso has jumped well. In the Nations Cup he already had two very good runs. He has improved, especially in the last few competitions."
Grimaud CSI4*
The CSI4* Grand Prix of Grimaud was also held this Sunday, with a great line-up of riders. It was the American Jessica Springsteen who won on RMF Tinkerbel (Incolor) after a very fast double clear round. Just behind her was the Frenchman Olivier Perreau, who saddled up his best mount for the occasion, Gl Events Venizia d'Aiguilly (Diamant de Semilly). The podium was completed by the young Mégane Moissonnier with Cordial (Casall).
The American rider reflected on her victory: "I'm so happy! Tinkerbelll jumped fantastic; very regularly and consistently. She deserves this victory in this 4* Grand Prix. I'm really happy with the way things went today! The first round wasn't so easy, and I saw that it wasn't an easy ride for the mare. But she is very generous and gave it her all. In the jump-off, I started in third position out of seven, so I had to take all the risks I could. But she is naturally very fast and very willing, so I just had to deal with those two qualities. In the future, we'll see if this result will influence my Olympic selection. But I'm not putting any pressure on myself: I'm looking for consistency with my results and I'll see if our coach will look at this Grand Prix; I'd be surprised if he didn't, but I don't want to speak for him (laughs)."
Upperville CSI4*
In the United States now, a CSI4* Grand Prix was organized in Upperville, which had a $213,300 prize poll. The win went to Irish rider Jordan Coyle on Ariso (Casall) after he achieved the fastest double clear round. American rider Alison Robitaille placed second on Lima 47 (Lucky Boy), ahead of Chilean rider Samuel Parot on Dubai (Cardento).
The winner gave us a little more information about his horse, Ariso, who has a very special character: "When I got the horse, I talked to Dermott Lennon, who is a World Champion, and he advised me never to try to ride him the normal way, because he's not made for it. Let him be his version of normal and try to work with him. At first, I didn't take his advice too literally and tried to correct him, but there's no way to correct him. Now, I just leave him alone and every day he gets easier. Who knows, he might run away with me next time!"
Traverse City CSI4*
The first week of competition at the Traverse City Spring Horse Show ended with a $213,300 4* Grand Prix. Israeli rider Daniel Bluman, riding Cachemire de Braize (Quality Touch), was the winner. The pair came in ahead of Colombian rider Camilo Rueda and Indus Van Het Keysereyck (Carabas vd Wateringhoeve), and American rider Margie Engle on her faithful mount Royce (Café au Lait).
Here, we have the reaction from Daniel Bluman, the winner of the Grand Prix: "I wasn't even going to bring Cachemire de Braize, to be honest. Mark Bluman, my cousin, was riding him but I felt like my string was a little weak this week and I wanted to have a speed horse to jump in the other events, so I put Cachemire in the truck. In the end, we were able to ride two horses in the Grand Prix, so I put him in just to see what happened. Things didn't work out for me with the stallion Ubiluc, I turned too tight at fence number two and the horse couldn't really see it. He jumped well after that, but I was disappointed, and I really gave it my best today with Cachemire, both in the first round and in the jump-off, so I'm thrilled. It makes me so proud; you can't imagine how proud it makes me to see four Colombians in the jump-off. We had John Perez Bohm, Roberto Teran Tafur and Camilo Rueda, the youngest of us. I'm representing Israel, but of course I was born in Colombia and have very close ties to Colombia, so I'm really proud to see Colombia doing so well."
Traverse City Grand Prix Results
Tryon CSI3*
It was a 100% American podium in the CSI3* Grand Prix in Tryon, set at 1.50m, with a $137,000 prize pool. Aaron Vale won the event on Elusive (Rodrigoo) thanks to a double clear round. He came in ahead of Hunter Holloway on Pepita Con Spita (Dsp Con Spirit) and Tracy Fenney on MTM Apple (Favorit Ask). Eleven pairs from four nations qualified for the jump-off.
Uggerhalne CSIO3*
This weekend, a CSIO3* which was part of the Longines EEF Series, took place in Denmark. The Nations Cup was held on Friday with 12 teams starting, and it was Denmark who won at home ahead of Belgium and Great Britain. The winning team was comprised of Zascha Nygaard Andreasen, Konstantin Deeken Künnemann, Emil Hallundbæk and Andreas Schou.
Uggerhalne Nations Cup Results
In the 1.50m Grand Prix, which was run this Sunday, the victory went to the Swedes thanks to Jens Fredricson and his mount Markan Cosmopolit (Cohiba 1198), who had the only double clear of the event. The young Mike Kawai came second with As de Mai (Apache d'Adriers), ahead of Stephen Moore riding Albert K (Heartbeat).
Hagen CSIO Youth
Hagen, Germany, hosted the best international hopefuls for a CSIO last weekend. All of which were able to compete in the Pony, Children, Junior and Young Rider classes, with the highlights being the Nations Cup and the Grand Prix. In the Ponies' class, French rider Lola Brionne won the 1.35m Grand Prix riding Clementine (Mozart de Beny). The pair also won the Nations Cup with the French team, ahead of Sweden and Ireland. In the Children's class, the Grand Prix podium was 100% German and won by Naomi Himmelreich on Cornet's Adel (Cornet Obolensky). Belgium won the Nations Cup. In the Junior class, victory went to Swedish rider Ebba Danielsson with her daughter of Twister de la Pomme, T-Gavoli Z. In the Nations Cup, the victory went to the Irish team, ahead of Poland and Germany. Finally, in the Young Riders' class, the victory went to Danish rider Theodor Linde and Salto des Nauves HDC (Tlaloc M). Germany won the Nations Cup with a total score of six points.
Vidauban CSI2*
In Vidauban, a 2* Grand Prix with a €26,000 prize pool was held this Sunday, with the victory secured by the French! Morgan Bordat won after a double clear round on Uma (Calvaro). The pair were followed by two other French riders, Clément Frerejacques and Lalie Saclier, who rode Bimbo de Lara (Nonstop) and Ultra Blue de Jaurand (Master Blue) respectively.
The Grand Prix winner, Morgan Bordat, tells us about this victory: "I had left Uma home for two weeks after the CSI4* in Bourg-en-Bresse and I decided to take her to Vidauban to prepare for the Grimaud competition which will take place at the beginning of July! There were 12 runners-up in the Grand Prix and I was last, which was an advantage for me today. Uma and I have known each other for a long time now and she always gives 200%."
San Remo CSI2*
In the 2* Grand Prix of San Remo, the victory went to Belgium! Ignace Philips de Vuyst won on his son of For Joy van't Zorgvliet, Lancetti v Zorgvliet. Two Swiss riders completed the international podium: Paul Estermann on Dover 9 (Diarado) and Roland Grimm on Captain (Canstakko).
Opglabbeek CSI2*
The weeks continue on in Opglabbeek which again hosted a CSI2* this weekend. In the 1.45m Grand Prix, the victory went to Dutch rider Leon Thijssen and his daughter of Ukato, Faithless Mvdl. Matthew Sampson and Connecticut (Conthargos) placed second, just ahead of Celine Schoonbroodt-de Azevedo and Kheops de Bois-Mesange (Baloubet du Rouet).
Lexington CSI2*
In Lexington, the Split Rock Jumping Tour offered up a 2* Grand Prix with a $100,000 prize pool. Jessica Mendoza won on Dublin (Cobra 18), ahead of Catherine Tyree on Bec Lorenzo (Siec Livello), and Maria Sxhaub on Gotico di ca' San Giorgio (Diamant de Semilly).
Azelhof CSI2*
In the CSI2* Grand Prix in Lier, Swiss rider Niklaus Schurtenberger won with his son of Quintero, Quincassi. Two Belgians followed: Vincent Lambrecht, who saddled up Catwalk Harry (Verdi Tn) and Christophe Vanderhasselt on Kadans van de Mispelaere (Wandor van de Mispelaere).
Deauville CSI2*
At the CSI2* in Deauville, the Grand Prix was run under a bright sun which saw 11 riders reach the jump-off. French rider Geoffroy de Coligny wasn't as fast as François-Xavier Boudant and Régis Bouguennec, but with no faults in the jump-off, he won this event with Raimondo du Plessis (Calin du Plessis). Margaux Rocuet took second place with Lady Lulu 2 (Lord Pezi), just ahead of Camille Condé-Ferreira on Corrado du Moulin (Berlin).
Sancourt CSI2*
In Sancourt, still in France, Nathalie Mack won the 2* Grand Prix riding Baccara de l'Aubépin (Lamm de Fétan). The pair beat Alexis Borrin and Louis Pichon, who were also double clear and accompanied by Doligo de St Leger (Hooligan de Rosyl) and Solitude au Vent (Quaprice Bois Margot) respectively.
With press releases. Featured photo: PSV / CSIO La Baule