Nicolas Delmotte, winner of the Masters of Chantilly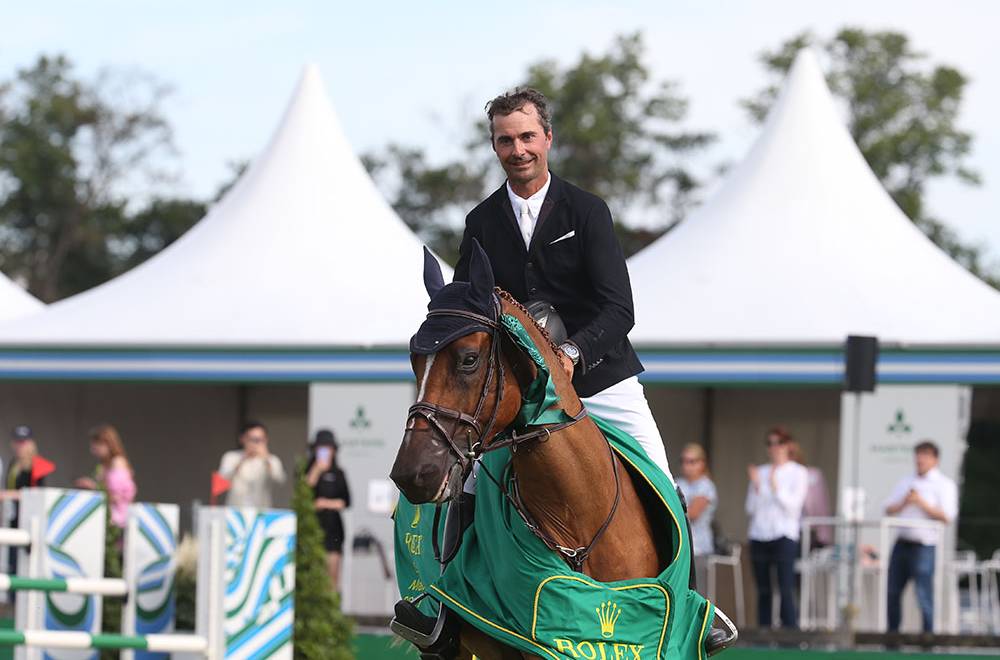 12 July 2021
Sunshine, a magnificent grass arena and even an audience and packed stands: one could almost forget the harrowing news of these last months. Here is our summary of the Masters of Chantilly 5* Grand Prix!
It was a difficult task for Grégory Bodo who had to deal with a very unbalanced field among the 47 starters for this Grand Prix with some combinations doing their final preparation for the Olympic Games, while other pairs were taking their first steps at this level. Once again, the French course designer succeeded in his mission with 13 jump-off riders and, above all, a very nice show.
First to start, Roger-Yves Bost couldn't avoid four faults with his impressive mount Cassius Clay Vdv Z (Calvino Z). We quickly realised that this event would prove to be quite complicated.
However, Nicolas Delmotte started just behind him and the winner of the Grand Prix of La Baule let his experience speak with an impressive Urvoso du Roch (Nervoso). When he left the arena, with 11 combinations left to go, the Frenchman was far from triumphant. He even advised his opponents because for him, victory was going to be decided in the line leading to the Rolex double. It must be said that for their last course before their departure for Tokyo, the pair was instructed not to take every risk that they could!
After them, the other pairs tried to take lots of risks... but the rails fell at the Rolex double that Nicolas Delmotte was talking about… it did a lot of damage!
Both Bertram Allen with Harley vd Bisschop and Pénélope Leprévost with Vancouver de Lanlore succeeded in lowering the clock... but they didn't manage to stay clear!
Martin Fuchs came very close with his 9-year-old mount Leone Jei (Baltic VDL), but they were 36 hundredths of a second slower. "Nicolas already beat me in La Baule where we were third with Leone Jei. Here, we've come second... I'll meet him in Tokyo in three weeks where I'll ride Clooney who has more experience and is faster!"
Finally, only Marie Demonte succeeded in achieving the third double clear round of the event with Vega de la Roche (Diamant de Sémilly) for a magnificent podium, with all three pairs stopping the clock in the same second! "For me, to be in the jump-off of a competition such as this with such great riders is already amazing... but I will continue to work to be able to go faster and beat them next time! I'm really happy with my weekend because we made a plan to come here and everything went as we hoped. It was a dream weekend."
Nicolas Delmotte could be satisfied but nevertheless, he preferred to put things into perspective: "I'm very proud of my horse who is in fantastic shape. After La Baule, he was able to take advantage of a period of rest before resuming competition in Grimaud by jumping small classes to prepare us for this event. To win here ahead of Martin Fuchs who is a rider I admire and who is, for me, one of the best riders in the world, gives me huge satisfaction... but as I always say, on Monday, we go back to the stables, and we put all the counters back to zero!"