The next generation of riders makes its mark in Deauville and Opglabbeek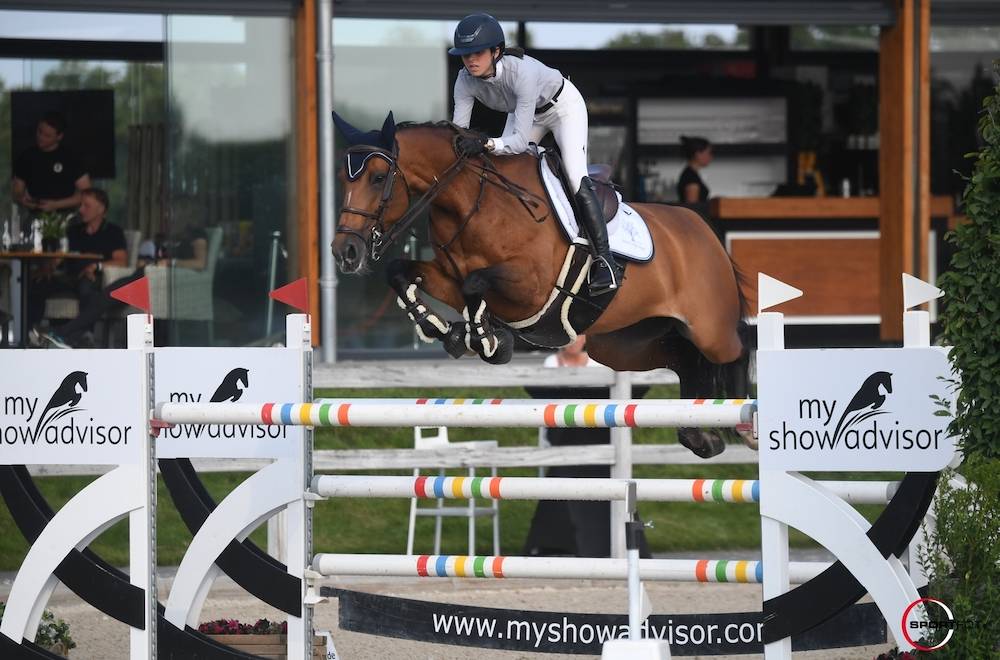 16 August 2021
Author : Eléonore Magnien
Peder Fredricson, Steve Guerdat and Marlon Modolo Zanotelli no longer need an introduction. The years go by, and they remain at the top of the rankings every weekend. However, new faces such as Sanne Thijssen and Ioli Mytilineou are slowly emerging.
London LGCT
Just back from Tokyo, Peder Fredricson went to London to compete in the ninth stage of the Longines Global Champions Tour in the gardens of the Royal Hospital in Chelsea. Once again, the Swede distinguished himself by winning the Grand Prix with Catch Me Not S (Cardento), just a hair ahead of John Whitaker on Unick du Francport (Zandor). Niels Bruynseels was one of the three Belgian riders that qualified for the jump-off along with Grégory Wathelet and Nicola Philippaerts. He completed the podium with Ilusionata van't Meulenhof (Lord Z), being the third and final double clear round.
Peder is currently leading the LGCT rankings. This isn't surprising as he has been placed in all of the stages so far, and won the Grand Prix of St Tropez in May with this same horse. Moreover, he will also take Catch Me Not S to the European Championships in Riesenbeck... To compete for a new medal?
Opglabbeek CSI4*
She already pulled out a surprise by winning the CSIO5* Grand Prix in Rotterdam a month ago at the age of just 22, and Sanne Thijssen repeated that in Opglabbeek yesterday, again riding Con Quidam RB (Quinar). The Dutch rider beat Brazilian rider Marlon Modolo Zanotelli on Like A Diamond van het Schaeck (Diamant de Sémilly), and German rider Kendra Claricia Brinkop with Malibu de Muze (Nabab de Rêve).
It was a successful competition for the German rider from the Stephex stables who had actively participated in a magnificent double for her colors during the 7-year-old Belgian Championship the day before with Takotak Z (Telstar de la Pomme), who is one of the last products of one of the legends of breeding: Narcotique II de Muze. Swedish rider Petronella Andersson won the title with another jewel of Belgian genetics. Odina van't Klapscheut (I am Moerhoeve's Star) is a great-granddaughter of Pilar Cordon and Eric Lamaze's star mare Coriana van't Klapscheut, and granddaughter of the Grand Prix mare Goriana van't Klapscheut. The podium was completed by Brazilian rider Matteus Correa on the Selle Français Eclypse des Forêts (President), half-sister to the top performer Zirocco Blue (ex Quamikase des Forêts) and to the stallion Ready Boy des Forêts.
Donaueschingen CSI3*
In Germany, Steve Guerdat won the 3* Grand Prix ahead of about 50 competitors. He was riding Albfuehren's Maddox (Cohiba 1198), a 10-year-old Swedish-born stallion he picked up in 2018 from Stephanie Holmén. His compatriot Edwin Smits came second with Farezzo (Arezzo VDL), while Germany's Jörne Sprehe completed the podium riding Hot Easy (Andiamo Z).
Deauville CSI3*
There was a large majority of French riders in the CSI3* Grand Prix in Deauville but none of them managed to beat the young Ioli Mytilineou. The 24-year-old Greek rider won with La Perla vd Heffinck (Cooper van de Heffinck), depriving Edward Lévy of the double.
For many, Mytilineou's name is unknown, but the most astute among us may remember her mother, Hannah, who competed in the Athens Olympic Games in 2004 with Santana 329 (Silvio I). She also found Bianca, Steve Guerdat's former star mare, at the age of three and owned her for several years.
As for Ioli, she is based in Belgium where she has been training under the watchful eye of American Shane Crooks for the past three years with her sights set on the Paris 2024 Olympic Games, but before that, she is focused on the European Championships in Riesenbeck for which she qualified with Levis de Muze (Elvis Ter Putte).
Traverse City CSI3*
In parallel to the North American championships reserved for young riders, the city of Michigan hosted a CSI3* in which Margie Engle won with her faithful mount Royce (Café au Lait). The American surpassed two Irish riders: Cormac Hanley on RMF Chacco Top (Chacco-Blue) and Paul O'Shea on Skara Glen's Machu Picchu (Silverstone).
Arnas CSI2*
As happens every year, the domain of Arnas Champburcy hosted a CSI2*. Always competitive, Harold Boisset won the Grand Prix with Verone de la Roque (Kannan). He came in ahead of Jean Luc Mourier and his steel gray horse Captain Keen (Cornet Obolensky) and Clément Frerejacques on Bimbo de Lara (Non Stop).
Lier CSI2*
There were also a few people in Lier for the CSI2*. The Grand Prix was won by Spaniard Mariano Martinez Bastida with Belano vd Wijnhoeve Z (Berlin). American rider Randy Sherman came second with Catch Me P Z, a son of Clinton, while Frederic Bouvard placed third with his regular mount Hugh Grant de Muze (Shindler de Muze).
Featured: Ioli Mytilineou and La Perla vd Heffinck. Photo credit: Sportfot.com