New success for AHECS at the weekend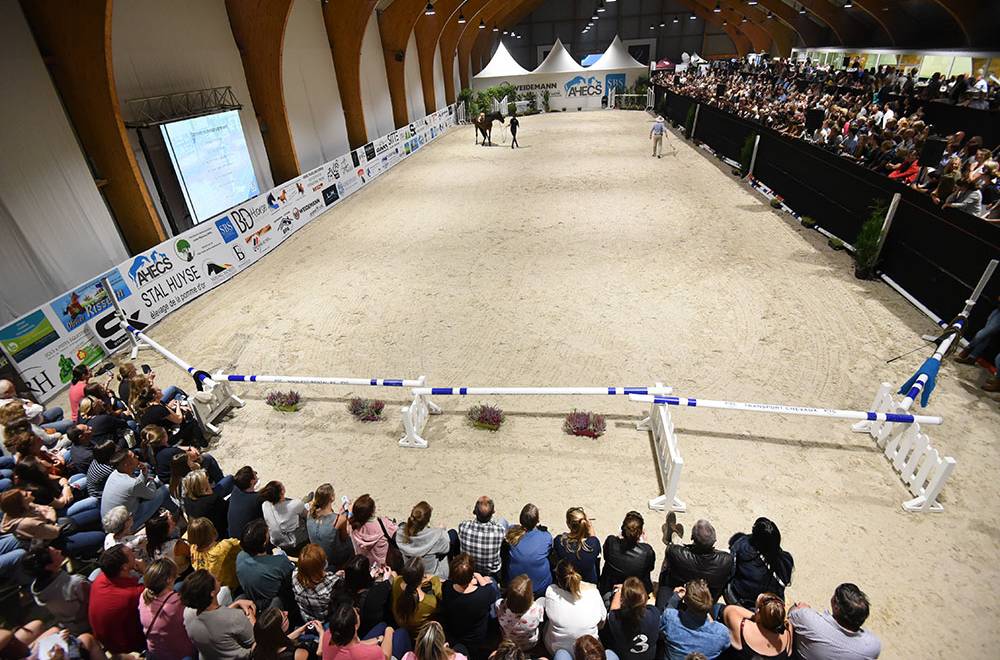 17 September 2019
The AHECS breeding competition reached a new level this year. After continuously expanding over the years and after the live broadcast of the event, the Hainaut breeders' association decided this time to use its competition to select an auction in partnership with Fences. After clinics with Nelson Pessoa, Jos Kumps and Philippe Le Jeune, AHECS have introduced further innovation by inviting Andy Booth for a clinic that welcomed no less than 1000 people – a real barnstorming effort.
It was enough to bring a smile back on the face of president Daniel Boudrenghien, who has spared no effort in recent weeks: "This weekend has been a tremendous success. It represents many hours of work, but when you see the result and the gratitude, it motivates us to continue. We are really very happy with the success of the evening with Andy Booth. We managed to bring together the major sporting figures around him, but we also had new visitors, both from Flanders and from northern France. Years ago, I drove here with two horses as favor to a friend, but with the intention of leaving directly, and I stayed all day. In the end, I left completely convinced, even though I came with a negative attitude. I have seen things that we know deep down but that we do not exploit enough. We had organized three wonderful clinics with Nelson Pessoa, Jos Kumps and Philippe Le Jeune that were fantastic... but we had to vary... and I thought about the experience I had with Andy Booth. We went for it, I called Andy Booth at least 100 times in the last three months and asked him if there was something he could make a show out of. In the end, it was a great success. At one point we wondered if we were going to be able to fit everyone in, but we reacted quickly by adding stands and everything went very well. We had laid on drinks and a jazz concert at the entrance, before the clinic. We managed to bring together riders, breeders but also a non-specialist audience who came for the first time to our competition. It was a total success with a wonderful atmosphere. I've never heard so much applause during a clinic. Andy Booth himself was surprised by the organization and the crowd. He was impressed and suggested coming back for another demonstration. We will now think about it, but it is more than likely that Andy Booth will come back, either next year or in two years if we decide to do a more classic clinic first. In any case, there will be a follow-up.
"And that wasn't our only positive moment of the weekend. We are also very satisfied because there was a lot of business over the two days. On the one hand, the auction we organized with Fences was a great success and we were able to select very good products... but it also forced the merchants, who were used to blocking horses, to make decisions more quickly... not to mention the broadcast on clipmyhorse which also arouses the interest of foreign customers."
"But above all Ghlin is a breeding competition, and three Walloon Championship titles were awarded among the foals, and the two and three-year-olds.
On the foal side, the title of Walloon Champion over jumps went to Nadal d'Esquelmes (Diamant de Sémilly x Chin Chin ), from a maternal half-sister of the great winner Oxford d'Esquelmes and the stallion Conrad d'Esquelmes Z, bred by one of the AHECS pioneers, Daniel Maillart.
He was ahead of Nougatti d'Alphi (Dayton Sitte x Ugano Sitte) and Ginto de Noluve Z (Gayatri van't Welthof x Canturo).
Results of the Wallonia Championship for foals– over jumps
Among the two-year-olds, the title went to Rasall van't Zorgvliet (Casall x Heartbreaker), maternal half-brother of the stallion Camax L (ex Galant vd Heffinck) who competed in Grands Prix and who is from the Salino line.
He was ahead of Hip Hop, by Hus *Maillet (Eldorado from Hus x Calido) out of Darinka van't Fikkelhof (Dominator 2000 Z x Gottwald).
Results of the Wallonia Championship for two-year-olds
Among the three-year-olds, the title went to Sarina van't Rijhof (Solid Gold Z x Indoctro), the maternal half-sister of the international Tamarina, ahead of Gaviotta Pommex *CDL (Gangster de Longchamps x Kannan), who is none other than a granddaughter of Usha van't Roosakker and Kingstone de Villee (Dominator 2000 Z x Clinton).