Nayel Nassar wins in New York!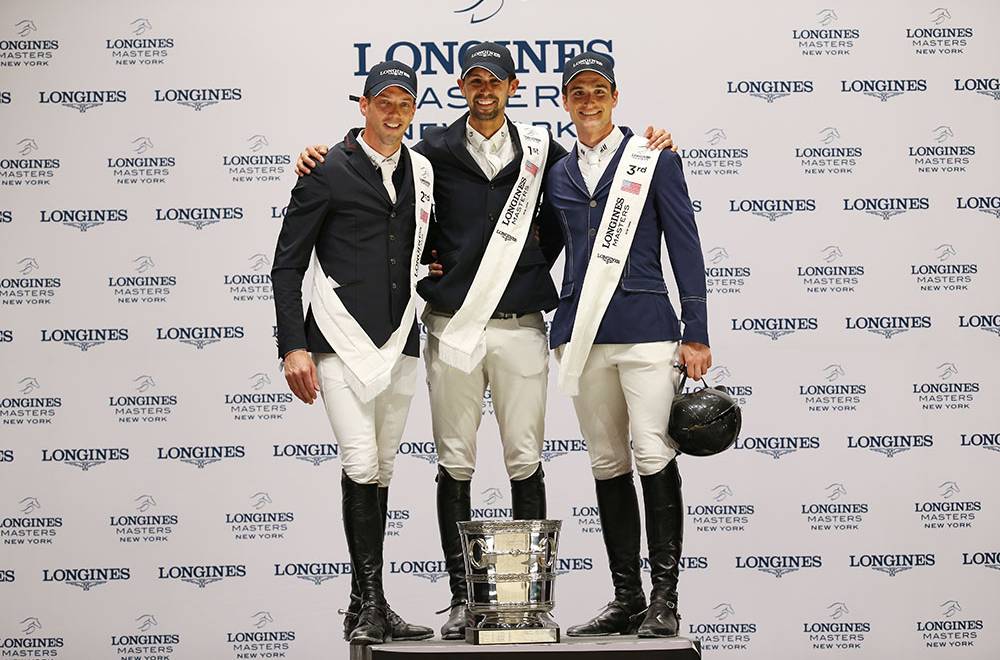 29 April 2019
Young Edward Levy had no luck with the draw. Starting as the pathfinder, the young Frenchman came out of the arena with a pole down, but with the best time, allowing him to jump in the second round... where he again tried his best... but sadly knocked a different pole down with Rebecca LS (Rebozzo LS).
Disappointment also for Kent Farrington who only came to New York for the Grand Prix and managed to get to the second round... but finished 12th!
The frontrunners took fewer risks, but they had the clear rounds: Darragh Kenny on Cassini Z (Cassini II), Pius Schwizer on Cortney Cox (Carlo), Devin Ryan on Caspar's Lasino (Caspar) as well as Beat Mandli on Dsarie (Veron) all placed themselves in handy positions...
But unexpectedly, Irishman Captain Brian Courmane finished with the first clear round of the event with Dino (Vingino).
His hopes of a podium finish were short-lived as Olivier Philippaerts had a breathtaking jump-off round with H&M Cue Channa (Cardento) and set a target time of 40.93.
Daniel Bluman tackled the course with Ladriano Z (Lawito) but could do no better than 41.95.
Harrie Smolders then entered the ring with Une de Lothain (Conterno Grande), from the Florie du Moulin line, on whom the Dutchman rode his first Grand Prix! But the EuroHorse stable rider knows how to peak for major events and showed that once again by knocking more than a second off the time, stopping the clock at 39.46.
In front of her home crowd, Beezie Madden had no choice, she knew what she and Breitling LS (Quintero) had to do, and she attacked the course... but they got a little too close to the Polish oxer and the faults couldn't be avoided, despite a good time of 39.58.
There was only one combination left to go, but Nayel Nassar loves the Longines Masters, and he had already won the Speed Challenge on Friday with the same horse - Lucifer V (Lord Pezi). The Egyptian intended to dethrone another Evergate Stables horse, the stables of his partner Jennifer Gates, from first place, held by her coach, Harrie Smolders. Nayel Nassar attacked the course full-throttle and it worked! It was his weekend, and he won his first victory at this level, in New York!
The day's winner was reveling in his big victory: "Lucifer is a special horse. He doesn't like to go fast at home, or in the paddock... but as soon as he gets in the ring, he's something else. He gives me an incredible feel. I have always loved the Longines Masters. We got to ride in the Masters in Los Angeles, and then I had the opportunity to go to Paris... And now this victory in New York. I really hope to go to Lausanne as well! We were obviously uncertain about how he had recovered after his performance on Friday, and what state of mind he would be in. The first round was a little difficult because he was in fast mode, but when he came back for the second run, he jumped even better, and from the first jump, I knew we had a chance to win the Grand Prix! We've been together for almost a year now, and we're getting to know each other well. He's a horse that always tries and gives me his best. He's faster than any horse I've ridden.
He has his own way of jumping but he does it with disconcerting ease. He jumps with all his heart, and with him, you know that at every event, you have the chance to win."
Harrie Smolders said; "With Beezie and Nayel going after me, I knew I had to go very fast because they're fast riders with very experienced horses. Taking the lead with my mare, who was competing in one of her first five-star competitions, was already great to me. I think that, above all, today was incredibly successful for Evergate Stables. First and second place in a five-star Grand Prix is not something that happens very often."
Olivier Philippaerts said; "I went a little too hard from the start and had a rather long distance at the second jump. As a result, I had to slow down a little to maintain some control... so I knew that my time was possible to beat. Nevertheless, I haven't jumped many five-star Grand Prix's with this horse yet, so I've got to be satisfied with that, especially since Nayel was rather unbeatable tonight."