Nationality Change for a Greater Goal: Team Israel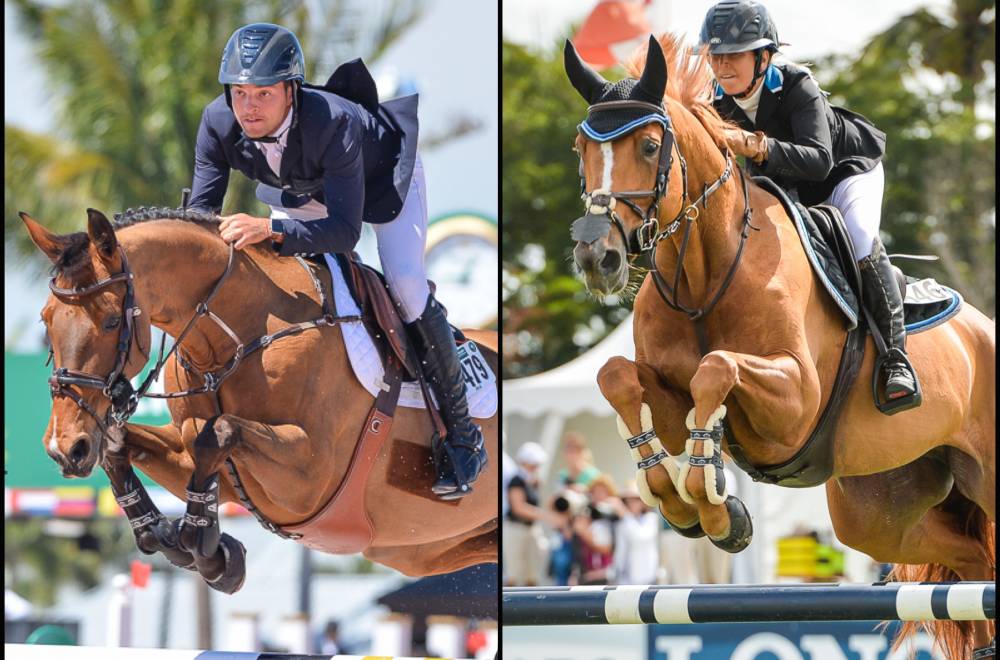 09 April 2018
The arc of Team Israel reached a new high over the winter, when riders representing the country rode to numerous successes in Wellington, Florida, USA at the Winter Equestrian Festival.

Daniel Bluman placed in every CSI grand prix of the season, and won two, CSI5* grands prix with two different mounts. Danielle Goldstein also won a CSI5* grand prix at WEF, marking unprecedented results under the flag of Israel (Bluman is pictured above at left, Goldstein at right.)

Several years ago, both riders switched nationalities (from Colombia and the USA, respectively) to represent Israel, and with more riders following suit, Israel is quickly coming together to perhaps become the next show jumping team to make an impact on the world stage. At this young stage, the team does not have a big sponsor standing behind them, and Israel has never competed as a show jumping team at an Olympics, European, or World Championship. This year, at least one of those things will change.

Under FEI requirements, riders who switch nationalities must wait two years before they represent their nation in team competition, and for that reason, the upcoming Longines FEI World Equestrian Games Tryon will mark the first time that Team Israel Show Jumping will have enough qualified riders to fit that requirement, and appear in international team competition.

Even with two strong riders such as Bluman and Goldstein to count on, performing strongly at WEG going to be a big ask. Team Israel chef d'equipe Pascal Levy is fully cognizant of the challenge, but the Normandy, France-based coach is looking forward to what the year will bring.

Levy coaches private clients of many nationalities, including Kristaps Neretnieks of Latvia, who will compete at this week's FEI World Cup Jumping Final; an individual WEG contender from South Africa, and riders harking from Russia and other nations. Several years ago, he expressed interest to a few of his contacts in training a small, up and coming country. He received a call from Michel Finquel, CEO of GPA Helmets, and the Israel show jumping team director. Finquel, who has long been involved with the Israeli Equestrian Federation was working to develop Team Israel, and Levy has been involved ever since.

"It's really just begun this year," Levy said about the formation of a team. "And even though we will not be able to all be together so much before the World Games, the atmosphere between the riders is really quite nice, with everyone giving support on WhatsApp, sharing the results and following each other. Now we are growing, and looking for sponsors to achieve the Olympic dream!"

With the Olympics still two years away, the 2018 WEG will be an interesting first step to read the temperature of this new team. In addition to Bluman and Goldstein, Dan Kramer, Alberto Michan, Elad Yaniv, Theodore Boris and Simon Nizri are among the riders representing Israel that Levy will be able to consider for the team for Tryon. With their home bases in Europe, Florida and California, it's truly a wide-ranging group of riders, who are mounted on horses at different levels and age experiences.

"Israel began to be considered as a real show jumping country last year, with the fantastic European Championships that Danielle Goldstein had And I think the next few years will be totally different and bigger," Levy said. "We also have two young French-born riders, Robin Muhr and Tressy Murh who will mostly likely represent Israel at the European Young Rider Championship this year, they are good riders and will be good for the future."

Why do riders change nationality? Most of the time (and Bluman is an exception to this, having already been to two Olympics for Colombia), it stems from the desire to have a better chance to compete on a bigger level, when you're from a nation that has many strong riders before you. While Israel is not unique in attracting riders who have changed nationality, Levy notes that while there is motivation to gain an edge to compete internationally, all the riders who have changed flags to Israel share a common thread beyond just being able to show. Their sentiment for Israel is strong, and they are all Jewish.

"When a team is built all from money, as we have seen with some countries, it's not so good for the sport, but when it's built from a sentimental motivation, it is very good for the sport," Levy says.

Israel regularly makes headlines in world politics at a level that concerns the whole world. So can an Israeli show jumping team help bring people together? In a manner of sport, for sure it can, says Levy.

"There's a big way that sport can bring people together. It's the main goal of the Olympics, after all, to bring people together and have world peace. If Israel is part of that, it will be good for the sport."

"We may come from different places, but we ride for what brings us all together," reads the Team Israel Show Jumping motto. It's a valiant sentiment worth following, as the Israeli riders from different places gain individual strength, and prepare to come together under one flag at WEG 2018.