"National competitions must be valued, and the best riders must participate" Alain Jufer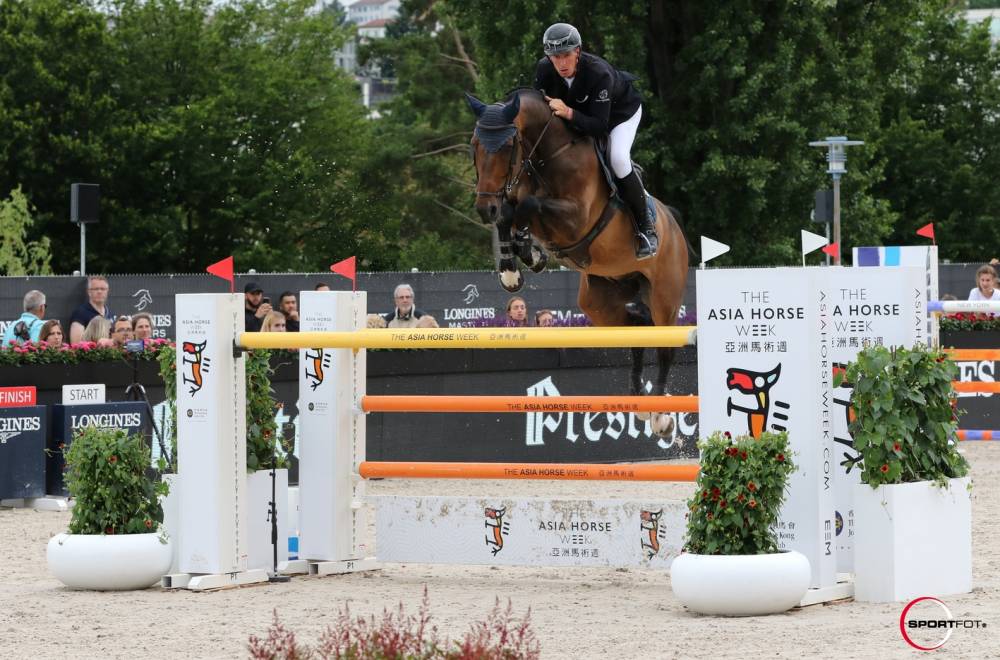 30 July 2020
After fifteen years working with famous horse dealer Gian Battista Lutta, Jurrassian rider Alain Jufer has set off for a new destination: the stables of his compatriot, Steve Guerdat. At the dawn of this new era, he looks back over his entire career and discusses his ambitions, from which his new partnership with the 2012 Olympic Champion was born.
HOW DID YOUR PASSION FOR HORSES AND YOUR DESIRE TO MAKE IT THE TOP LEVEL DEVELOP?
"My parents were breeders; they had a stud farm. I've been around animals since I was very young. I hadn't even gotten out of the stroller and I was already riding a pony! In the beginning, I kind of had to push myself a bit to ride the horses at home rather than working on the farm and going out with my friends. But I was always motivated to go to competitions, especially since my father was putting a bit of pressure on me: I had to win. I didn't have any other sport in mind, but I also wanted to do other things on a daily basis, and if my parents hadn't insisted, I might not have continued despite my competitive spirit. When I turned sixteen, they bought me a horse to compete at the Junior level. That's when I started to take things much more seriously and started to understand that I had to apply myself, ride well and prepare a horse well before stepping into the competition arena and getting good results. In our profession, you have to be driven and have the desire to win, but you need to have a good foundation before you can build something. You have to train yourself and train the horses."
OUR TEAM MET YOU WHEN YOU PLACED FIFTH IN CALGARY IN 2015. WHAT WERE YOU DOING AT THE TIME AND WHAT HAVE YOU BEEN DOING SINCE THEN?

"I had been working for Gian Battista Lutta for ten years already. Moreover, it's largely thanks to him that I was able to evolve in my way of thinking about horse riding. Of course, he was delighted when I won, but what was important to him was to have a nice video of a beautifully ridden course to be able to make a good sale. He encouraged me to slow down and think about how to get my horses to the right place at the right time; not just think about winning. Over time, I realized that riding a young horse and teaching them is much more rewarding for a rider than buying or being entrusted with a mature horse who already knows his job off by heart and is already ready for the top level.
I stayed in his stables so that I could continue to learn and progress. I was lucky that he was always able to keep his horses for a while before reselling them, it allowed me to learn the job of training a horse and gradually climb the career ladder. Then this year, I made the decision to move to Steve Guerdat's stables."
HOW DID THIS PARTNERSHIP WITH STEVE COME ABOUT? WHAT DO YOU EXPECT FROM THIS NEW ADVENTURE?
"Two years ago, Steve made me an offer to come join him so we could work together, but I wasn't ready yet. I had some very good horses and I wanted to continue to develop them. Today, Steve can give me additional support which I hope will allow me to go even further. He's a very talented rider who has gained a lot of experience in the big championships he has competed in. I appreciate his values, his way of doing things and being. I want to combine all this with my own riding. In our sport, there are new things to learn every day. You should never think that you are a stronger rider or that you know more than someone else. You should always look at what others are doing and question yourself. Each rider has their own style and you can learn from each of them.
I also aim to welcome young people into his stables to coach them and I will of course continue to do some trading. Steve needs to compete for a living, especially since he has a fairly large business with more than ten employees who need to be paid. Coaching and trading allow us some financial security as riders, and they can also allow us the opportunity to cross paths with new horses."
YOU ARE BOTH PROFESSIONALS AND OFTEN COMPETE IN THE SAME EVENTS, ANTHONY BOURQUARD HAS ALSO JOINED YOU. HOW DO YOU ORGANIZE EVERYTHING?
"Steve is motivated. The three of us worked a lot during containment. He taught us his method. When we go to different competitions, we always take a moment during the day to exchange our videos of the courses. We have set up a real system of mutual help and advice. We're a great team! I hope that we will continue to progress like this because it will allow us to really evolve."
ARE YOU SENSITIVE TO STEVE GUERDAT'S "POLITICAL" COMMITMENTS TO THE FEI?

"Steve puts a lot of effort into the riders' interests, even though he doesn't have a lot of time to spend on that, but it's essential because not all of us are able to do that. I've known him since he was very young, he's very honest; you can trust him blindly. He fights so that equestrian sport remains a clean, fair, humble, humane and animal-friendly sport, which is not easy because money has taken a huge place in the equestrian world in recent years. It's necessary to act so that young people can continue to integrate at a high level and so that the latter does not end up being accessible only to the wealthy.
On the trade side, the price of horses has skyrocketed. They are no longer sold at a fair price. I hope that things will go back to how they were, and that people will start thinking reasonably again. Otherwise, our sport will go down the drain."
WHAT ARE YOUR SPECIFIC SPORTING GOALS? DO YOU WISH TO WEAR THE SWISS JACKET AGAIN?
"I'm slowly getting back on track. At my core, the management of my horses is most important to me and not riding in any event at all costs. This year there will be no Nations Cup, but I hope to be able to participate in one or two World Cup stages. As for next year, riding again for the Swiss flag is of course my main goal!"
THE SWISS ALWAYS SEEMS TO HAVE A STRONG TEAM SPIRIT...
"Yes, it's a big family. The Nations Cups are always very important to us. I'd rather ride in one of them than any five-star Grand Prix, even though I like riding in those too. These events have something extra and I hope that's still the case for most of the top riders."
IN THE WAKE OF THE HEALTH CRISIS, THE CURTAIN HAS BEEN BROUGHT DOWN ON SEVERAL FIVE-STAR COMPETITIONS. WILL THE REVALUATION OF NATIONAL CUPS OR NATIONAL COMPETITIONS, WHICH HAVE BEEN IGNORED FOR SOME TIME, HELP SAVE EQUESTRIAN EVENTS AND CAUSE A RETURN TO A MORE REASONED SPORT?
"We mustn't forget about national competitions. It's in these events that we all start out. They are very important and formative. It's thanks to them that I was able to prove myself and join the Swiss team. Whether it's in my country or in France, for example, national competitions must be valued; the best riders must take part in them. I think that there should be no five star events on the weekends of the Swiss, French or German Championships, in order to push the top riders to participate."
Interview by Théo CAVIEZEL and Pauline ARNAL. Featured photo: © Sportfot.com