"My whole life is made up of stories of friendship, longevity and sharing the values of horsemanship and sport." - Alexandra Ledermann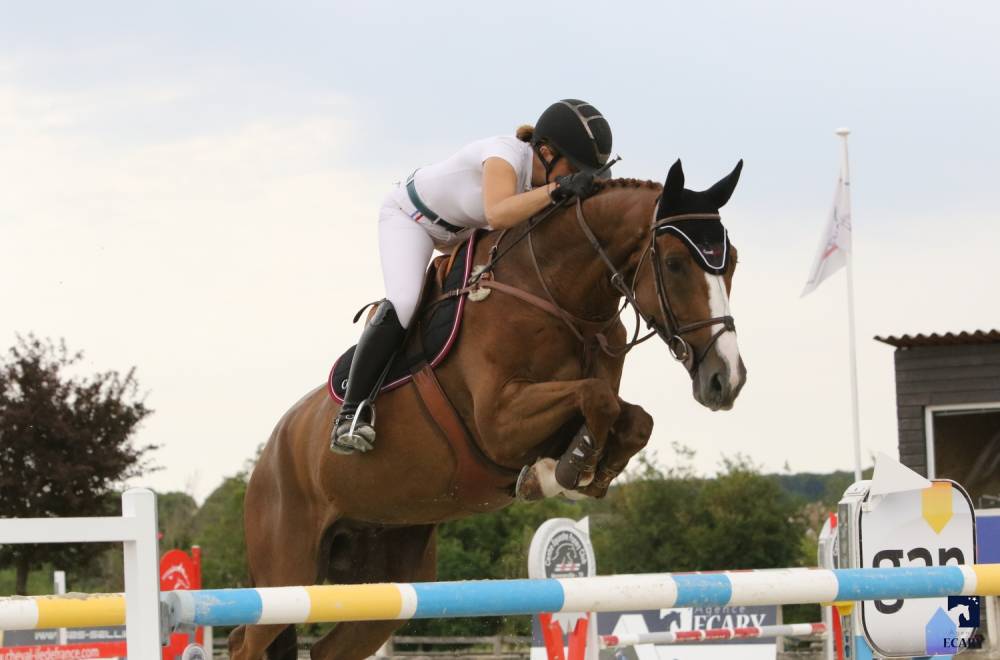 27 March 2020
In 1992, at just twenty-two years old, Alexandra Ledermann won her first World Cup Grand Prix, the Paris-Bercy with her good mount Punition (Turf du Lude). But it was with the famous Rochet M (Jalisco B) that she shone at the highest level in 1996. They both won individual bronze at the Olympic Games in Atlanta and the title of European Champions in Hickstead in 1999. Let's look back at a whole generation of jumping history!
YOUR TRACK RECORD IS IMPRESSIVE. WHICH SPORTING MEMORY DO YOU CHERISH THE MOST?
"My gold medal at the European Championships, without hesitation! It was certainly not a global event, but I'm a competitor, so a first place will always be worth more than a third place, Olympic or not. At the time at least, the major European events are worth just as much as the global events in terms of level. Most of the successful riders were European. American riding was not as strong as it is today. As proof, no American was present on the podium in Atlanta. So I didn't win a championship on the cheap."
HOW DID YOU HANDLE THE POST-CORONATION PERIOD?
"Rochet M had an accident shortly afterwards, during the Nations Cup Final in Gijón, Spain. Luckily, I had two other very good horses in my stable that were able to take over during his convalescence: Cook du Midour and Cigale du Taillis. In fact, I was pre-selected with my three horses for the Olympic Games in Sydney in 2000. But despite this, my owner decided that I should go to Australia with Rochet M. I would have preferred to go with one of the other two, because I would have liked Rochet to be able to retire of his own accord post-coronation, without having to stop competing immediately. He was still in great shape, but I wanted to reserve him for more classic competitions, at grounds chosen at his convenience. But you don't always get to do things as you'd like, that's how it is. I'm still happy that he and I have achieved that feat: to take part in a new Olympiad, to the best of our abilities, despite his seventeen years of age and the serious injury from which he had recovered just six months earlier. Unfortunately, we were not rewarded in terms of results."
WHY DO WE STILL SEE ROGER-YVES BOST, YOUR OLD FRIEND FROM ATLANTA, COMPETING AT A HIGH LEVEL AND NOT YOU? DO YOU MISS HIGH LEVEL SPORT?
"It's all about opportunity and choice. It's not just about finding the right horses, either buying them or being entrusted with them - which has become even more complicated today than it was back then - while respecting your own values and convictions. Everyone determines which partnerships they want to accept or not, depending on their nature. Of course, I can't say that I've never thought about the high level. Requiem de Talma, the best, if not the only, horse I have currently, could perhaps have taken me back up there. But it is an illusion to dare to imagine competing at 5* level with just a single horse. Requiem is not a machine, he is very talented, but I don't have a horse capable of supporting him even in intermediate events at the 1.45m level.
That is already a problem for me in CSI3* and 4* events, so I don't even think about trying to commit to less coveted CSI5* events abroad. It wouldn't be smart to do three days of driving to the show, and back, to participate in a six-day competition with only one horse. If I don't qualify for the Grand Prix on the first day, I have to jump it on the second or even the third day, and so on. It's absolutely not viable. But I accept that and I'm not complaining. I might as well not have Requiem either then! But then, I could try to get out of this situation by doing what I don't want to do: i.e. canvassing for big owners and begging them to give me horses, which wouldn't necessarily suit me. I prefer to ride less, at a lower level, staying steadfast in my beliefs."
YOU WERE STILL ABLE TO TAKE PART IN THE GLOBAL CHAMPIONS TOUR OF SAINT-TROPEZ IN 2018...
"Yes, this opportunity arose, the conditions to be able to participate with Requiem de Talma were right, so I seized it. I was very happy to go there, to meet up with old friends and competition opponents. Moreover, my horse behaved extremely well during that weekend and we had some nice runs. Of course, we couldn't win by competing just once like that at this level, but it was a great experience. I've never fought to go to the Olympics, and I went twice. Likewise, I'm not going to fight to compete in more CSI5* events. I take things as they come by staying reliable and conscientious in my work, that's what has led me to get the record that I have. That's the way I operate. I have a strong work ethic and I refuse to bulldoze everything in my path to get what I want. I do things well, sequentially, according to my horses and their rate of progression and then, if that can help me to return to higher level competitions, so much the better. Again, I don't have three horses from each generation entering my stables every year. When you don't have a lot of volume at the start, you understandably have less quality at the end. Or you have to be lucky. To win the lottery, you don't have to buy a hundred tickets a day, but you do have to buy the right one. So I prefer to remain reasonable by taking every horse that passes through my hands to its best level."
WHAT ARE YOUR UPCOMING PROJECTS WITH YOUR CHESTNUT, REQUIEM DE TALMA?
"He's almost fifteen now. He is therefore more mature and more reliable than he was. He is a delicate horse, difficult to manage mentally. He has a lot of talent but is quite unpredictable; he has given me a hard time in the past. However, he has become more steady, as shown by the end of his last season: out of his last ten CSI3*, 4* and Grand National events combined, he placed seven or eight times, which is huge at this level. I'm very happy with him. Now, I'm going to try to manage the end of his career as I managed Rochet M's, to prolong his career as much as possible under the best possible conditions and be able to continue to exploit his immense talent for a while. Because of the current health crisis, I'm stuck like everyone else. I had set up a small program, despite its whimsical nature, in order to take advantage of this crossroads period between his best listening skills, his solid experience and his good physical shape, but so far it has fallen through. It saddens me because I'm losing precious months with him."
SINCE THE BEGINNING OF YOUR CAREER, YOU HAVE BEEN ABLE TO WITNESS THE MOST RECENT EVOLUTION OF YOUR SPORT. WHAT IS YOUR VIEW ON IT?
"The influx of sponsors, money and new circuits has brought a lot of positive things to our sport: a better level of remuneration, closer to that of tennis players, for example. But expenses have increased proportionally. It is no longer possible to approach competition as we did before. The competitors, partly attracted by profit, have become fiercer. It has also widened with the arrival of what I call informed amateurism. Twenty or thirty years ago, at a certain level, riders were only professionals who had always been in the business, who had no budget and competed only on talent. Now, we meet very good amateurs who have more means which allows them to find the right horses and to travel to the different events that are taking place all over the world. I'm not criticizing the current system; things have become what they are and that's the way it is. I'm happy where I am. I manage to please myself, my owners and partners who have trusted me for years, as well as my pupils; it's perfect."
YOU TALK ABOUT YOUR PUPILS… SO YOU TOOK ON THE ROLE OF COACH?
"Yes, I've been doing a lot of coaching during the last three years. I offer internships at my stables and I travel all over France on request. It's very enjoyable because it allows me to regularly meet new people who share my philosophy, who still have a passion for horses and sport, which are not incompatible, as some might suggest. At my level, I like to pass on to amateurs my riding style, which is rather natural and always respects the animal, as well as my way of approaching jumping. I like to see them trust me, progress, and have fun… because it is important to have fun. That said, I am above all a rider, I don't intend to make coaching my main activity."
BACK WHEN YOU WERE RIDING AT THE HIGHEST LEVEL, THERE WERE FAR FEWER WOMEN IN THE COMPETITION ARENA THAN THERE ARE TODAY. HOW DO YOU SEE THE EVOLUTION OF YOUR SPORT FROM THIS POINT OF VIEW?
"There were indeed not many of us, either in France or at the international level, except perhaps in the United States and Sweden. Under French colors, according to my memory, there was also Adeline Wirth some time before, and Eugénie Angot, Annick Chenu, and a few others that I perhaps forget, I apologize, who were formidable opponents. I'm both amazed and delighted to see so many women excel today. The mentality in Western Europe has been slow to change. It was also very difficult in Great Britain for women to get to compete in the bigger competitions. In fact, in 1999, just before the European Championships there, we had to train in the Hickstead arena for the Nations Cup. But the organizers had planned two Grands Prix: one at 1.60m for men and one at 1.45m for women. It was unthinkable for me to impose so much travel on Rochet M, who was seventeen at the time, only to jump the equivalent of an intermediate event. With Marcel Rozier, our coach at the time, and Lesley McNaught, who was riding for the Swiss team, we did our utmost to be able to take part in the men's Grand Prix. The organizer didn't give in. So Lesley and I boycotted the competition and ended up giving him the best answer, an answer from the whole sport, by both of us reaching the individual podium of the European Championships in the same place. I won gold and she won bronze. The organizer of both events didn't come to the press room after the awards ceremony, he didn't have the guts to compete against women (laughs). Anyway, maybe through my performances I made more young women believe in themselves, but I don't know. In any case, if that were true, I would be delighted."
IN 1998, THE FIRST IN A LONG SERIES OF SUCCESSFUL VIDEO GAMES WAS RELEASED, TO WHICH YOU LENT YOUR NAME. HOW WAS THIS PROJECT BORN?
"At the time, I was very much in demand because of my sports results. I didn't start anything; it was the video game publisher Ubisoft who approached me. I studied their proposal and I accepted. I was very happy to work with them. I was able to discover a world that was completely different from mine and new ways of working, which helped to broaden my mind. I had a lot of fun too, as much as the young people whose childhood was punctuated by the release of these games. They were always welcomed by the public. Even today, many people tell me that they started to ride thanks to the games. Recently, a new groom has been working in my stables, and she is one of them: she didn't meet the horse physically first, but virtually, then she went to see what they looked like in real life, she liked them and she has now been hired by me. I think it's a great story."
AND ALEXANDRA LEDERMANN SPORTSWEAR, YOUR EQUESTRIAN READY-TO-WEAR BRAND?
"During the Summer of 2007, a young woman who was having some difficulty with her mare, Cynthia Luck, came to me for some training. We got along very well. I remember that one day we thought to ourselves that it was difficult to find riding clothes that were both feminine and technical. We were fed up with having to make do with the often shapeless parkas from Germany (laughs). Dressing properly for horseback riding was much more complicated a decade ago than it is today. But I had no idea that sometime later she would come back to me with a very serious brand project. She hadn't studied fashion design, but she had great ideas. I didn't hesitate and I embarked on this great adventure with her, even though I'd already turned down this type of proposal twice in the past. I have no regrets, I did well waiting for the right partner to show up. We became friends; I'm almost part of her family. Moreover, her spouse is my current partner for the Grand National."
IN SHORT, CAN WE SAY THAT YOUR CAREER, AND MORE BROADLY YOUR LIFE, RESULT FROM THE ENCOUNTERS AND OPPORTUNITIES THAT FATE HAS PUT IN YOUR PATH?
"That's it! My whole life is made up of stories of friendship, loyalty, longevity and sharing the values of horsemanship and sport. In my certain passivity to never want to provoke things, apart from sporting results of course, I probably miss out on certain things, but not these. And that's fine by me. Sticking to my values and refusing to make concessions sometimes deprives me of opportunities and plays tricks on me. I know that's why I don't ride at the top anymore, but I accept it and carry on."
WHILE BROWSING THROUGH THE ARCHIVES, WE DISCOVERED PICTURES OF YOU PROUDLY WEARING THE JERSEY OF THE FRENCH SOCCER TEAM IN SYDNEY...
"(Laughs) Like everyone else, I really enjoy watching other sports on TV, including soccer at major competitions! I watch tennis, skiing and motor sports like the Moto Grand Prix and Formula 1. I have a wee anecdote about this: in my small village of seven hundred inhabitants where my stables are located, young French Formula 1 driver, Esteban Ocon, also lives there with his family. Although we're both champions from different generations (Editor's note: he is twenty-three years old), we are in regular contact. I wish him all the best for the future and for this season in his new Renault F1 Team, even if it hasn't been able to start yet."
RECENTLY, MANY RIDERS WHO DISCOVERED FORMULA 1 THANKS TO THE NETFLIX SERIES "DRIVE TO SURVIVE", TELL US ABOUT THE SIMILARITIES BETWEEN THIS SPORT AND HORSEBACK RIDING...
"And they're right! Although it may seem odd at first glance, horse riding and Formula 1, and motor sports more broadly, have a lot in common. Drivers depend on their cars like riders depend on their horses. They can be at their best and have all the skill but lose a competition because of a hardware failure just as it can happen to us if our horse is injured or doesn't feel right. In the same way, we are dependent on our owners, and riders are dependent on the owner of their stable. My neighbor Esteban lost his place at the wheel last year because his former team was bought by a businessman who preferred to put his son, also a driver, in his place. You can be the best rider in the world, but if you don't have talented horses or good equipment, you won't be able to do much. If we make Fernando Alonso (Editor's note: Spanish Formula 1 driver, World Champion 2005) drive a Twingo, he will always be not as good as a mediocre Formula 1 driver. Unlike stadium athletes, who only depend on themselves, we depend on our mounts or machines. And Grand Prix motorcycling, like horse riding, is a sport of balance. The rider rides his machine, has to find the right balance in the turns, etc. I use these comparisons very regularly in my training."
Interview by Pauline Arnal. Featured photo: © Agence Ecary