"Money can't buy you a gold medal." - Lillie KEENAN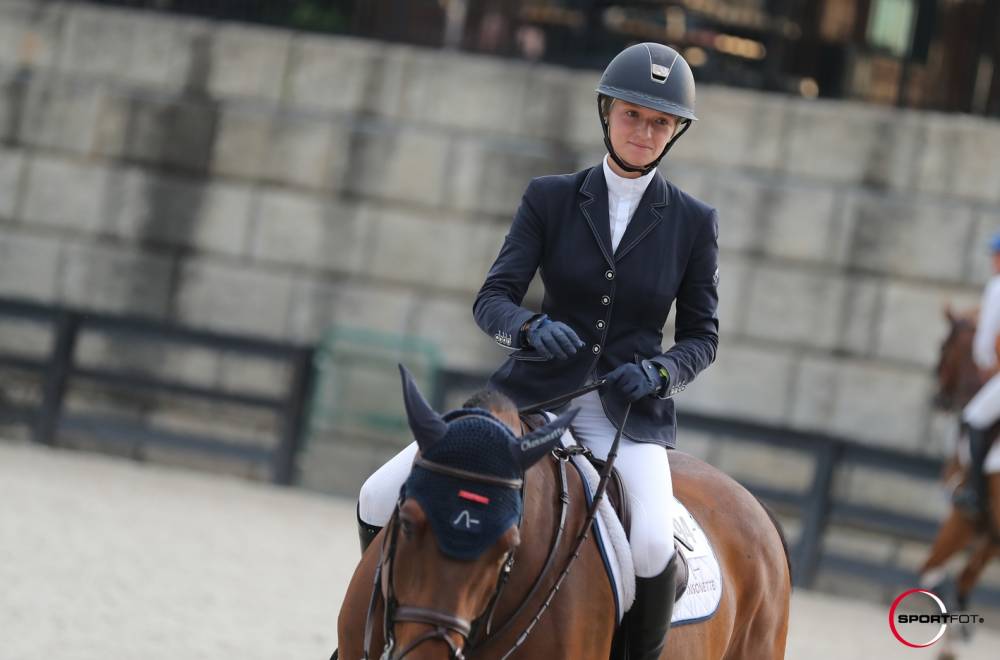 16 June 2019
Lillie Keenan is one of those young Americans who are making a place for themselves among the greatest riders in their country, thanks to a well-structured system and huge financial means. The rider who will celebrate her 23rd birthday this year looks back frankly on her debut in riding, and her main objectives…
CAN YOU INTRODUCE YOURSELF? WHAT BROUGHT YOU TO HORSES?
"I am 22 years old and currently in my final year at Harvard University, and will hopefully be graduating soon. I started riding at the age of six because I saw pictures of my mother: she was a rider and stopped at 19. I tried different sports and instruments; my parents have always encouraged me to find my passion. I'm someone who likes something only if I'm very good at it. So I tried a lot of things before I got on a pony for the first time. It was when I saw her pictures that I begged my mother to let me ride. At first, she didn't want to. I think towards the end of her career she was one of the most promising young riders in the United States and she had a lot of expectation put on her. When she went to college, she didn't feel like combining her studies with riding, so it was hard for her to get out of that environment. I don't think she wanted me to face the same challenge: to find the right balance between school and horses.
She finally let me ride. I learned how without even knowing about show jumping. I just fell in love with horses, I loved being in the stables; my mother had to drag me home at the end of the day. I just wanted to stay and take care of the horses. I was really lucky that I fell in love with the animal and not the sport. I think that's why I've been able to stay involved all these years. I work long hours, where you lose a lot more than you're going to gain. With time, I've learnt that to have a chance to succeed one day, you have to really love what you do, to get through the harder times.
I started riding in stables that were in the center of New York; they no longer exist today. The horses were on the second floor of a building. We rode them in a riding arena the size of a living room, it was very small. We had classes inside, and we could also go for a ride in Central Park. We had to ride on the street to reach it. I loved to do that; it was like a drug!
One of my teachers said to my mother, "Your daughter has potential, she has a good seat, maybe you should take her to a stable that are more suited to competition. "My mother was childhood friends with Conrad Homfeld and Joseph Fargis who are both legends in our sport and who advised her to call Andre Dignelli. So I rode with him until I was 18. He taught me everything I know today. I was very fortunate to have a coach and mentor like him; he became like a member of my family. I attended those stables from my first pony show to my first year as a professional. It's something that's very special to me."
YOU NOW COMPETE AT THE CSI5* LEVEL. YOUR MOTHER'S DREAM HAS COME TRUE THROUGH YOU!
"My parents support me in everything I do. I'm so lucky to have that. My mother, because she was a talented rider, is very well known in the United States. When I started riding, everyone said, "Oh, this is Pam Carmichael's daughter!" She has always been part of my adventure and has always been involved. When I was a teenager and I was starting out in big competitions, it was sometimes a bit difficult. She would give me advice when I got out of the arena: she was often right, but it wasn't always easy to accept, especially at that age. I apologize again here (laughs)! In fact, she has started riding again, so when I'm at a competition, she helps me by working the horses at home. I'm really lucky and it's great because she's really a part of my daily work. It's kind of a unique situation because she's not my trainer. In Europe, there are a lot of young riders who grew up being trained by their parents. I respect that because it's not always easy.
My parents come to almost all of my competitions. It's really important to me that we can do all this together. My sister and brother have their own passions. My sister is a ballerina and my brother was a professional hockey player in Sweden. Our mother is of course very involved with them as well, but my sport is much more familiar to her, so maybe she resonates a little bit more with me, and of course, her dream of competing at the high level is coming true through me."
YOU PROGRESSED TO BIG EVENTS AT A VERY YOUNG AGE, CAN YOU TAKE US THROUGH THOSE EXPERIENCES?
"In the U.S., we have a few national events like the $1M Grand Prix, which I was able to do at 16 because there were no age restrictions, unlike internationally where the FEI requires you to be 18 years old. I was able to progress very quickly because I had my own horses but also great opportunities to ride for others. My coach was incredible about this; he always tried to find me different horses so that I could have different experiences. It was a great benefit to me; you learn a lot every time you ride new horses.
My mom and I are very ambitious so we gave it our best shot so that I could jump higher and go to the highest level. I think it's something I've always been very passionate and competitive about, and also ahead of my age. Maybe it's because my brother and sister are older and athletic themselves. I wanted to be better and do better."
AFTER LEAVING ANDRE DIGNELLI, YOU WENT TO CIAN O'CONNOR'S?
"Yes, for three years. When I was with André, I spent some time in Europe, and after being with him for more than eleven years, we decided that it was time for me to go and learn about another system. He knew that my ambition was to compete. I followed the American system with the hunters and equitation. I also wanted to become more familiar with the European system and that's what I found at Cian's. We were based in Germany, I was able to do some very good competitions, including the LGCT circuit. It gave me a lot of experience."
HAVE YOU BEEN ABLE TO DISCOVER OTHER FACETS OF THE HORSE BUSINESS?
"Yes, absolutely. And as I'm about to finish university very soon, it's time for me to start my professional life; I can't continue as an amateur. Right now I live two different lives, between classes and my life as a professional rider. I'm in a transition period. The experience that I've had in Europe and being exposed to the commercial activity with the young horses that we see from their youngest age, up to the big international competitions, has taught me a lot. You learn to know what to look for and how to buy and sell a good horse. That is really something I want to perfect. I'm trying to take advantage of it as much as I can. I'm about to graduate so now I have to learn how to do it all on my own."
YOU'RE NOW AT MCLAIN WARD'S, BACK IN THE USA. ARE YOU THINKING OF GOING BACK TO EUROPE?
"For the moment I'm training with Mclain. He has his own system, but a great attribute of his is that he respects where I come from. He's more familiar than Cian with everything I have experienced on American soil when I was young. He knows that I was successful and that I learned the basics in the American system. But I also learned a whole different way of doing things in the European system, and a different lifestyle. I definitely use the system that he does: he's my mentor, but he leaves the control to me. He's like a guide; he's unique and teaches me a lot. I think every rider needs to find something that works. That's why lately I've been trying to figure out what works for me."
YOU RIDE EXCEPTIONAL HORSES. HOW DOES THIS MAKE YOU FEEL?
"I'm very lucky. I have an incredible and diverse string of horses, which is good for the long term because it teaches me to adapt to different types of horses. I have horses with a lot of experience, but I also have younger horses that I take care of personally. I'm lucky to have both, which is a strength in the long run. I won't always have my current top horses, even though I'm learning a lot from them at the moment. You have to plan for the future.
They belong to my family, it's something that has always been very important to my parents. They wanted to give me every chance as a young rider. In the long run my family can't finance everything and continue to operate this way, but it was very important for them to give me all the advantages they could from the beginning, while I learned to manage a business and learn to fly on my own."
WHAT WILL YOUR SCHEDULE BE FOR THE NEXT FEW MONTHS?
"We'll be arriving in Europe in July; I love spending time there so I'm really looking forward to it. We don't have the program for the Nations Cups yet, but I'm obviously hoping to be part of it. As for the next big goals, like the Olympics in Tokyo next year, I would say my two best horses are coming back from injury so that's probably not a realistic goal. Also, with the new format of only three riders per team, it's unlikely they'll give a young rider a chance to go unless I have an incredible season with the best horse in the US. Anything is possible, but Tokyo is probably not realistic currently. Maybe Paris in 2024... That would be incredible!
For me, what's important is to try to be better and to progress day after day. I try to find out what works best for me and to be ranked correctly at events. That's what I focus on. I'm very happy with every little bit of progress and I think that's what makes the difference."
YOU WERE ABLE TO ACCESS THE TOP LEVEL IN PART THANKS TO YOUR PARENTS' FINANCIAL SUPPORT. WHAT DO YOU SAY TO THOSE WHO SAY THAT THAT IS NOT A FAIR PATH TO SUCCESS?
"As I've said before, my parents have always done everything they could for me and I've been so lucky, I know that. Should I feel guilty about that? I have never bought my way onto a team, to get to the point about the Global Champions League. It's not something I would do, nor would my parents for that matter. I was fortunate to have two different riders who gave me the opportunity to be on their teams for two years; I'm very grateful for that. It gives young riders a lot of experience. I've always been lucky to have opportunities, some victories and to be invited to certain competitions. I think that's the way life is, full of opportunities.
But I totally understand how frustrating it can be when you look at our sport from an outside point of view. Money plays a key role. It's not just about talent anymore. Unfortunately, that's the way it is: money is becoming more and more important. There are ups and downs, but I think that in the long term, only the best riders remain at the top level. Money can't buy gold medals.
That's what I mean: it's frustrating on a daily basis, because you hope to have this or that horse, to have this trainer, to have these stables, this truck, this commitment to competitions... Money gives you more opportunities, it opens doors, and that's true in any environment. Now, let's look at the top 100 riders in the world, how many come from a family with a lot of means? Very few. Having grown up in a family that was able to buy me horses and all that goes with them, I was able to be around with the best riders in the world, and many of them told me: "you're going to make it. A lot of girls in your situation have given up, fight to the end." And that always intrigued me; what did that message really mean... Coming into this business with so much money, only very few face those tough moments. It's not always easy. There's that moment when you have to find sponsors, the right horses, that good five-year-old that you're going to rely on to become a superstar.
Obviously, some things make life easier, and money is one of them. But in the long run, no one can buy medals and you have to work hard every day to get there. There's no single answer, but that's my perspective."
Interview by Théo CAVIEZEL. Featured photo: © Sportfot.com