Michel Rigo starts his strawberry season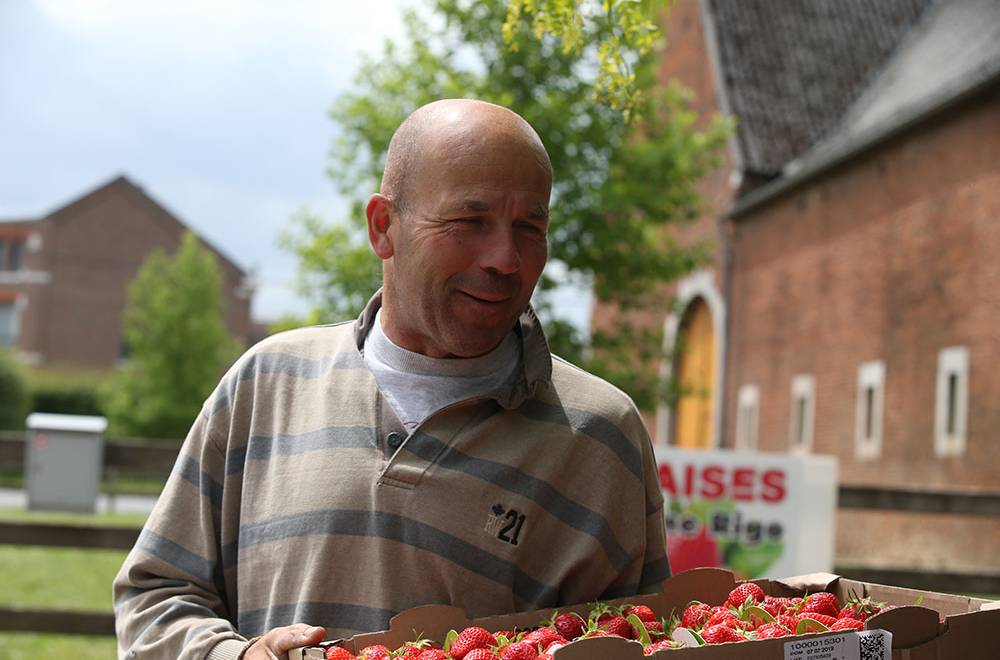 21 May 2020
This year is peculiar in so many ways, and this unprecedented health crisis has had some unexpected side effects. Michel Rigo is a passionate and well-known breeder in Belgium and uses the suffix "De Longchamps". He is also a farmer and a hyperactive type of guy. While two foals are already enjoying the fields and his last mare is overdue, as she is every year, the Rigo family is immersed in their strawberries. After a very slow start to the season, all lights are now green.

"At first, we decided to leave the greenhouses open to delay the strawberries because with the lockdown, the roads were deserted and we didn't want to end up with a surplus of fruit because we sell most of what we produce directly to consumers. In addition, we had cool nights and quite a few northerly winds that made the fruit ripen very slowly, and we've had a few deformed berries that will end up in jams... but today, with the decontainment happening, people are moving around again and they want strawberries! We don't have enough to meet the demand, but this should improve in the coming days. This year, we decided to start growing asparagus, but in the end, we decided to let the plants strengthen for a year and will start selling them next year. We are seeing more and more people returning to local products, but at the same time, we're being paid less and less for growing cereals. So, several years ago, we decided to diversify, but with a focus on quality: we select varieties with great taste, even if their yield is often a little lower than other varieties. Moreover, we advocate a reasoned approach to agriculture because we believe that quality comes through, and customers are more and more aware of this as well," explained the breeder, who is never far from his horses.
"This year, we had a colt by Colorit out of Justice de Longchamps (Verdi x Clinton x Heartbreaker) as well as one by Cartani out of Icone, who is the daughter of our two breeding icons: Gangster de Longchamps and Dragonfly de Longchamps (Clinton). We're still waiting for a colt out of Euphoria, but like she is every year, she's overdue... until now, she has at least been letting us sleep every night," added the breeder, who has been very affected by the death of the stud's star this Winter, the former 6-year-old World Champion, Gangster de Longchamps. He nevertheless decided to continue the adventure since a colt by Hardrock Z out of Gangster de Longchamps' full sister will soon join the Waremme pastures.