Michel Guiot, an active man of the land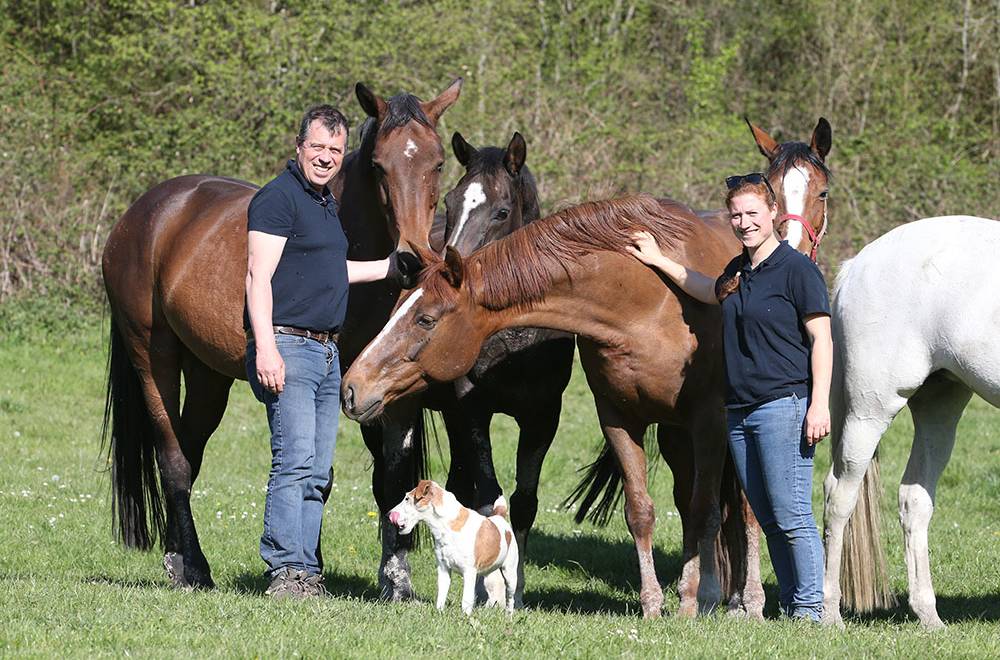 24 June 2021
A few months ago, Michel Guiot took over the Société Hippique Française (SHF) presidency. He has been based in Champagne-Ardenne - now part of the Grand-Est - for 30 years, and along with his wife, he has created the Haras de Talma. This Belgian family has blended into the French landscape by becoming an important player in the industry. In parallel with his breeding program, this Doctor of Veterinary Medicine has developed, along with his friend and colleague Denis Hubert, benchmark practices at France Etalons, and is strongly committed to the development of the Selle Français studbook.
Today, the SHF sees in its president a man of the land, which is implied in his involvement with various organizations: he is far from the "suit-and-tie" bureaucrat. Never at a loss for innovation, this year, he has set up the first edition of an online auction of 100% Talma bloodstock, offering his entire 3-year-old crop as well as his best fillies born at the beginning of the season, and two renowned broodmares!
So many different projects that have made us want to find out more about what Michel Guiot's has going on.
Why did you decide to get involved with the SHF?
Michel Guiot: "The industry has given me a lot and I think it's important that people who have success can in turn invest and give back to the industry. I think that until now, the SHF has sometimes been a little too far removed from the breeders, riders and leaders in the sport. Moreover, it has often been too busy focusing on promoting show jumping and the Selle Français breed, which are certainly the flagship activities, but the SHF is a parent company that shouldn't neglect its other aspects. For my part, I have always been interested in many different disciplines and today, I would like to encourage more collaboration. It is important to work with the different disciplines and selection bodies. With this in mind, Emilie Morichon has taken the position of Director within the SHF. Passionate about driving, she was responsible for the Fédération des Poneys et Petits Chevaux (Federation of Ponies and Small Horses) in France. It's a job that requires federative qualities, and that is exactly what we need within the SHF. In recent times, it is mainly the branded jumps and banners that have given the SHF visibility, but I think it is important to realize that the SHF has nothing to sell and that it must become more discreet and more efficient. We're also working hard on the new CAP 2023 project (Common Agricultural Policy), animal welfare and the issue of keeping the horse as a rural animal. These are all issues that the average person doesn't consider or understand, and which have not been sufficiently taken into account by the SHF but which are extremely important and to which we must devote a lot of time. The horse is an integral part of French agriculture, and it is all the more important that during our term, the new CAP is going to develop more and more new brands along with organic farming. The reduction of the use of chemical products, the conservation or planting of hedges, the maintenance of plots of land... This all corresponds well with the philosophy of horse breeding. So we really do have a role to play. Unfortunately, we're often penalized by this label of amateurism that is attached to horse breeding, unlike cattle or pig breeding. That's why I would like to see grants concentrated only toward professionals who have to pay VAT and other expenses, unlike amateurs. Such a change will make people cringe, but when we approach the subject, you realize that the pony world and other disciplines want the same thing."
Is there a risk of you to spending more time in the office than in the field? Is that your wish?
M.G.: "Certainly not! I am still a veterinarian first and foremost. Today, I'm lucky to be able to count on a whole team that allows me to devote time to other activities. The hardest thing is to accept that there are only 24 hours in a day! My greatest stroke of luck has been to be surrounded by good people. To be able to count on Maxime Denis, who is in charge of the breeding program and who brings the team together. Damien Logaert who takes care of the field maintenance and the mechanical side; he is now completely autonomous. For the veterinary part, my daughter Marie's return allows me to create some free time to devote myself to other activities, which is also an incredible source of motivation for me. I also devote a lot of time to France Etalons, but there again we're lucky enough to be able to count on Maeva Ruault. She has been with us since the beginning of the project and lately we have added Hélène to the team. She takes care of the administration side in Saint-Lô, between the breeder and the stallion station. Not forgetting Manon Fournier who takes care of the brand's development abroad and communication. In recent years, I have tried to make the organizations I take care of more efficient, to be able to free up my time, and my teams now allow me to do this. Nevertheless, breeding and reproduction remain my passion. I am almost 60 and I may give up my other mandates one day, but certainly not breeding. I love inseminating mares, performing an embryo transfer or taking care of a foal. These are the things that motivate me in life, and the fact that I still have this same desire today, makes me credible."
Michel Guiot with former France Champion of the 5YO Very Nice de Talma (Baloubet du Rouet x Contender).
What is the objective of the sale? Why a 100% Talma sale?
M.G.: "My goal was to get a better handle on things because it allows us to have direct contact with the customers. I think it's a bit of a trend. The consumer appreciates and even demands to be able to speak directly to the producer more and more. If cattle breeders, pig breeders and market gardeners can do it, why can't horse breeders do it too? For me, it's also important to be able to organize a presentation of the horses which will take place on July 3rd at the stud farm where everyone is welcome. After a complicated year due to the health crisis that we have just gone through, it will be a great opportunity to get together. It's also a great opportunity for people who don't know us to come and visit our facilities and to see our breeding program. It allows us to make our organization accessible while allowing people to discover our region. Being able to show "de Talma" horses at the highest level on television is of great interest but it is also important that people can come to the source. The sale will close on Monday evening, July 5th online.
Irréelle de Talma (By Cera d'Ick x Quaprice Bois Margot), maternal half-sister to Baikal de Talma
In the future, perhaps we will also be able to offer the sale of progeny from our stallions or progeny from our clients who breed their horses at Talma but to begin, it was important to create this 100% Talma sale where you can find all of the lines we breed. It's for this reason that I have decided to put an entire crop of horses on sale and I'm seeing today that the concept is pleasing, given the feedback we have received."
Selling an entire generation is an amazing decision to make…
M.G.: "I didn't want people to think that I'm kept the best ones aside. In our stables, we have 30 stalls, that's four to five horses over five to six generations that we're able to sell. We can therefore put an entire crop up for sale and repeat that in a slightly different way in the future if the sale goes well. We're also lucky enough to have many horses that are currently doing well. That obviously attracts attention."
Indigo de Talma (Quick Star x Stakkato), grandson of the Nations Cup mare Valkyrie de Talma.
When you started, you were a breeder and a veterinarian. Today, you're even mastering the valuation of your horses at stud.
M.G.: "For me, in horse breeding, there are three items that are expensive. First of all, the feed. For this reason, I thought we should be farmers and make our own feed. The second item is veterinary expenses, where I would include the cost of breeding and finally, the last item is the valuation. There is a limited market for the sale of foals. It's often the sale of a single horse, whether it's a 3-year-old who is out of the ordinary, or a 5-, 6- or 7-year-old that we have add value to, that is the basis for how we make our living. At one point, I found myself with a dozen horses working with different riders, and that represented a significant cost. Marie's interest in continuing our work motivated me to build our own stables. The concern with this kind of project is having a good team and good tools. We're lucky enough to have good quality of horses, so we decided to start building new facilities. Today, we have about 30 horses in work, that's a lot and you have to make the right choices for them."
Lambada de Talma (Baloubet du Rouet & Fashion de Talma), from Rahotep de Toscane'sline
Is Cocktail de Talma's ascent to the top level with Gregory Wathelet a dream come true?
M.G.: "We have always believed in him and that's why we have entrusted him to Gregory. For me, to hear the Brabançonne anthem thanks to the victory of a horse that I, as a Belgian, bred, makes me emotional. To see him this weekend doing his first 5* Grand Prix and taking sixth place is fantastic. His progress has been really fast. Gregory has high hopes for Cocktail in the future, but we've already been approached to sell him quite a lot and a sale might take place at some point. For me, it is especially important to keep our best mares. Cocktail's full sister, Cocaine de Talma, also performed well this weekend in Fontainebleau but she remains under saddle with our in-house rider. This allows Audrey Teixidor to count on quality horses of age that combine a breeding and competition career. A mare like Cocaine won't be for sale because it is important for me to think about the continuation of our breeding program by keeping the best daughters of Reggae de Talma to take over from her soon."
Michel & Marie Guiot with one of their star mares, Reggae de Talma (Cento), dam to Cocktail de Talma.
If your daughter Marie decides to follow in your footsteps, will that be a big legacy for her to take on?
M.G.: "I'm fortunate to have three daughters who are passionate about horses, even though Marie is only going to take over the breeding side. Mathilde collaborated with Maxime in creating our sale's catalog, for example, and when they come back to the stud farm, they always take advantage of it and go for a ride. The succession plan must be fair for the three of them and we're already studying the possibilities that are open to us today. I think that for everything to go well, it's essential that the business is profitable because it requires a lot of capital to be tied up in it. I also have in mind that my right-hand men like Maxime and Damien may take shares in the Haras de Talma so that Marie is well surrounded to continue on with its activities in the years to come, but for the moment, I'm still by her side, and I hope that we'll be able to work together for a long time to come, because I still have many projects in mind."