Mégane Moissonnier is ready for the future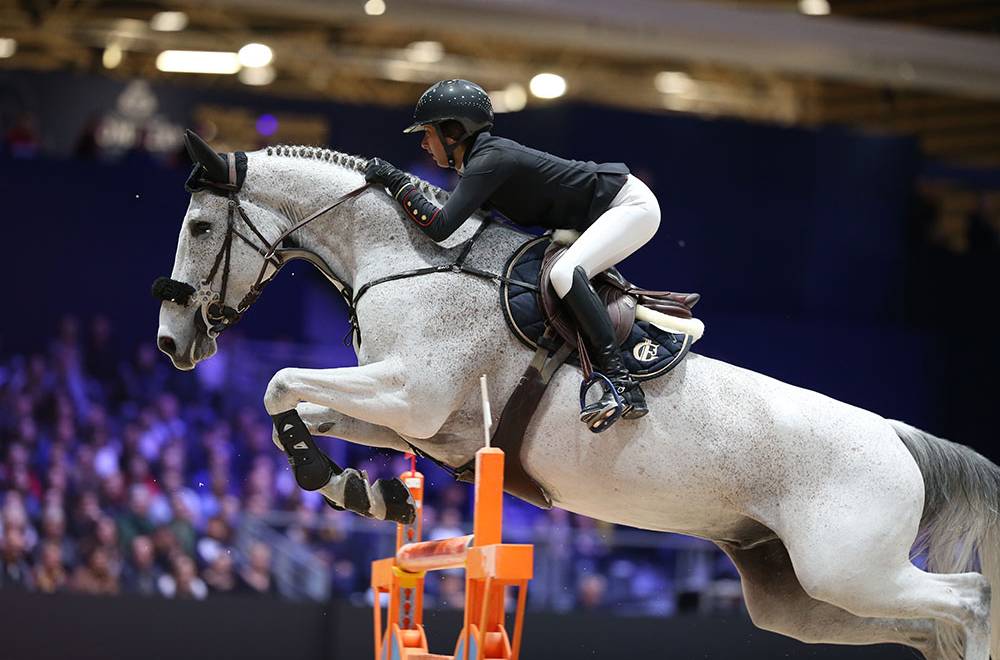 25 March 2020
While Mégane Moissonnier was in the midst of her ascent, she lost two of her top mounts in quick succession. Firstly, the departure of the horse that enabled her to take part in her first five-star at Equita Lyon last year: Uhlan Okkomut (Mylord Carthago x Eclair des Bois) who has gone on to join Philippe Léoni's stables having achieved a large number of Grand Prix placings with the young female rider. It was then the turn of Holsteiner stallion Cordial (Casall x Chicago Z), who returned to Germany to be ridden by young rider, Rebecca Pohl. A full brother to the stallion Cashpaid J&F, the bay took 4th place in St Tropez 4* Grand Prix, and at the beginning of this year, he placed 4th place in the Oliva 2* Grand Prix. Laurent Guillet, with whom the Bresse rider works, has nevertheless not left his rider without a mount, and has just acquired Baladin des Matis (Padock du Plessis x Tresor de Cheux), who has been ridden thus far by Anthony Bourquard.
There are so many reasons for us to take stock of the situation with this 23-year-old rider, who was a member of the French team at the European Pony Championships in 2012 and 2013, with the late Jimmerdor de Florys (Nimmerdor).
"The sale of Cordial was expected. He was bought having seen him free-jumping at the age of three, trained, and apart from one year of breeding, priority was always given to his sport career. So it was clear that at some point this would lead to a sale. When you jump him, he makes you feel like you're flying. I think he really is a horse that's meant for jumping the big events. I would even go so far as to say that he is a real championship horse. He loses time jumping so high, but lately, we've been working to get him to be more economical and he has really improved a lot, as can be seen in Oliva where we achieved several placings. He's a real clear-round machine. His new rider is still young, but I think they have a lot of room for improvement and a long way to go together, and will write a great story together.
The sale of Uhlan surprised me more though, because I wasn't expecting it. It was a bit harder on me... even though I was quite prepared not to ride him for a while because I thought Laurent (editor's note Guillet) was going to take him back during the season for himself to have a good time with him and enjoy… but in the end, it was a different story. I think that the possibility of seeing him ridden by Philippe Léoni pleased Laurent, and he can continue to follow the horse's progress. It's a choice that I respect. Uhlan will obviously have a very special place in my heart. This has been a collaboration that was not at all planned, since I'm set up at my parents' place, as they have a small breeding farm with young horses that are ridden by my cousin. I hadn't at all planned to go and ride horses elsewhere, but when Laurent got injured in Cagnes-sur-Mer, he called me and offered me the ride on Ussar des Bruyères (Canturo). We went to a competition and we only posted clear rounds. He then offered me the rides on Cordial (Casall) and Sultan du Château (Kannan), and we decided to collaborate together. The horses stay at his place and I ride them several times a week following the competitions... or not, like now. In the end, it's a win-win. This allows Laurent to go to other competitions, and I get the chance to ride in competitions that are more difficult for him to access... without this collaboration, I wouldn't have been able to ride in a CSI as I did last year, especially since Laurent has allowed me to ride really good horses.
Mégane Moissonnier and Uhlan Okkomut at Longines Equita Lyon
At home, I only have three horses in work, and I don't want any more or I wouldn't be able to take care of them properly. Currently among them is Balou Star (Balou du Rouet) but unfortunately, given the situation, I don't even know if we'll be able to compete together because he only came back to my place for two months before devoting himself fully to breeding. Last year, we wanted to combine the two, but he was in high demand and it's difficult to combine the two. It took us a little while to adapt. He's not the easiest horse, you have to establish codes but once we had, we had some good results.
Obviously, I've been lucky enough to have some very good years on ponies. It was a wonderful experience, but I wouldn't say it was good preparation for the highest level. For me, it's very different. Taking part in the European Pony Championships is wonderful of course. It's the highest level you can reach in that category, it's great. I had some great years on ponies, and they taught me a lot... but I think that really, they're worlds apart. I was very surprised when I started in the five-star category and also when I took part in a few rounds of the Global Champions Tour and realized that the riders helped each other a lot, even when they're not from the same country, whereas in pony riding, there was a lot of rivalry. The mentality is totally different.
This season, once again I'll be able to count on two horses to ride in some of the big events since Laurent has just acquired Baladin des Matis after the sales of Cordial and Uhlan. He's really great and the break we're experiencing at the moment will allow me to get to know him better and to approach competitions in a more serene way... actually, he's serene in all circumstances. For him, everything is easy, I think he's really great. In fact, I feel like I'm riding Quabri de l'Ile when I'm riding him.
For riders like us, who started the outdoor season very early in Oliva, we're all ready for the competition season to start... but it's better to stay home than to be in contact with this virus. There's no doubt about that.
In the meantime, we will keep the horses in work, working on the flat mainly, with some gymnastics and jumping once a week as we might not be competing for a while.
Our goal was the French Championships... but they won't be going ahead on the original dates; they'll be postponed. I hope that we'll have the opportunity to participate in some four-star events and why not one of the other five-star competitions. The best objective would undoubtedly to be able to participate in the Longines Equita Lyon once again."
Mégane Moissonnier and Jimmerdor de Florys at the Fontainebleau European Championship in 2012