Meet the future Swiss Chef d'équipe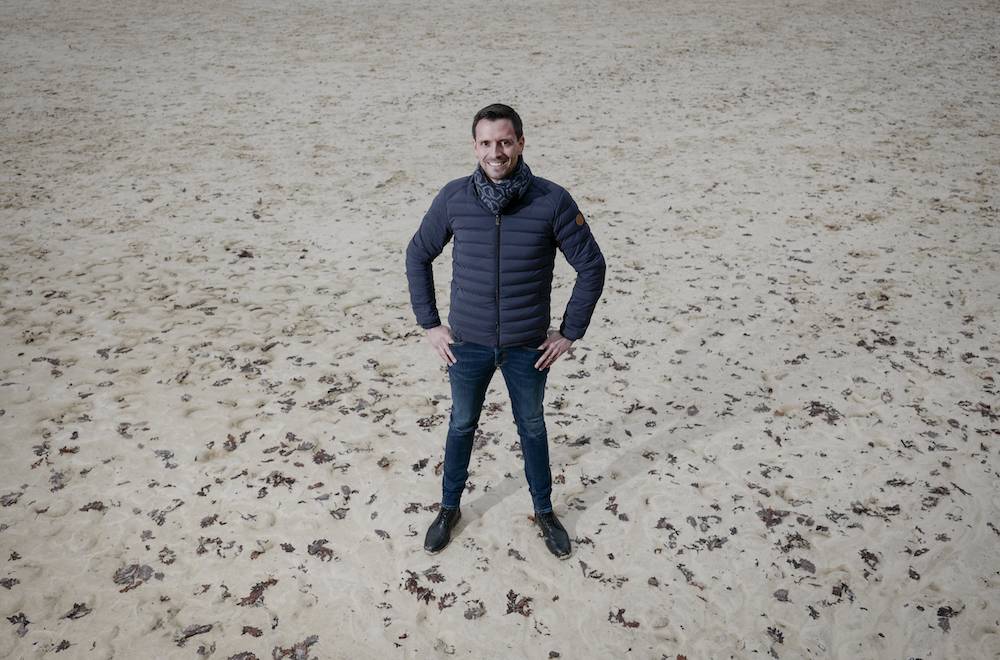 02 January 2020
As we announced at the CHI Geneva, Michel Sorg, the Deputy Director of the Geneva event will be the new Swiss Chef d'équipe after Tokyo. Studforlife met up with this dynamic multi-tasking man in his thirties, that gives his all to equestrian sports. It's a new life and a huge challenge for this young father.
This December 14th, the Geneva International Horse Show Jumping Competition press room is bustling with excitement. Discussions are under way, and speculation abounds: this is the moment the Swiss Equestrian Sports Federation (FSSE) has chosen to announce the name of Andy Kistler's successor at the head of the national team. The suspense lasts just a few minutes. As his name was announced, Michel Sorg stood up, mechanically readjusted his tie, and smiled a tense smile to his loved ones who have come to witness this decisive moment. At just 34 years of age, the Genevan has reached a position as prestigious as it is exposed. Taking over from a Chef d'équipe appreciated by both his riders and the professionals in the industry, both of whom recognize the magnitude of the task he has accomplished, promises to be arduous. But Michel Sorg has solid shoulders. As the Deputy Director of the Geneva International Horse Show Jumping Competition (CHIG), the Director of Show Jumping at the FSSE and a member of the Swiss Team Trophy Committee, he has been a key player in Swiss equestrian sport for many years.
Michel Sorg alongside Andy Kistler at the CHI Geneva press conference
"As I'm an emotional guy, I have to admit that I could hardly contain my tears at the time of the announcement," he confided a few days later, in the clubhouse of a stable in the Geneva region. "I'm looking forward to what happens next." The next step is that Michel Sorg takes office after the Tokyo Olympics. It'll be a new way of life for this young father who has patiently worked his way up the ladder of Swiss sport. With his eternal three-day beard, scarf wrapped around his neck, and leather boots, the man is always in the thick of things. He was born to it, having grown up between the tweed and silk on the shelves of the fashion boutique run by his parents. He discovered the sport as a regional show jumping rider, and quickly blossomed behind the scenes. As early as 2003, he lent his voice to numerous competitions in French-speaking Switzerland, becoming one of the star speakers for the country's internationals, including the mythical CHI Geneva. It has to be said that the man who grew up in Pully, near Lausanne, is a lover of sport, a passion that is the common thread of a multifaceted career as a sports journalist. He trained with regional television and radio stations while freelancing for the equestrian monthly magazine, Le Cavalier Romand. "I then had the opportunity to work for Swisscom TV in Zurich and didn't hesitate to take it up. It was a formative experience." From Lausanne, to Zurich and then Bulle, the Valdesian travels around the country on a regular basis. But neither hockey nor football can compete with show jumping: in 2009, Michel Sorg joined the CHIG committee. In 2012, he was hired by Yannick Guerdat to manage communication projects for his company Artionet. I started on August 1st," recalls the man with an infallible memory for dates. "On August 8th, Steve Guerdat became the Olympic Champion and Yannick and I were in his office following the event. He looked at me and said: "Your mandate has just changed; you're going to take care of Steve's press relations." It's been a crazy time! Thanks to the trust of Yannick and Steve, I was able to be a part of some exciting projects and build a great relationship with the Guerdat family." In 2013, at the creation of the Rolex Grand Slam, Michel Sorg became a central part of the CHIG as he became the Sport and Communication Assistant, before being appointed as the Deputy Director in 2015. "The management team, led by Sophie Mottu Morel and Alban Poudret, has always trusted me. They gave me my chance."
Supported by peers
At the beginning of 2019, he was elected to be the Director of Show Jumping within the FSSE. "When I was offered this position, I took a few days to think about it. But it was a good fit with my desire to become more involved in Swiss equestrianism." At no point along the way has Michel Sorg thought or calculated about what would happen next, absorbed as he was by his mission. During the course of a season, he was able to take concrete action in Swiss show jumping, making adjustments to the rules of the National Championship, and he is committed to the next generation of riders and those responsible for them. Then there's this meeting, at the end of which Andy Kistler says to him "I'd like to see you succeed me as Chef d'équipe, Michel." He smiles, thinking it's a joke. But Kistler is serious. "Andy is a person I admire a lot," says Sorg. "I owe him a lot. It's thanks to him that I was able to speak at my first Elite Swiss Championships." The first reaction of the thirty-year-old? "I told myself that I wouldn't be able to do it. That's often what I think when I'm offered a challenge, but I've never regretted taking on the unknown."
So now the real work was to begin, and Michel Sorg had to present a solid case to the board. However, he was able to count on the support of Stefan Kuhn, Head of the jumping discipline, and also Evelyne Niklaus, the Federation's Director of Sport, and Franz Häfliger, Director of the riding disciplines. Michel Sorg submitted a program with four main areas of focus: sport, the promotion of talents and hopefuls, image management as well as relational and management issues. It's a winner: in September 2020, Michel Sorg will take up his new position as Chef d'équipe of the Swiss Equestrian Team. Until then, he still has to learn the job. It's hard to imagine a better trainer than Andy Kistler. "I'm going to accompany him to a few Nations Cups. Andy is a real manager of people. With Thomas Fuchs, who is undoubtedly the best coach in the world, at his side, they make an excellent pair. That was one of my only demands when I took the job: I asked Thomas if I'd be able to count on him for the technical side for at least a year." Knowing how to surround himself with the right people is undoubtedly one of Michel Sorg's strengths. He is able to count on a solid network of people that he has built up over the years as he has proven himself in the equestrian world.
Ask him which Chefs d'équipe he looks to as role models and he replies enthusiastically: "Apart from Andy, of course, who has done an admirable job for the team, you have to be impressed by Philippe Guerdat. In fact, we had a long discussion together. I know that I can count on his precious advice. I also like Henrik Ankarcrona, the Swedish Chef d'équipe. He's a fascinating man with great finesse."
An unexpected dream
A ringtone interrupts the Genevan, who takes a quick look at his phone before switching it to silent mode and slipping it into his pocket. With just a few months to go, and despite hundreds of congratulatory messages and phone calls since the mid-December announcement, Sorg still finds it hard to believe. Yet this perfectionist has already spent a few sleepless nights thinking about what awaits him: "Becoming Chef d'équipe at 35 is incredible. I can't quite believe it. It's a dream I never could have believed would happen." It's a dream all the more unhoped for as he sees himself propelled to the head of an outstanding Swiss team that includes the World No.'s 1 and 2, Steve Guerdat and Martin Fuchs. That said, despite the presence of these two leaders in its ranks, Switzerland has not won a team medal since the 2017 European Championships in Gothenburg. And Michel Sorg knows that his mission is to reverse the trend. "My objective for the coming years is to increase the number of riders and horses ready to support our two leading riders. We have some very good youngsters coming through like Bryan Balsiger, also Anthony Bourquard and Edouard Schmitz to name but a few." Michel Sorg knows what he's talking about, as he has been working with the Swiss young rider team for four years, notably through the Swiss Team Trophy, which promotes children, juniors and young riders. And to the naysayers who suggest that the composition of the Swiss team would been dictated by Steve Guerdat rather than the Chef d'équipe, Michel Sorg promptly replies: "When you have riders like Steve or Martin, you'd be crazy not to consult them, but they don't choose the team and they both want to make that very clear. They have always respected the position of the Chef d'équipe. "It's important to me that our two leaders are in agreement and they will back my decisions."
And what type of Chef d'équipe does Michel Sorg intend to be? "I'd like the riders to know that I'm there for them," he says after a moment's thought. "That we can build a real team spirit. In good times and bad, I want to establish a climate of trust and sharing with the riders. The goal is really to create a group. Andy has already done that. I'm going to build on that and respect what he's already put in place."
Although a Chef d'équipe may get to lift the trophy with his riders, he's also a ready-made target when the results are not there. Michel Sorg is well aware of the extent to which his future position is exposed. "If you're afraid that the value of your work is sometimes going to be questioned, you don't end up doing anything. I'm not under any illusions, I know I'm going to be criticized. I'm sensitive and I know it will make me question myself, but it won't stop me from moving forward."
Michel Sorg and his wife Clara de Coulon Sorg at the CHI Geneva
Needless to say, his appointment to this coveted position will change the daily life of this father of two boys, aged 4 and 1. "I will reduce my working hours for the CHI Geneva, but I'll keep my job and my function as Deputy Director. I'm lucky to be supported by Sophie Mottu Morel, Alban Poudret and Thierry Naz, who showed a lot of understanding. It should also be noted that the busiest period as Chef d'équipe is the least busy for the CHI, and vice versa. But the one to whom he owes the most is his wife, Clara De Coulon Sorg. As a rider and VIP Project Manager at the CHI Geneva, who is first and foremost an art historian, fully supports her husband. "It was essential for her to be part of this, because it will change the lives of our whole family. But I'm lucky that she is so passionate and has encouraged me. My schedule will be busy, but all my free time will be devoted to my children and my wife. There will also be a lot of flexibility in this position, so when I'm home, I can organize it so that I can really be with them."
August is basically tomorrow, or almost. Upon their return from Tokyo, the Swiss team will enter a new era. My contract is open-ended," says Sorg. "I hope that everyone will be satisfied with my performance and that I will get to stay on until the 2028 Olympic Games in Los Angeles." Until then, the young Chef d'équipe will not be short of challenges.
Text: Oriane Grandjean / Photos: Clément Grandjean