Mclain Ward Gives Inaugural Longines Masters of New York a Perfect Finish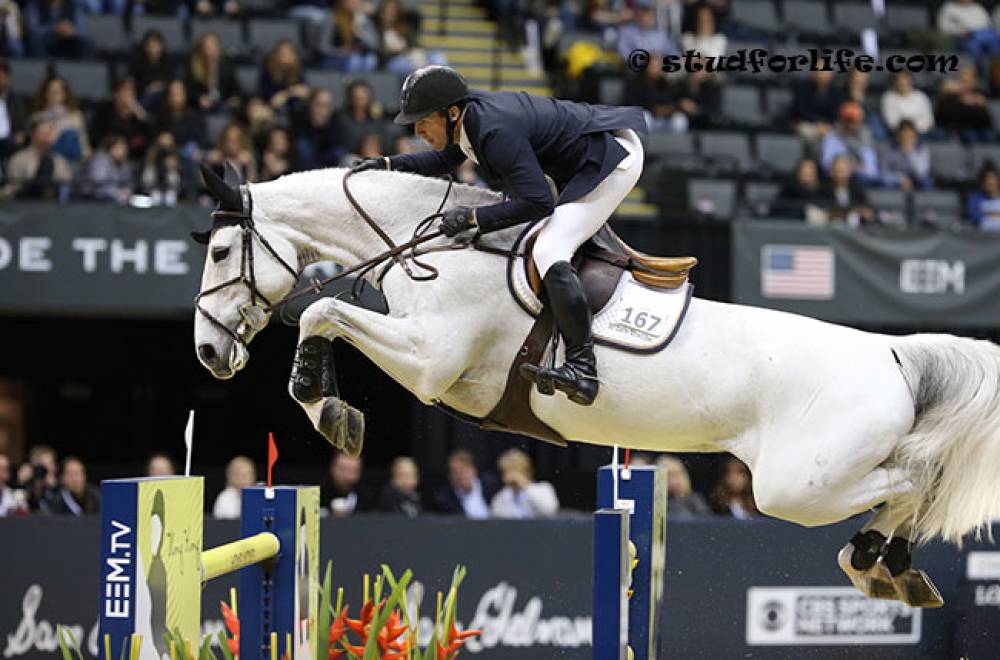 30 April 2018
Longines Masters of New York
Grand Prix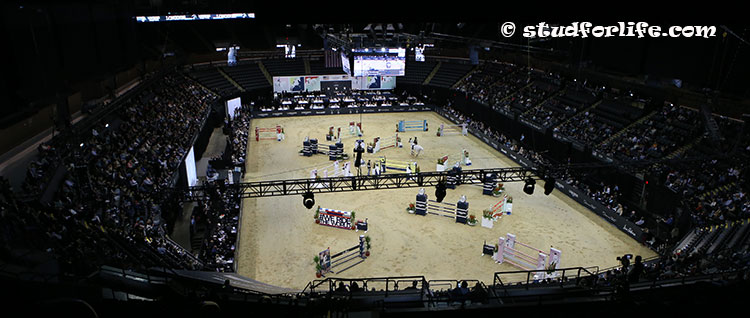 Sunday, April 29, 2018 presented a challenge that the organizers of the Longines Masters of New York rose up and met on Grand Prix Day. NYCB Live – the Nassau Veterans Memorial Coliseum, was a fitting venue for the first ever Longines Masters in New York. As we saw over the weekend, the area proved it has interesting potential with an engaged public who followed the competitions closely, a strong sign for the show to return even stronger next year. It was also thanks to outstanding course designer, the horseman Louis Knonickx of Holland, who constructed tracks that maintained excitement and suspense all week, none the least of those a spectacular CSI5* Grand Prix.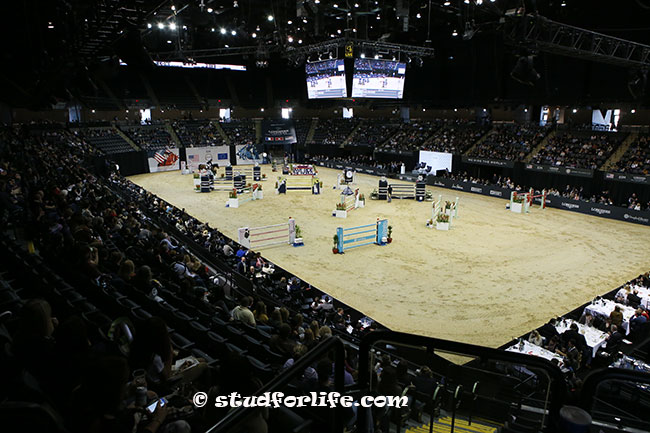 Although in Round 1, the track was quite jumpable, with nearly half of the 30 starters jumping clear without fault. Lingering concern about the footing, which was loose on Friday evening but much improved by the Saturday and Sunday classes, contributed to the scenario, as Konickx took all factors into consideration for a course that was neither too big, nor asked too much in the turns.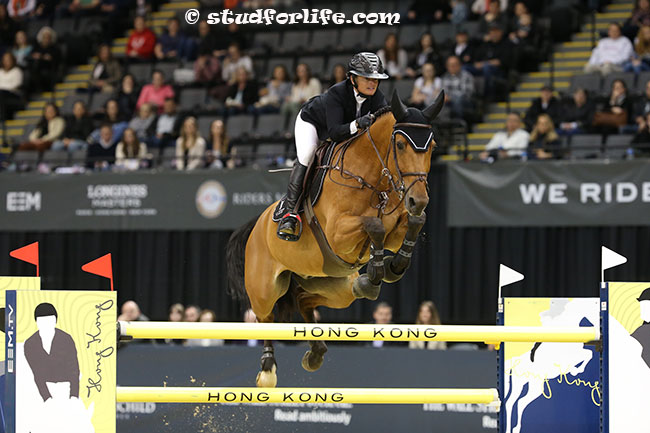 Erynn Ballard of Canada completed a standout weekend; after winning Friday's Longines Speed Challenge with Fantast (Toulon), she drew first to go in the order for the Grand Prix, but set the tone by jumping clear. She returned in the jumpoff and immediately attacked to set a pace of 35.89 that held up through the big, 14-horse jumpoff order for an eventual 3rd place.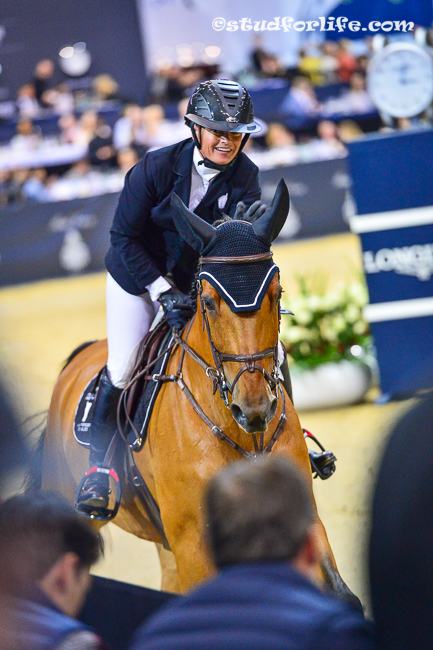 ''There were 14 in the grand prix so I had no choice but to try to go clear and fast by giving it my all,'' Ballard, who rides for Ilan Ferder, said. ''Even a slow clear wouldn't have been enough.''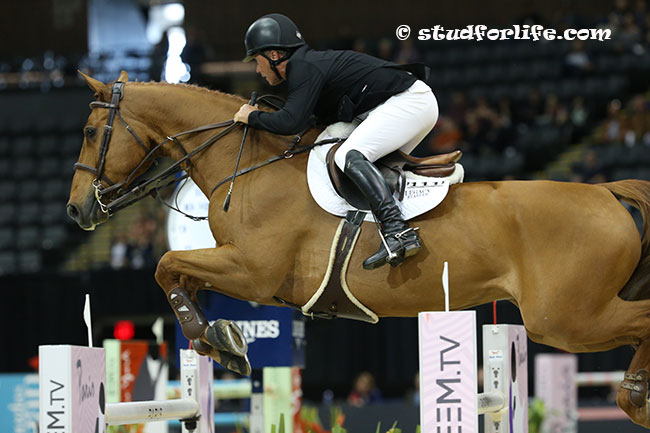 Others in the jumpoff didn't have the same luck: Todd Minikus picked up four faults on Chaventyno (Chacco Blue), while Alberto Michan, another rider of Ferder's, missed his line in the jumpoff and suffered a stop with the flashy Darkos Promise.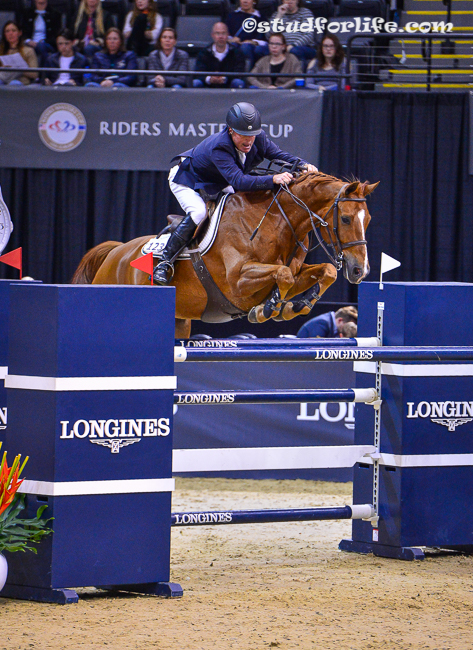 David Raposa was more careful, jumping a double clear with S&L Sage (Wandor vd Mispelaere), but his time of 39.21 would be the slowest double clear for 6th place.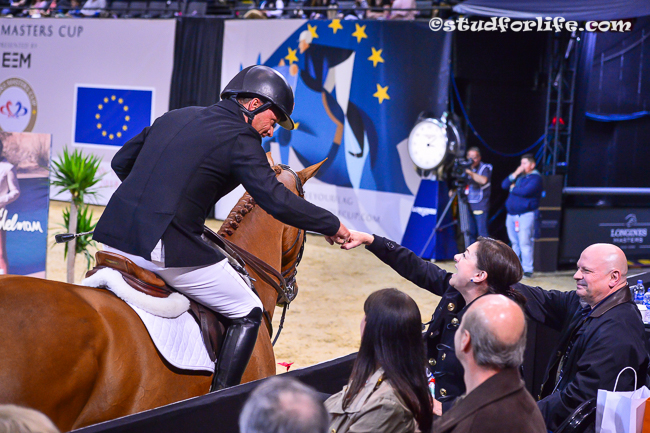 Amanda Derbyshire of Great Britain tried her luck, but Cornwall BH (Con Air) tipped the pole at the second fence.
Adrienne Sternlicht also entered the arena to try her best with the mare who is known around the world as an example of a dream horse: Cristalline (Cristallo). Previously having jumped the World Cup Final (2015) at only 8-years-old under the saddle of Chris Chugg, the beautiful bay continued to make dreams come true with her young American rider, jumping a standout course for 38.35, momentarily putting her into 2nd place.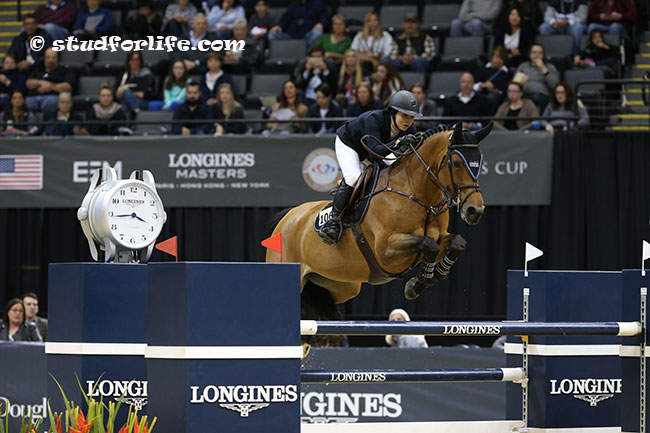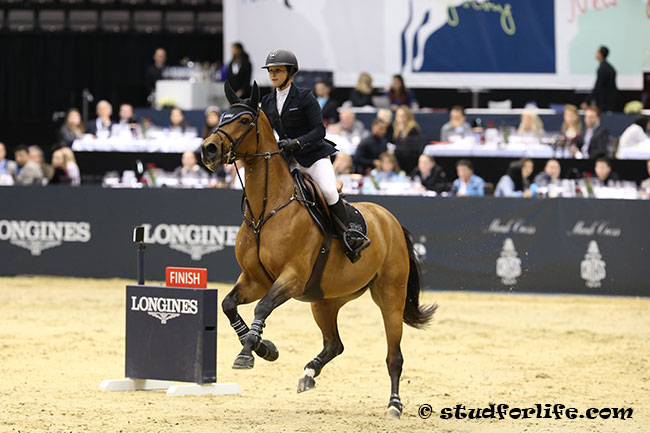 ''Cristalline is an extraordinary mare,'' said Sternlicht. ''She has evolved a lot since we bought her, she has built up muscle and experience, but her first quality is without a doubt her mind. When we bought her, it was clear that she had enormous potential, and now, we get along so well. She always wants to do well, and I hope this is just the beginning! It was not easy for me here, after spending several months in Wellington on big tracks, to come back inside on a small indoor course. My coach Mclain Ward made me change bits for the jumpoff to be more fluid in my turns, but it was not easy for me today. I think I could have gone faster because I trust her so much, but we still have work to do to improve''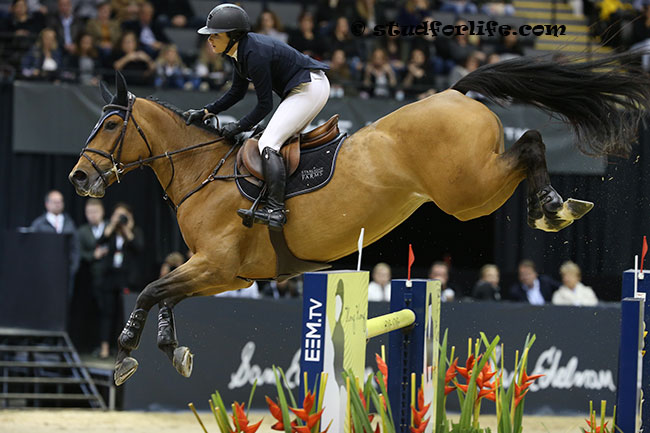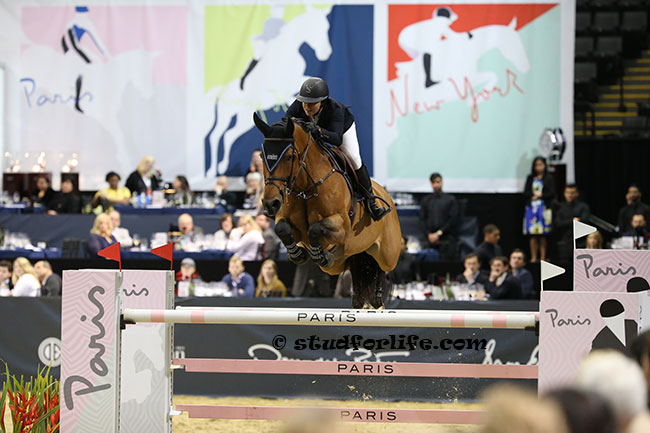 After Sternlicht came a rider with the most pressure on his shoulders; as the winner of the Longines Masters of Hong Kong, Patrice Delaveau stood to move closer to a million euro bonus if he won in New York. Not to mention, his two younger daughters were watching and cheering their father on ringside. Delaveau had finished 2nd on Friday with Aquila HDC (Ovidius) before giving his mare a rest day and taking a family day out to Manhattan, and on Sunday the French rider was focused to make a strong bid in the jumpoff with a risky turn. However, it was a little too daring for Aquila, who ran out in the corner and suffered a stop, dropping Delaveau out of contention.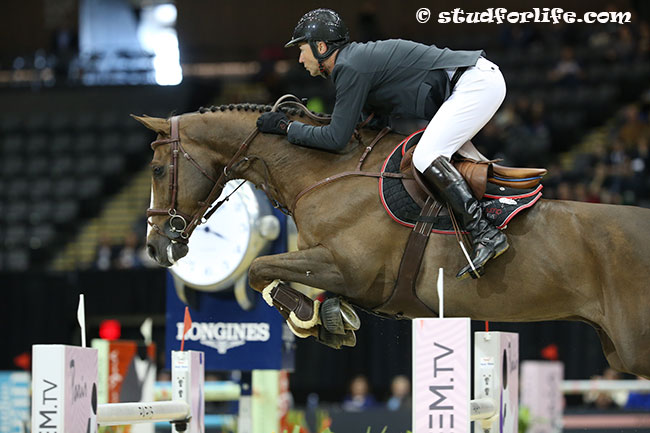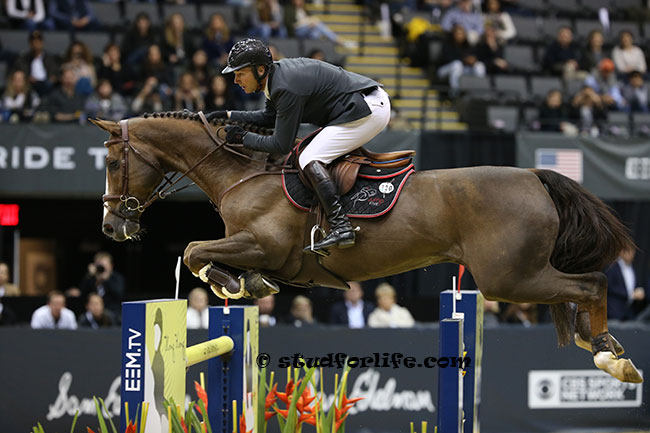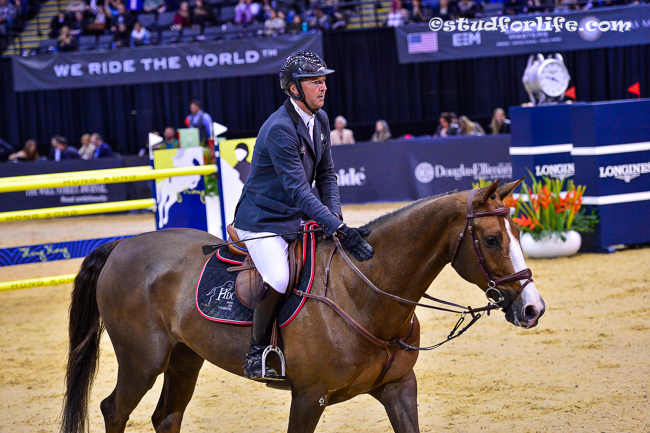 Emanuele Gaudiano of Italy faulted at the first fence with Chalou (Chacco Blue).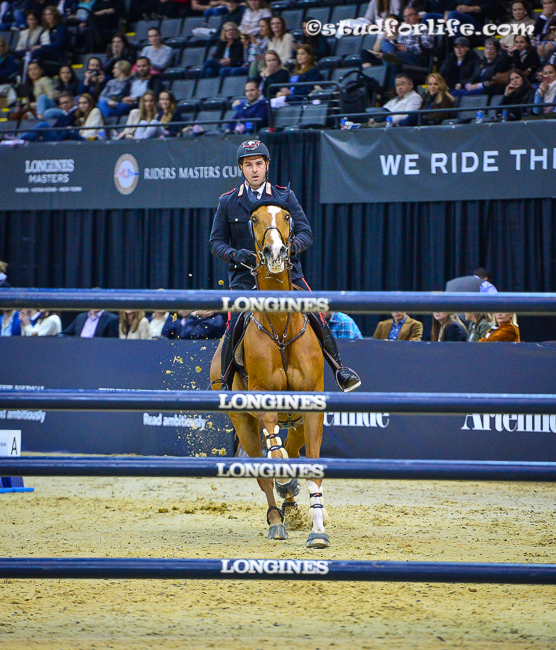 And unfortunately, the future World Number One and European savior from Saturday's Riders Masters Cup, Harrie Smolders, didn't see his luck continue, picking up several jumpoff rails with Cas 2 (Indoctro).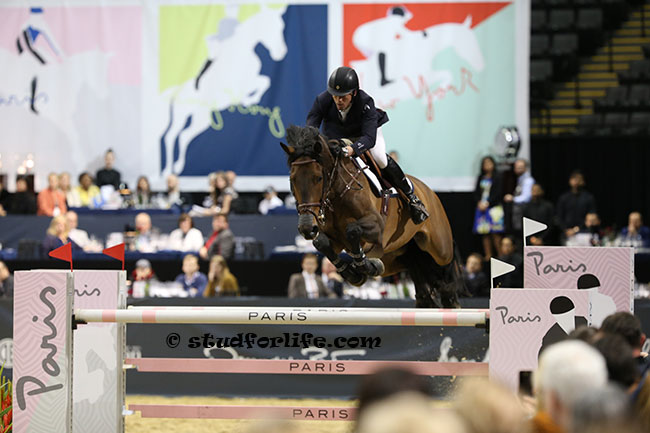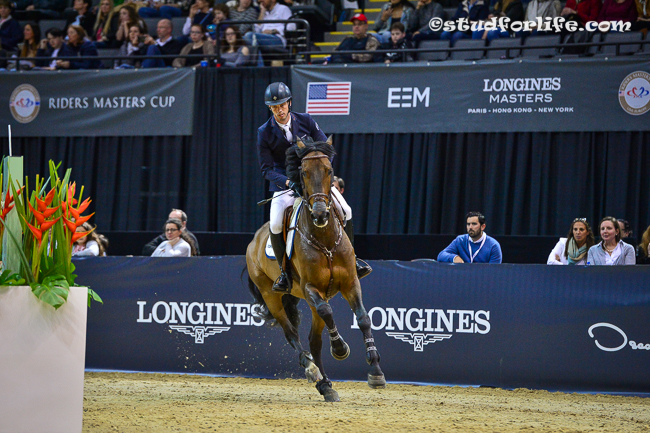 Laura Kraut had a lot of luck in the first round after an awkward chip over a vertical that her young mount Curious George (Codex One) managed to clear, but in the jumpoff they faulted coming out of the combination.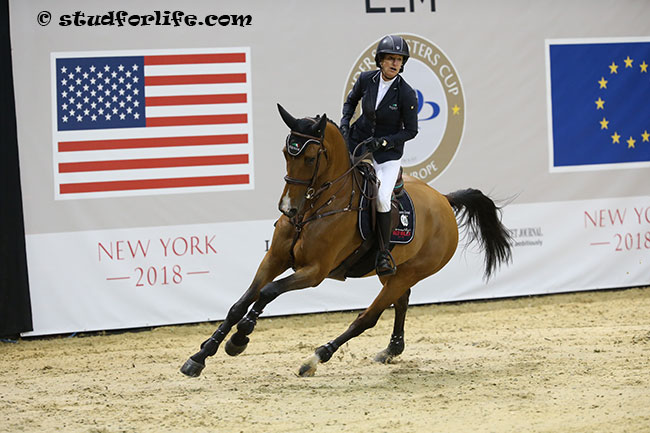 Kevin Staut came back for the jumpoff hungry for a top result. France's number one rider wasn't satisfied with his weekend's result, and in looking to end his trip to New York on a positive note, he flew over the fences aboard Vendome d'Anchat HDC (Diamant de Semilly) in 36.26, in what would be an eventual 4th place.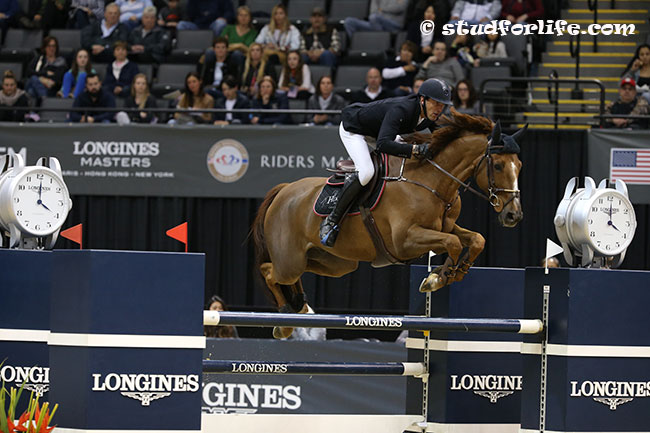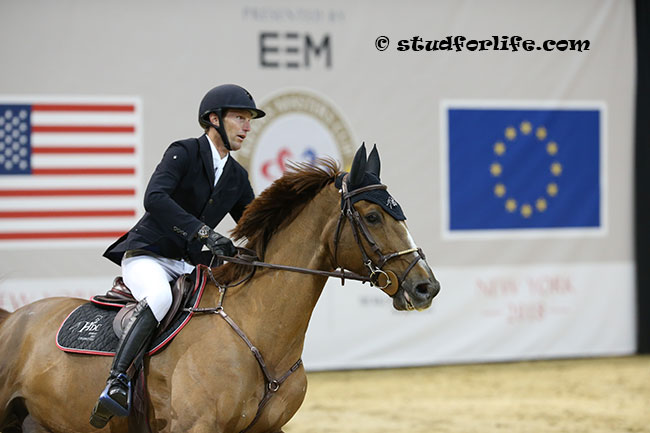 ''Between the rainy weather, the distance from the city center and the footing that showed signs of weakness. . . but we will forget the negatives to give all the credit to the course designer who has done an incredible job,'' Staut said. ''Fourteen clear in Round one is a lot but it was the right option. He also but a double of verticals in the jumpoff rather than leaving an oxer, which shows how much of a horseman he is! At the end, there are only six double clears among 14 jumping off, and with a good winner, which is sport. Everything has been admirably managed by Christophe Ameeuw, his team and the officials.''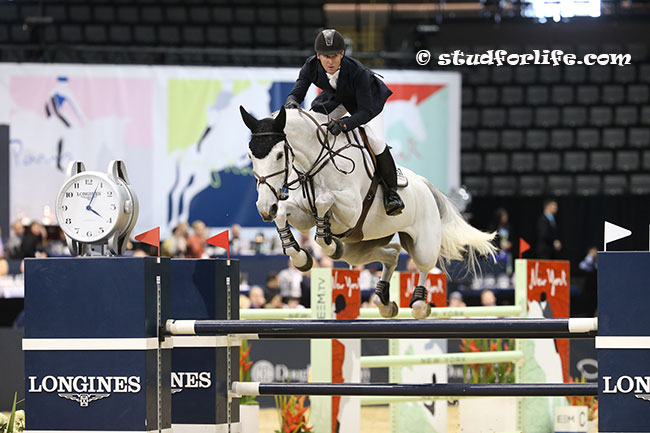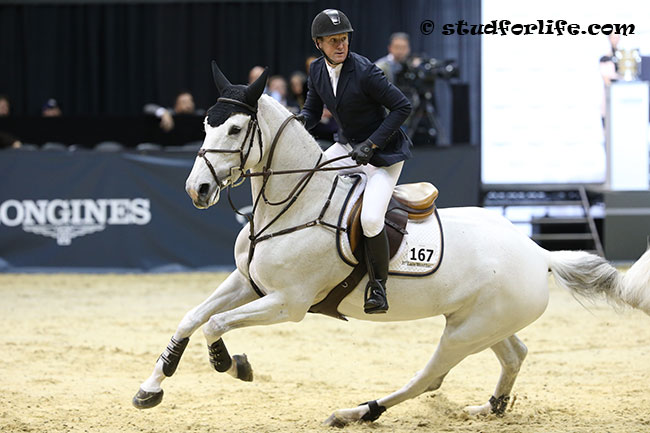 Mclain Ward won the opening five star class on Thursday when the footing was not so good. . . but as he was one of the riders who recommended the footing supplier, and uses the company at his home barn, he was familiar with the surface and it obviously helped. The American rider rode to win with Clinta (Clinton), and despite a bobble into the combination, his grey mare jumped him out of it clear and finished with the winning time, an incredible 34.26 seconds.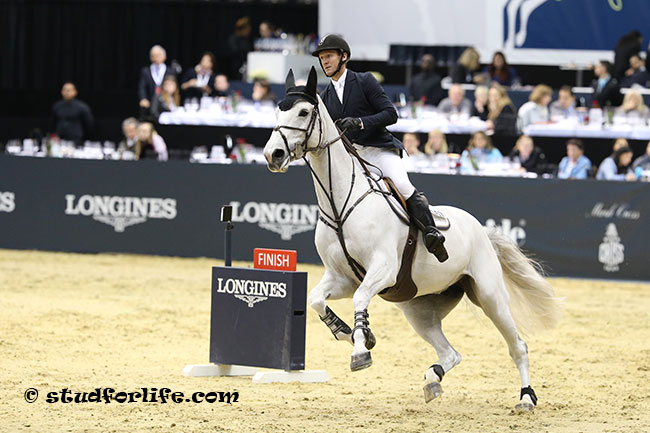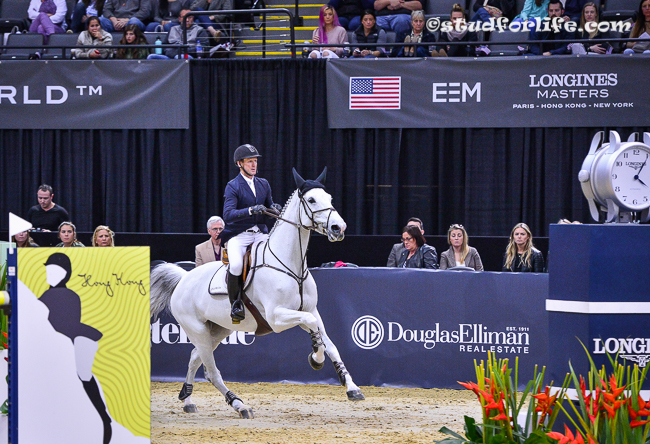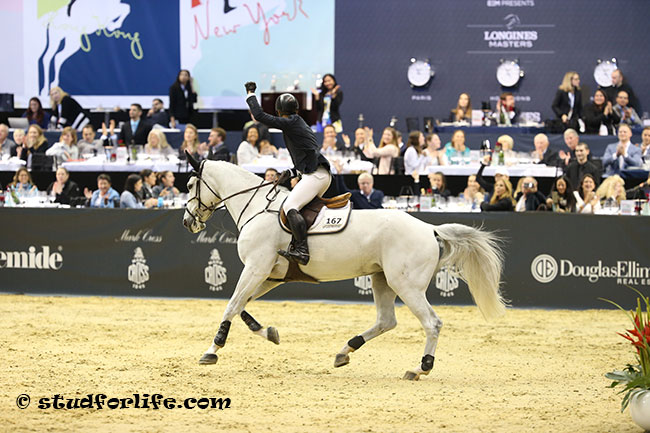 Daniel Bluman tried to meet that time but could not avoid faulting at two fences with Bacara d'Archonfosse (Asca Z).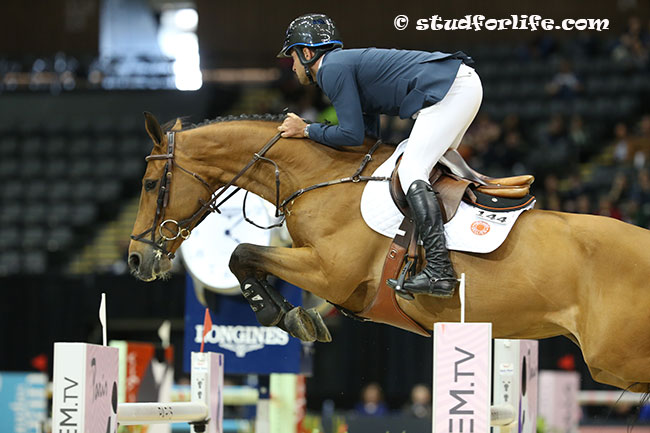 Peder Fredricson was last to go and the only one left to do the impossible: catch Ward's time. But with his new phenomenon Hansson WL (Hip Hop), he was well equipped to try, and the European Champion nearly had it: his time of 35.43 was just half a second slower for 2nd place.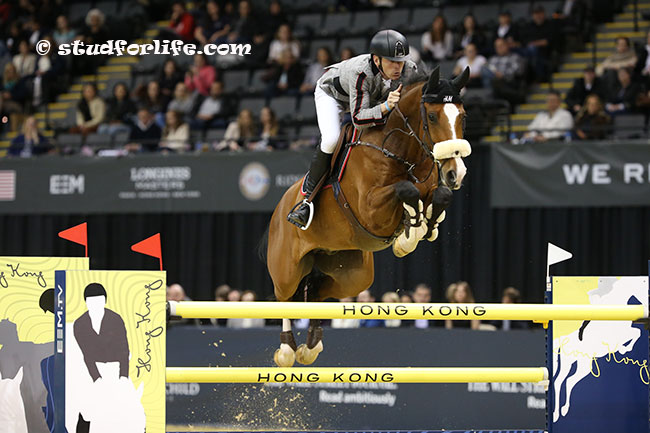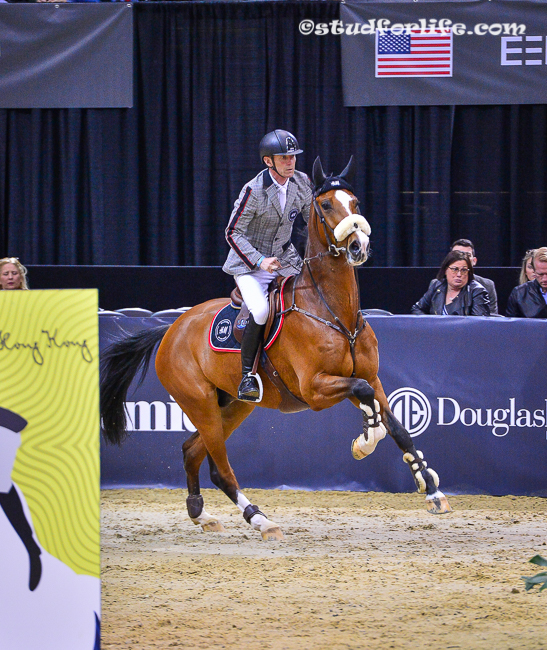 ''On the second to last fence, I had a waiting distance and could not move up,'' said the Swedish rider. ''I think I lost time there but then I could have also had a fault there had I gone faster. But my horse jumped fantastic.''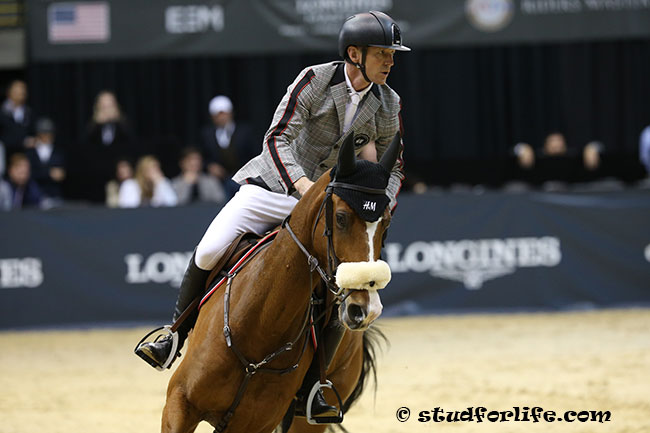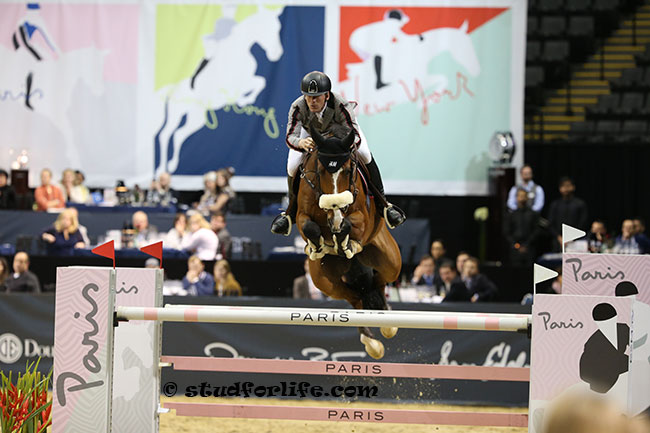 So it was not just anyone, but Mclain Ward—a New Yorker—who won the first edition of the Longines Masters of New York Grand Prix after a terrific jumpoff.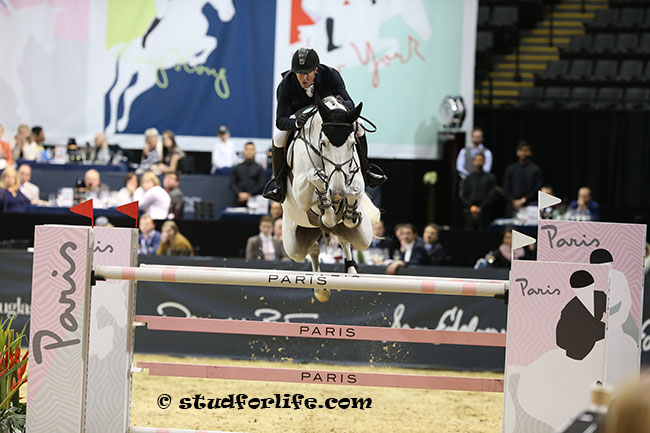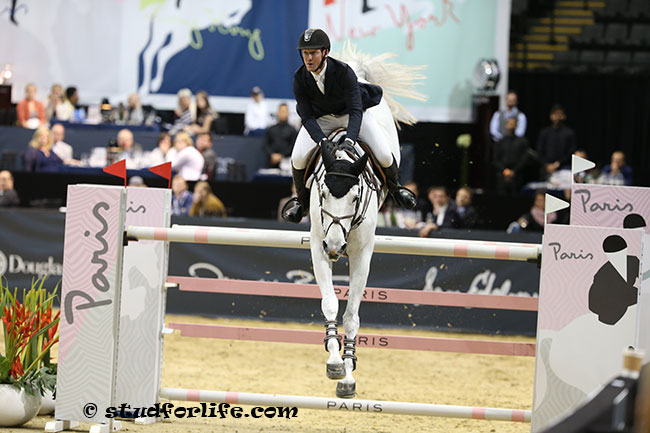 ''It's always nice to win on your home soil in the U.S. and extra special in New York,'' said Ward. ''I thought it was fantastic for the inaugural event. You have a big crowd, an exciting jump-off, and the course was challenging but it allowed for a few clear rounds, great sport in the jump-off, which is great for the fans. I'm really happy with my mare, Clinta, this is only our 3rd show together. In Palm Beach she won a nice 1.50m class where we went nice in the jumpoff. I didn't run her earlier in the week and were aiming for the grand prix. I thought that was a good place to take a bit of a chance. She's so careful; she really doesn't want to hit the fences. I kind of felt like we squirreled over it; somehow she got all four legs over it. I thought, 'Ok, just stay on it and don't make a big mistake.' The horse really was there for me. Like many of these stories, the way we end up being able to be in these incredible horses' lives, and the way that we're able to get them is normally pretty unique. The horse was started in England, was sold to a Ukrainian, ended up in Germany through a few transactions, and then I saw her in Aachen last summer and fell in love with her and tried her right after. It took me seven months to acquire her. I finally was able to purchase her with great support and a lot of effort this January and got her late February. But it was a lot of determination. I think I called I called the previous owner every Tuesday and I often got the answer, 'No, there's no deal.' Finally one day, I got a deal. I believed in her and people believed in me to support me with it. It's great to see her showing all that I thought she could be.''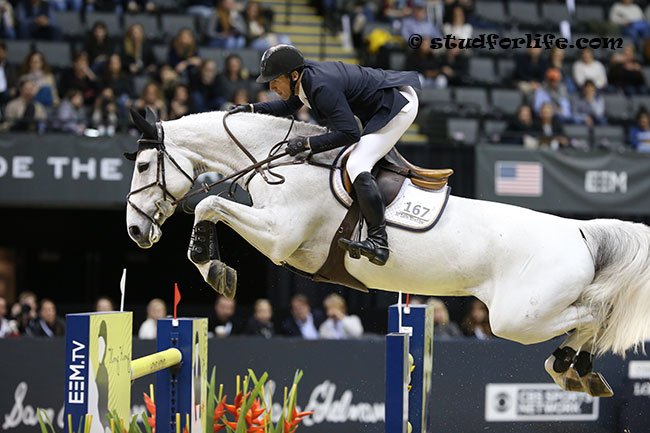 But if a New Yorker's victory in New York for the first Longines Masters on the East Coast was a good story, the fairytale of the weekend belonged to Erynn Ballard, who had the most incredible weekend of her life. ''New York has always been good to me. I had a big win in the Maclay Finals at Madison Square Garden. Everyone was saying NY is your place. I think that's true for this week. I was hoping for two top 10 finishes and I got three podium finishes. There's not much more you can do than that. I hope, I already asked Ilan today if we can go to Paris.''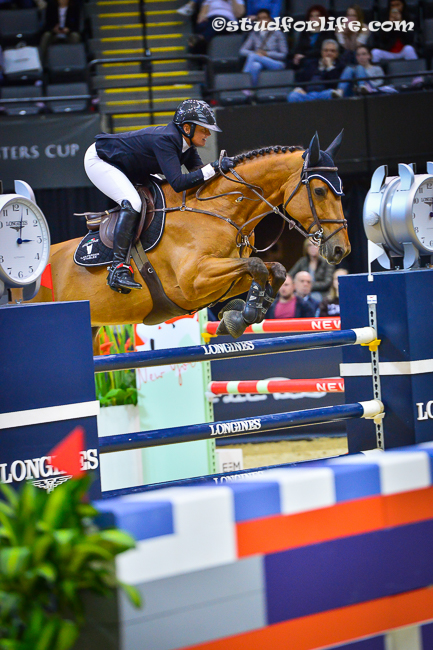 Ilan Ferder shared her excitement; ''I've been trying to work with Erynn Ballard for years, but she has her own business in Canada, and it was not possible, until now,'' he said. ''She is a very talented rider as she has shown this weekend. About Fantast, he's a horse that I bought from customers, but they handed him back to me again three months ago. He was clear at The Oaks a few weeks ago, and after his performance here, it is likely that he will not stay much longer in our stables. . .''