"Maybe it's because I wanted to enjoy myself that I became World Champion." - Éric Navet (1/2)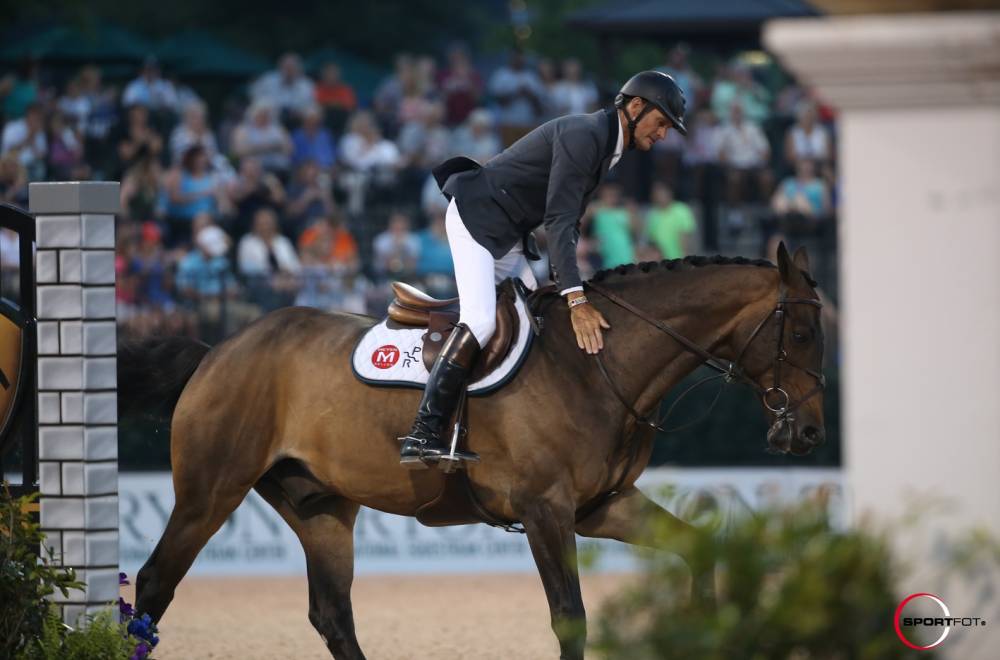 19 May 2020
A few days ago, the 1990 World Champion and multi-medalist Eric Navet was the guest of one of our #JumpLIVE interviews on Instagram. Why not revisit the first part of this exciting interview and the many memories of this top French rider's career?
THANK YOU VERY MUCH FOR RESPONDING TO OUR INVITATION. HOW ARE YOU DOING IN THIS PARTICULAR TIME?
"This health crisis is a real catastrophe. My thoughts go to all those who are sick, but also to all those who have unfortunately lost a relative as a result of this virus. As far as I'm concerned, everything is fine. I'm contained in my home in California, at my stables, with my family. We riders have the opportunity to ride every day and enjoy the outdoors. Our daily life hasn't really been disrupted. Of course, there are no more competitions, but it's extra special for us not to have to move around as much as before, so we can't complain."
LET'S LOOK BACK ON YOUR GREAT HIGH-LEVEL CAREER AND MORE PARTICULARLY ON YOUR FIRST GREAT ACHIEVEMENT: YOUR WORLD CHAMPION TITLE IN STOCKHOLM IN 1990.
"In the beginning, I didn't want to go because my horse, Quito de Baussy, was only eight years old at the time. I was more interested in preparing for the Olympic Games two years later in Barcelona and I didn't want to jeopardize our chances of taking part in them. 1990 started off on a high note for us when we finished second in the Bercy World Cup Grand Prix, just behind Alexandra Ledermann and Punition. Then we had a double clear round in the Luzern Nations Cup, in Switzerland, which our team won, and, we won the Sunday Grand Prix.
That's when Patrick Caron, our coach at the time, started putting pressure on me about the upcoming World Games. He insisted that Quito was ready and that the team needed him, but I kept refusing. I knew that my horse was technically ready but that he lacked experience, just like me. Even though I had competed at the 1984 Olympic Games in Los Angeles, I didn't have a solid background. Pierre Durand finally stepped in and made me accept the role of reserve rider. I just wanted to support my teammates. I had absolutely no personal expectations."
UNFORTUNATELY, HERVÉ GODIGNON'S MARE, LA BELLETIÈRE, GOT INJURED JUST BEFORE LEAVING FOR STOCKHOLM...
"Indeed. So we had to substitute in. In my mind I was only going to participate in the team events, alongside Roger-Yves Bost, Hubert Bourdy and Pierre Durand, and always with the view to not asking too much from my young mount, Quito de Baussy. Together we were crowned the Team World Champions and following this victory I was first in the individual placings as well! Of course, during the press conference that followed that final, the first question I was asked was: "Are you really going to stop when you're on such a good roll?" Of course I couldn't stop there. I couldn't not take the chance when such an opportunity might never come again.
The biggest event of the week was ahead of us: the two-round qualification for the rotating final. Only the top 20 combinations in the world were at the start. So the courses were at that level. We had four faults in the first round and were clear in the second, which allowed us to qualify for the rotating final. Quito was doing very well. It was like I was on cloud 9. I had that feeling that nothing bad could happen to us."
HOW DID YOU EXPERIENCE THIS VERY SPECIAL ROTATING FINAL?
"The other qualifiers for the final were Hubert Bourdy, John Whitaker and Greg Best. It was a great moment for me. I was going to ride Milton and Gem Twist, two of the best horses in the world, in the same afternoon. It was a privilege. For that reason, I didn't feel any particular pressure during the event, at least at the beginning. Having the opportunity to sit on these two mythical horses was far more important than the stakes, I wanted to take full advantage of it. I literally flew over the obstacles with them and the results logically followed.
I was a bit afraid to ride Morgat, my teammate's horse, last. I was used to riding big horses, quite cold-blooded ones. There I found myself on a very small mount with quite a lot of blood. So the pressure came back on before my fourth round. At that point, I started thinking about medals again: there were four of us and only three medals. But Morgat jumped very well and had a clear round. I won the gold by crossing the finish line with him! Thinking back, maybe it's because I wanted to enjoy myself that I became World Champion."
CAN YOU GO BACK INTO MORE DETAIL ABOUT WHAT YOU FELT WHILE RIDING MILTON AND GEM TWIST, THESE TWO LEGENDS OF SHOW JUMPING?
"I'll never forget that feeling. Milton was very supple, very elastic, and had a lot of ability. But he had a very particular technique with his forelegs: he tended to throw them forward, which could cause small rubs if he got too close to the rails. He didn't raise his withers up and had a slightly stiff neck, but he compensated for this by opening his hindquarters a lot. John was always careful to give him room in front of a jump, so I tried to ride him as he did, in a good rhythm and by gathering the canter a bit so that he could build up some impulsion. That way, he gave me great bascule. I knew what I had to do and he let me do it. I must say that he was so well prepared that in spite of these small complexities it was almost easy.
Gem Twist was a genius, a bit of a rebel. He didn't let himself be pushed around. He would cut the turns, run through the hand and charge at the rails. Where you had to get ahead with Milton, you had to just deal with him instead. You had to accept that you were just along for the ride and trust him. The more difficult he was, the higher and better he jumped. I had just as much fun with him, but in a completely different way. I've often been asked which one I liked best: Milton was ideal for a clear round and Gem Twist was best against the clock."
DESPITE THE YEARS YOU SEEM TO REMEMBER THAT TIME IN THE SMALLEST DETAIL...
"You know, even after thirty years, you can't forget such things, it's impossible. These experiences were so incredible that they have had a lifelong impact. To this day, the sensations and feelings are still right there when I recall them."
HOW DID YOU MANAGE QUITO DE BAUSSY'S CAREER AFTER SUCH EARLY SUCCESS?
"I took a very big risk by participating in the World Championships in Stockholm with him... But fortunately, the double medals that he obtained at only eight years old didn't mar the rest of his career. In fact, he will remain the one and only horse to be crowned World Champion at such a young age, since the Fédération Équestre Internationale (FEI) subsequently raised the minimum age for participation to nine years old. Afterwards, we were eagerly awaited at the big events and he always knew how to respond: in 1991 when we won the individual gold medal at the European Championships in La Baule in front of our home audience, in 1992 when we secured the team bronze medal at the Olympic Games in Barcelona, in 1993 when we also secured the bronze medal at the European Championships in Gijon, in 1994 as the runner-up world team champion in The Hague... Quito has never missed anything.
I decided to retire him quite early, at the age of fourteen, not because he had physical problems but because I felt that he was gradually losing his motivation, his spark. I got the impression that he was becoming a "normal horse". I had to ride him more and more by exploiting him, pushing him, and I felt guilty. He didn't deserve that, not after all he had accomplished. He was able to enjoy his retirement for many years, cherished by my sister Sylvie. He died at thirty-three years of age. We buried him at home, in my stables in Corville, Eure department."
QUITO WAS UNDOUBTEDLY YOUR HORSE OF A LIFETIME...
"Yes, he's the one who took me to the highest level, who gave me everything. It's his generosity and his intelligence that made an impact on me, more than his talent. He was talented of course. You don't get that far and you don't get as many medals with a horse that isn't gifted, but he knew how to look after himself, to manage his effort and give the best of himself when he had to. He was never spectacular, never mind-blowing. Next to Milton or Gem Twist, he seemed to crawl when he was just sparing his efforts. Like all truly good championship horses, he knew when it mattered. He allowed me to gain a lot of experience in big events and to repeat that with him. He brought home six medals from five major events in just five years. I don't know if any other horse has done that. We definitely played our parts too. My dad brought him into the world, I broke him in and started competing him when he was four. We trusted each other and we knew each other off by heart. With him, I was indispensable. He was great.
I eventually won a few classic Grands Prix with him. He was a big event horse. I still remember winning one at the Parc des Princes in Paris, it was magical. And then there was the World Cup Grand Prix in Amsterdam. As a reward we received a Volvo. My father, who had accompanied us that weekend, came home with that car. It was his horse's Volvo, Quito's Volvo. He drove it and kept it until his death, and that means a lot (emotional)..."
WHO WERE YOUR HEART HORSE'S SUCCESSORS?
"When I retired him from the competition arena, I found myself at the lowest ebb of my career, even though I had never stopped preparing his successor. You don't come across horses like him every day. I had an intermediate horse, Atout d'Isigny, which my father had bought from a butcher who did a bit of breeding. For the record, this amateur breeder had asked my father for advice on which stallion to choose for one of his mares and was not at all satisfied with the foal. When he was two years old and, like all horses of that age, Atout didn't look very nice, my father decided to bring him home. He ended up becoming Quito's successor. He gave me a French Championship title and took me to the World Championships in Rome in 1998, from which we came back as team silver medalists. But even though he also gave me a lot, Atout wasn't at Quito's level and I finally had to downgrade him.
Then, I carried on with another star, Dollar du Mûrier. It was with him that I took part in the World Championships in Jerez de la Frontera in 2002. We contributed to the team gold medal and took the individual silver. These are the three main horses that have made my career at the highest level."
YOU CAME BACK TWICE FROM THE WORLD EQUESTRIAN GAMES AS A DOUBLE MEDALLIST, WITH TWO HORSES, TWELVE YEARS APART. WHAT A FEAT.
"The World Championships have always been a success for me. I've done four and brought home six medals. That was my favorite event. But I've gone to three Olympics with a lot less success. I won the team bronze in Barcelona in 1992, but nothing else. I didn't realize how much time had passed since then. Some of the riders who are at the highest level weren't born when I took part in those great events! Maybe it's a good sign that I don't feel old (laughs)..."
WHAT'S YOUR SECRET?
"I consider myself very lucky in life. Of course, I wasn't just lucky, I worked a lot for it, both physically and especially mentally. It's through reflection that you make the most progress. Those who have succeeded have spent years with their horses, bringing them along little by little to the highest level. There is no success without management, and this is even more true for the big championships. I've always been better at them than at the classic Grands Prix. A bit like Jeroen Dubbeldam.
I love working towards a deadline like the WEG, developing the right strategy a year, six months, two months in advance that will allow my horse and I to be at our best on D-Day. It's really exciting, but it's also difficult: you have to prepare your horse so that it is technically ready while maintaining its mental integrity and motivation. A horse that is technically ready but too worn out psychologically won't be able to perform. At the moment of leaving for a big event, the rider must have no doubt while remaining conscious that nothing is ever sure in this sport. If they have any doubt, it means that they're not ready. That's why I've refused certain selections; for example, the Sydney Olympic Games in 2000. I knew Dollar would be ready for Jerez two years later, but not for the Games. You can't play around and take on adventure lightheartedly. When you feel ready, you eliminate the bad stress and only the good stress that pushes you to surpass yourself remains. You can enter the arena confident, serene, and that's the best feeling."
HAVING TAKEN PART IN TWO ROTATING FINALS, WHAT DO YOU THINK OF THEIR REMOVAL?
"Even though I loved those two moments during which I had the honor of riding those legendary horses, I must admit that that event was too demanding, and the new formula is fairer because it requires less effort. That said, I was impressed to see how fresh the horses could be in these two rotating finals considering what they had already jumped the rest of the week at the Worlds. I didn't feel they were tired because they were so well prepared. Also, for some horses, the more they jump the better they jump. That was the case with Dollar who was very troublesome when he was fresh. In Jerez, he applied himself more and more over the days and events.
Although it is a great exercise for riders because it allows them to demonstrate their ability to adapt and ride off-the-cuff, the rotating final is another discipline. Show jumping is not that: it's the story of a combination, a rider, a horse and long years of work. I had difficulty with this notion of dissociation. The other notable disadvantage of this particular event was that the random draw was too important. Riding the horse with the least amount of blood last could be costly. In 1990, even though I had worried a little about riding him for other reasons, I was lucky that I got to ride Morgat for my last round."
Discover the second part of this interview with Eric Navet which is dedicated to his current life in the United States, his future projects and his analysis of show jumping as it has become.
Interview by Pauline ARNAL, Théo CAVIEZEL and Raphaël GARBOUJ. Featured photo: © Sportfot.com