Max Kühner opens his Rolex Grand Slam counter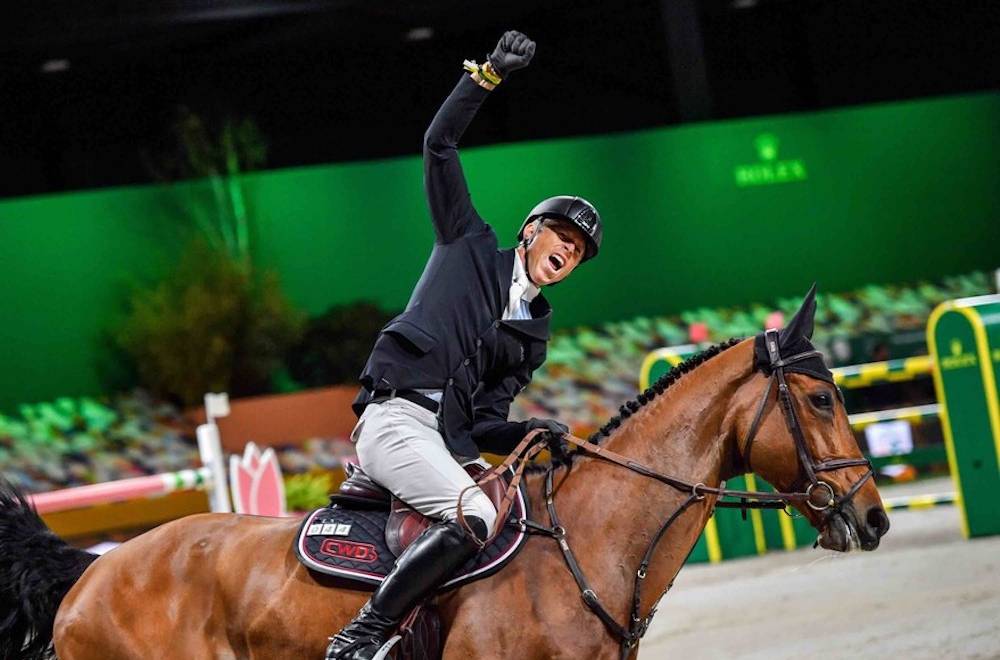 26 April 2021
Sergio Alvarez Moya won in Italy and Santiago Lambre in the United States, a Rolex Grand Slam stage in the Netherlands, and a Nations Cup... What a joy to have great sport back! Without further ado, let's have a look at the main international competition results this weekend.
's-Hertogenbosch CSI5*
Having been cancelled last year and then rescheduled for 2021, the CSI5* of 's-Hertogenbosch took place this weekend in the Netherlands; a competition that has been so eagerly awaited by the show jumping elite who made the trip for the occasion. The Dutch Masters stage of the Rolex Grand Slam circuit went to Max Kühner and his bay gelding, Elektric Blue P (Eldoralo Vd Zeshoek). "I bought Elektric Blue when he was 2 years old. I had seen him free jumping on a video and was impressed. The auction had already started when we decided to buy him. Since then, he has always done what was expected of him and has never disappointed me. He has extraordinary ability; jumping comes naturally to him. He's a horse with a nice character, who loves his job. As he gets easily bored in his daily life, we have developed a special training program. We regularly take the van out for a ride in the mountains," said the Austrian rider. Marlon Modolo Zanotelli was second with his faithful son of Arezzo VDL, VDL Edgar M. The German team closed out the podium with a third place for Christian Kukuk and Checker 47 (Comme Il Faut 5).
Gorla Minore CSIO3*
The Longines EEF series, offered by the European Equestrian Federation, officially opened this weekend in Italy during the CSIO3* in Gorla Minore. The Nations Cup took place late Saturday morning with 11 nations competing! With a total of 4 points after the two rounds, France took the victory for this first stage of the circuit! Édouard Coupérie fielded Marie Demonte (Vega de la Roche), Aurelien Leroy (Croqsel de Blaignac), Sébastien Duplant (Alpha de Preuilly) and Olivier Robert (Ilena de Mariposa).
"My team was quite inexperienced because two of the riders, Sébastien and Aurelien, had never participated in a Nations Cup: it was a great first for them. Marie and Olivier's horses had never done this type of event. I really built this team with a spirit of openness a good understanding between them since these riders all come from southern France. All the faults we got were over the water jump, so we know that that's something to correct, and it will be done quickly," the French Chef d'équipe debriefed with us. "The quality of the event was high with a very well-designed course, and as always, there were two verticals set at 1.60m. The competition had a mix of experienced riders and young riders, which is really the point of interest for this event that has been set up by the European Equestrian Federation! For us, this circuit is important because in France, we really want to open this level up to a maximum of riders. We will take advantage of these competitions!" concludes Édouard Coupérie.
With six points as their final tally, Great Britain joined the podium with its four riders: Laura Renwick, Georgia Tame, Alison Barton and John Whitaker. Marketa Svenkova and her Czech team, composed of Filip Dolezal, Emma Augier de Moussac, Alena Machova and Ondrej Zvara took third place!
The Spanish anthem rang out in the Grand Prix of this CSIO3* event! In just their second Grand Prix together in two weeks, but Sergio Alvarez Moya and Alamo (Ukato) won the event with the fastest double clear. "These last few weeks we've had no competitions, so I worked hard, and took my time with Alamo, who is a great horse and has already proven it. I'm delighted with our performance in the last two weeks, I'm so lucky to have a horse like this. I'm happy; he is very fast and intelligent. We will now enjoy three weeks off before the Global Champions Tour in Madrid, which is a big competition, I'm really happy to be competing on this circuit again! It's nice to be back on this circuit," says Spain's rider. Second place went to Sanne Thijssen and Con Quidam RB (Quinar), while Irishman Billy Twomey took third place with Chat Botte E.D (Casall).
In parallel with the CSIO3*, a 2* was also offered to riders at the Equieffe Equestrian Center. The Italian rider Antonio Alfonso won this Grand Prix at home! Riding Harrie (Harmony), he beat Argentinian rider Richard Kierkeg, who started in this Grand Prix with Uringa Z (Udarco). Third place went to Dutch rider Sanne Thijssen, this time with Genasis (Echo Van't Keike).
Wellington CSI3*
The spring tour continues on in Wellington as many riders have returned home. The Palm Beach arena yesterday afternoon hosted the CSI3* Grand Prix, won by Santiago Lambre and Easy Girl (Conthargos). Two sons of Diarado completed the podium with their respective riders. Irishman Paul O'Shea followed very closely with his good mount Squirt Gun, ahead of Margie Engle on Dicas.
The Grand Prix winners, Santiago Lambre and Easy Girl.
Hagen CSI2*
The podium was 100% the host country's colors! Germany won thanks to Maurice Tebbel and Don Diarado (Diarado). The latter came in one second ahead of his colleague Patrick Stühlmeyer on his Selle Français stallion, Varihoka du Temple (Luigi d'Amaury). Christopher Kläsenerest was the third German to complete the trifecta with Classic Man V (Cornet Obolensky).
Peelbergen CSI2*
At the end of an eight-rider jump-off, Irish rider Alexander Butler won with his mare Athene (Berlin), ahead of Stephex rider Petronella Andersson, riding the Selle Français gelding, Claptonn Mouche (Conrad). Third place in this Grand Prix went to New Zealand's Daniel Meech and his gray mare, Cinca 3 (Casall).
Lamprechtshausen CSI2*
In Austria, Elin Ott and Remix (Quidam de Revel) won the Grand Prix ahead of Austrian rider Dieter Köfler on Farah Dibah (Cornet Obolensky). German rider Simone Blum also came to the party with her gray gelding DSP Cool Hill (Corlensky G); the duo placed third in this event.
Photo credit: Rolex Grand Slam / Peggy Schröder