Matthew Sampson Describes Winning the Hamburg Derby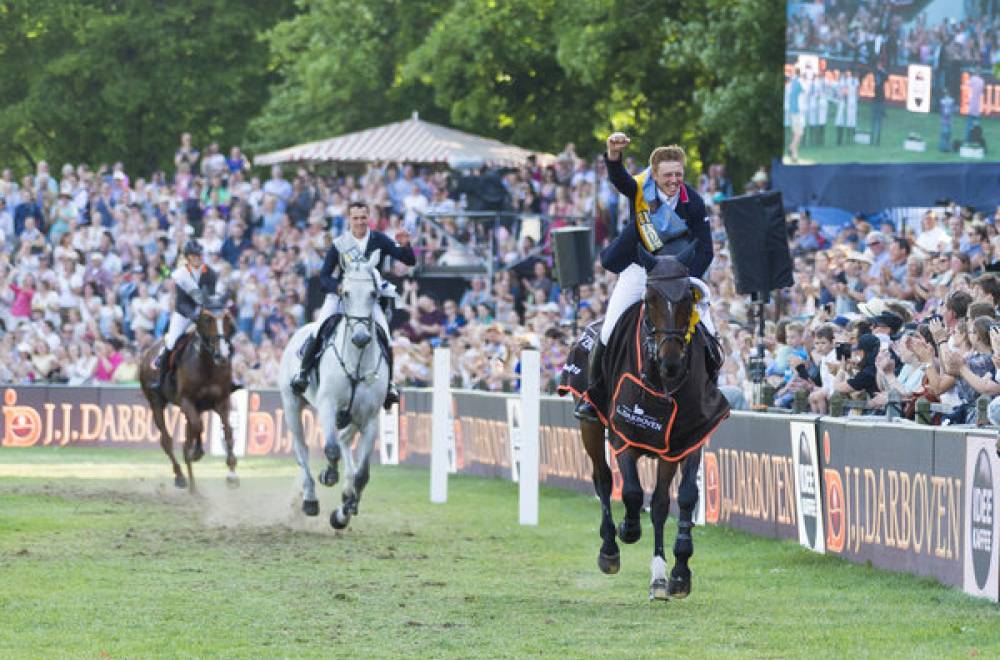 14 May 2018
Matthew Sampson Describes
Winning the Hamburg Derby ''Unforgettable'' easily describes Matthew Sampson's weekend at the 89th German Jumping Derby. The 28-year-old rider from Great Britain had never competed in a jumping derby before, making the famed 120,000 German Jumping Derby CSI3* at the Deutsches Spring-und Dressur-Derby in Hamburg, Germany a hell of a way to get his feet wet.

For nearly 90 years, the class commonly known as the Hamburg Derby has featured the same, long serpentine course of solid and show jumping obstacles. It is one of the most difficult courses in the world and has only seen about 150 clear rounds in its eight decades of existence.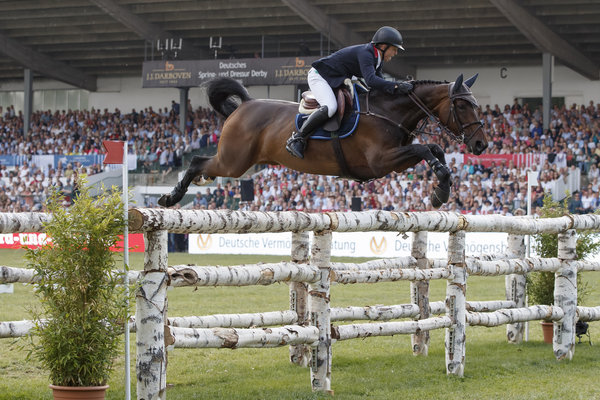 Luckily for Sampson, his now-famous mount Gloria van Zuuthoeve (Thunder van de Zuuthoeve) had some derby experience under her belt. The 12-year-old BWP mare has jumped the Hickstead Derby with David McPherson, who owns the mare and gave the ride to Sampson at the beginning of last year.Sampson had a successful tour at Vejer de la Frontera over the winter, jumping to multiple top three placings and picking up a couple of wins. He and McPherson decided to give the Hamburg Derby a go, and on Sunday, May 13, 2018, everything went more than according to plan.

''It was just amazing, the crowd and everything was just incredible,'' Sampson said. ''I've never been to a show like it in my life, it was like being in a football stadium.''

Watch Matthew Sampson and Gloria van Zuuthoeve tackle Round One of the Derby:

In front of a packed house (The German Jumping Derby, which runs alongside the LGCT Hamburg, attracts over 90,000 spectators over the four days of competition), Sampson became the second of three riders to jump the course clear. Fourteen of the 32 competitors were eliminated or retired.

''My horse got quite strong going around because you go up and down the arena in a straight line so many times,'' Sampson described. ''So just keeping it together was probably the hardest bit in between the fences. The most difficult part of the course was probably the derby bank with the very short fence before it, and the fence just one stride after the bank.''

With Germany's Gilbert Tillmann earning the loudest cheers from the home crowd after his clear, and German eventing World Champion Sandra Auffarth making the jumpoff a trio, Sampson had his work cut out for him. ''The jumpoff was great for the crowd but obviously it was a lot for the horses and made it a bit more difficult for them,'' Sampson said. ''Luckily my horse is quite fast, and the course suited her, she jumped them really good in the first round and everything went to plan. We were lucky with that.''

Gloria van Zuuthoeve will now go down in history as one of the horses to jump a clear round in the Hamburg Derby. The fact that she won it on the power of the only clear round in the jumpoff only heightens her accomplishment. It takes a special horse to compete in the class that many Germans consider an honor simply to enter.

''I think it's just her attitude, she's very willing and very very brave,'' Sampson said of his mount. ''So I think with that and the fact that she's really careful, she sailed over everything in a class like that, which not many horses are good enough to do that and also do normal classes, but she really is and she's great.''

Watch Matthew Sampson & Gloria van Zuuthoeve's jumpoff round here:

Sampson, who is based in Yorkshire in the UK, will now find himself returning to Germany a bit more often this season. His result in the Derby has earned him a qualification on the DKB Riders Tour.

''I'm not going to do Weisbaden which is this weekend coming, but after that we'll do all those shows, so hopefully the horses are going well for that too,'' Sampson added. ''I think it's a really good opportunity to be able to do that Tour.''

As he traveled back home to the UK on Monday, Sampson can enjoy the fresh memory of thousands cheering his accomplishment on what was easily the biggest day of his career. Making it even better: his whole team who was there with him. ''David helps me quite a lot, with the horses,'' he said. ''My parents have a really big involvement in the other horses that we have. I have a team of three grooms and riders, so it's quite small but very close, and we're all trying to achieve the same thing. Everyone was there at the show so it was quite a good day for all of us.''