Master Deusser won in Wellington, and an impeccable Schumacher won in Vilamoura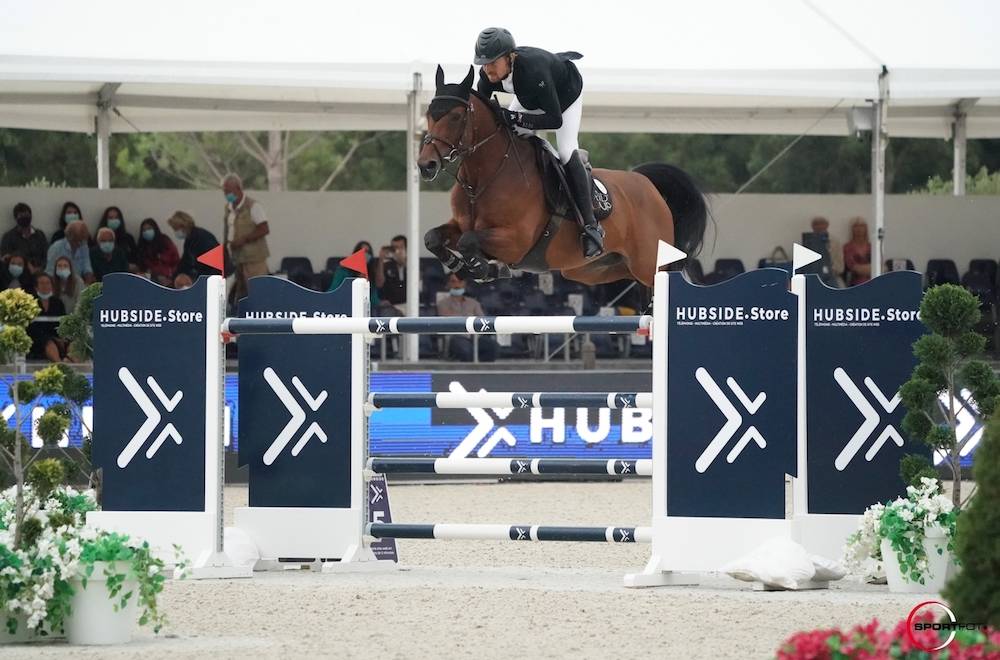 08 February 2021
There was a great line-up in Wellington with a beautiful 4*, and the Southern Europe tours which also attracted the best of the European competitors.
Wellington CSI4*
For this WEF Week 4, the riders set off over the beautiful Palm Beach grass arena. In Sunday's 4* Grand Prix, which had a prize pool of $214,000, there was a crazy jump-off between the 12 qualified riders. And as is often the case, in the end, Daniel Deusser and his mare Killer Queen VDM (Eldorado Vd Zeshoek) were the fastest. However, everything was very tight since the top 5 placed riders of this Grand Prix finished within the same second.
Daniel Deusser and Killer Queen VDM
Ashlee Bond placed second with her small but fast mount, Donatello 141 (Diarado 141). Despite McLain Ward's efforts, namely over the final oxer, Contagious (Contagio) didn't manage to go as fast as Killer Queen, and the pair completed the podium. Fourth place went to Lucy Deslauriers on Hester (Wandor Van de Mispelaere) and fifth went to Tiffany Foster on Northern Light.
"I'm really happy with Killer Queen. She arrived in Florida two weeks ago. I rode her in different grassy areas, and everything went well this weekend. She's an incredible mare. She has everything a good jumper needs; she's got the ability, she's respectful, she has a great stride, and she can easily go fast," said Deusser after his victory. The pair shone last year when they won two Grands Prix in Doha after winning the World Cup stage in Mechelen, in December 2019.
The German was returning to Florida for the first time in four years and was thrilled to have all the WEF facilities available again. And as of next weekend, it's in a 5* event that the riders will compete against each other.
The day before, in the big event, an additional victory went to Jessica Springsteen and the bouncy Volage du Val Henry, a product of the Amar family's breeding program. Another victory went to Bliss Heers on Antidote de Mars (Diamant de Semilly), achieving her first WEF victory. Second place went to Daniel Deusser and Killer Queen VDM (Eldorador). The German rider is quite fit!
The CSI2* Grand Prix was won by Japan's Karen Polle and Jet Run (Chacco-Blue), Sergio Alvarez Moya's former horse.
Also noteworthy was the victory of the Baywatch team, which was composed of Jessica Mendoza, Emily Moffitt, Ioli Mytilineou and Grace Debney in the Grand Prix Series Team Event U25.
Tonight, at 6pm, Henri Prudent will be Théo Caviezel's guest live on Instagram as we continue to learn more about WEF.
Vilamoura CSI3*
In Vilamoura, La Marseillaise played thanks to Titouan Schumacher and his faithful mount Atom Z (Amadeus Z) in the 3* Grand Prix during the second week of the Atlantic Tour. The Frenchman was the fastest of the six double-clear rounds. Second place went to Britain's Guy Williams and Rouge de Ravel (Ultimo Van Ter Moude). The podium was completed by Piergiorgio Bucci on Cochello (by Casall).
The winner gave us a few minutes of his time during his return truck ride back to Normandy after two weeks in Vilamoura: "It clearly bodes well when you start the season with a victory in a Grand Prix. It's nice to start this way. All the horses are in good shape. We're lucky to be able to continue with our sport during this particular period of time."
Titouan Schumacher's next big event is the 5* Global Champions Tour in Doha, for which the horses will leave on Saturday, February 21, and in which he already participated last year: "I feel confident for this next event. It's clear that when things are going well, you shouldn't change anything, so I'm going to approach this competition like any other. I will take Atom, obviously, and Eliot, my second horse."
Despite the pandemic and competition cancellations, Titouan Schumacher continues to prepare as if everything is going to happen and tries to plan ahead. "I'm going to focus on the Global - especially the team events - and the Grand Prix." The Norman rider, who is from the Haras des Brimbelles, will be able to count on his faithful mount Atom Z: "He's 14 years old, so I will focus on the really important courses with him. I also have Eliot Brimbelles Z, who performs well over 1.50m and still has a good margin left for improvement. Of his youngest up-and-coming mounts, he has Carera des Brimbelles, a 9-year-old who had an excellent start to the season as she placed in 5 events out of 5 starts. Among my 7- and 8-year-olds, I place a lot of hope in Azote Brimbelles Z (Amadeus Brimbelles Z), Atom's full brother." The French rider can therefore look to the future with confidence.
Thermal CSI3*
In Thermal, Lisa Carlsen won with Livestream 2 (Lordanos) in the 3* Grand Prix. She came ahead of Beth Underhill on Count Me In (Count Grannus), who also had a double clear round, and Ben Asselin placed third on Luikan Q (Luidam), to complete the top trio.
The victorious pair have already won the Grand Prix a year earlier when they had only just begun their partnership. The rider admitted that the year with Covid, with little competition, had allowed her to build a great relationship with Livestream.
Opglabbeek CSI2*
In Sentower Park, Jack Ansems had the honor of placing ahead of multi-medalist Rolf-Göran Bengtsson. The Dutch rider and medalist returns with a new generation of horses, and won with his Zirocco Blue daughter, Fliere Fluiter, while the Swedish rider rode the stallion Ermindo W (Singapore). Third place was secured by Eric van der Vleuten and the excellent Wunschkind 19 (Casall). Sixth place went to Max Thirouin would have won had he not had a rail in the jump-off with Utopie Villelongue (Mylord Carthago*HN).
Valencia CSI2*
There was another French victory in Valencia, where Valentin Marcotte won the CSI2* Grand Prix with Chaccolino (Chacco-Blue). The French rider had already placed second in Friday's ranking event. Only two combinations had a double clear round in the Grand Prix, and second place went to Belgium's Bart Jay Junior Vandecasteele with Kadee van het Heikanthof (Esperanto van Paemel).
Valentin Marcotte didn't stop there as he still took the top two places in the 1* Grand Prix with Conthila (Conthragos) and Jip Van T&L Z (James Vd Kornelishoeve).
Featured photo: Sportfot.com