Martin Fuchs secures a third win in Lyon!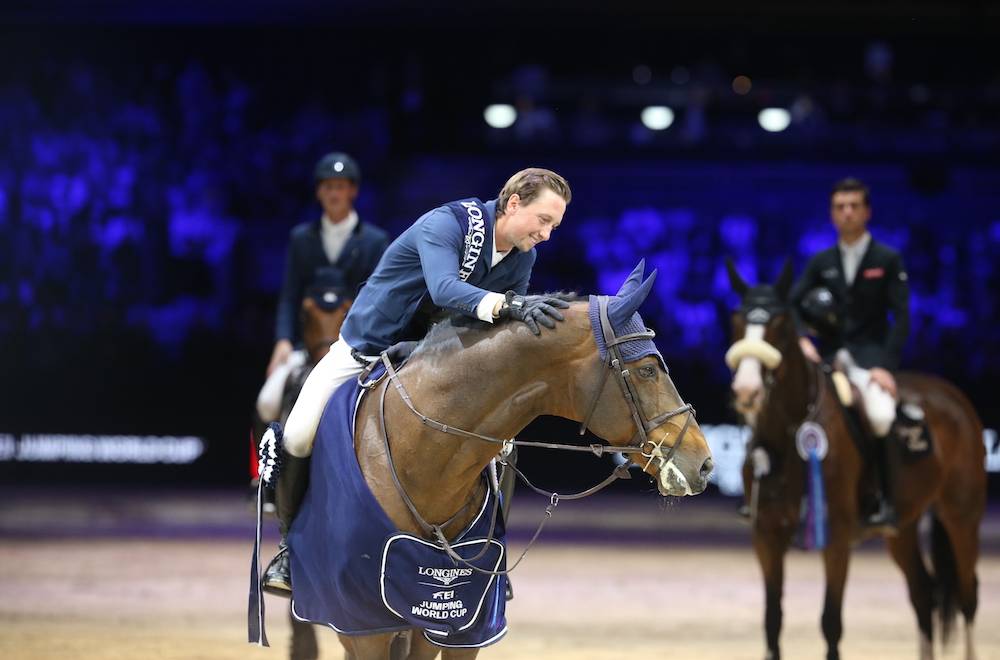 31 October 2021
The European Champion has no equal when it comes to fighting for victory and he proved it again by achieving a historic triple in the World Cup Grand Prix of Lyon this afternoon, ahead of Eduardo Pereira De Menezes and Max Kühner!
After five days of celebrations, the time had come to close out the 2021 edition of Longines Equita Lyon. Forty riders and their mounts had an appointment for the World Cup Grand Prix designed by Grégory Bodo. At first glance, the course wasn't very impressive, but the obstacles proved to be tricky, and the clock didn't allow for any slacking off. "I tried to offer a technical course that required thinking and that offered alternatives in terms of stride choice, while not putting the horses in danger," explained Grégory Bodo. The first of the 40 riders to start, Argentina's José María Larocca almost gave the impression that it would be easy by achieving a clear round with Finn Lente (Gaillard de la Pomme). Almost... but after him, there were faults everywhere and two pairs (Luis Ferreira with Cerruti van ter Hulst Z and Jérôme Guery with Quel Homme de Hus) notched up a point for going over time. In the end, there were only 11 runners-up. "I think it was a good Grand Prix, half of the starters finished on less than four points," said Gregory.
With an ideal number of jump-off riders, the battle for victory was tough, and the course allowed for a lot of risk-taking... which pushed a lot of people to have faults. This was the case for Holly Smith, who was penalized four points on the penultimate round. Nevertheless, the British rider can be satisfied with a rather exceptional weekend: she was second in the Longines Grand Prix on Friday and third in the Equita Masters last night with the same horse, Denver (Memphis). Of her six rounds, only one rail fell!
Holly Smith and Denver
The first double clear was eventually achieved by Eduardo Pereira De Menezes with H5 Chaganus (Chacco-Blue), a gelding with a somewhat atypical style that was previously ridden by Yuri Mansur and Rodrigo Pessoa. With Eduardo, whose stables he arrived in three years ago, the bay has already collected great successes, recently winning the 5* Grand Prix in Grimaud a few days ago. This time, the rider knew that he wouldn't be fast enough to win with his time of 35.14 seconds: "I took an extra stride to go from the double to the red vertical; I didn't dare take one out. When I left the arena, I was completely beatable, and I knew it."
Eduardo Pereira De Menezes and H5 Chaganus
He wasn't wrong but it took a little time. Max Kühner also had a clear round but was a few tenths of a second slower (35.87 seconds). "I lost time on the last line, I could have taken one stride out," he admitted. At 10 years old, after a victory in the tough Prix d'Europe in Aachen and another in the Grand Prix of 's-Hertogenbosch, Elektric Blue P (Eldorado vd Zeshoek) has proven once again that he's reliable.
This victory could have been Edward Levy's. At 26 years old, the Frenchman has been chasing his first victory in a 5* Grand Prix for a while. He has come close on several occasions, notably in Grimaud last year with the same mount, Rebeca LS (Rebozo). Although supported by 7,000 spectators, the Normandy native couldn't avoid a fault and was relegated to sixth place. He still wanted to emphasize that: "This competition has brought us back to normal life and it was quite incredible. It feels really good to be back here with an audience." Victory will come next time!
Edward Levy and Rebeca LS
But then, who finally succeeded in beating Eduardo Pereira De Menezes? None other than the winner of the 2018 and 2019 editions: Martin Fuchs! The Swiss rider returned to the capital of Gauls, not with his fantastic Clooney, but with Chaplin (Verdi) and once again, he managed to snatch victory by ramping up the jump-off even though it was a close one. "I wasn't totally satisfied because I took one more stride out than the others going from the first to the second obstacle. I didn't think I would win because Steve Guerdat and Edward Levy still had to go and they are among the fastest riders in the world, but in the end, they made some mistakes," analyzed the rider.
Martin Fuchs and Chaplin
Chaplin, who was out of action for a long time due to injury, made his comeback this summer and it isn't for nothing that he's one of the Swiss rider's favorite horses. "He's super-fast, respectful, he has a big heart and I know I can take all the risks because he gives his all for me," Martin confided with a smile. For the record, Chaplin's sire, Verdi, won this same event in 2013 with Maikel vd Vleuten. Chaplin has already won the Grands Prix in Madrid, Mexico City, Cascais Estoril and at 14 years old, the bay hasn't said his last word, and he will surely have the opportunity to prove it again on the indoor circuit. "I will probably do Verona, Madrid and London with the help of Chaplin and Conner Jei. I won't go to the United States this winter; I will focus on indoor competitions in Europe." With the 20 points gained from this victory, the Swiss rider is making good progress towards the World Cup Final in Leipzig in early April.
Photo credit: Julien Counet