Martin Fuchs gets everyone to agree in Dinard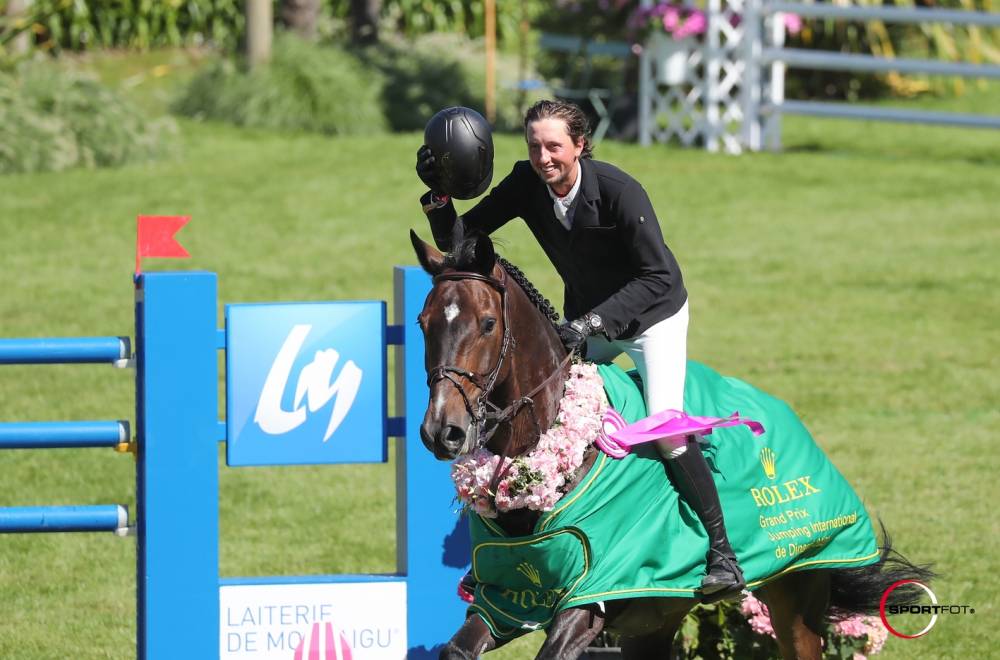 19 July 2021
All eyes were on the CSI5* in Dinard last weekend, but other international competitions were also taking place all over the world. As it does every week, Studforlife offers you a look at the results.
Dinard CSI5*
Martin Fuchs is successful in French competitions! After a third place in the CSIO5* Grand Prix in La Baule and a second place in the CSI5* Grand Prix in Chantilly, the Swiss rider won the major event - the CSI5* in Dinard. At 2:30 pm on Sunday, the 44 pairs competing in the 1.60m Grand Prix in Rolex colors were given the go-ahead. After the first two rounds with no faults, the course designed by Jean-François Morand proved to be very difficult. Only seven riders found the key to the perfect course.
Riding Conner 70, the World No. 2 won with the fastest double clear round. They were closely followed by Denis Lynch and Cristello. Third place went to Christian Ahlmann on his impressive gray, Clintrexo Z.
First reaction of the winner:
Traverse City CSI5*
There was an American triple in the $230,000 CSI5* Grand Prix in Traverse City, host of the first stage of the Major League Show Jumping. Alex Granato won ahead of Kristen Vanderveen and Kyle King, riding Carlchen W (Chacco Blue), Bull Run's Risen (Utopia) and Coffee To Go (Cinquecento 7) respectively.
Valkenswaard CSI4*
In the CSI4* Grand Prix in Valkenswaard in the Netherlands, Egypt's Abdel Said won on Arpege du Ru (Apache d'Adriers). Laura Kraut and her gray Confu (Contact Me) took second place with a double clear round, as did Jack Ansems and Fliere Fluiter (Zirocco Blue).
Falsterbo CSI3*
Normally a CSIO5* integrated in the Nations Cup first division circuit, the Falsterbo this year offered a CSI3*. The Grand Prix, run over two rounds, saw a Swedish victory by Alexander Zettermann, riding Triton Hästak (Cabachon). Rolf-Göran Bengtsson followed with Cassilano Jmen (Calisco Jmen). Third place went to the Dane Soren Pedersen, also double clear with Chico Z (Clinton 1).
Cluny CSI2*
Organized by Horse Events, the Cluny CSI2* saw the victory of Benoit Cernin in the Grand Prix. Riding Cookie de Vesvre (Dollar dela Pierre), the Frenchman beat Rachel Baechler / Calymba de Bello (Catoki) and Geoffroy Lecomte Lievaux / Themis des Sarthes (Mr Blue).
Canteleu CSI2*
We remain in France, but in Canteleu this time for another CSI2*. The 1.45m Grand Prix was won at home by Titouan Schumacher riding Eliot Brimbelles Z (E T Cryozootech Z CL). The pair was ahead of Damien de Chambord / Aicha de Coquerie (Corofino 2) and Guillaume Batillat / Come On Di Gisors (Tresor).
Tryon CSI2*
Moving to the United States, Ireland's Conor Swail won the 1.45m Grand Prix with Vital Chance*de la Roque (Diamant de Semilly). Second place went to the American rider, Vanessa Hood, on Santauer (Sanvaro), followed by the Mexico's Santiago Lambre on Easy Girl (Conthargos).
Herzlake CSI2*
In the CSI2* Grand Prix in Herzlake, Germany, victory went to Mario Stevens, riding Starissa (Stakkato Gold). The pair was ahead of Gerrit Nieberg on Ben 431 (Sylvain) and Marco Kutscher on Lacasino (Lordanos).
Opglabbeek CSI2*
In Opglabbeek, Belgium, the 1.45m 2* Grand Prix was won by the Dutch rider, Michel Hendrix, riding Hendrick's HX (Bustique). Second place went to Ireland's Eoin Mcmahon on Chacon 2 (Chacco Blue), followed by Portugal's Adir Dias De Abreu on Humberto Ask (Cornet Obolensky).
Bornival CSI2*
Still in Belgium, but this time in Bornival, no less than 13 Belgians took the first 13 places in the ranking! Victory went to Manuel Thiry on Indago (Concorde) followed by Virginie Thonon and Gaetan Stalpaert, respectively riding High Tech Vy de Septon (Del Piero P&B) and Largo de Brinco (Cardento).
Samorin CSI2*
In Slovakia, Germany's David Will won with Primus vom Neumuehler Hof (Perigueux). Second place went to Bronislav Chudyba and Lamborghini 98 (Lord Pezi), and third place to Switzerland's Gustave Angeloz on Quidam de Luxe M (Quite Capitol).
Featured photo: Sportfot.com