Martin Fuchs, European Champion!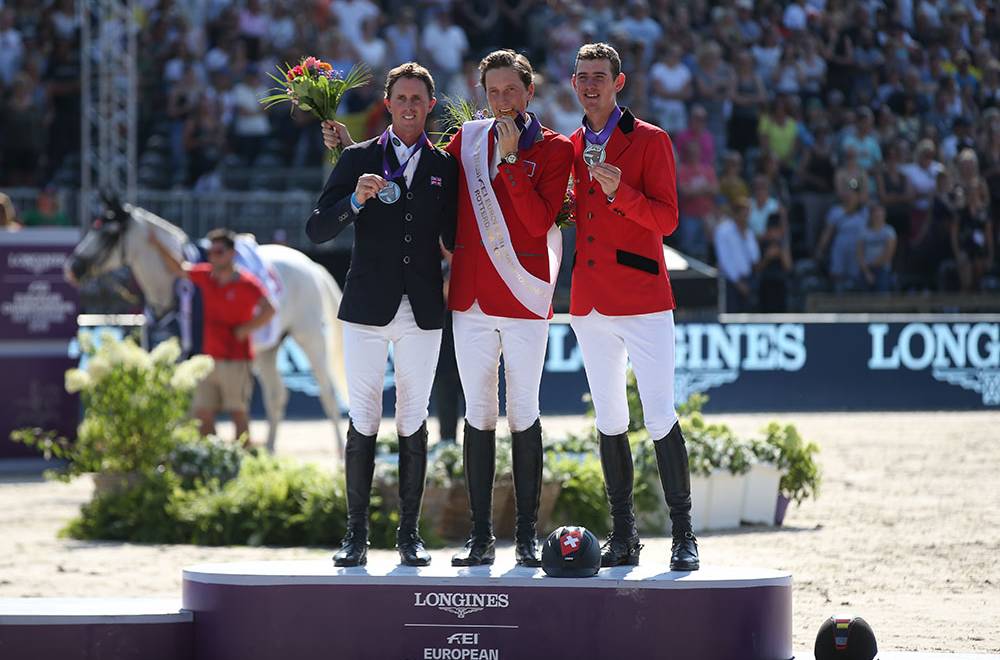 25 August 2019
First, they had to find and convince 25 riders to take part in the final... 36th in the individual rankings, Danish rider Soren Moeller Rohde made it to the first round of the final, while Kevin Staut had to ask his groom to turn around when he had already started to head back home, which caused some arguments... In fact, could a horse that had left the competition continue to participate? Obviously, the organizers were happy to find volunteers to compete, but despite a beautiful round which was penalized by just a single time fault, the former European Champion was sitting in 17th place in the rankings and wasn't able to take part in the final round that was only open to the 12 best riders!
And the first round had further twists in store. Still in with a chance in the medal race, Alexis Deroubaix and Timon d'Aure (Mylord Carthago*HN), Daniel Deusser and Tobago (Tangelo Vd Zuuthoeve), and Steve Guerdat and Bianca (Balou Du Rouet) came out of the arena with eight faults each, so they were out of the jump-off.
It was a final difficult round for Portuguese rider Antonio Matos Almeida, who came out with 9 faults after three fantastic clear rounds on Volver de la Vigne (Diamant de Sémilly).
It was a fine ending for the young Briton Holly Smith and Hearts Destiny (Heart Throb) who, with just a time fault, took tenth place just behind Grégory Wathelet who turned in a magnificent clear round and a very nice Championship for 9th place. The two rails in the first round were expensive for MT Nevados (Calvados Z), which is a shame.
Marc Houtzager must have had ice in his veins during his clear round when two irresponsible activists tried to put themselves in his way to assert their claim, without thinking of the danger they presented to themselves, the rider, his horse, and the stewards who managed to intervene just in time to marshal the fanatics out of the way, while the Dutchman managed the to go clear in front of the euphoric audience.
"I don't want to talk about those idiots. I heard a lot of noise between obstacles 2 and 3, so I wondered if I'd made a course error, but I remained focused and I continued on. At the start of the triple combination I saw that something abnormal was happening, but it ended well," the Dutchman said.
These were not Peder Fredericson's championships. The Swede wasn't far off, but he added a rail to his count with All In (Kashmir Van Schuttershof), for 12 faults!
His compatriot Henrik von Eckermann also knocked a rail down with Mary Lou (Montendro)... but Marcus Ehning's fantastic comeback stopped there! Having started in 15th place, the German rider finished in 5th place with rounds of 0 + 1. The son of Ratina Z, Comme Il Faut (Cornet Obolensky), has been jumping out of his skin throughout these Championships, horseback riding enthusiasts were delighted with a sumptuous first round at a gallop, as only Marcus Ehning can do.
Ahead of him, World Champion Simone Blum was unable to go clear with her star mount DSP Alice (Askari) as well, but her lead allowed her to maintain 4th place.
Jos Verlooy now has the margin - he had a time fault in hand, as he did in the first round, and he secured the bronze medal, but the Euro Horse stable rider was once again under pressure with the impressive Igor (Emerald Van't Ruytershof) maintaining the pressure on his pursuers by completing his round with just one time fault.
Martin Fuchs had no choice but to go clear also, which he succeeded in doing, with a time fault for Clooney (Cornet Obolensky) also. The silver was in the bag!
Then it was Ben Maher's turn to go, he was the competition's top favorite to win and he's the only one whose horse hadn't yet dropped any rails in this Championship. Explosion W (Chacco Blue) has been impressive throughout the week... but the pressure was on in the Rotterdam heat, and at the penultimate obstacle, the rail falls: Martin Fuchs wins gold and Ben Maher finishes his round with 4 faults for second place. A great performance but his disappointment is evident.
"I think the three horses on the podium deserved to win today... but I made a small mistake by choosing a bad stride, and that's a mistake that can deprive us of the victory is the sport! He's so respectful that he can sometimes get a bit worried and I had to put a little pressure on him at the edge of the arena so we were a little tight to the start of the combination, then I decided to put in 8 strides before the liverpool... and that wasn't the right decision. We bought Explosion from his breeder when he was 7 years old, and this week he was here to watch him every day. When he arrived home, he was first ridden by other riders on my team, before being ridden by myself and all the success that has followed since then. I really want to thank Poden Farms for allowing me to ride such horses."
"I didn't think Ben would make a mistake, but I'm really happy with this win, it's a fantastic day! I was second at the World Championships and at the last World Cup final... and it looked like that was going to be the case here again... but I was able to count on the support of my family, my girlfriend and also my owner Luigi Baleri, who was also named the Owner of the Year during this competition, and he's supported me since I was thirteen. He's like a second father to me, who supports me relentlessly, without interfering in my sporting choices."
Radiant on the third step of the podium, Jos Verlooy could savor this new podium placing after winning Team gold on Friday! "Igor is following in his sire Emerald's footsteps and I'm very proud of him. He felt very fresh yesterday. Unfortunately, he touched a rail during the week and it fell. I really want to thank Graziella Janssen who bought a share in Igor, otherwise he would've been sold and I couldn't have keep him, and of course my parents who support me."