Mares of Macha, a 5* mare project.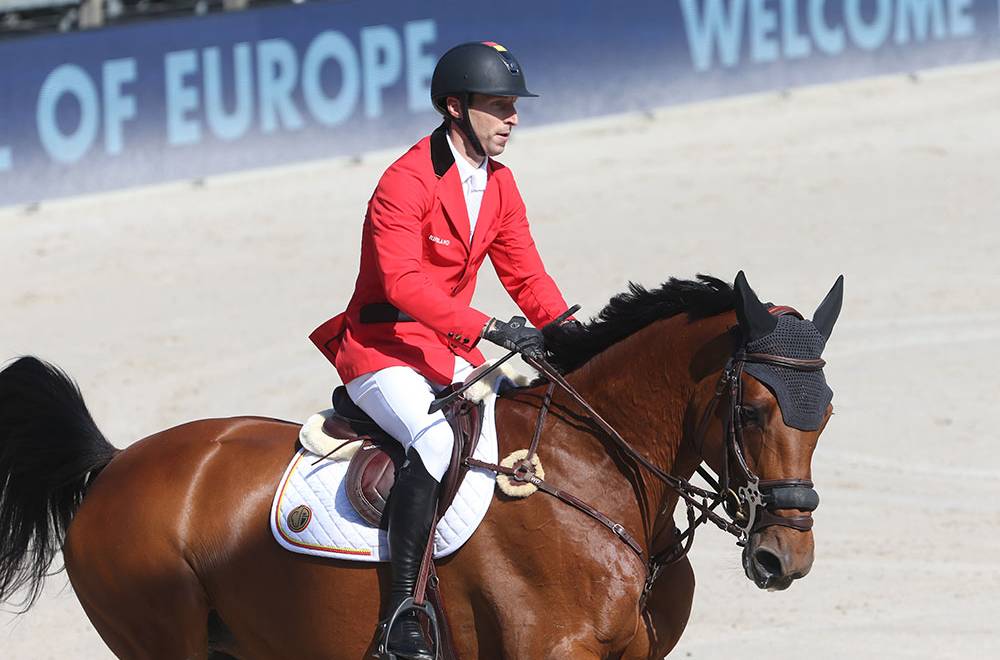 11 April 2020
Pieter Devos and his friends Klaas De Coster and Frederik De Backer are starting a new project: Mares of Macha!
It took three years to gather together fourteen hand-picked mares before the launch of their website today, which marks the launch of their project. In the last few weeks, they've added stars like Eureka van't Roosakker, Sancha La Silla, and even Werly Chin de Muze, who has yet to come back from the United States. They're joining a catalogue composed of Contara (Chacco Blue's dam), Whoopie C (internationally performed and Tobago Z's dam), Geena van't Roosakker (internationally performed and Usha's granddaugther), Prima Donna van't Paradijs (internationally performed and Venezia d'Ecaussines' dam), Arera C (internationally performed)...
Klaas De Coster with Geena van't Roosakker and Goya; Usha van't Roosakker's granddaughter and daughter.
World No. 4 Pieter Devos tells us about this new challenge: "I've always been interested in breeding, and when Klaas told me about this project of his, I immediately wanted to be a part of it. Between my show jumping stable and our fruit company, I don't have a lot of free time... but I'm thrilled to be able to take on projects that are close to my heart, and especially with friends. I think that for several years now, Belgian breeding has managed to establish itself as some of the best in the world, because years ago, our breeders went looking for the best stallions from all over the world, while other countries kept to their own breeding. With this, I think that we'll improve breeding overall and help many breeders as we've been looking for the best mares from throughout the world. Our goal was to bring together exclusive genetics with realistic prices. I'm very enthusiastic about this new project. For us, it is very important to be transparent. All our mares' embryos are for sale! There is no way of us keeping them somewhere, nor selling them anywhere other than on our website. They are frozen embryos that have been obtained via ICSI and are certified unsexed.
For me, it's very important to respect the mares who are part of this project with us. Therefore, we have our own facilities in Italy where our mares are able to enjoy large pastures together. I want our mares to be as well cared for as the sport horses in my stable. We harvest the eggs from them for 6 months of the year, and the rest of the time, they rest. I don't want to do both transfer and ICSI harvest. They need to be able to rest. It's quite possible that mares that I'm riding now will be part of this project in the future, and I want the best for them, so it seems logical to me that that would also be the case for all the mares in the project. Their well-being is my priority.
For this project, we worked on the development of our website a lot. In four or five clicks, it's possible to reserve an embryo from some of the best mares around, with various different options available. For example, we offer a "no gestation, no payment" guarantee. We're the first to offer this. We invested a lot in the site because we wanted it to be accessible and transparent. We can sell just the frozen embryo, or we can do all of the follow-up. Anything is possible. It's even possible to have an embryo sired by a stallion designated by the breeder, even though, for the moment we have mainly worked with well-known stallions.
Sancha La Silla (Chin Chin x Polydor), at the Caen World Equestrian Games with Daniel Bluman, is a daughter to Jan Tops' star, Sonora La Silla.
It took us a long time to gather together a catalogue of mares such as this. We've been working on this project for three years, and presenting it to the general public today is an important moment for us. We bought the large majority of the mares, but we also have some mares from partners, such as Daniel Buman's star mare, Sancha La Silla, who is coming to spend her retirement with us.
We didn't decide on the name of our project by chance either. Macha, in Irish Celtic mythology, is the goddess of horses, prosperity and fertility."
Find the project: https://maresofmacha.com