Luc Henry; the ability to leave through the front door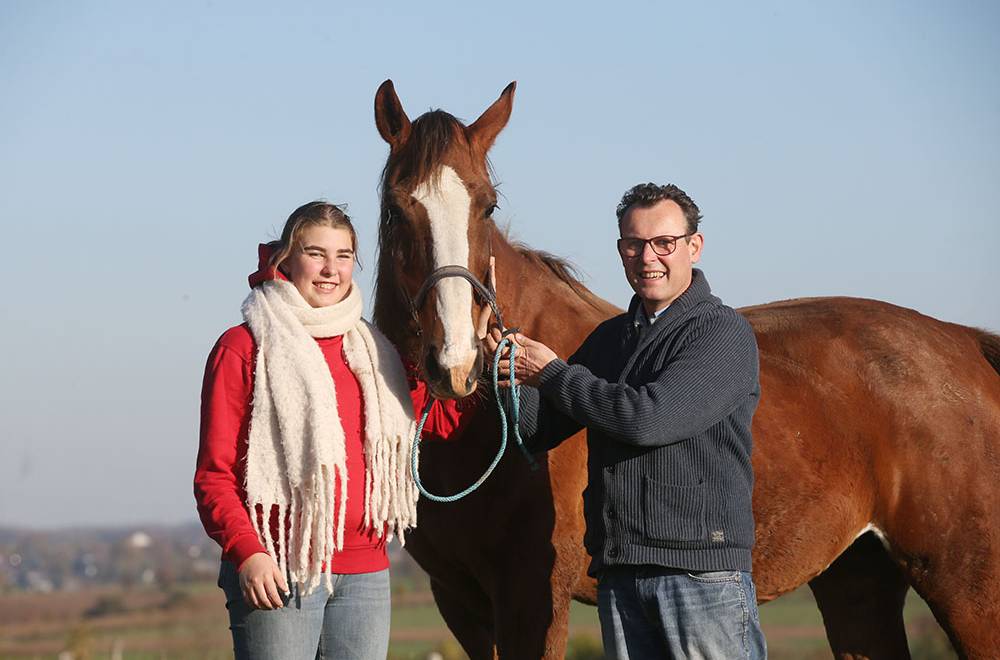 16 December 2020
The Stud Hero breeding program is on sale after a four day long online auction, and no less than 95 lots. As always, Luc Henry, its founder, doesn't do things like everyone else. A sale that has surprised and astonished, but which finally marks a continuity of the way he has always worked. Studforlife looks back with him on his journey.
The story begins with the purchase of four Femke (Voltaire) offspring, which all went on to progress to at least 1.50m events, before the acquisition of the mare herself; which brings us to the end of the 90s. The story continues with the BWP approval of Querlybet Hero (Baloubet du Rouet) and Quel Hero de Muze in 2003. This was the first time in the world that a studbook has approved two stallions from the same mare that were born in the same year! In the meantime, Henry had started to build his string by finding the best Holstein blood with the great winner Ulika (Caletto II), out of the Carthago line, and the full sister to the international performer, Stakkato, who went on to give him the stallion For Hero (For Pleasure), who excelled under Steve Guerdat's saddle. 2012 marked the arrival of his great international successes with the participation in the Olympic Games of Queen's Lover Hero (Baloubet du Rouet), aka AD Bogeno, for Brazil under the saddle of Alvaro de Miranda, while Tic Tac du Seigneur, who had joined the Hero breeding program at 18 months, won the senior Belgian Championship with the breeding's long-time rider, a certain Jérôme Guéry. A collaboration which led to many successes.
Although he is a breeder above all, Luc Henry is mainly a man of conviction and it's difficult for him to leave a horse that affects him. That's how Uriko, Ayade de Septon, Aganix du Seigneur, Chic Hin d'Hyrencourt and so many others ended up passing through the Liège stud. Now, he has decided to hang up his boots when the Hero stud's new young generation of horses is flourishing on the international circuit with promising horses such as Tinkoucha Hero Z, Klittle Hero, Atoucha Hero Z, Alana Hero Z, Ganesh Hero Z Dourkhan Hero Z and Tender Dream Hero. He is nevertheless one of the most enigmatic characters of Belgian breeding! At the age of 51, he has decided to say goodbye to his breeding career by ending with a big online auction with no less than 95 lots, including his breeding name. His stock of frozen embryos will also be offered for sale on a platform at the beginning of 2021. Luc Henry will in fact turn a huge page in his life by taking a step back from horses, but the man isn't really leaving the world of breeding, as he intends to invest more in his second passion; pigeons!
At 51 years old, you're drawing a line under 25 years of breeding. What is your assessment?
"Before talking about the results, it was above all a human adventure. I started in the business with the deep conviction that it would be possible to make a living breeding sport horses, knowing that it wouldn't all just be easy. I knew that I had only one way out: to aim for excellence. So, I moved forward step by step and day after day while very clearly keeping to the absolute goal of excellence. It was a real path of initiation. In terms of results, it would not be objective of me to judge myself and what I have achieved. The important thing for me has always been to follow and be guided by my intuition. I really have no regrets because I have always tried to be totally sincere and honest with myself and others, even if I may have made professional and human errors through ignorance or unconscious decisions. These mistakes helped me grow and still make me grow today because they allowed me to be more aware."
Luc Henry stands here with his broodmares Kassandra van't Roosakker, a full sister to Kent Farrington's star mare Kaprice van't Roosakker, and the stallion Kassander van't Roosaker, as well as Estrela Heureka Z and Athina Heureka Z, two granddaughters of World Champion Liscalgot.
How do you perceive the excitement around this sale?
"It is of course nice to see and feel the incredible excitement around the sale. I'm surprised to receive emails from abroad, from people I don't know, that tell me that I'm a real source of inspiration for them! It's just incredible. Even though I didn't do all this for fame or personal recognition, what's happening today may prove that what has been accomplished is pretty good, and could even be considered out of the ordinary."
Acquired at 2 years old by Luc Henry & Jérôme Guéry, the iconic rider of Stud Hero, Tic Tac du Seigneur offered the Brabant rider his first Belgian Champion title before seeking out new horizons, performing at the highest level with Leslie Howard (seen here in the World Cup Final in Lyon), then with Ben Maher with whom he represented Great Britain at the Olympic Games.
Retiring at the top is quite rare. Was it your career plan or a decision that you have come to over time? Would you have imagined doing this 10 years ago?
"I'm very touched by the words 'retiring at the top', however I find them to be too strong. It's true that over the last three to four months there have been many positives. Indeed, it's incredibly gratifying to have two exceptional young horses like Ganesh and Attoucha leaving to go to big stables, and then three of the most popular stallions at Zangersheide Stud, namely Aganix, Dourkhan and Kassander, who are directly linked to my past and my life as a breeder because I either bred them or sold them or even used them massively before the general public. All this is of course very rewarding, but I never sought glory, even though I always aimed for excellence first, because reaching the top has always fascinated me. Now, if in the eyes of the general public I have accomplished extraordinary things, I have done it, above all, because it inspired me and I knew that it was the one and only way that would allow me to live and even at first, to simply survive. I don't think I ever had a real career plan, and if I did, I probably wouldn't have been able to stick to it. I have always had a direction but no real plan, I have adapted to what life threw at me along the way while staying the course. As for the fact that that the decision came to me over time, it obviously did. It has been a real process of several years. I'd say it was between five and seven years in the making. I think the first time the idea came up was about seven years ago. At that time, I didn't imagine myself selling everything, but rather that I would live in a lighter and less constraining way. That was the time when my daughter Aurore, who had just turned eight, came to live with me more. Before that, I only saw her for two days, every two weeks. That was certainly a trigger. Then, this idea of lightening my workload grew in me little by little like a tree, slowly but surely, until it became a certainty."
You were one of the first to use embryo transfer and ICSI; were you afraid of using clones? Are you passionate about the technology?
"I'm not passionate about the technology as such. What motivated me was always very simple: excellence and trying to be the first one on the ball to get ahead. These techniques have allowed me to do that, so I decided that I would take the risk and use them."
Isn't that surprising coming from someone who has always used gallopers and trotters as a model?
"I truly understand the question, but you shouldn't compare that which is incomparable. To evolve in a certain environment, you have to make do with the rules of that environment, and in this case, the rules are different for gallopers, trotters and sport horses. I don't make the rules, I can't change them, and I don't intend to either. Then, to complete the thought, the rules of selection or the way to breed or to make a string of horse's progress have nothing to do with the environment which one gravitates towards. The rules of selection are, in my opinion, universal, applicable and transposable to all types of animal breeds. By studying and deepening the genetic selection in trotters and gallopers, I have managed to get a very precise idea of the path I needed to take to make my breeding program progress. I apply these selection rules to my horses very simply, and today, to my colony of racing pigeons; it seems to work well for both."
Dourkhan Hero Z (Don't Touch de Tiji Hero Z x Zandor Z), from the Usha van't Roosakker line, is now one of Zangersheide's great hopes and has been used a lot by his breeder.
You have often been seen using the genetics of many young stallions. What about your mares?
"When a young stallion responds positively to a large number of selection criteria in a natural way, I will obviously use him. This individual doesn't have to be perfect, but he must bring something extra, or be superior and that will make the general average quality of the herd evolve in a positive way. For the fillies, it's exactly the same. If I have a filly who shows that she is exceptional in certain aspects, I will have her do embryo transfers right from the start of her breeding career."
Star mare Prima Donna van't Paradijs (Darmen's Lily), in the Hero Stud fields, has herself competed in the sport and has produced many Grand Prix horses like Subliem van't Paradijs, Ultra Top van't Paradijs, Agata d'Ecaussinnes and of course the star mare, Venezia d'Ecaussinnes, not to mention the fantastic pony Klittle Hero.
You have often been seen investing in mares of recognized genetics, while you have never been afraid of buying young colts. Is it a coincidence?
"That's not quite right. Most of the young colts I bought were all from high-quality lines, even though they may not have been recognized as such yet. A line is like a tree, there are some branches that are more alive than others, and it's important to keep those that bear good fruit alive and working. The big problem is that most people rely too much on papers and big names. I could give you so many examples. In the end, it's always the individual, and only the individual, that matters. Just look at Prima Donna and Liscalgot! Their respective maternal grandams are unknown! Coming back to the fillies, they are the most difficult to find and buy. The sale that I have organized will precisely be that extraordinary opportunity to acquire these exceptional genetics! To come back to my journey, I had to deal with either buying or leasing exceptional mares. I think that that will also become more and more difficult in the future."
Luc Henry and Marc Kluskens (Roosakker kennel) are associated with many horses, including Elstar II Hero Z (E Star x Rubens du Ri d'Asse) which they bred together out of the famous Quasibelle du Seigneur, of which they were co-owners.
Considering the lines and offspring presented in your sale, how do you see the sale as a whole? Does it make you proud, like a collector showing his hidden treasures, or is it more along the lines of an accomplished work?
"The fruit of an accomplished work. I never wanted to have a museum, even though there are two horses that won't be leaving: my father's two mares that are his heart horses, that my daughter and I ride. For the rest, I did not make any calculations, and I repeat, I followed my instinct and the direction I felt was right."
The young stallion Ganesh Hero (Gemini XX x Diamant de Sémilly), out of a sister of Gatoucha van't Roosakker, is one of the great hopes of Stud Hero, and is now progressing under Carlos Hank's Mexican colors.
We saw with Gatoucha's injury that life as a breeder is not easy; is this a message you wanted to pass on by telling this story?
"The news of Gatoucha's injury on Saturday was, first of all, a terrible blow for me. I was almost crushed because I knew how much she meant symbolically, and practically, that she is one of the highlights of this sale. From the start, I made all the necessary decisions to save her with surgery as soon as possible. Then I sat down and tried to imagine what scenarios would be the most suitable. We were less than 6 days away from the start of the sale and the mare that everyone was waiting for might not be presented. As the hours went by, in the late afternoon, I felt very clearly that we should not change anything that we were planning to do, but to simply adapt to what life was throwing our way. So I decided to share the idea with my team that Gatoucha would therefore be presented for the sale, and that a special sales clause would be adapted and created for her particular case and this new situation. So we all very quickly felt that, to succeed in this very special situation, we simply had to continue to be transparent, communicate clearly and authentically. That's why there will be regular news about her. As for the clause concerning her, it will soon be available and clearly visible on the website. I will make sure that all those who are truly interested in her are contacted personally, so that no misunderstandings can arise during the sales process. The keywords are, and will remain, transparency and genuine communication."
Will you continue to follow the Hero bred horses in the competition arenas even if you don't attend much?
"Today, I can answer with certainty, yes of course, but I will follow them through their results. I certainly won't be going to competitions any more than I do now, and I don't know yet whether I will still go to Aachen or Lanaken for the World Championships for Young Horses. These were indeed the two competitions that I tried to never miss. I will see how my new life will take shape in the coming months. First of all, I will make sure that the sale goes well and that all the people we will entrust with these horses will receive irreproachable service. I think that by the beginning of February, when everything is completed, I will finally be able to settle down and look back with satisfaction, having accomplished my duty, and then, we will see what life throws my way."

Acquired at 18 months by Luc Henry, Aganix du Seigneur (Ogano Sitte) will compete under the saddle of Jos Lansink, before joining Zangersheide Stud, where he is one of the most popular stallions.
What are your objectives now?
"I would like to rest and take some time for myself first. I don't have any personal goals yet, but taking time with my daughter is crucial. We have already had a good discussion on the topic, and we don't yet know if we will take a trip to Nepal or elsewhere, and we are planning to set up an educational farm project together here in Belgium. I don't really know yet what will actually be set up. As far as pigeons are concerned, I really want to have fun. I'm fascinated and amazed by the physical and orientation capacities of these animals, as well as by their willingness to want to come back home. Sébastien Bastogne, who is a friend, and with whom I have worked with on this adventure for more than 10 years, is in fact the real pigeon fancier. We came together out of friendship. Sébastien will help me and accompany me in the management of the game colony, and on my side, I will be responsible moreso for the genetics and the breeding choices. We make all the decisions together. Our goal is to have fun while doing things in a very professional way. Of course, we hope to have exceptional results, but that is not up to us. The future will tell us if we are on the right track. Life is sincerely an extraordinary gift and we will try to enjoy and share the wonderful moments it offers us."
Photo credits: Julien Counet