A look back at the career of Rob Ehrens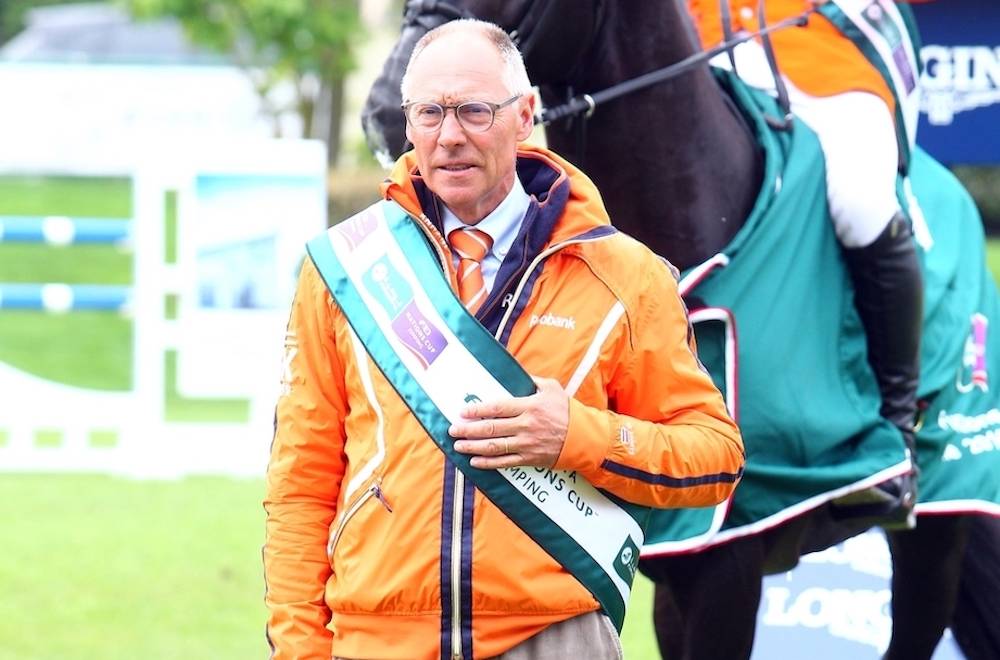 27 December 2021
The news of that Rob Ehrens was asked to step down as Chef d'Equipe of the Dutch team was a true shock in the showjumping community. He was leading the Dutch team for 16 years plus before that he was three years Chef d'Equipe of the young riders from the Netherlands. Jos Lansink will take over the job to become the Chef d'Equipe of the Netherlands for showjumping. The Dutch team leader takes Studforlife on a journey looking back on some highlights of his career as a Chef d'Equipe and rider.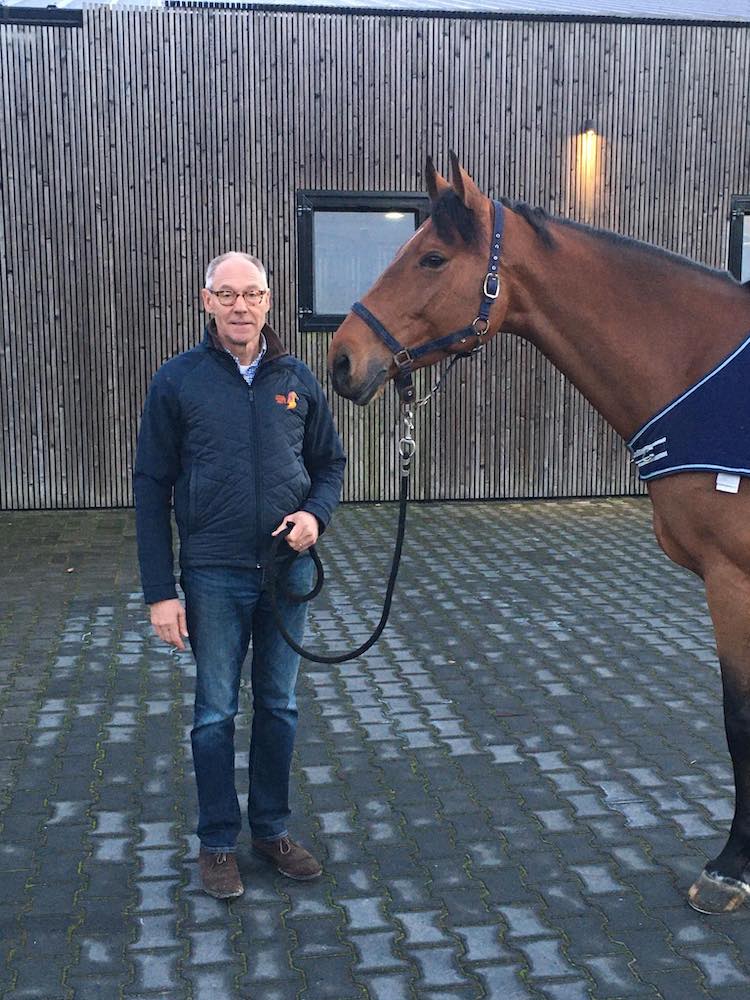 Rob at home with an Holsteiner mare
Rob Ehrens his career as a rider
"I really have to say that I had three unbelievable good horses in my career. That started in 1980 with the mare Koh-I-Noor (Off Key). Cor Loeffen from the KWPN still says that she is a modern horse in type. She was a bloodhorse. I won with her Calgary. I was second in Hickstead and I won many more second places with her in Grand Prix's. I won the bronze medal at the European Championship in München with her in 1981. After that she got sold. My next top horse was Oscar Drum (African Drum). I also won quite a bit with this horse. I rode with this horse at world championships and European championships. I was the only Dutch rider to go to the Olympic Games in Los Angeles and when he arrived he was injured. Later I got Olympic Sunrise (Flaneur). She won in 2.5 years time about 20/25 grand prix's. She won in that time quite some money 850.000 Guilders and four cars. I rode with her in the Olympic Games of Seoul. We were there fifth with the team and 15th individual. These horses were really good and in the end of my career I did some very good things with the Holsteiner stallion Celano (Capitol I). With him I won a few times the Sires of the World and I rode Nation Cups with him. I also rode the Australian Thoroughbred Stolen Thunder. During this time we placed third at the 1995 Nations Cup in Aachen, and fourth in the World Cup in the same year. We were nominated for the Olympics in Atlanta but sadly the gelding was found to be lame shortly before the start of competition and they were forced to withdraw. He was a special horse, very sensitive. His canter was very good and he was careful.
I was never able to win Aachen as a rider. I was twice fourth and one time fifth, I always had a pole down in the jump off with quick times. With Oscar Drum, Olympic Sunrise and Stolen Thunder. I did quite well at top level with very different horses.
As a rider I won quite a bit but not at championships, that I did in my position as a Chef d'Equipe. Together with the riders I had in my team I can look back at some very good results."
The start as Chef d'Equipe
"The year 2001 was the last year that I was active as competition rider. My son, Robbert Ehrens, said: "Dad, do you know that you started your international career in Hickstead and that you stopped 20 years later in Hickstead?" My first big international show was in 1980 with the mare Koh-I-Noor in Hickstead and my last international show was in 2001 with the stallion Celano in Hickstead. In 2001 I stopped competing and I rolled in the role as coach and in 2002 I started as coach of the youth – young riders from the Netherlands. I did that three years with good results. We won for example a gold medal at the European championships in Hagen, Germany in 2002. In 2005 I was asked to become the Chef d'Equipe of the senior riders. I actually didn't feel ready to take the job and eventually I did took the job. I have been 16 years the Chef d'Equipe of the seniors and three years of the youth – young riders. So in total I was working 19 years for the Dutch federation of Equestrian Sport."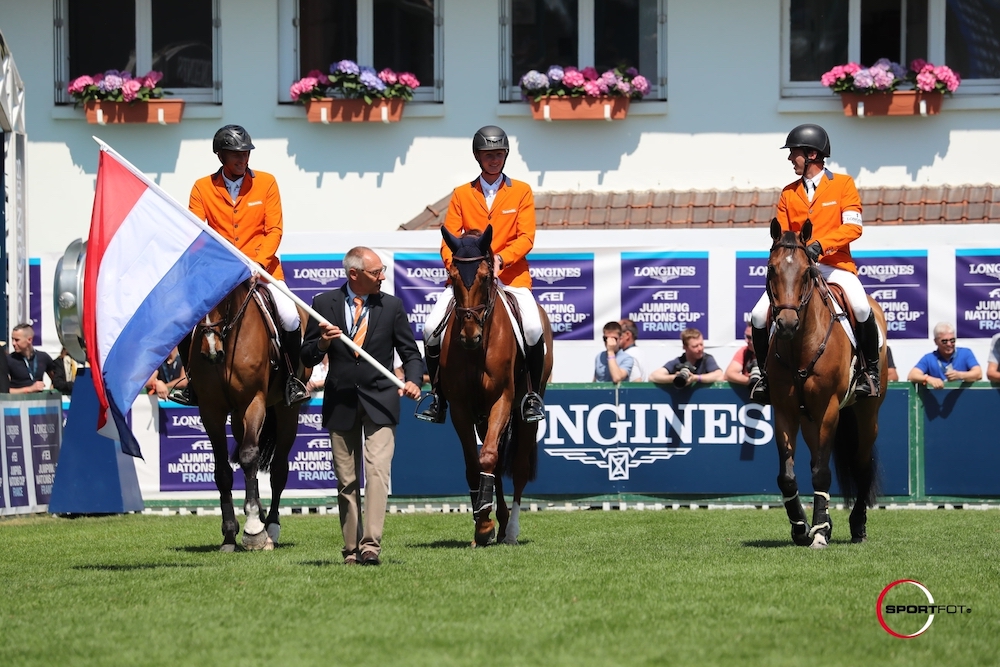 Rob and his riders during the Nations cup in La Baule
European Championships (2005, 2009 & 2015)
"In 2005 there was not much to start with. We sat together as a group and there was Leon Thijssen one of the pioneers. We had to work with what we had and we had to concentrate on what was in front of us and go for it. That is how we started in 2005 with the European Championship in San Patrignano in Italy. Where we won two bronze medals and that was beyond our expectations. We won a bronze medal with the team and Jeroen Dubbeldam won bronze with Nassau in the individual final. The team exists out Jeroen Dubbeldam, Gerco Schröder, Leon Thijssen and Yves Houtackers. Two years later we won gold in Mannheim, the team consisting of Albert Zoer, Gerco Schröder, Jeroen Dubbeldam and Vincent Voorn. In 2009 Albert Zoer won a bronze medal with Okidoki in Windsor.
In Aachen in 2015 we won gold with the team and Jeroen Dubbeldam won individual gold. I picked the same riders that won during the World Equestrian Games gold."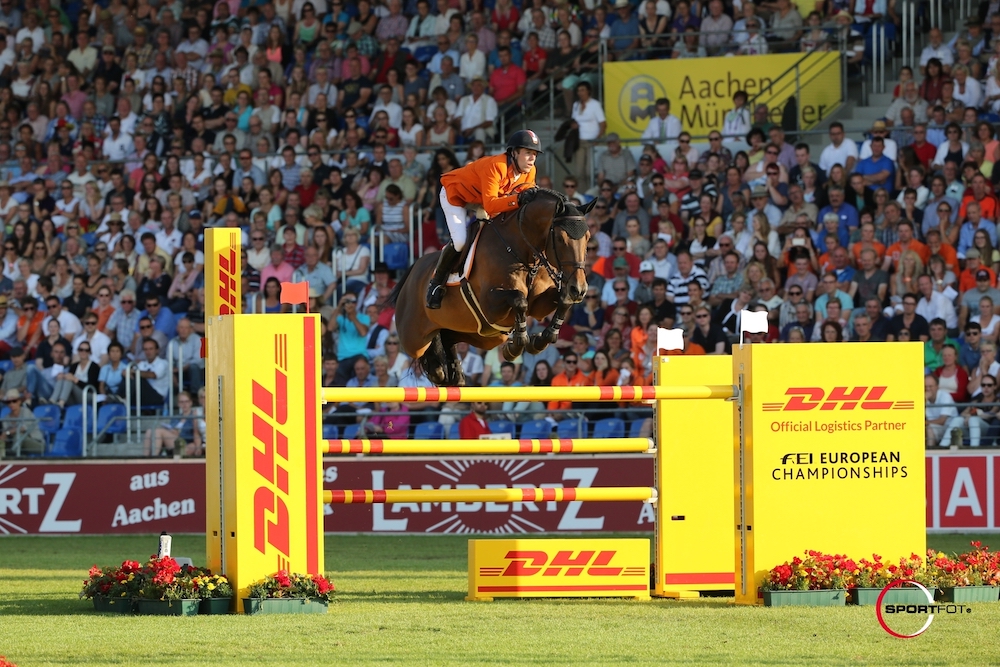 Maikel van der Vleuten and Verdi have been one of the most successful pair in the world these past years
World Equestrian Games in Aachen (2006) and Caen (2014)
"It was a historical moment to win gold at the World Equestrian Games in Aachen. We never won a gold team medal before during the World Equestrian Games. I will never forget that. It was also special because it was in Aachen. I have to say that we had quite some results in Aachen and for sure also some less good results. Regarding the results in general I think that every country has periods of good and bad results. There is no country that can stay year for year for year at the top position. When do you win? When you have good riders with good horses who are in the flow and if you don't have that the competition will be so strong that you have no chance. Plus it is going to be a difficult story if you don't have three riders in the team that can ride clear rounds.
In Caen the Dutch team consisting of Maikel van der Vleuten with VDL Groep Verdi TN, Jur Vrieling with VDL Bubalu, Gerco Schröder with Glock's London and Jeroen Dubbeldam with Zenith SFN win the World Championship at the World Equestrian Games, they also took the individual title. Jeroen Dubbeldam became the first Dutch rider ever to be crowned World Champion of the showjumping riders.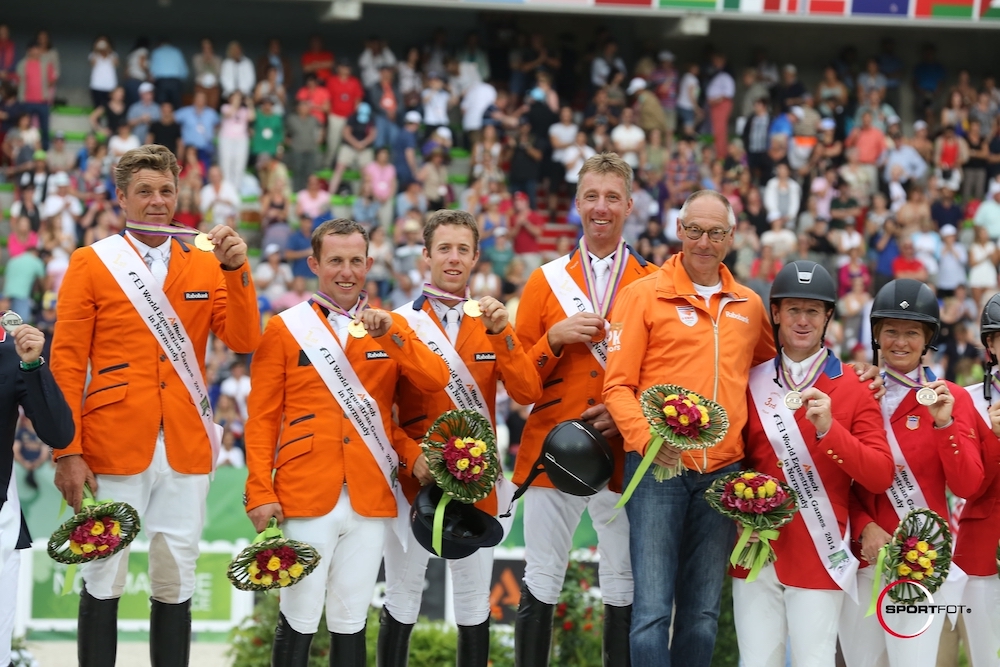 On the podium at the WEG in Caen with Jeroen Dubbeldam, Gerco Schröder, Maikel van der Vleuten, Jur Vrieling and the American team.
Jeroen is a rider who can empathise enormously with his horses. He has learned that in the past by riding many different horses at many different stables where he used to work. I think he has a special gift to be able to adapt to the horse and, if he believes in it, build an enormous bond with it. If the quality of the horse allows it, he can create a certain magic with it between him and his top horses. Jeroen is also really a rider that doesn't look at the quantity of the horses but at the quality."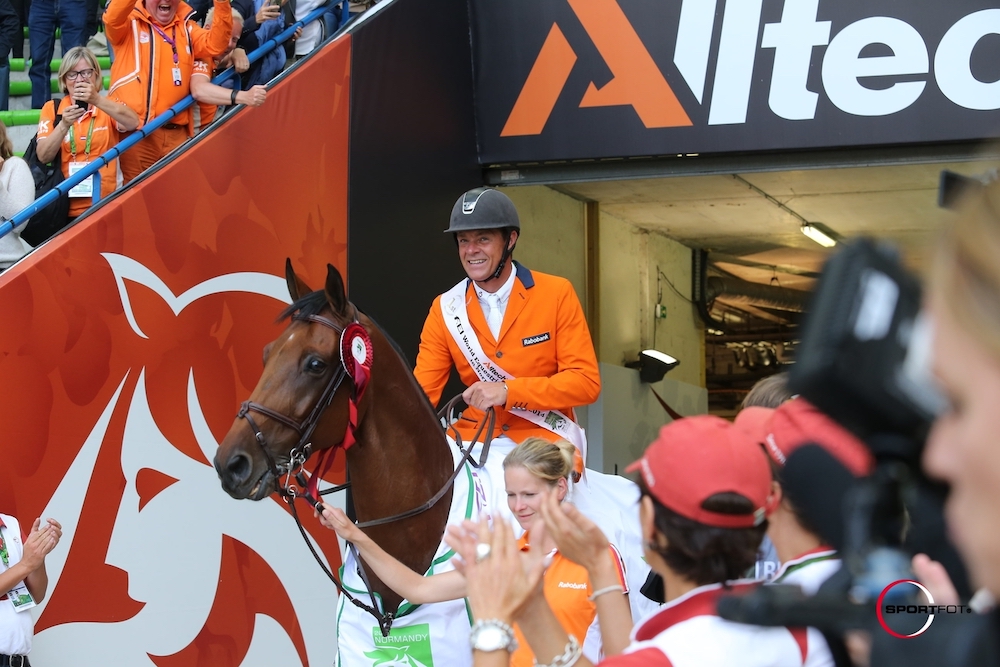 Jeroen Dubbeldam & Zenith
World Equestrian Games in Kentucky (2010)
"We didn't managed to qualify with the team for the second round. Everybody started to say that the team was not good enough. That was not true, because this team also won the Aga Kahn in Dublin and we stood at the fourth place after the first round. But in the first round of the Nations Cup all the riders had two down and some with a time penalty and then you don't count for the results anymore. To deal with difficult moments in the profession as the chef d'equipe is always very difficult. It seems a great job when you have success but if you then have to put together all the points who are negative then you have quite a bit together. The selection of the riders is and stays difficult. The explanation to the riders who just didn't made the selection, because with that you disappoint people and make people angry. If you did arranged it all at a certain point and you are at the show and it doesn't go well then it is really sad. That was for example in Kentucky. If you don't perform well with the team you are being told as first that you didn't selected the right ridersnand that is not always in your power as chef d'equipe. You have to deal with situations like this. I am an optimist and I will close to book and look forward to continue. You never get used to it."
Olympic Games in London (2012) & Tokyo (2021)
"We had two silver medals in London. One with the team consists of Gerco Schröder with Glock's London, Marc Houtzager with Sterrehof's Tamino, Maikel van der Vleuten with VDL Groep Verdi and Jur Vrieling with VDL Bubalu. Gerco Schröder won individual also a silver medal with Glock's London. The team medal in London carries a lot of important weight for me."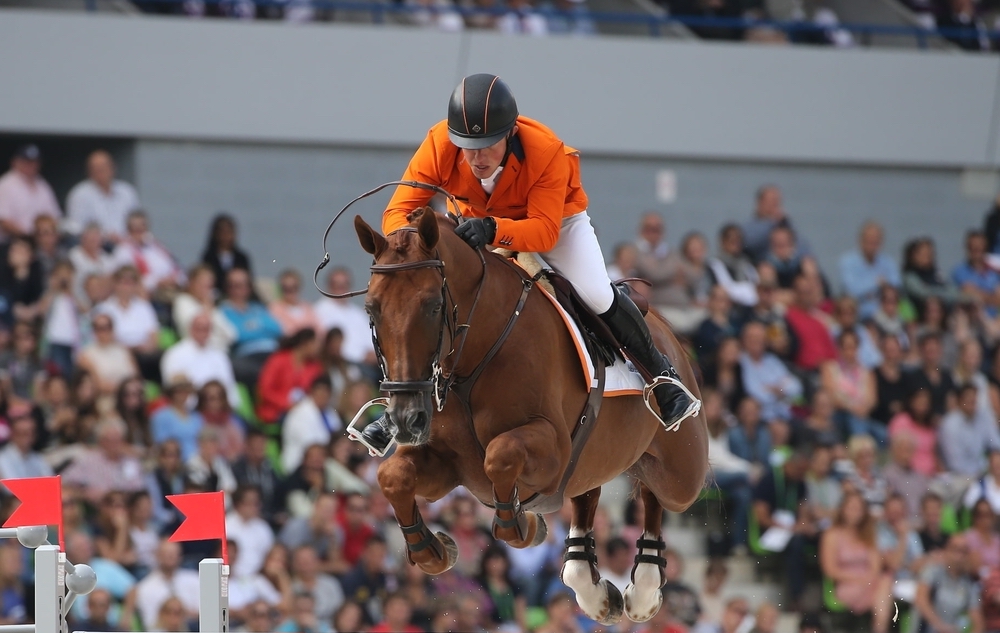 Gerco Schröder and London got two medals at the London Olympic Games
"In Tokio this year (2021) Maikel van der Vleuten got the individual bronze medal with Beauville Z. The individual medal of Maikel is an outstanding success."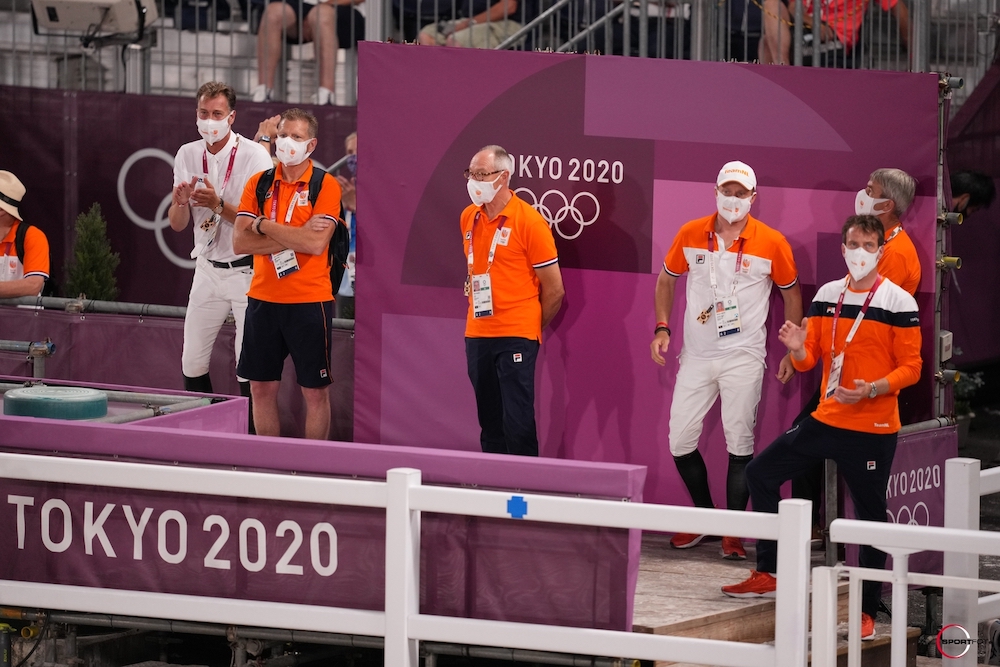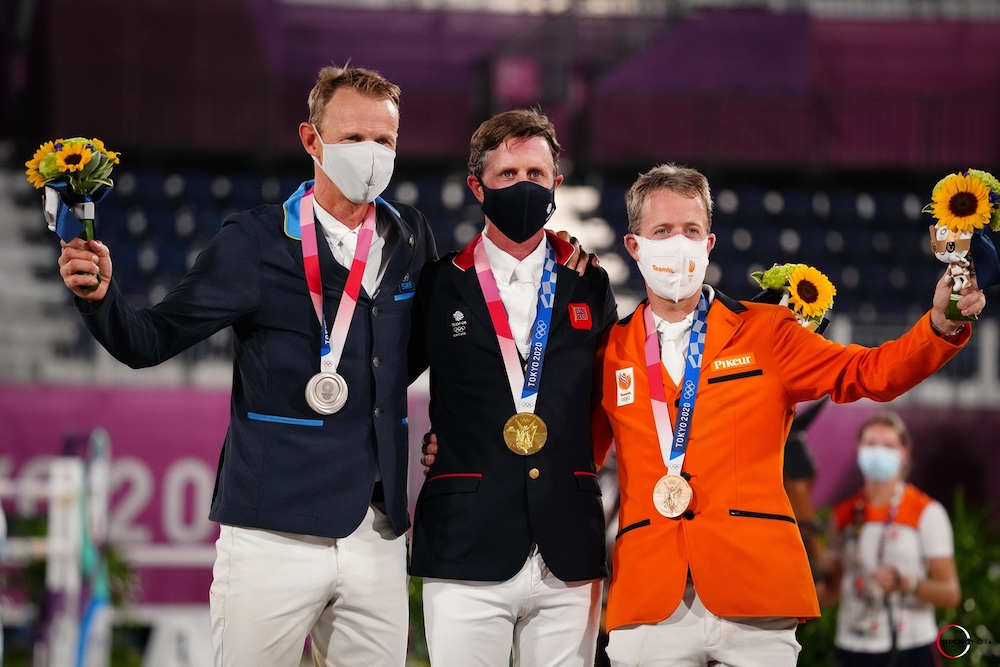 Peder Fredricson, Ben Maher & Maikel van der Vleuten
Nations Cup final
"We won three times the Nations Cup final in Barcelona. The last time was this year. I am proud for what I have done with my riders. We did many great things and I could not have finished it in a better way."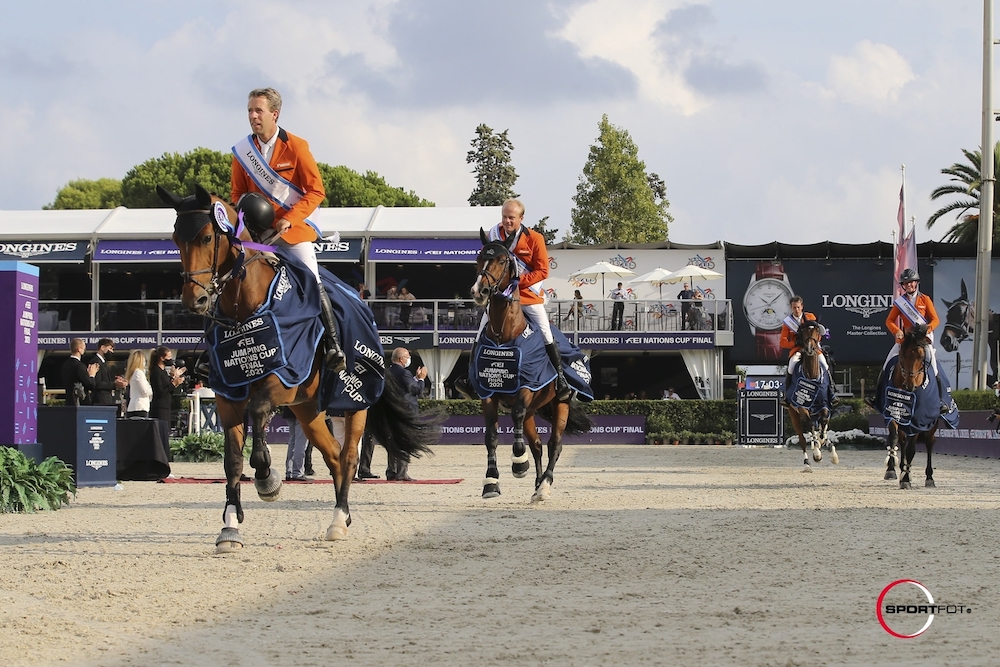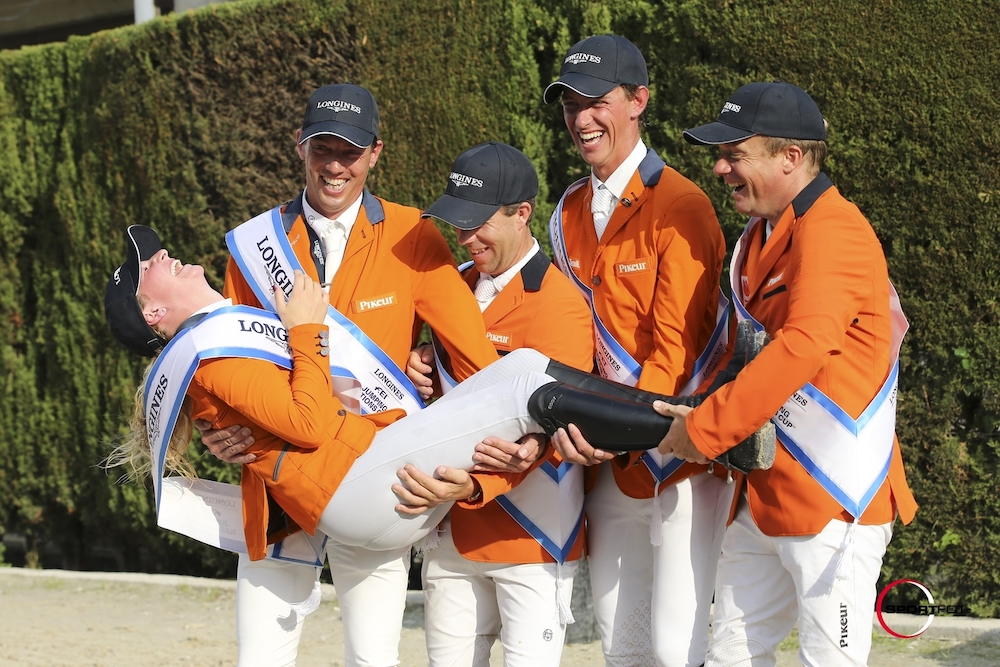 Sanne Thijssen, Harrie Smolders, Maikel Van Der Vleuten, Kevin Jochems & Willem Greve
Adriana van Tilburg. Photo credit: Sportfot.com