Logbook #4: Laura Vivière, Mark McAuley's groom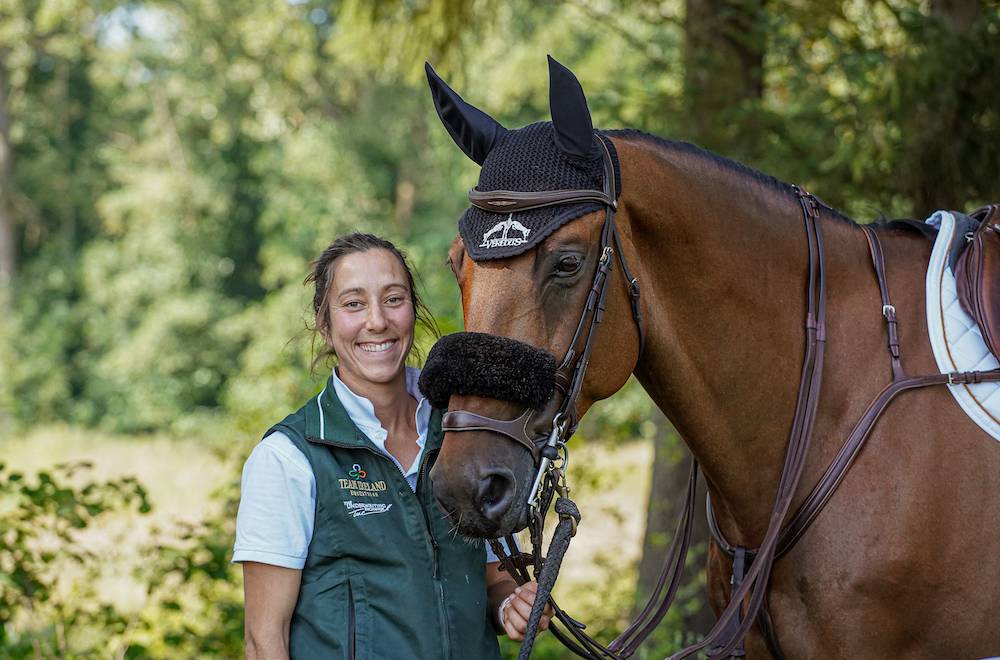 05 September 2021
Stable managers, grooms, photographers... They all navigate through the aisles of the competitions and are essential to their success. For the European Championships, Studforlife has decided to give them the floor so that they can tell us about their daily life in the heart of this unique event. In this fourth part, it's Laura Vivière's turn to explain what her missions as a groom consist of alongside Mark McAuley and Jasco vd Bisschop.
Laura Vivière takes us through this special day that punctuates the European Championships: the team final. This organized young woman has the habit of writing down the plan for her days the day before in order to work without stress and delay.
August 3rd, 2021
5.45 am: A new day, my alarm clock rings! 45 minutes later, I arrive at the stables, Nicolas Belin, the osteopath, is already there. He has given hay to Jasco and Miebello – who are there to compete in the CSI3* which runs in parallel to the championship - and is already taking a look at our bay who will be jumping in the afternoon. Physically, Jasco is stiff and needs care to be at 200%. In the arena, he has to be comfortable before giving it his all, so Nicolas starts by massaging the areas that seem sensitive. I take the opportunity to clean the boxes, top up their water, remove bandages and look at my horses' legs.
Nicolas Belin, Mark McAuley's horses osteopath.
7.20 am: It's time for Jasco's warm-up! As I do every morning here, I have reserved time to go along quietly: it's our routine. He is very relaxed during this stretching ride that lasts about 15 minutes. Nicolas is with me, watching the horse move. I love that he is present because I'm a groom, but I can still miss some details that osteopaths can see with their qualifications. It's really nice for the horse! My goal is that my horses leave the competition feeling good.
7.45 am: I go back to the stables, feed them and then take care of Miebello. At 17 years old, he can still be crazy on the lunge, so I don't take any risks and I take him for a walk and a graze in the large Riesenbeck facilities. I end by returning him to his stable and have my own breakfast.
8.45 am: Second ride time for Jasco, this time with his rider Mark. He rode him for about 45 minutes. I take advantage of Nicolas' presence there watching the horse be ridden to care for Miebello, putting him in the inhaler and saddling him so that Mark can continue riding. He always keeps me informed of his feelings on the horse.
11.00 am: I put hay in each stall and change the water. It's important that it's clean to encourage the horse to drink. Nicolas resumes his massage and focuses it on Jasco's most sensitive areas in order to prepare his body for the task ahead. Then, I leave the boxes to let him rest, Jasco is a big sleeper! I sacrificed the plaits, which take more time to do than bunches, especially since I don't think he likes having them, and I let him lie down.
Jasco's rest. Photo: Laura Vivière
Noon: I feed the horses and go to lunch. When I come back, I'm quite satisfied because Jasco is still resting, lying in his box. I take care of Mimi - Miebello - and groom him for his evening event.
1.20 pm: I start to take care of Jasco again for his turn. The steward of the International Equestrian Federation (FEI) came to do the thermographic inspection to measure the temperature of the horse's legs. She does this on all four legs and also tests their sensitivity. It doesn't happen at every competition, but at a championship, I guess it's a pretty regular practice. I always give myself half an hour to get him ready, and then, it's off to the warm-up ring! At this point, I'm always so calm because I'm on time, it's a routine.
A few minutes before entering the warm-up ring.
2.10 pm: I arrive at the edge of the warm-up ring, accompanied by Nicolas. I tie Jasco up while waiting for Mark and then leg him up onto the horse. My rider is always very calm during training. The Irish team is also beside me. I feel that there is a good understanding between riders and grooms. To jump, I use the same obstacle as Kevin Staut. We rarely jump very big, Mark is very attentive to his horse. When we finish our warm-up, and we go to the gate attendant area before jumping one last oxer and a vertical. The pressure rises a little: here we go! On the "kiss and cry", I always film; I prefer to. I'm less tense when I do that. I think that if I don't film, I won't be able to watch. Mark and Jasco make a mistake at the beginning of the course. I think "oh no" and then they make a second one. I meet them at the end of the course and the love of the horse takes over. I give Jasco some bananas and tell myself we'll do better next time! Mark then takes the time to trot and walk the horse before returning him to his box.
3.45 pm: I go back to the stables and let Jasco roll, he loves it! I then take him to the wash-down area and put him in ice boots to cool his limbs. At the back, I put him in the ice gaiters. I always take care to put small towels around his legs so that it doesn't burn him. Here, the freezers work very well, and the ice is quite cold. With wet hair, it tends to stick. I leave him for about 20 minutes. During this time, I apply clay on his shoulders and stifles and then I do my leather gear. I also prepare him a small bowl of hay so that he eats a little and decompresses.
4.45 pm: When I take it all off, I let him rest and go take care of Mimi. In the meantime, I put clay on Jasco's hocks and knees and then the zinc strips on all four limbs. They are also kept in the freezer so once applied, they're cold. The zinc is very good for the skin and holds the tendon, so the leg doesn't get engorged. It's a good tool, but it doesn't fit all horses! Nicolas takes a little look at him after his effort, but he will massage him in more detail tomorrow since we don't have another event. We gave him a lot of attention today and less to Mimi unfortunately. I always try to balance my time well but that's also the game at championships.
Miebello also has his time of relaxation to graze.
5.30 pm: I saddle Miebello for his event in the CSI3* and head for the arena! Mark said he felt really good in the warm-up even though he made two mistakes in the arena.
7.00 pm: Back to the box, I bathe him and put ice on him. I also take the opportunity to feed them, finish cleaning the leather gear, give them fresh water and clean their boxes. Then I take a little break to have dinner.
9.00 pm: I do my night check by finishing with Miebello's care and putting on his four strips. I give each of them more hay for the night so that they have enough to eat. I put their blankets on them, close their windows, and give them one a last kiss. Good night horses.
Photo credit: Léa Tchilinguirian