Logbook #3: Kirsty Pascoe, Jérôme Guéry's groom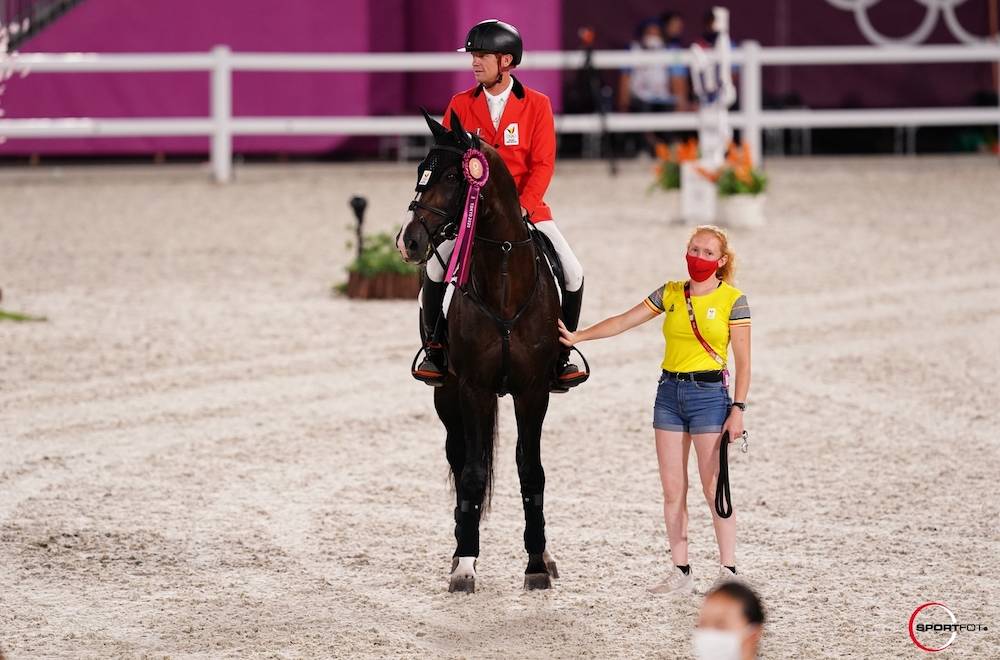 08 August 2021
Stable managers, grooms, photographers... They all navigate through the aisles of the competitions and are essential to their success. For the Olympic Games, Studforlife has decided to give them the floor so that they can tell us about their daily life in the heart of this unique event. In this third part, it's Kirsty Pascoe's turn to explain what her missions as a groom consist of alongside Jérôme Guery and Quel Homme de Hus.
During the team final, Belgium was awarded the bronze medal, a long-awaited reward for all; riders, grooms, owners, fans… Between mental and physical preparation, Jérôme Guéry's groom, Kirsty Pascoe, immerses us in the day that closed out the Olympic events.

August 7th, 2021
6.45 am: The alarm goes off and I put my clothes on to quickly join the stables. We sleep right there, 2 minutes' walk from the horses.
7.15 am: When I arrive, the first thing I do is go to see Quel Homme. I'm feeling a little bit stressed, telling myself that this is the day to be in top form. He's doing well and had a good night. The facilities are perfect, with large air-conditioned well-built stalls, the room temperature never changes. I start by cleaning his box, removing his wraps, and then I feed him. While he eats, I go and have breakfast.
8 am: I come back to Quel Homme. At this point, I change his two buckets of water and then start to work on him. He had jumped the day before - in the team qualifier - so I take the clay and flaxseed off him before going to the hose-down area to get it all off. Every morning, I head out to the grassy field with him. This area was used for training the eventing horses, but we can also graze our horses there. I also take the opportunity to walk him. As usual, he's fresh and rolls three times, something he loves to do!
Quel Homme de Hus (Quidam de Revel) is fully enjoying his outdoor moments in Tokyo. © DR
9 am: I take Quel Homme back to his stall and then I take care of him, like put him on the inhaler. I also check if he has any tension and if he needs a massage. This morning, he's fine, nothing to report. Afterwards, I leave him alone and go back to my room for a little nap. The events are in the evening; we finish late and get up early so we often take naps in the morning.
11.30 am: From 11 am to 3 pm, the horses can't leave the stables because of the heat. I go back and see Quel Homme to clean his stall, change his water and give him his meal and then again, I leave him alone. From noon til 3pm, the lights are off in the stables. It's really great, most of the horses lie down and rest!
Noon: On event days, I don't take an afternoon nap. Today, I take the opportunity to eat and play cards with the French grooms! In this kind of competition, there is no rivalry, we are all there together and we help each other out.
3 pm: Jerome has planned to come and ride Quel Homme at about 4 pm, so I go back and take care of Quel Homme a little before. I start by getting a head start on braiding his mane. Then I put the inhaler back on him before Jerome arrives; he's gone to look at the obstacles in the arena.
4 pm: Riding time! Jerome and Quel Homme ride over to the work arena for a little relaxation. I take five minutes to clean his stall and water before joining them. The advantage of having only one horse is that I can really watch him 100%, I like to see the horse's attitude at work. It's very important to see him move, I can study his form, notice if something is wrong and if he needs a massage. In this case, Quel Homme is still doing well, he's super healthy!
The preparation begins, bathing and braiding are on the program. © DR
4.30 pm: After a short half-hour work session for Quel Homme, we all go back to the stables. A bath and a walk outside the stables to dry him off are necessary.
5 pm: The event is at 7 pm, so I prefer to feed Quel Homme beforehand, I always give him two hours to digest his food.
5.30 pm: I continue to braid his plaits. I feel calm, I have no doubt about the horse. Quel Homme is a horse that likes to be braided, he isn't tied up in the box and falls asleep. It's great to have a moment together before the start of the events, I think it's important.
6.15 pm: I finish his mane and leave him alone with the massage blanket on while Jerome goes to walk the course. We always talk about it quickly after the course walk. He tells me more or less if the course suits the horse. In this case, he tells me that everything is fine, that it isn't higher than the individual final. He seems quite confident and wants to watch the first starters to be sure of his stride lines. The preparation starts with stretching for Quel Homme. At this point, each Belgian groom does their job and knows their horse perfectly with their customized management. We don't change our habits and we don't adapt to others. Now, if there is a need for mutual help, we are of course there for each other! Simon takes care of Claire Z, Pieter Devos' mount, and Sylvain takes care of Nevados S, Gregory Wathelet's mount.
7 pm: The event starts, we have drawn number 19, so I leave the stables at this time, knowing that there is only one horse in the arena at a time, so the events are quite long. Jerome doesn't need more than 15 horses to warm up, he watches the top five while I walk Quel Homme. When he has mounted, I say to myself: "Well, that's it! Now you have to be good." I don't have a lot of stress, of course I have a knot in my stomach, but I have complete confidence in the horse and his rider. We start to warm up and everything goes well.
7.50 pm: Time to enter the arena! The closer we get to the gate, the more I tell myself that my work is done and that the rest is in Jérôme and Quel Homme's hands. I got on the "Kiss and Cry" with Gaëtan Decroix, his owner, Patricia Guery, Jérôme's wife, and the Belgian staff. I feel that the pair is at ease on course. We bit our tongues once or twice hoping they got it right, but the closer they get to a clear round, the more tension there is. When they jump the last obstacles, we're all tense. Once the finish line is crossed with the perfect round, it's a huge relief! Everyone is hugging each other.
Crazy "Kiss and Cry" after the Belgian pair's clean round. © Sportfot.com
7.52 pm: I find Quel Homme at the exit of the arena... I shed a tear. I've been working with Jérôme for two years and we have been working towards this goal every day. This double clear round in the Team Final is a dream that also puts Belgium in a good position. I am taking Quel Homme back and we're joining Simon who has already returned to the stables with Claire Z. We have to stay alert for a potential jump-off since there are three teams with four faults after the second riders' ride. Before the last pairs go through there is a break, so I take the opportunity to bathe my horse and take the pressure off, then I come back to the stables, ready to go again if needed. Our Dutch neighbors have a TV, so we watched the rounds. When Nevados S - who made two mistakes - went, we were afraid of being knocked down the rankings. Simon and I can't believe in it and try to convince ourselves that fourth place is ok. When Penelope Leprevost entered the arena, we doubted that she would have more than three faults to keep us on the podium. It was so unlikely... but she was eliminated. Bad luck for her, but beneficial for the Belgians since it ensures we get the bronze medal. Simon and I hugged and congratulated each other. "It's good, we have the medal!" I hug Quel Homme and give him lots of carrots again!
8.30 pm: I tack him back up during the break before the jump-off. In the meantime, the riders have returned to the boxes to congratulate their horses and the whole team.
Family picture with the bronze medal around Jérôme Guéry's neck. © DR
9 pm: Here we go for the awards ceremony! I arrive while the jump-off is running between the United States and Sweden. I'm also in the warm-up ring when the Swedes win the Games. That moment was exceptional. Everyone jumped into each other's arms and those images will remain engraved in my mind. These are the beautiful moments of sport where all the nations congratulate each other.
9.10 pm: I enter the arena next to Jérôme and Quel Homme for the awards ceremony. I feel relief, we have been waiting for this medal. I say to myself: "The medal comes home!" I hold my horse while the riders get on the podium before doing the lap of honor. By the way, Quel Homme had no better idea than to lose a shoe during this last canter but we don't blame him (laughs)!
Kirsty Pascoe and her protégé, back to the box. © Sportfot.com
9.30 pm: It's hard to stay focused on caring for the horse with all the euphoria. I take more time than usual, but Quel Homme has everything he needs, zinc strips, wraps, clay on his stifles, a back massage, his massage blanket. All the best care possible!
10 pm: We order pizza and champagne for everyone. We had a party in the stables with all the people who were there and who participated in the medal. Everyone knew that there was going to be a celebration at the Belgian stables! The Netherlands immediately joined us, then the grooms and riders from the other nations arrived. Though some were disappointed with their performance, they were still happy for us: that's the beauty of this sport!
11 pm: The riders take their bus back to the Olympic village and we go back to our building. The horses didn't want us to party all night in front of their boxes, so we go to the common room where we continue on!
4.30 am: I'm finally in my bed after this exceptional day! The night will be short...
Featured photo: Sportfot.com