Live now! Ekestrian Elite and No-Reserve Auction on March 22nd and 23rd!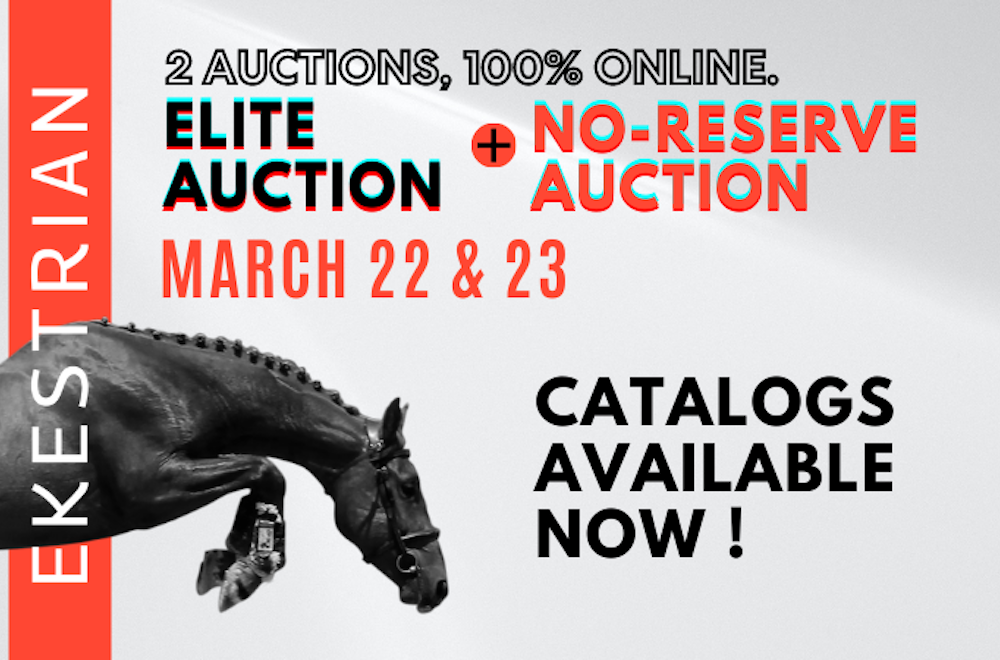 22 March 2022
Auctions are live! Don't miss the 2 Ekestrian auctions closing tomorrow! 44 exceptional lots for the Elite auction and 16 lots presented at the 100% No Reserve, including 4 coverings. The Haras De Brullemail and the ASEP are working together to raise funds for cancer research during the Ekestrian auctions.
The star stallions Alligator Fontaine, Chankar Mail, Delstar Mail and Quality Touch will be auctioned off with all proceeds going to Europe's leading cancer research centre, the Gustave Roussy Institute.
Auctions close tomorrow at 9pm (GMT+1/Paris) lot by lot, minute by minute.
Insurance available at preferential rates for Ekestrian customers! From embryo to 4 year-olds!
Latest additions to the Elite catalogue:
- Frozen embryo - Nabab de Rêve with the only sister of Usha van't Roosakker!
- Foal to be born in 2022 - Rare! Brother/sister to Sterrehof's Ushi, 2nd in Grand Prix 1.60m, by Chacco Blue x Baraka de Muze, direct daughter of Narcotique de Muze II, granddaughter of Qerly Chin!
- Foal to be born in 2022 - Exceptional damline of Sapphire! Grandorado TN x Comme Il Faut x Mr Blue, by Phaline van't Merelsnest, clear in 6yo classes and niece of VDL Glasgow vh Merelsnest, winner of the CSI5* 1.60m World Cup with J. Vrieling, a bloodline of performers!
- Foal to be born in 2022 - Toulon with the sister of Fair Light van't Heike, winner CSI5* 1.60m with Alberto Zorzi ! Also sister of Evian van't Heike CSI 1.60m, damline of many 1.60m performers, including World Championship medallist Valentina van't Heike
- Frozen embryo - Brother/sister to 3 1.60m performers, by Clinton x Darco x Jalisco B with Vodka Orange de Muze, 1.40m, sister to Mylord Carthago and daughter of Fragance de Chalus!
- Foal to be born in 2022 - Balou du Reventon with In Love vd Moerhoeve, sister of Mumbai, 4th of the 2021 European Championships and World Cup winner at 8 years old with Christian Kukuk, granddam of VDL Groep Eureka, CSI5* 1.60m with M. van der Vleuten
- 1 year old - Male - Chacco Blue with a direct daughter of Usha van't Roosakker!
- Frozen embryo - Direct damline of Candy, winner of the CSIO5* 1.60m in Calgary with Pieter Devos! Baloubet du Rouet x Elvis ter Putte x Darco with Pas Poes van HD 1.30m at 6 years old, niece of 7 performers 1.45m to 1.60m, and granddaughter of Candy
- Broodmare in foal - Hieperdepiep de Muze, rare daughter of Boyante de Muze CSI5* 1.60m! Dam of Favorita de Muze 1.50m, sister of Estoy Aqui de Muze HDC CSI5*1.60m with K. Staut, S&L Cocodrille CSI 1.60m, and granddaughter of Narcotique de Muze II! In foal to Bamako de Muze
ACCESS THE CATALOGUES HERE !
Foals to be born in 2022, frozen embryos, broodmares in foal, but also young horses, from yearling to 4 year-olds, find the best European bloodlines such as Usha van't Roosakker, Qerly Chin, Fragance de Chalus as well as the families of the greatest champions like Corrado I, Cornado NRW, Claire Z, Jade vd Bisschop, Admara 2, Chacco-Dia, Rokfeller de Pléville Bois Margot, associated with the star stallions Chacco Blue, Clinton, Cornet Obolensky, Comme Il Faut, Balou du Reventon, Heartbreaker, Baloubet du Rouet, and many more.
As for the No-Reserve catalog, discover lots with excellent value for money (average starting price of €3500) and the best stallions such as Chacco Blue, Quidam de Revel, Cornet Obolensky, Mylord Carthago.. associated with performers' bloodlines. Don't miss the broodmare in foal, daughter of Quidam de Revel x Carthago, and other lots for breeding and sport!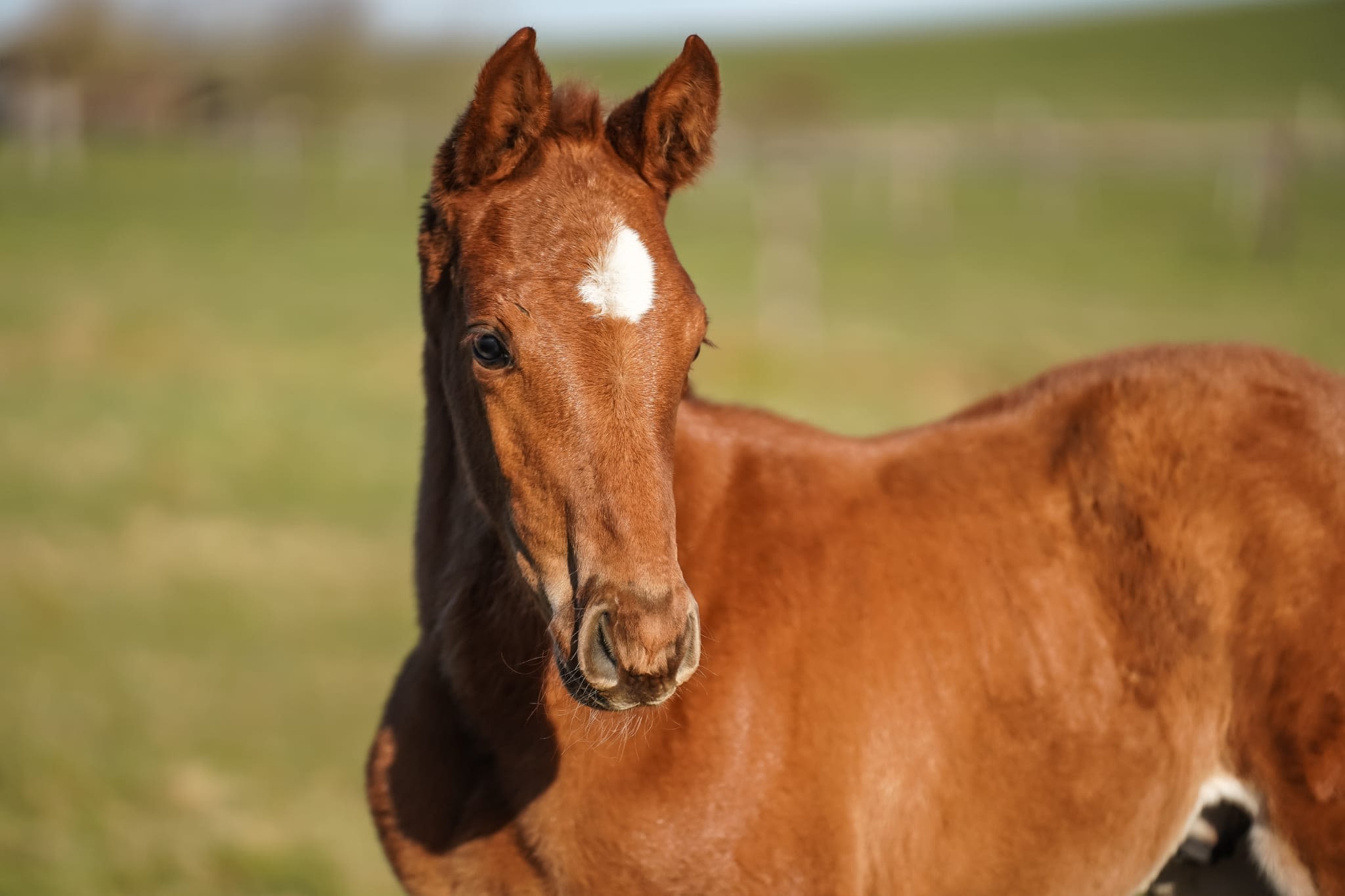 FOAL - Damline of Reine-Fee des Hazalles, 2nd in CSI 1.60m and dam of Venue d'Fee des Hazalles winner in CSI 1.60m! Out of the sister of Kinder Fee Sauveniere Z 1.45m at 8 years old, damline of many performers 1.45m to 1.60m!
Don't forget to create your account and/or to update your details on the website to be able to bid during the auctions.
Information and price estimates from the Ekestrian team at +33.7.86.32.75.17 or [email protected].