Laura Kraut wins ahead of some fine riders in Wellington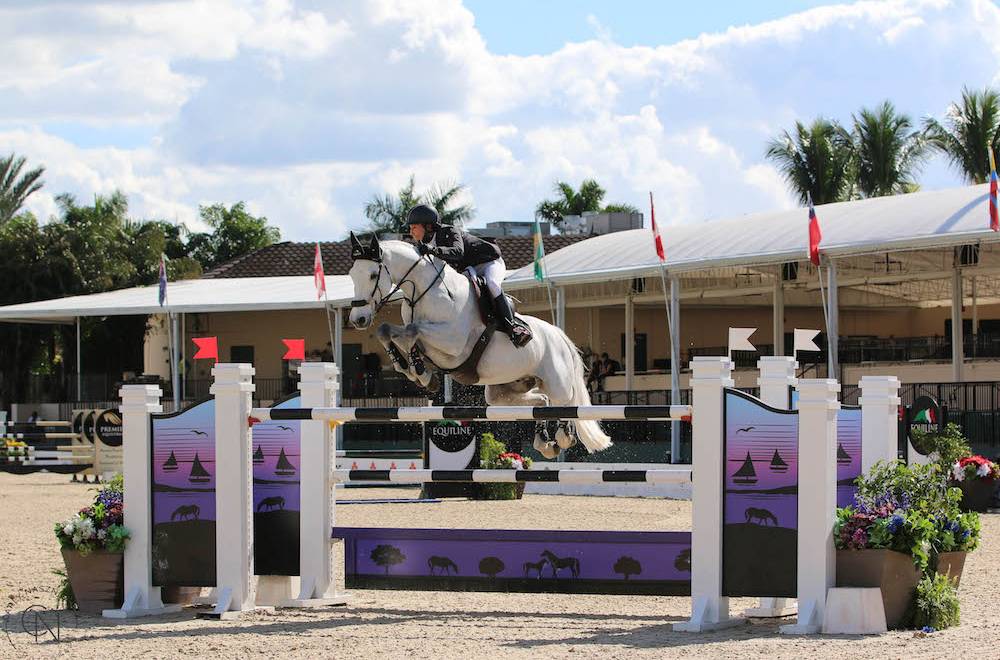 14 December 2020
The Germans came out on top in Riyadh, Laura Kraut won in Wellington, Pieter Devos in Sentower Park, and the Swiss prevailed in Gorla Minore.
Wellington CSI4*
Laura Kraut narrowly won the $214,000 CSI4* Wellington Grand Prix with Confu (Contact Me). Nick Skelton's partner stopped the clock a few hundredths of a second ahead of Daniel Bluman, who had bet on his mount, Colestina H (Colestus). The Israeli rider had already distinguished himself on Friday by also placing 2nd with Steve Guerdat's former mount, Alamo (Ukato), which won the 2019 World Cup Final and the 2018 IJRC Top 10 Final. In the main Friday event, Daniel Bluman followed the young and talented Lucy Deslauriers who rode Hester (Wandor van de Mispelaere). Laura Kraut came in 3rd place riding Goldwin (Emerald). The American rider has had a string of successes since her return to the competition grounds after her fall.
"I don't know what year I'm on with Confu, maybe fifth or sixth, but he has just been such a great partner for me. He's like my security blanket. 2020 was nice for him because he really had an easy year. We did a lot of riding out in the countryside in England, so he did a lot of hills, opening gates and crossing creeks. Today, when I was going around, he actually felt like he was having fun and like he loved it, and it showed in the way he jumped", commented Laura Kraut
In the Sunday Grand Prix, Nicole Shaninian-Simpson completed the podium with Akuna Mattata (Quinar). We remember her, by the way, as the American rider who didn't even get a chance to sit on her mare at the Nations Cup in Aachen in 2019!. Fourth place went to Bliss Heers on Antidote de Mars (Diamant De Semilly), 5th went to Riley Schuyler with Robin de Ponthual (Elf d'Or), and 6th went to Jessica Springsteen with Don Juan van de Donkhoeve (Bamako De Muze); a combination who had already placed 2nd in a Grand Prix at the same level a few weeks ago in Florida. Harrie Smolders had the best time in this 11-man jump-off, but after a mistake, the Dutchman had to settle for 7th place with Monaco (Cassini II).
Riyad CSI4*
Without the CHI Geneva, several of the world's best riders were able to gather in Riyadh, Saudi Arabia, for two weeks of competition. Daniel Deusser, who should have been starting in the World Top 10 Final, comforted himself with a victory in the CSI4* Grand Prix, and in doing so, qualified for the World Cup Final on Friday. The German was paired with his faithful mount, Scuderia 1918 Tobago Z (Tangelo), who was already victorious in the Grimaud CSI4* Grand Prix last October. Will Daniel Deusser, the World No. 3, progress enough to get ahead of Martin Fuchs in the world rankings? Stay tuned at the end of the month. Only 10 hundredths of a second divided the top two, and Marcus Ehning came 2nd with Calanda (Calido I). The podium was completed by the European Team Champion, Jos Verlooy, with Varoune (Verdi TN). Two French riders followed in the placings: Kevin Staut on Mescam Harcour's Toledo (Mylord Carthago) in fourth, and Jeanne Sadran on Vannan (Diamant de Semilly), who took fifth place.
In the second Grand Prix on Saturday, the victory also went to German rider Philipp Weishaupt and Coby (Contagio), and Daniel Deusser placed 3rd with Kiana van het Herdershof (Toulon). Only Abdullah Alsharbatly and Quilando (Quintender) placed between a group of German riders, namely, Christian Kukuk who took fourth place with Checker (Comme Il Faut), Marcus Ehning with the Swiss horse Priam du Roset (Plot Blue), and Ludger Beerbaum with Mila. The latter's mare is a daughter of Monte Bellini, a stallion that excelled under the saddle of his rider, and the winner of the event, Philipp Weishaupt. Seventh place went to Julien Epaillard after he put everyone on notice without his rail in the jump-off with Alibi de la Roque (Mylord Carthago).
World Cup Grand Prix Results
Grand Prix Results
Sentower Park CSI2*
In the CSI2* Grand Prix in Oppglabbeek, Belgian rider Pieter Devos won with Apart (Larino) in a 23-rider jump-off. The pair was one of the most seasoned and the favorites to win in theory. Together, Pieter Devos and Apart have already scored many victories, including the World Cup Grand Prix last year in Stuttgart. Second place went to his compatriot Tim Prouvé on Hocus Pocus van de Lucashoeve (Chin Chin). And Doron Kuipers secured third place with Gallardo Csi (Ustinov).
Gorla Minore CSI2*
Having been well represented in Gorla Minore, Switzerland only left the crumbs for their opponents in the CSI2* Grand Prix. Martina Meroni won with her mount Rock de Vains (Robin Z), ahead of Pius Schwizer on the 9-year-old Casallino (Casall). Pius Schwizer had won the day before with his accomplice, the 2018 Swiss Champion, Balou Rubin R (Balou Du Rouet). "I'm delighted with the competition; it was very well organized, and the welcome was very warm. Next week, I intend to take Balou to the top of the rankings. Also, this weekend, Balou only participated in one event, and he won it. Casallino is a horse that I have high hopes for and that I'm training for the CSI5* Grand Prix level. I think that he really has all the qualities to be the perfect sport horse and he's also a horse that attracts a lot of attention," said the former World No. 1. Polish rider Andrzej Oplatek, who is based at the Fuchs' place, took 3rd place on the podium with Stakkatan (Stakkato).Anthony Bourquard, the Guerdat stable rider, finished just off the podium, taking fourth place in the Grand Prix with the young Comedie de Talma (Kannan).
Several riders were kept out of the jump-off by just a single time fault, such as World No. 2 Martin Fuchs on the 8-year-old Leone Jei (Baltic VDL), and Pius Schwizer's wife Florence Schwizer-Seydoux with her Cartouche de Pléville (Ensor van de Heffinck).
Azelhof CSI2*
It was a wonderful Swedish victory in the CSI2* Grand Prix in Azelhof. Erica Swartz won with her mount Jovita (Cabas Vd Wateringhoeve), ahead of British rider Annabel Shields on Creevagh Carisma (Camiro de Haar Z) and Belgian rider Dominique Hendrickx on Koriano Van Klapscheut (Lord Z).
Featured photo: © Carly Nasznic Photography