Laura Jane Tidball & Concetto Son to Make Team Canada Debut at CSIO5* Coapexpan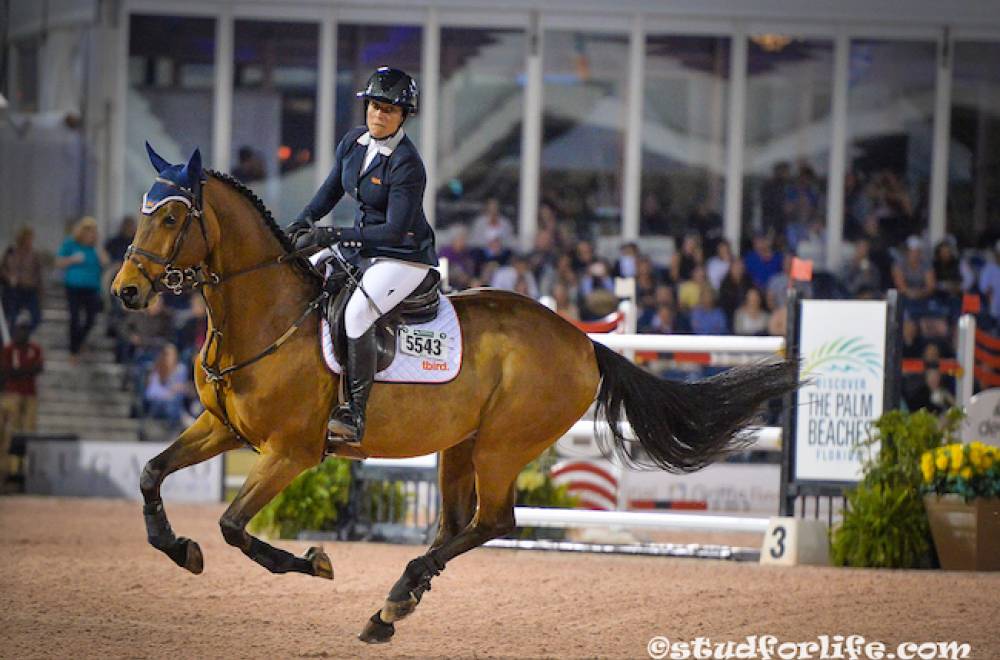 19 April 2018
North America's second of three critical Longines FEI Nations Cup competitions is currently underway this week at CSIO5* Coapexpan, Mexico , with the all-important Nations Cup coming up on Sunday afternoon. With Canada currently leading after a February win at CSIO5* Ocala, and the third and final qualifier in the North and Central America & Caribbean League coming up this summer at Langley, British Columbia, rider Laura Jane Tidball feels the importance of these competitions more than others might.

The professional rider and trainer is making her first-ever appearance for Team Canada this weekend in the Nations Cup, yes. But it's her ties to her home base in Langley, and more specifically to Thunderbird Show Park, where the June qualifier is held, that make the Nations Cups all the more meaningful to her.

Tidball comes from a family of high achievers; her mother Jane, who owns and operates Thunderbird Show Park, once competed for the Canadian National Ski Team. And she works with her aunt, Olympic veteran Laura Tidball-Balisky and her uncle Brent Balisky, together at their Thunderbird Show Stables, with the support of Thunderbird Show Park, her sponsor.

Also of interest is Laura Jane Tidball's super star partner Concetto Son, who rose to recognition under former rider Steve Guerdat of Switzerland. Tidball turned heads last year when she became the new rider of the 14-year-old Oldenburg stallion stallion (Concetto Famos x Drosselklang II). As a successful national rider, Tidball's dreams of breaking out at the international level came true when she partnered with the stallion. We caught up with her on the eve of her debut Nations Cup appearance:

Can you describe your experience at CSIO5* Coapexpan so far?

LJT: The horse show here is incredible, the footing is amazing, everybody is so friendly and welcoming. The entire horse show committee, and the Chedraui family that puts on the horse show, it really makes you feel like they want you to be here. I came and showed a little last week to get ready for this week, and that's worked out really well.

How did your selection onto Team Canada come about?

LJT: This is my first time on a Nations Cup team for Canada, so that's been really exciting for me. It was definitely one of my goals this year. Last year I was on a developing riders team, usually that doesn't go right over the top of Thunderbird, and last year they moved it to go right on top of Thunderbird. So I took my name out of that. This year I looked at Mexico as an opportunity to try to make the team. So I left my horse this winter with Tiffany Foster and flew in and out and showed for four weeks while going back and forth between Thermal for our clients. I had good results, I was 10th in the one grand prix I did, and I was pretty consistent throughout wef, I never had more than one down. As a result of that I managed to get on the team.

This year, Team Canada is already showing more depth and variety in its teams than in the past. What's the feeling right now among the team from a rider's perspective?

LJT: Team Canada is doing great. We've always been a bit of a smaller country in terms of numbers of riders. Canada as a whole for Natinos cups and for Games has always come through. We're doing a good job bringing up teams and bringing people in and having a larger number riders to choose from.

Can you summarize how your last year in competition has been?

LJT: I got Concetto Son at the beginning of the year, last year, My first show with him was at WEF, Week 1. And from there I took him back to Thermal, because that's closer to us on the West Coast.

I had an amazing year with him. I walked into shows at Spruce Meadows and Thunderbird and jumped every class that I've ever wanted to jump with him, and jumped bigger jumps than I'd ever seen in my life. He's just amazing at it. He gives you a ton of confidence; there is no triple combination that you ride up to and think uh oh, I've got to think about this.

He's incredibly scopey and he really loves to do it. It's been an awesome partnership, I've gained great experience with him and we're working together really well as a team.

What have you learned about your own riding since you've had Concetto Son?

LJT: Having him has given me the confidence that I can go out there and do it. I think it's hard until you have a great horse, to trust your instincts and trust yourself that you're going to make the right decisions. I've become more competitive on him and really believe that any course I walk is not out of our reach.

Can you describe the team who has given you support and guidance to get to this point?

LJT: I work with my aunt and uncle, Laura Tidball-Balisky and Brent Balisky, Laura is a two-time Olympian and Pan American Games veteran, I'm their business partner with them at Thunderbird Show Stables. Between Brent, Laura and I, they help me a lot. We all work together, we all bounce things off of each other. Laura and Brent have really they taught me to be the rider I am, from age three on.

Tiffany Foster, who grew up riding with them and has gone on to have her own incredible adventures, has also helped me a lot. I kept my horse with her over the winter, and between her and Eric Lamaze, who helped me find this horse, the two of them have been amazing. Helping me find ways to become better myself. This winter Tiffany would help me get ready, give me advice on the tracks, between Tiffany and Brent and Laura it's been an awesome team behind me, been there to help me with anything I need.

How does it feel to be representing Canada for the first time?

LJT: It's been a goal since I was about six years old. When I was growing up I watched Laura, my aunt, compete in the '84 Olympics. I don't even remember this but my mom reminds me that when I was six years old sitting in the stands watching Laura in LA, I said "I want one of those red jackets one day."

It's interesting to be in a sport that you don't time out in. It's not like you have to be 17 and making a team to fit your goal in this sport. For as long as I have had a goal to be a part of Team Canada, for that to come to fruition this week is a pretty remarkable experience.

Can you talk a little about your plan this week with Concetto Son?

LJT: This week I started out in the 1.45m power and speed, I'm going to do the 1.50m class on Thursday, and the Grand Prix this week is a two round with a jumpoff, so with my thoughts for the Nations Cup, I'm just going to do the 1.50m class so I don't over jump him before the Nations Cup.

He's actually the coolest horse when you're standing next to him and when you get on he's got a lot of his own blood and own energy. I find that he's definitely not cold in any way. He's a bit like a Ferrari in how he starts up and gets going.

Have you stayed in touch with Steve Guerdat in the last year?

LJT: Yes, I have, Steve's been amazing. I've sent him videos when he's been good, he's always been great and given me great advice, and been super excited that the horse has been as good as he has with me. He's been pleased with the result we've had and has always been really positive.

I was at the Masters with him at Spruce Meadows, and I think I went one after Steve, and he watched him go and was really complementary. When you can have a good rider like that happy with the program that his horse went to, it makes you feel great.