Lamazing Hickstead; 10 years already!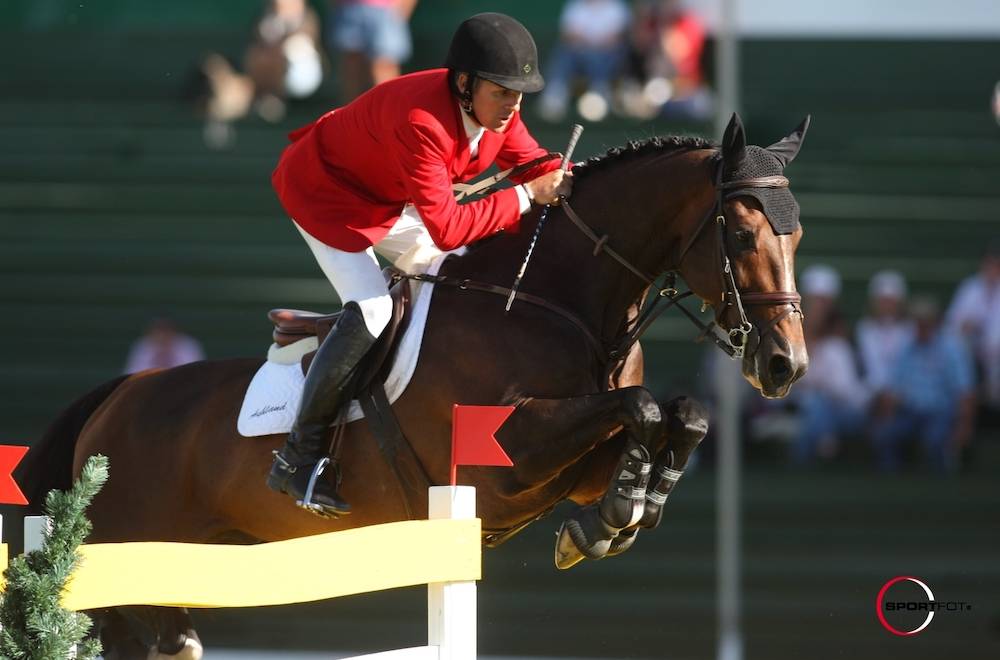 07 November 2021
On October 4th, Eric Lamaze and Hickstead were inducted into the Canadian Sports Hall of Fame. This distinction is a way to remember the fantastic bay stallion, even 10 years after his death. Hickstead had many qualities, but like other extraterrestrials like Jappeloup or Shutterfly before him, above all, he had that sparkle that caught the eyes and hearts of spectators. Here is a look back at the life of this extraordinary horse.
Hickstead (Hamlet) was born in 1996 in the Netherlands at Jan Van Schijndel's. It was in Belgium, seven years later, that his path crossed that of Eric Lamaze. The Canadian wasn't yet the champion that we know. He comes from a modest Montreal family and his cocaine problems are notorious, but he is gifted on horseback, and he has gradually managed to make a place for himself in this field. Back then, he was on a trip in search of new mounts. At first sight, he wasn't really seduced by the bay stallion: his excess energy made him complicated to ride and his small size (1.60m) didn't make him think that he could one day jump the biggest courses in the world. He had to try him twice before being convinced. Hickstead crossed the Atlantic anyway, but at first the honeymoon wasn't all that bright. Their first course ended earlier than expected, with the rider being dragged back to his box by the stallion! On top of that, it turns out that Hickstead didn't really like water jumps. This story was far from being over! Who could have guessed that five years later, the pair would be crowned Olympic Champions?
Then, a miracle happened: little by little, the two got used to each other. It must be said that Hickstead was neither lacking in blood nor respect (we still remember when he jumped the jump stands in the La Baule Grand Prix!). And then in 2008 came the supreme consecration: the gold medal at the Olympic Games in Beijing. From then on, the pair was definitely among the best in the world. Then came the World Equestrian Games in Lexington in 2010, where Hickstead left with the title of Best Horse in the final round after four perfect rounds under the saddles of Eric and Philippe Le Jeune, Rodrigo Pessoa and Abdullah Al-Sharbatly (see video below).
In total, the bay won more than 20 international events, including several of the world's finest 5* Grands Prix: Aachen, Geneva, La Baule, Paris... Equally at ease outdoors and indoors, he also finished second in the World Cup Final in Leipzig in 2011.

A true hero, the son of Hamlet came to a Shakespearean end. It happened in Verona on November 6, 2011. After a four-fault ride in the Sunday Grand Prix, the stallion had no time to get out of the ring before he collapsed and died in front of thousands of stunned spectators. The world of equestrian sports - and even beyond - was stunned. Nothing and no one could have predicted such an end: the stallion was 15 years old then; he was in his prime, he was coming back from a rest period of a few weeks after his second victory in the legendary Spruce Meadows Grand Prix. The autopsy revealed a ruptured aorta. This loss left Eric Lamaze stunned: "When they die, it's not like breaking a hockey stick or a tennis racket. He changed my career and he meant everything to me. A lot of people say that when you have a strong relationship with a horse, you become a bit like them, or the horse becomes a bit like you. We kind of had the same personality. We were both winners, we had the same energy, which turned into incredible things."
Lonely, Eric took some time to forget this tragic accident... so much so that he even considered putting an end to his career. But after the failed Games in London, he struck again by winning a new Olympic medal in Rio with Fine Lady 5, a mare that was completely different from Hickstead, except that she had never been considered to be an Olympic level horse before arriving at the Canadian's. A sign of destiny?
Ten years after his death, Hickstead is still remembered by all lovers of the sport and his rider. "This horse created so many magical moments in my career that I had never before dreamed were possible. It's incredible to look back on so many videos and photos from our time together. Hickstead had the biggest heart and the courage of a lion. He inspires me to keep fighting every day," posted Lamaze on social networks today. Hickstead will forever be a delightful part of this Canadian's life.
Photo credit: Sportfot.com and Julien Counet