Lagona 4 and Cute Girl were full of beans!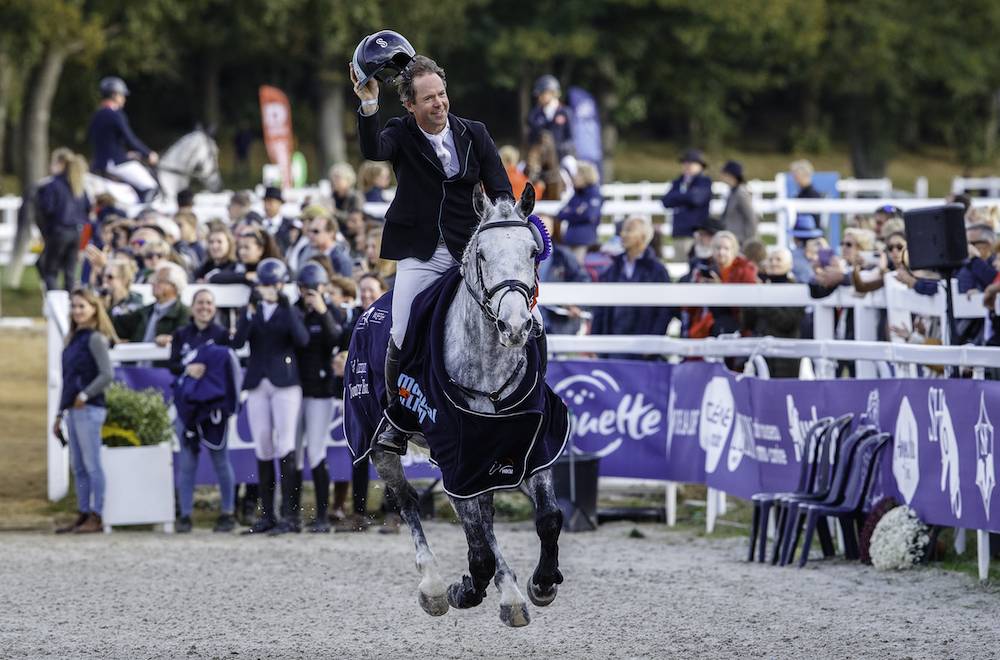 28 October 2021
The British wave didn't get the better of everyone: German Anna Lena Schaaf and Australian Kevin McNab succeeded in guiding their horses, Lagona 4 and Cute Girl, to the titles of World Champions in the 6- and 7-year-old categories.
This 2021 edition of Mondial du Lion had nothing to do with the previous one. Goodbye Covid-19 restrictions, the public was able to attend the racecourse and no less than 40,000 spectators gathering throughout the weekend to admire the future hopefuls of the discipline. The presence of so many people might have played against some competitors, but either way, it was extremely formative for these horses who have now found out about crowds, atmosphere, and particular technical difficulties.
Anna Lena Schaaf and Lagona 4, the revelation of the 6YO
A championship often means revelations. This year, this came from German rider Anna Lena Schaaf. At 20 years old, the rider has already won seven medals at the European Championships, the last of which was this summer in Segersjö. At the World Championships, she presented Lagona 4, an Oldenburg mare with 100% German papers. While some commentators were cautious on Friday after the dressage when they saw this young pair take the lead in the championship, they nevertheless showed a lot of quality, especially during the show jumping test, which was by far the judge of this competition. Without being too complicated, the tight timing and the atmosphere had an impact on the performances of the 40 competitors still in the running. However, Anna Lena didn't waver and turned in a clear round after a clear cross-country round the day before. "She was really attentive, and she told me 'Ok, I'm going to do my best', she was simply brilliant!" exclaimed the rider, her voice a little shaky with emotion after securing the victory.
Unimpressed by the audience on the cross-country course, Lagona 4 achieved one of the 23 clears of the event with Anna Lena Schaaf. © FEI/Libby Law
"The German team is always in need of new talent, especially those capable of training young horses. Anna Lena is an excellent rider, she proved it this weekend and last, by winning her first 4* (editor's note: in Strzegom with Fairytale 39)", insisted the Olympic Champion Julia Krajewski who knows the rider well because she's the coach of the Junior Eventing Team. She saw Anna Lena evolve for a while and she was again at her side this weekend as she was riding Chintonic 3 (Contendro) in the same event. As an anecdote, it was his full brother Chimpunk FRH that she trained until the Tryon WEGs before he began being ridden by Michael Jung. Smaller, lighter, more elegant, and easier than his elder brother, Chintonic 3 left a good impression this weekend, and finished fifth because of a small fault in the show jumping.
Julia Krajewski and Chintonic 3 ©PSV
While the cross-country didn't upset the placings with 23 clears out of 45 pairs to start, the show jumping did reshuffle some cards and the clear rounds were largely rewarded, as shown by Italian rider Rebecca Chiappero's results, who climbed from tenth to third place with Bohmahon Chelsea. This good jumper is a representative of the Irish Sport Horse (ISH), although his papers are dripping with the blood of Holsteiners Chellsini Z and Ramiro B. Irish breeding has once again made its mark with five products in the Top 10. However, it was not an ISH that reached the top of the podium but an Oldenburg - Anna Lena Schaaf's mare - and a Selle Français.
The latter is none other than Fibonacci de Lessac*HDC. The former French Champion of the 3YO Selle Français male category was spotted very early on by Nicolas Touzaint and acquired by the Haras des Coudrettes. At the ages of 4 and 5, he was trained on the classic show jumping cycle and then joined the Angevin's stables this season. Since then, he has won five times and Nicolas came to Mondial with some ambition, quite logically. "I had many unknowns regarding his behavior in relation to the atmosphere, the decor, the world, the noise. That's why I was cautious in what I said all weekend. Now, in terms of potential and abilities, he really is above average (...). He trains well, gallops well enough on cross-country and he jumps well. However, I felt him get rather worried on several occasions, especially in the jumping. He was really perfect in the warm-up. He tensed up a little bit in the arena with the audience. In my turn from two to three, he was already looking everywhere, he got loose, and I lost my canter. Since he's very respectful and has a lot of quality, I managed. At this point in time, it's normal, but it could have cost me a fault. In the dressage, he did the same thing, with one or two small wobbles," explained Nicolas. "I think that next year he will absorb things and take his time. He should be really mature and be ready for next year." The appointment is made!

Nicolas Touzaint and Fibonacci de Lessac*HDC ©PSV
In the 7-year-olds, Kevin McNab and Cute Girl faced the British armada
Not content with having already won gold at the Olympic Games and European Championships this summer, Great Britain has once again proven that it has a significant pool of young talent by placing six of its horses in the top seven of the 7YO category. Three of their horses are from the Irish breeding program of Richard Sheane and Georgina Philips: Cooley Rosalent, who finished seventh with World No. 1 Oliver Townend, Cooley Rules, sixth with Izzy Taylor, and Cooley Snapchat, the bronze medalist with Selina Milnes, just behind Laura Collett and Outback (Duke of Hearts). Few nations can boast of quite so much...
Only Australian Kevin McNab managed to do better by taking the lead in the dressage and not adding a point to his score after the cross-country and show jumping. He was associated with Cute Girl, a Holstein mare by Coventry who belongs to Scuderia 1918, a company that originally specialized in the production of high-end shoes and that now owns several high-level horses in several disciplines such as Tobago Z, Viking d'la Rousserie, Halifax vh Kluizebos, and Don Quidam. "She's a good jumper. She was in good form, and I didn't make any mistakes. She was still very fresh after the cross-country and more relaxed, so she was a little easier," analyzed Kevin. In any case, it was a nice comeback for last year when the pair was eliminated for going off course. Logically, the Australian would like to keep this pretty gray in his stables for future events.
Kévin McNab and Cute Girl © FEI/Libby Law
With the 2024 Olympic Games in sight, negotiations at Isle Briand Park were already well underway. The market should thus prove to be rather interesting in the coming weeks and months.
Photo à la Une : FEI/Libby Law