La Tuilière, a love story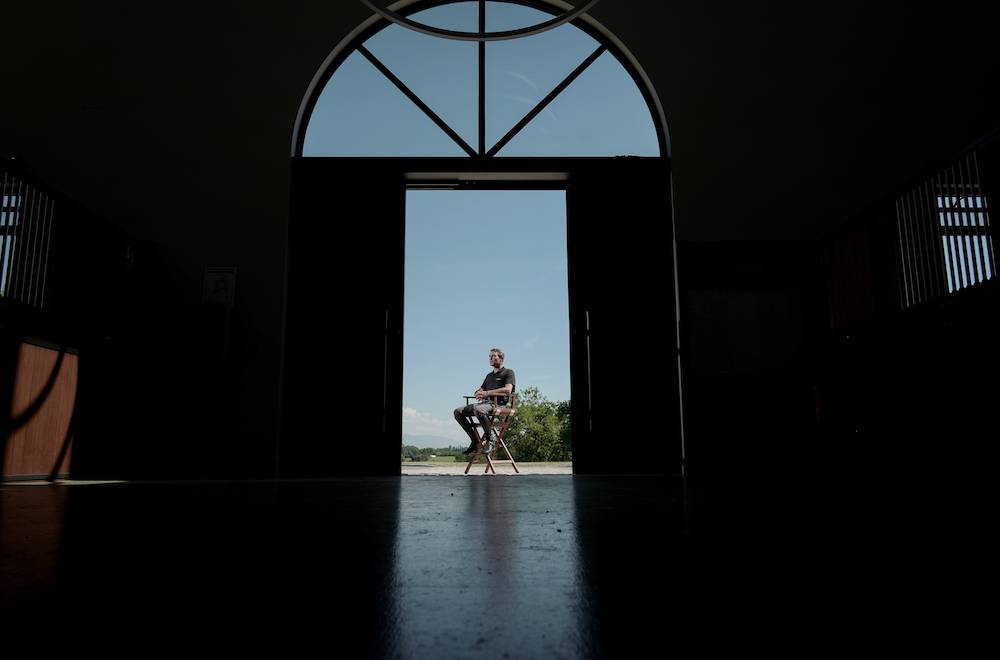 22 July 2021
In this last part, focus on La Tuilière's new facilities, as well as Charlotte and Mark McAuley's objectives.
Part 3
When you arrive at La Tuilière, the beauty of the facilities leaves everyone in awe. Last September, the first horses took up residence in the new facilities at La Tuilière stables. "We had the chance to start from scratch to build and design everything, and since we spend all our time there, we wanted everything to be as comfortable as possible for us and for the horses," explains the couple. "The most important thing is that it's functional to work in, that everything is focused, with the indoor and outdoor arenas and the boxes. Above all, we wanted the horses to feel comfortable. So we placed the boxes, which are a good size, around the outside of the building so that they all have a window. We put the grooming area, the tack room, laundry and clinical area in the center of the building so that we would waste as little time as possible. A stable of 20 high-level horses probably requires two to three times as many staff as a standard stable. The amount of time it takes if you want to do it right is impressive. The horses are taken out three times a day, their care also takes time. We have 7 full-time people working in the stable, in addition to Mark and me. There are 3 competition grooms, 2 stable grooms, a stable rider, 2 outside people and a secretary."
Does this level of infrastructure also have an impact on business? "We don't get customers every day, but the desire to have beautiful facilities also goes hand in hand with the high-level business we're aiming for. But a good horse always finds buyers, even in less luxurious stables," notes Charlotte.
Now placed among the Top 50 showjumpers in the world, Mark McAuley wants to continue his rise to the top. To do so, he is able to count on a solid string of horses with Miebello and Jasco vd Bisschop as well as some promising recruits: "There is Cap West, a 9-year-old who I seriously think will be a championship horse in the next few years. He is a very good performer. There are also several good 8-year-olds, including Django Ste Hermelle (Upercut Kervec), a top horse of the future, Esmeralda de Hus Z (Eldorado de Hus), who has just arrived, and Daenerys de Fondcombe (Lando)."
Mark McAuley's goal for the next few years? "To get into the World Top 10 rankings, and to have enough horses to get there and stay there. Right now, I'm able to secure one or two horses for that level, but it's not enough if you want to get into that Top 10 circle."
Charlotte explains that everything has been set up with this in mind: "The goal of La Tuilière is really to get Mark as high as possible in the rankings. Of course, we are doing everything possible so that I can also do big events again, but the number one objective is really to get Mark into the Top 10. As for me, with the kids, my priorities have also changed. In addition, if I ride between two and three horses a day, that's enough because I have to manage La Tuilière. For Mark to be able to aim for the top, he has to be able to concentrate on that. It's a daily commitment, a way of thinking, a way of life. So I try to take all the logistical aspects off Mark's plate so he can focus on the competition and manage the horses' program. We can't do everything, and we work well as a couple that way."
Mark never fails to emphasize the importance of his wife: "I am incredibly lucky to have Charlotte. The goal of La Tuilière is to have enough good horses to both be at the top level. And at the same time, to continue to market the horses."
Having two young children while managing a sport-focused stable doesn't make things easy, and requires a good dose of organization: "We live 20 minutes from La Tuilière, in Geneva. The children don't come to the stables much, they go to daycare. At competitions, it's quite a mess. For the moment, we can manage, thanks to a nanny who comes with us to competitions. As the children are not yet in school, we will take advantage of going to Florida next winter. It's now or never. Now that we have a solid network there, we can continue to develop it. Not to mention that we'll also be going there for the sport, of course."
While Charlotte recognizes that Mark's daily help is invaluable in helping her progress, the Irishman doesn't have a coach: "I always say that my best coach is myself," explains Mark. "I'm very critical of myself. I watch all my videos over and over again. I'm very observant, and I also watch a lot of what other people are doing." His wife does not contradict him: "When we're at a 5* competition, Mark notices everything. He's able to tell by watching each top rider how he likes to manage his relaxation. He also talks to them. The Irish riders help each other a lot. When they're competing together, they work together when they're warming up."
"There are several riders that inspire me and that I particularly enjoy watching," notes Mark. "Marcus Ehning, Harrie Smolders, Beat Mändli, Scott Brash, Steve Guerdat and Daniel Deusser. Simply the best!"
Among the competitions that are most important to him, there is one that unsurprisingly stands out, the CSIO Dublin: "Dublin is THE competition for the Irish. It's the one that has made you dream since you were a child. Two years ago, I experienced both the worst and the best moments of my career within a few hours. In the Nations Cup, I was clear in the first round and was eliminated in the second. I also like the CHI Geneva and the Lyon competition. They're two competitions that are close to home and which both have a real history."
The couple also continues to write the history of La Tuilière by aiming for the top of their sport. With such great infrastructure, a strong will, and the talent to find and train the best, Charlotte and Mark will continue to make the name of La Tuilière shine at the most beautiful competitions in the world.
Photos: © Clément Grandjean