La Tuilière, a love story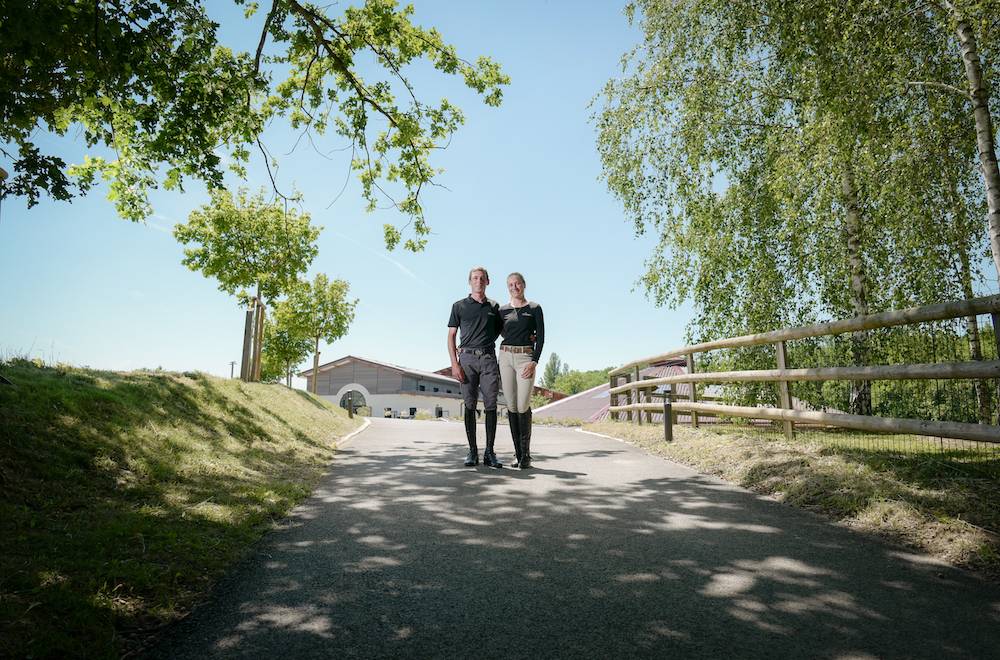 21 July 2021
After the first part where we talked about Charlotte and Mark McAuley' beginnings, this second part will be devoted to the setting up of their organization at La Tuilière.
Part 2
"We started by buying a 6-year-old together," recalls Mark. "His name was Uciano de la Botte and we sold him well. He did 5*s with Dayro Arroyave. We reinvested in youngsters, particularly in a 7-year-old that was very difficult but had a lot of ability. We hoped that this horse would allow me to do bigger competitions the following year. This horse was Utchan de Belheme. He ended up doing Nations Cups and 5* Grands Prix. He is now retired here, in the field next door. That was really a success, because he wasn't a very expensive horse. It was a successful bet. We bought a lot of young horses, but it takes time to train a string of horses for the top level. So I had to start from scratch."
"It was hard for Mark because it was a gap in his career," recalls Charlotte McAuley. "Even though you know it takes time, it's still hard. There were several times when he was tempted to give up. When you say it, it seems like no big deal, but when you have to ride for two or three years without a top-level mount to rebuild a stable, that's a long time."
Charlotte and Origi de Tiji, a 7-year-old by Elvis Ter Putte
Then the horses matured and proved to Mark and Charlotte that they were right: "We bought Jasco as a 7-year-old, Vivaldi as a 6-year-old, and when I got Miebello back, it made for an incredible string," Mark explains. In 2018, I had five horses jumping at 1.60m: Jasco, Miebello, Vivaldi, Valentino and Utchan. They all came in at once. One of the first competitions I did with Miebello was Bourg-en-Bresse, where he finished second in the 4* Grand Prix. The following week I went to Rome with Utchan for the Nations Cup. I also took Miebello after his performance in Bourg: he won the big event on the first day and was still fourth in the Grand Prix."
Miebello and Mark McAuley in Chantilly © Sportfot
The horse that has a special place in the hearts of the riders at La Tuilière is Miebello. The generous little gray is still one of Mark's top horses, even though he was originally intended for Charlotte: "Miebello and Mark were an immediate match," says the young woman. It's true that we bought him for me at the beginning, so that I would have a high level horse to support Romane. He's the only horse with a little age and experience that we've bought, and therefore he was more expensive. I did some good things with him, but overall, he was still difficult for me to ride. As an anecdote, he had always been ridden by his breeder, in Sweden, who was a big strong guy. And the horse had never jumped with anyone else. In addition to being his rider, his breeder was also his dentist and farrier. He did everything himself! When I had an accident, before we had our first child, Mark took over on him and they immediately clicked."
Charlotte and Mark in their La Tuilière facilities
The successes soon followed one another for the pair, and Mark and Miebello participated in the World Cup final in Paris in 2019. "Miebello has had many placings in the World Cup stages, including a victory in the Lyon stage, which remains my best memory, my best result. Plus, it's close to home and the people here didn't really know me. However, the final in Paris was a bit tough. Miebello had been ridden a little too hard all winter for us to get that qualification. For these events, I only had Miebello, as Utchan was too complicated indoors while Jasco and Vivaldi were not ready yet. So Miebello didn't arrive in Paris in the best condition. We learn every day, and this experience was nevertheless extremely enriching. A World Cup final is really another level of sport."
That same year, 2019, Mark was named as a reserve for the European Championships in Gothenburg. This dream period saw him enter the Top 50 of the world rankings. It was also the first season in a Global Champions Tour team for him. "I was very lucky to be integrated into a Global team. I'm on the Madrid in Motion team. It's a great team, they're loyal and don't want to change riders every season. It's not easy for the Irish riders to break through: we only have one CSIO5* in our country, so opportunities are rare compared to France, which has so many 5* events. Obviously, it would be ideal if there were more Nations Cups to give riders a chance to access 5* events."
Charlotte and Tiny Toon Semilly (Diamant de Semilly)
At the highest level, riders often depend on patrons, sponsors and owners. This is not the case for Charlotte and Mark McAuley: "Almost all the horses belong to us," explains the Irishman. "We bought them young and trained them for the top level. That's our philosophy. Our business plan is simple: find very good quality horses, train them and take them as far as possible before selling them. Two weeks ago, we just parted ways with one of our best recruits, Thunder G Z (Tyson). He was second in the league to Mannheim last May. We're trying to have great sporting moments, but with a commercial end goal. You have to sell them so you can buy young ones to ensure you have a high-level string all the time. It's very difficult to get horses for the top level, so if you never sell the good ones, you can't reinvest to ensure there is succession. There has to be a turnover to stay on top. Our sponsor is our business. That said, I am not a horse trader. I don't buy a horse for 10,000 francs and sell it for twice that amount a week later. We strive to buy the best youngsters and give them time to grow."
Mark and Cap West
But not all horses are aimed at the top level. "It depends, because when you buy a foal or a 3-year-old, it's almost impossible to know if he'll make it to the top level," says Charlotte. "So there are horses that we sell quite early. These are the horses that have been well ridden, well trained and are marketable."
The family breeding program also allows for new recruits to join Charlotte and Mark's stables. "My grandmother started breeding before my mom took over. In the early days, it was a very amateurish activity. We would take the mare for a ride and present her to the local stallion. Now, of course, breeding has become more professional. We work in a very selective way. The idea is not to produce 20 foals a year. We want to give them the chance to go as high as possible according to their abilities. They won't all reach the top level, but we want to give them the best possible training during the time they spend with us."
Some of Mark and Charlotte's best horses have made their way to the United States in recent years. "I think that's the biggest market right now," says Mark. "They don't have any breeding operations and like to buy horses that are ready-made."
And if you don't breed them, where do you find these talented young horses? "We often find them in France. We buy a lot of 3-year-olds, especially at auctions. People now know that we are looking for good horses, so they send us a lot of videos. It's important to have a vast network because we can't be everywhere. People are keeping their eyes open for us. Mark has a good network among the Irish, but we also have strong ties to Sweden and Belgium."
Tomorrow, third and last part of our interview with Charlotte and Mark McAuley
Photos: © Clément Grandjean