La Tuilière, a love story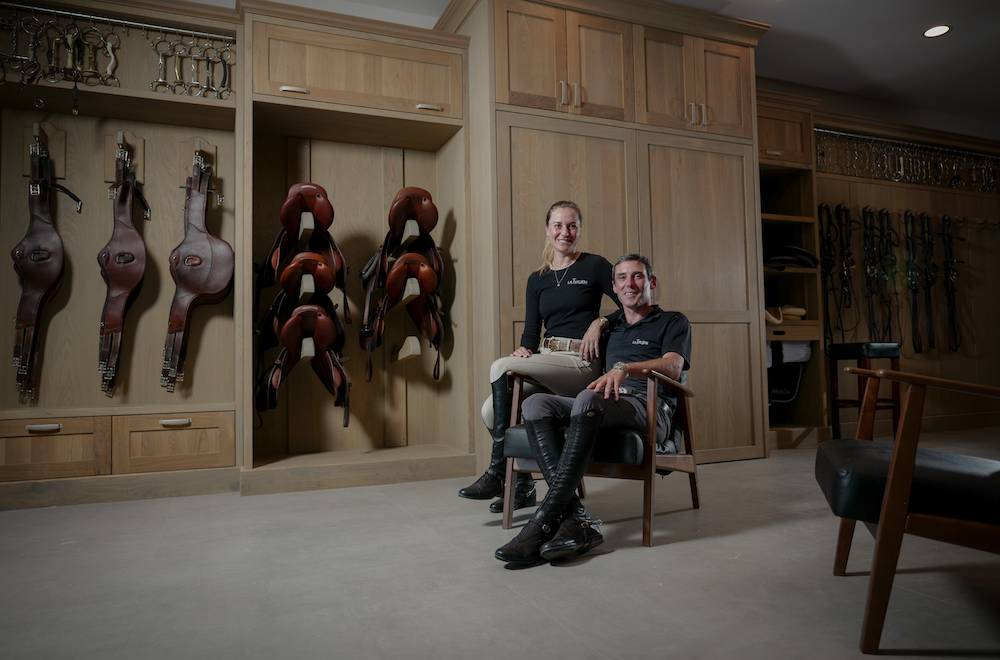 20 July 2021
"Love is in the air". Tom Jones' song is a good match for La Tuilière. A few kilometers from Geneva on the French side, Charlotte and Mark McAuley, a close-knit couple, welcomed us into their brand-new facilities. In addition to their love for each other, you can also feel the love for the horse in this little slice of paradise. In fact, in both of their families, horses have always been part of their lives and history. Today the parents of two young children, Charlotte, who is Swedish and Mark, who is Irish, perpetuate this love everyday within their family, as well as through their business. Everything seems to be going well for this friendly pair that combines passion and ambition to perfection. Does Mark McAuley hope to participate in the European Championships in Riesenbeck in a few weeks?
Charlotte riding under Mark's watchful eye in the arena at La Tuilière
Part 1
In 2015, Charlotte McAuley, who still bears her maiden name, Mordasini, made her debut among the world's elite at the Grand Prix in Falsterbo: "It was my first 5* Grand Prix. I was the first rider to start. I had a mare with whom I got along very well, Romane du Theil, who was full of ability. That day, everything seemed easy. In the jump-off, I was fast. I could see that the others couldn't catch up with me. In the end I was overtaken by Janika Sprunger, who won, and Henrik von Eckermann finished second. Even Malin Baryard-Johnsson was behind me with Tornesh! I could hardly believe what was happening to me. Moreover, I had just started to ride for Sweden whereas I had been riding for France until then. In Sweden, the public is very patriotic: when there is a Swede in the arena, the grandstand is delirious with excitement. But they had never heard of me. The first few days, the crowd was in total silence and as the event went on, more and more people got behind me. In the Grand Prix, when I came back for the jump-off, they were in full voice. It was incredibly motivating!"
Charlotte McAuley in front of La Tuilière facilities, near Geneva.
A few months later, still in that great year of 2015, Charlotte McAuley was called up as team reserve for the European Championships in Aachen. "I hadn't done many 5*s, so I have to admit I had a sigh of relief when I heard I was a reserve. However, I knew that my mare had the ability. I was also third in the Grand Prix on Saturday evening. So we were at that level. The following year, I was again a reservist at the Rio 2016 Olympic Games and the situation was different. I had more than a year and a half of high-level experience behind me and good performances with Romane, so I was a little disappointed to not get to jump. I think we could have done something good. But that's the way it is, and it was a very nice experience for me to be there. If the opportunity comes up again, it will be a plus. I could feel the atmosphere."
Charlotte McAuley and Romane du Theil at the Nations final in Barcelona in 2016 © sportfot
Charlotte McAuley's story is one of talent, but also one of chemistry with a spouse who helps her aim for the top. Let's flash back to 2010. After two seasons with the French young riders' team, the young rider resumed her studies. She obtained a bachelor's degree in finance and management before achieving a master's degree in international trade in Paris. "During this period, I didn't stop riding, I was riding at the 3* and 4* level, but I really started riding again at the end of my studies. I wanted to give myself a chance to see if it worked. And it worked out pretty well, because six months later I was on the Swedish team. It was also largely due to Mark that I was so successful. When I returned home in the winter of 2014-2015, Mark moved in with me. We had been a couple for several years. His knowledge of the top level really helped me progress. He was there every day to train me, it was a real transformation. My whole family has been working with horses for several generations, but no one had been at the top level. It's a different world, a completely different way of thinking. We didn't have the knowledge, the infrastructure, or the qualified personnel that we have today. Mark brought his technical knowledge of the high level."
It's thanks to Mark's daily help that Charlotte secured her best successes at the 5* level as early as 2015.
The rider thus competed at the highest level for three seasons with Romane du Theil, Tiny Toon Semilly, who is still part of her current string, as well as Miebello. "Then, while I was pregnant with our first child, Mark took over."
The luxurious La Tuilière facilities
Horses have also always been a part of Mark McAuley's world: "Everyone in my family rode horses. My grandfather on my mother's side was what's called a hunt master. From the time I was five years old, twice a week, I went. I loved it. I also did a lot of pony club. From the age of 12, I focused on jumping. I did a lot of competitions; I rode ponies for different owners. In Ireland, the pony world is a real business." In 2003, Mark McAuley competed in his second European Pony Championships and won a team bronze medal at home, at Necarne Castle.
Mark McAuley at work with Cap West, a 9-year-old by Chacco-Blue.
"When I was done with the ponies, we bought a few horses. My dad was a showjumper and had a business, my mom rode eventers. We had the stables at home. I did two years there before leaving for a winter in the United States, then I went back to Ireland where I rode for a year for Lady Georgina Forbes, Jessica Kuerten's former sponsor, who has a great stud. But I knew that to become a professional, I had to go to Europe. So at the age of 21, I left Ireland for Italy. First I went to Cervia, a beautiful competition center, near Rimini, with Lalla Novo, an Italian team rider who had participated in some great championships. I rode for her for two years, mostly young horses. I liked it a lot. However, I wanted to focus more on the high level. I went back to Ireland at Christmas, thinking I would try my luck again at home. But right away, the Italian Menada family called me back and offered me a job. They had good horses and were competing in some great shows, so I accepted. I spent six years in San Remo. Thanks to these owners, I was able to compete in the Global Champions Tour, some Nations Cups, and gained a lot of experience. Nevertheless, I always dreamed of being independent, of having my own facilities."
Charlotte adds: "Mark didn't have a specific plan, he came here mostly to drop off his stuff. He had several leads, including going to work for some of the big traders. In the end, he stayed here."
Discover the rest of our interview with the McAuley's tomorrow!
Photos: © Clément Grandjean