King Edward, the barefoot king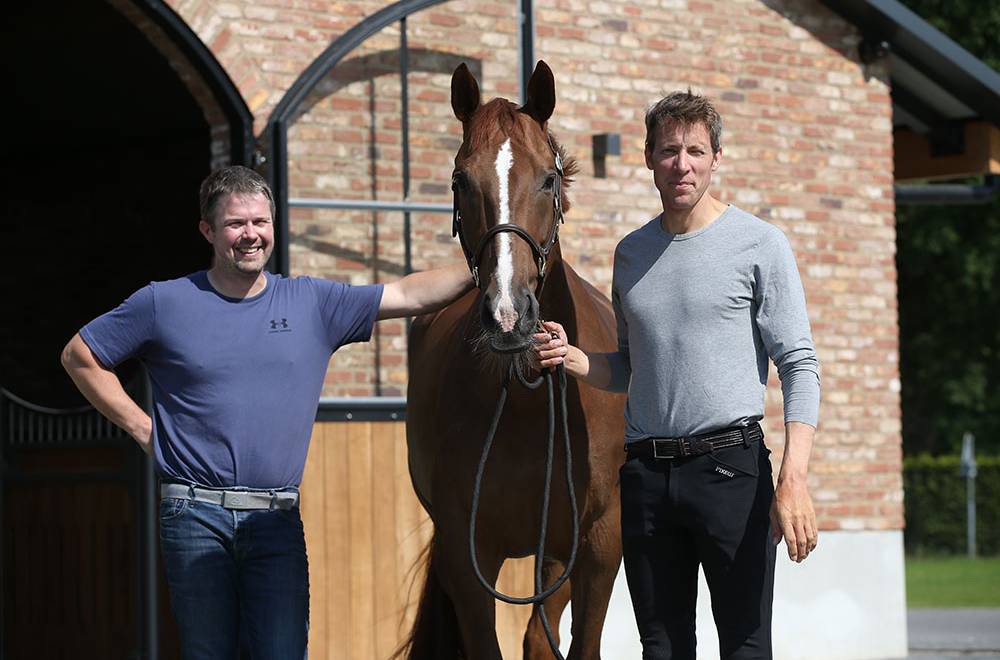 14 September 2021
In Tokyo, two horses from the Swedish team won the team gold medal while competing "barefoot". A choice about which much has been written, both in the press and on social media. However, All In and King Edward have a very different story: the reasons and even the way to manage these "bare feet" is very different for each of them. We met Vincent Lamaille, farrier for Henrik von Eckermann's stable, Janika Sprunger and their pupil Evelina Tovek, in their new stables.
"After high school, I started studying to become a civil engineer, but only for 2 years as... it wasn't for me. I went to work in a stable and every week I saw the farrier coming and it quickly interested me. I enrolled at the Anderlecht school. When I finished my studies, I quickly started shoeing some sport horses... but it didn't go very well, the lack of experience was felt quickly. I decided to stop for some time and then a few years ago, I met Piergiorgio Bucci and with him, I returned to the high level."

He lives in Francorchamps, which is very well known for its car circuit, and is above all a great enthusiast of forge work. "I have participated in many farrier competitions, and I have judged many competitions myself. I have learned a lot at these events. Meeting farriers from all over the world, who each have their own ideas, come from other schools, have other approaches, it allows me to get the best out of each competition. For me, it is very formative... Even more so than the conferences and such. In the conferences, ideas are exposed, but rarely the discussion. In competitions, we meet at the bar and have the opportunity to talk! In a competition, you have to do classical shoeing, the judge asks for specific shoes, and everyone has to do the same thing. If necessary, we unshoe the horses after the show and put them back in the shoe that suits them best. The goal is to look for the detail in each step, from the trimming where everything must be precise to the millimeter. This brings a plus in everyday life. The forging then brings an ease of adjustment whether it is for classic shoes or others. All competition shoes are forged from a straight bar. It helps to identify the curves of the hoof in the shoe."
Glamour Girl at the Stephex Masters, with glued rubber shoes.
Today, the variety of materials that make up shoes requires farriers to question their work and our man is no exception. "Honestly, I still have a little reluctance. We always thought we knew how to do everything with steel or aluminum shoes... then finally, we've realized our limits. We really must keep an open mind, both at our level and for riders when they talk to other riders in competitions. It requires permanent questioning and it's not always easy."
As you can see, Vincent Lamaille doesn't advocate horses being barefoot at all times... and neither does Henrik von Eckermann. In the Swede's stable, only two horses are in this configuration. When we arrived, Glamour Girl was having plastic shoes glued on. "It's obvious that some riders are going to do this to follow fashion. I think, and hope, that most riders will only take the good side of this and only apply it to horses that really need it. I'm sure that some will do less well barefoot than shod. As in all areas, extremism is detrimental to the fundamentals - no matter what the ideology, by the way."
Vincent Lamaille & Henrik von Eckermann around King Edward
But then, how did King Edward end up unshod?
"We had a few minor concerns with him in terms of foot sensitivity. Once on the medial heel, once on the lateral, once on the left, once on the right... Whether it was the vet or me, it was causing problems. We finally decided to unshoe him to reset all that. The goal was then to reshoe him afterwards. But as his training went on and he started competing again, Henrik realized that the horse was feeling better and better... So we decided to carry on like that. But this "barefoot" approach, contrary to what one might think, brings an extra workload for all those around the horse: "There are additional constraints that come mainly from the terrain and the horse's environment. When he's barefoot, the paths he takes must be loose and free of stones. Here, in the stable, the paths are made of inter-locking rubber. To get to the paddock, the pathway is short, and the pavement is hard but smooth, so he goes barefoot there too. These horses are trimmed every five weeks to keep the flares in place. We keep in mind the way his feet are. The aim is not to force him but to keep the spirit of what the horse wants, because that's how he feels. Henrik himself doesn't hesitate to rasp and round off the hoof when a piece breaks. After five weeks, there are always small flares, but you have to be careful not to weaken the hoof. You must leave the sole and the frog solid because he really needs it. Afterwards, when they are at a show and there are long, hard or stony paths, they put shoes on that they then take off when they get to the warm-up ring, which is always an additional constraint. You really have to be careful about the terrain these horses are on. This is the area that can cause the most problems. Unlike Peder Fredricson's farrier, we never use resin here. They have chosen to use resin when the ground is very abrasive at a show, whereas we prefer the shoe solution. Simply because I think that barefoot is using nothing, whereas if we use resin, we also use it in the arena and for me, the effect is not the one we want. There's extra thickness for example... But it's a matter of opinion."
These decisions are the work of a real trio and there are many exchanges between the rider, veterinarian and farrier.
"We try to talk with each other directly as soon as one of us has an idea, either by phone or in person. If Henrik wants to change a shoe, he tells me a few days in advance so I have the necessary materials. We're happy to work together and find out how to solve lots of problems on many different horses. It's very rewarding and enjoyable. It always takes time to build trust, both with the riders and the vets, but it's really something I appreciate. I'm fortunate today to only work with clients that I like and who have the same philosophy, which is a considerable luxury. I like people who take responsibility because everyone can make mistakes and it's not always other people's fault. Obviously today, my high-level clients take up a lot of my time, but I have clientele of all levels close to home that I won't let go. Now, my son is starting to work with me, which is very nice. You could think that this horse is only "barefoot", but on the contrary, and this medal is very nice. It's the result of a lot of work, seeing horses that we take care of achieve results like this... And despite everything, there is my "forging and shoeing tradition" part that tells me "he's only barefoot" but in the end, it's one of the solutions, among others, that suits this horse well." A solution that doesn't work on grass, however! "To ride on grass, there are two solutions. Either we decide to glue on rubber, steel or aluminum shoes, or more traditionally, to nail on steel shoes. However, in this case, the shoe is just a support for the stud holes, and is adjusted very tightly to the hoof, and it happens that we put 6mm shoes on instead of the usual 8mm. Personally, I prefer to fix them with 4 nails per hoof because I find it less destructive than glue. The goal being to remove the shoes as soon as the competition is over."
But what does it change?
"Going barefoot allows for better transverse elasticity of the hoof, especially when landing from obstacles. It allows the hind parts of the hoof to move independently of each other. This is part of the reason why some horses are better barefoot. The other part is that some horses are quite sensitive in the fetlock and need to be trimmed quite frequently. These horses are affected by the total length of the hoof under the fetlock. So, with barefoot, it can't be too short! And all the more so, as these are horses that, when shod, often need a pad. You end up 12-13 millimeters off the ground, not counting the regrowth of the foot. While barefoot, they still wear out their horn and keep it at an almost similar length. With the efforts they make, the slightest extra leverage of a few millimeters is already huge. For me, it's mainly in these two features that this solution is interesting. King has something extra because he has a slight varus deviation, so he is slightly shaky, which means that he always comes up against his external toe and he keeps it rounded by himself all the time, which means that before, even with the maximum amount of roll on the shoes, you can't achieve the same result. Especially when the foot pushes, because the more length there is, the more leverage there is, whereas here it stays at the same length and is good throughout the five weeks. For some horses, it's really a concern about length. Here, it's not about his fetlock but his gait."
King Edward's foot