Kevin Jochem wins the World Cup stage in Oslo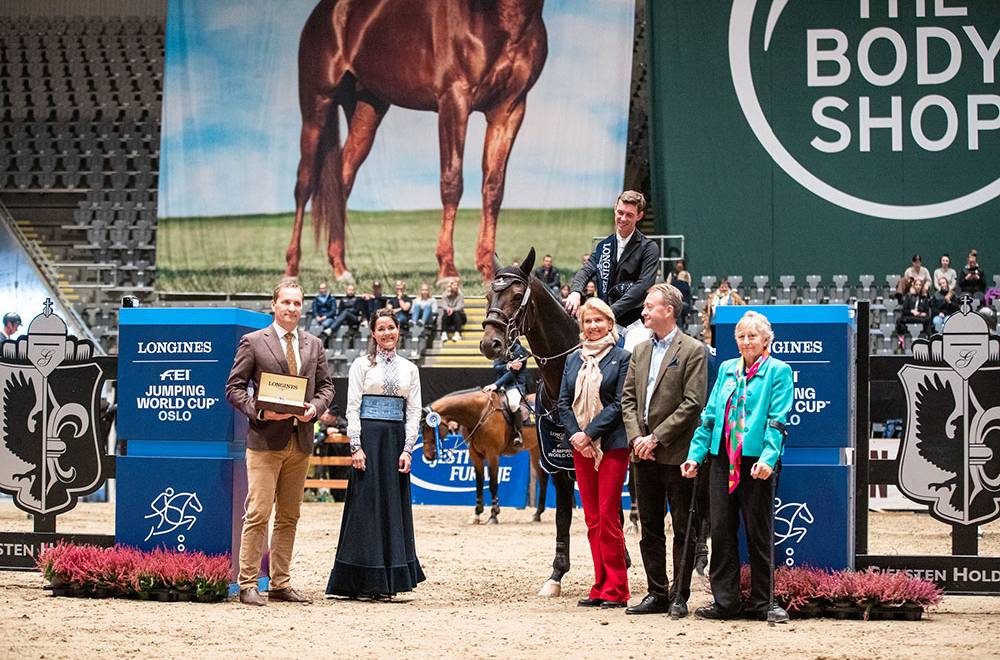 18 October 2021
No less than four 5* competitions were held this weekend, three of which were on the European continent: the launch of the World Cup in Oslo, the Longines Global Champions Tour which moved to an indoor venue in Samorin, and the last event in Grimaud, near Saint Tropez.
Oslo CSI5*-W
The European World Cup circuit started this weekend in Oslo and Kevin Jochem won with Turbo Z (Thunder vd Zuuthoeve) in a 7-rider jump-off. The Dutchman came in ahead of the unexpected second placed rider Pieter Clemens, riding his 9-year-old Hulde G (Vigo d'Arsouille), who is still very inexperienced at this level. Sweden's Jens Fredricson completed the podium and confirmed his excellent performance in Aachen with Makan Cosmopolit (Cohiba).
Kevin Jochem and Turbo Z ©FEI/Helene Gjerde Aamdal
"This was my first World Cup today and I've had a fantastic show here in Oslo!" said Jochems. "Turbo had a great outdoor season and was placed in several 5* Grand Prix classes, and I was reserve rider in Barcelona at the Nations Cup Final. I had a bit of a mixed feeling being there because I didn't ride (on the team), so it is great to win today! This was my first indoor show in a long time, so this is the best possible start to the indoor season," he added. And now he's looking forward to the coming months. "The Netherlands only has one spot in the World Cup series so it will be difficult, but I was told that if I get some points in Oslo I can do more events, so we will see!" Jochems concluded.
Samorin CSI5*
The Longines Global Champions Tour caravan landed in Samorin, for not one but two indoor competitions! Until now, this circuit has only been held outdoors, except for the Playoffs in Prague, but the pandemic and the travel limitations have definitely changed a lot.
The young American Spencer Smith did very well, winning with the 14-year-old Selle Français, bred by Denis Hubert, Théodore Manciais (Kashmir van't Schuttershof) who is out of a maternal half-sister to the stallion Mylord Carthago. He came in ahead of Christian Ahlmann with Zangersheide's star stallion, Dominator 2000 Z (Diamant de Sémilly) who lost by only two hundredths of a second! Jur Vrieling completed the podium with Fiumicino van de Kalevallei (Plot Blue).
Grimaud CSI5*
A Brazilian victory closed out the competition season in Grimaud! Eduardo Pereira De Menezes won the Grand Prix with Chaganus (Chacco Blue) ahead of Mark McAuley on Jasco vd Bisschop (Dulf van de Bisschop) and Nicolas Delmotte, who can always count on his faithful mount Ilex VP (Diamant de Sémilly).
"Chaganus is incredible," said the winner. "He is very respectful and focused on each of his jumps, he never neglects anything. He has great scope which allows me to leave strides out everywhere without losing his power and quality. We have been competing together for 3 years. In 2019, we competed in the Pan American Games and won the team gold medal. We are a real pair; I'm lucky to have a horse like him in my stables. I'm very happy with this victory, I really want to thank my owners, H5 Stables, who have been supporting me for several seasons now. I hope to be able to repeat this in Lyon in two weeks!"
Earlier, Philippe Rozier won the 2* Grand Prix with Night Light van't Ruytershof (Gemini, a Gem Twist clone). Once again, Carthina Z's line is highlighted. It was a great weekend for the French rider who then took 6th place in the 5* Grand Prix with Le Coultre de Muze (Presley Boy).
White Sulfur Springs CSI5*
Kent Farrington won the $350,000 Lugano Diamonds Grand Prix with Austria (Casall). The American dominated the event and won, coming in ahead of Israeli rider Ashlee Bond on Donattello (Diarrado) and Irishman Connor Swail on Cout Me In (Count Grannus).
Oliva CSI3*
It was the end of the tour in Oliva and Jérôme Guery secured a magnificent victory, after excelling with Ilena de Mariposa (Berlin) a few years ago, winning with another daughter of the star mare Flora de Mariposa, Margriet de Maripoa (Nabab de Rêve). The Belgian won ahead of Austria's Julia Houtzager with High Five (Toulon), while the young Irishman Jason Foley took 3rd place with the Holsteiner stallion Clyde VA (Caretino).
"I'm really happy with my mare," Guery said of his winning mount Margriet de Mariposa. "I've just started riding her here, my wife Patricia has trained her until now. Margriet has always been good with Patricia, but she never rode her fast. During the two weeks here, Margriet learned very quickly; last week she won an event and knocked the last fence down in her first CSI3* Grand Prix - but that was already a good result. And now she has won!"
Vilamoura CSI3*
The victory went to the Irish in Portugal with Michael Pender taking out the win on HHS Calais (Cavalier Royal), ahead of Felipe Guinato on Bigstar (Kannan). Duarte Seabra closed out the podium with HHS Washington (Tinaranas Inspector), securing his Irish-bred horse a podium placing. Mario Prieto took 4th place with Vivalgot (Vivaldi van't Costerveld) who is a son of another great Irish mare, the former World Champion Liscalgot!