Kent Farrington, a taste of victory before the Rolex Grand Slam in Spruce Meadows?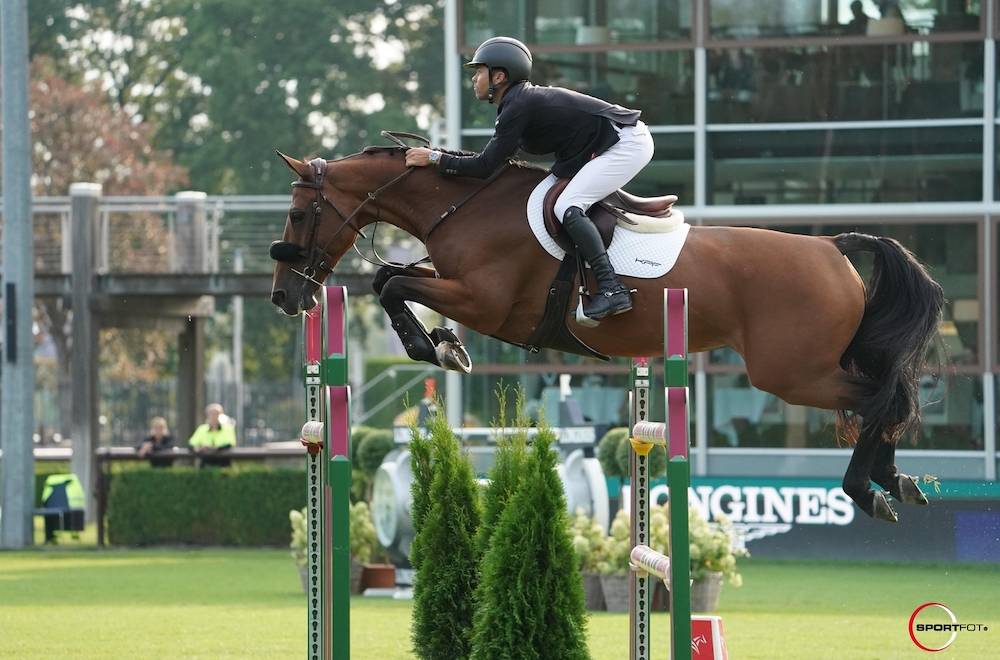 06 September 2021
Most eyes this weekend were on the Riesenbeck championships, but many CSI events were also taking place around the world, especially on the American continent.
European Championships in Riesenbeck, CSI2 & 3*
Detailed reports on the team and individual championships can be seen here.
In addition to the European Championships, Riesenbeck also hosted a CSI2* which ended on Sunday with the victory of Chao Lee, the former 6-year-old world champion and dam to the stallion For Lee. This was a nice tribute to her sire Comme Il Faut who celebrated his retirement the day before, but above all it marked a return to the spotlight for Katrin Eckermann. We know her at the highest level with Firth of Lorne and she returns here with her young 8-year-old mare. She is ahead of Richard Vogel on the Selle Français Spring Dark (Jazz Band Courcelle) and Michael Cristofoletti on Lezaro (Lord Pezi).
David Will won the 3* the previous day with the Selle Français Quentuck Jolly (Nirvana V) ahead of Lillie Keenan on Skyhorse (Calvaro) and Nicola Philippaerts on Gijs (Kashmir van't Schuttershof).
Katrin Eckermann and Chao Lee
Spruce Meadows CSI5*
After being in Brussels last week, Kent Farrington flew back to the American continent, more precisely to Spruce Meadows where two consecutive CSI5* will be held, including the Rolex Grand Slam next week. As a warm-up, Kent Farrington won the first Grand Prix with his Gazelle (Kashmir van Schuttershof) ahead of Brazil's Eduardo Menezes on H5 Quintol (Quintender 2) and Canada's Erynn Ballard with Gakhir (Spartacus).
Bridgehampton CSI4*
A lot of big names were competing in the CSI4* in Bridgehampton, Long Island (USA). It was finally Daniel Bluman who won the Grand Prix. Already winner of a 5* Grand Prix at Rockwook two weeks ago, the Israeli was riding Gemma W (Luidam), the mare that should have been his Olympic partner. He managed to beat plenty of Americans including McLain Ward, second with Contagious (Contagio), and Riley Schuyler, third on Robin de Ponthual (Elf d'Or).
Daniel Bluman and Gemma W
Traverse City CSI3*
In Traverse City, the Irish rider Shane Sweetnam beat the tough American competition. Riding Ideal (Cardento 933), the rider beat Jonathan Mc Crea and Gazelle ES (Diarado) and Kathy Dinan riding Dougie Douglas (Douglas). At the age of 16, this Irish Sport Horse trained by the British Holly Smith still seems to be in great shape!
Saugerties CSI2*
Has Hunter Holloway found her jewel? She can always count on her fine Pepita Con Spita (DSP Con Spirit) to achieve clear rounds. The 11-year-old mare has not touched a single rail in six events since June, and not content with winning the GP2* at Parker and Traverse City, she added the Saugerties GP this weekend to her 2021 list of achievements. Also clear in the jump-off, Portugal's Louis Sabino and Argan de Beliard (Mylord Cartagho) finished second, ahead of Britain's Jessica Mendoza and Dublin (Cobra 18).
Lier CSI2*
Quite logically, the Belgians won the CSI2* Grand Prix at home. In the lead were Roy van Beek and Chacco Me Biolley (Chacco-Blue). This 19-year-old rider managed to surpass Niels Bruynseels who was riding Matador, a 9-year-old gelding by Emerald. Only Félicie Bertrand, the French rider, managed to squeeze between the fluttering black, yellow and red flags. She finished third with Dakar (Douglas), a stallion she started riding a little over a year ago.
Roy van Beek and Chacco Me Biolley
Rome CSI2*
In Rome, his home ground, Giacomo Bassi achieved not one, but two places on the podium of the 2* Grand Prix 2 in Rome. The 30-year-old Italian finished third with Cenerado (Labor's VDL Indorado) –who was already second in his last GP2* in San Giovanni- and second with Doc (Chacco Blue). However, none of his mounts allowed him to get the better of the Czech rider, Sara Vingralkova, associated with Damocles From Second Life Z (Diamant de Semilly). A victory for the younger generation: Sara has just celebrated her 19th birthday and her accomplice representing the Zangersheide Studbook is only 8 years old!
Exloo CSI2*
The Grand Prix of Exloo in the Netherlands rewarded Jeroen Dubbledam. The multi-medalist on Cosa Nostra (Conthargos) beat two of his compatriots, Willem Greve on Grandorado Tn (Eldorado Vd Zeshoek) and Sander Geerink on Global (Cardento).
Photo credit: Sportfot.com