Kassandra van 't Roosakker closes out the Stud Hero auction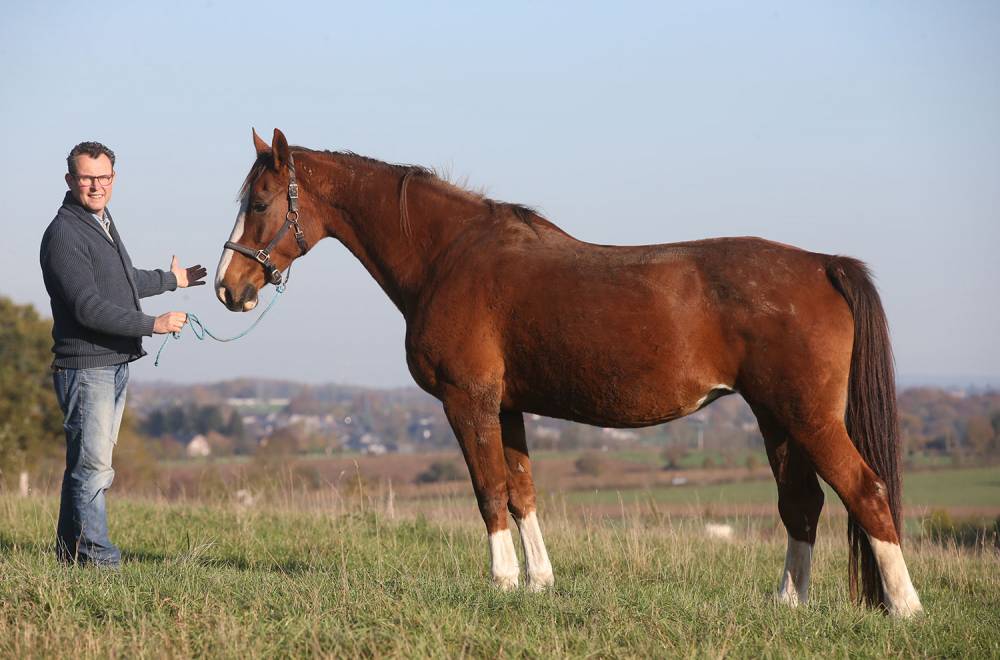 02 January 2021
The Stud Hero Total & Unique Auction ended as it started, with a top price for a broodmare. This time it was Kassandra van 't Roosakker's (Echo van 't Spieveld x Carthago) turn to exceed expectations in a short but sharp fight between France and Ireland. The modern daughter of star mare Electra van't Roosakker will eventually go on to graze the fields of Normandy. The full sister to the international winner Kaprice van 't Roosakker, and the very popular Zangersheide stallion Kassander van 't Roosakker, was sold after a bid of 150,000 Euros! Her daughters didn't stop attracting breeding enthusiasts, as during these four sale days, her progeny have exceeded expectations: Capriola van 't Roosakker was sold for 55,000 Euros to Belgium, Top Lady van 't Roosakker sold for 65,000 Euros to Ireland on the second day, Flying Dream van 't Roosakker went for 42,000 Euros to Germany on the third day, and finally Cleopatra van 't Roosakker Z, who will be staying in Belgium, went for 72,500 Euros on the fourth and final day of sales!
Kassandra van't Roosakker, in foal with Junior du Seigneur.
During the last day, the fight for Kannacea Hero Z (Kassander van't Roosakker x Lys de Darmen) was intense. She is none other than the last daughter of the international performer, Prima Donna van 't Paradijs. Kannacea is therefore a maternal half-sister to the 5-year-old World Champions Subliem van't Paradijs and Ultra Top van 't Paradijs, who then went on to have a fantastic career under the saddle of Christophe Vanderhasselt, as well as to Agatha d'Ecaussinnes and the young retiree, Venezia d'Ecaussinnes, who enabled Thierry Rozier to perform at the highest level. She will move to the north of Belgium after a final sale price of 90 000 Euros.
Kannacea Hero Z
In the end, this Stud Hero Total & Unique Auction kept all its promises and proved the extent of renown for Luc Henry's work. This sale also highlighted the importance of Belgium on the world breeding scene.
Cleopatra van't Roosakker Z
A page has turned for Luc Henry. The Belgian breeder will now be able to rest and take the time to focus on his new projects, even though he will continue to be seen on horseback, not on the competition grounds, but riding in the heights of Liège with his daughter.
"This sale was filled with very intense moments and a lot of emotion. When I chose to have this sale, I couldn't imagine the personal and professional impact it would have on me. The further we got towards the deadline, the more I realized that I had to be in the process of letting go and in total acceptance of what was going to happen. Five minutes before the beginning of the final sale, we were staring into the unknown. 25 years of work and passion over which I no longer had any control. I can tell you that it gives you an unusual feeling. I now feel great satisfaction when I observe the final result, both in terms of the results and the recognition of my work. For me, it was a really revolutionary experience and I can only thank the whole team that has been behind me during this sale. I felt that this sale would only be a success if we were united, and that was the case. It was all the stronger because what united us were, above all, the values of life. It really became "our" sale with my horses. I would also like to thank all the people who took an interest in this sale from near and far, because they were the ones who made it a success. Of course, I would like to thank the people who had the courage to buy. I have put all my energy into horses for 25 years, they saved me and gave me everything. Saying goodbye to them today won't be easy," explained Luc Henry.