Kassander van't Roosakker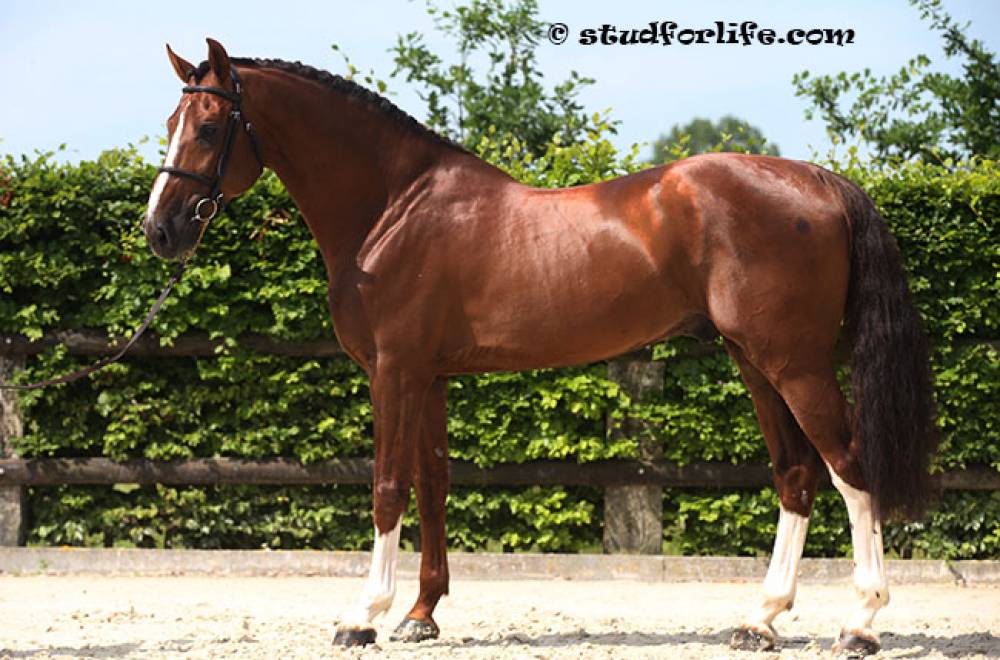 11 June 2018
Kassander van't Roosakker.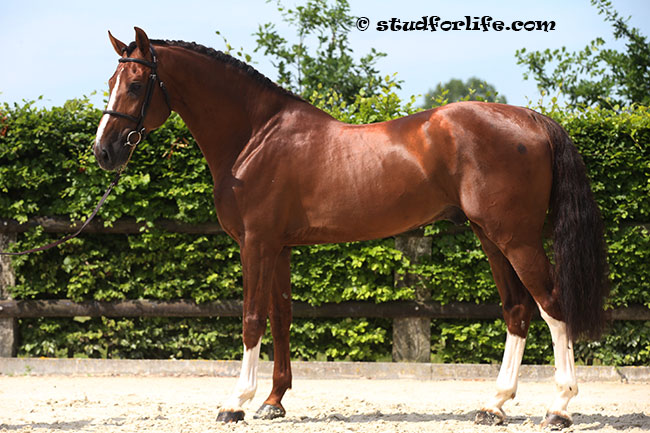 Kassander van't Roosakker (Echo van't Spieveld x Carthago x Darco x Chin Chin) is still unknown to the general public but he is well known to professionals. His breeding speaks for itself. His dam is none other than the Grand Prix mare Electra van't Roosakker while her maternal grand-dam is none other than the international mare Usha van't Roosakker, dam of the crack mare Centoia van't Roosakker (aka Cella), Equador van 't Roosakker or promising young stallion George Z. Kassander's own sister, Kaprice van't Roosakker, won the Belgian Championship for 6 year olds before being exported to the USA, and each of the BWP stallions exported to the USA and approved by the AES is followed eagerly, especially under the saddle of Dieter Laheyne who knows all the stock by heart being the rider for Marc Kluskens, the man behind the suffix van't Roosakker.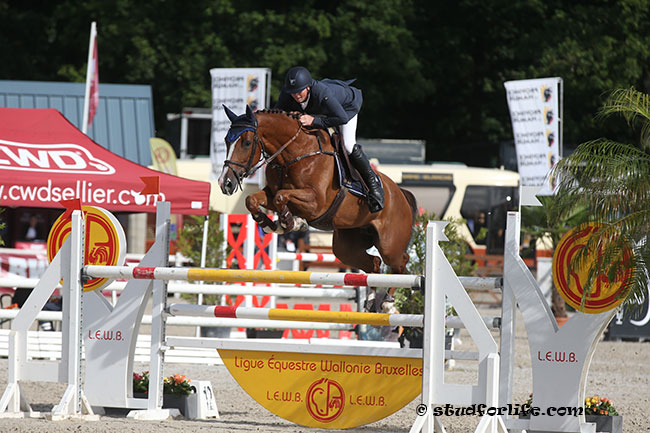 Kaprice van't Roosakker, one of the full sisters of Kassander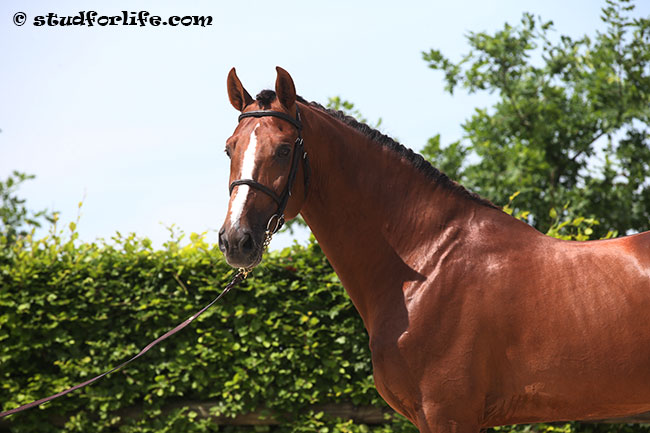 Last March in Lanaken, Picobello van't Roosakker, one of five progenies from his first crop, caused a sensation during the Zangersheide stallion selection... so many reasons to take an interest in one of the most promising of stallions of his generation.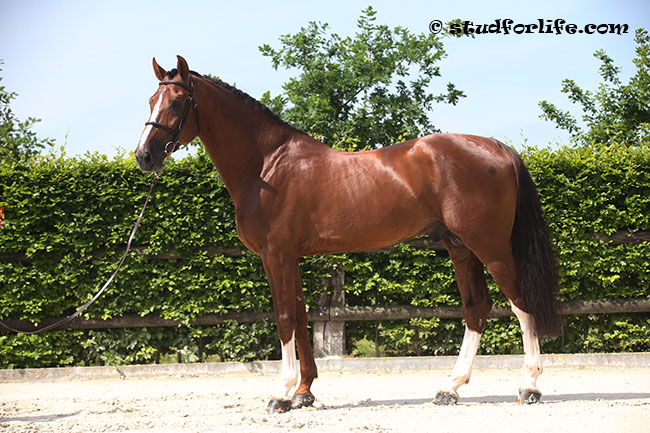 Dieter Laheyne, what did you think of Kassander when you first sat on him?
D.L.: "I didn't have to wait to sit on him to know that I was going to have a crack mount. From the beginning I liked him. When we set him loose, we realized right away that he was not like the others. Everything was easy for him, he had such a good canter, he was so smart."
You obviously knew the dam very well since you also started Electra, how would you compare them?
D.L.: "There are similarities because he has the same power on the ground, but he is more sensitive and has more blood. From the beginning, he was amazing especially since he really has a fantastic head with remarkable intelligence."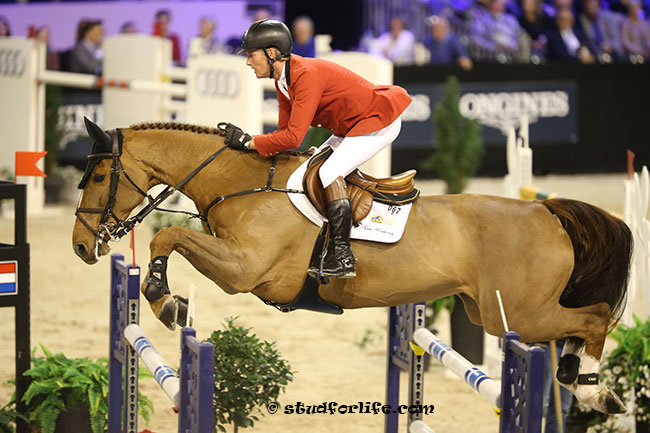 Electra van't Roosakker (Carthago x Darco) performed with Jos Lansink & Janika Sprunger and is now in Normandy at haras d'Ick.
What are the qualities of this exceptional lineage?
D.L.: "It's a line with a lot of qualities. They have incredible respect. It's really an extraordinary line. Now, they also have a bit of character because they always want to go forward and sometimes you have to control them, but that's part of their qualities. In the ring, they always give their best and always want to fight for you."
Having this whole family to ride, do you feel any particular pressure?
D.L.: "No, with Marc, there is no pressure. It's just a pleasure to have quality horses to ride. We do things in a relaxed way, giving the horses time to progress at their own pace. We are just trying to do our best. For sure when Kassander goes into the ring, there are often more people around than for other horses... but I can withstand the pressure. I'm able to put all that aside and focus on my work and do what I have to do. In fact, the hardest thing with Kassander is not doing anything stupid. He is so good that we don't compete him a lot. You just have to let him calmly evolve toward the bigger events by making things easy for him and keeping him from wanting to go too fast. At 5, we did not do Gesves with him. At 6, we did not do Lanaken to really let him develop without stress. Now he is getting older, he is also getting ready to jump at bigger events. Everything is easy for him. The challenge is not to give him any bad experiences because he is so smart and learns so fast... So if you teach him something silly, he'll learn it quickly. I was lucky, especially thanks to Marc, to have good horses to ride in my career... but this one really is the best. The only picture I have in my arena is of him... there's a reason why. He's a really special horse."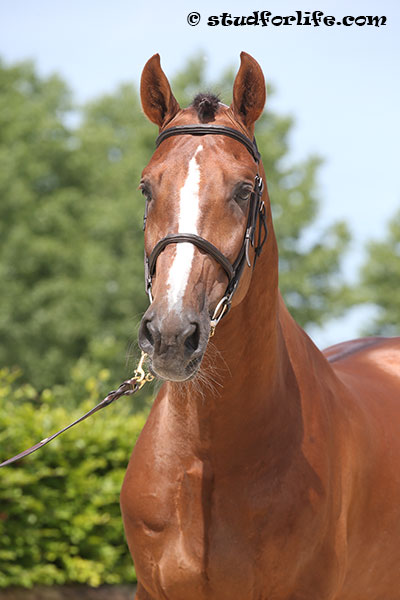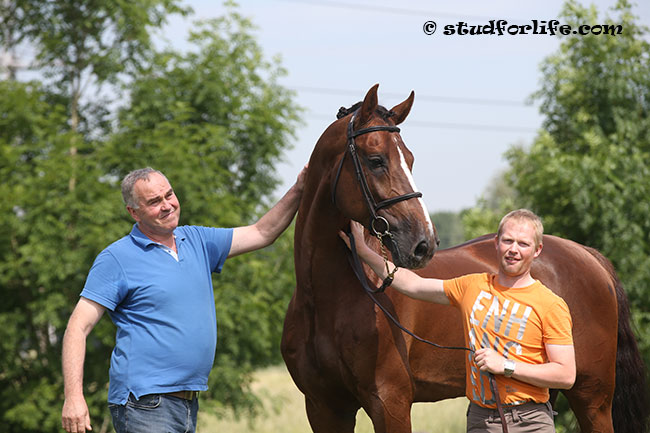 Kassander van't Roosakker with Marc Kluskens and his rider Dieter Laheyne
Marc Kluskens, when you have so many good horses in your fields, how can you still get excited about a horse?
M.K.: "From the beginning, Kassander was different. From the first moments after his birth, I knew he was different... and we had confirmation when we put him over the poles at two years old. There, we really saw how different he was. He was so spectacular, with so much ease over the poles. It's true that I've had very good horses like Cella, Electra and others... but Kassander is the best of all. Of course, it's easy to say but I really mean it and it's truly like that. There is not even a discussion. Kassander really is a modern horse, that type we look for today... which was not the case of Cella or Electra. Kassander is an athletic horse, flexible, with blood."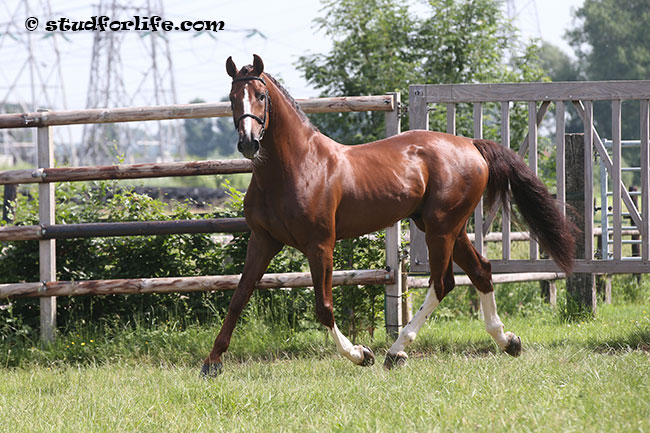 Why did you choose Echo van Spieveld?
M.K.: "I part owned Echo. That is not why I used him but having a horse from the beginning allows you to really get to know his qualities and Echo had a lot. I thought the combination with Electra worked really well. We bought Echo as a foal with Dany van Lomberg (note: breeding suffix van't Eigenlo) and my neighbor Rony Thys (breeding suffix van't Hoogeinde) before reselling him at 6 years old. My choice was not because he was mine but because of his qualities. When we see other people's stallions, we do not always know the real qualities of the horses."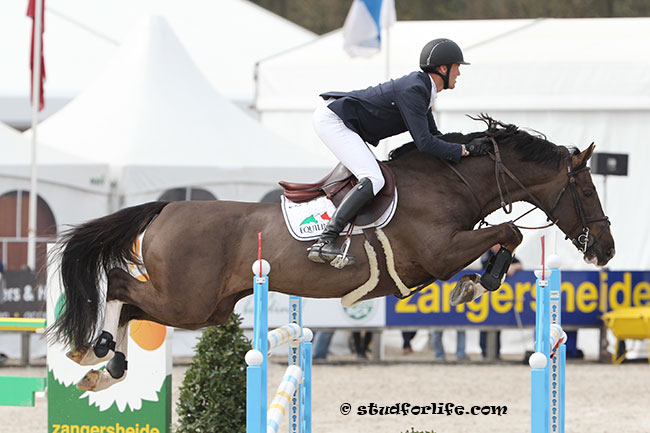 Echo van Spieveld (Heartbreaker x Capital x Lys de Darmen) performerd under Niels Bruynseel
What did you think you needed to add back into Electra's breeding?
M.K.: "She had a huge way of going but she was a little too heavy on the ground. Kassander has a lot more lightness. Today, we want light horses that move well."